I read about the GoBaby London App in London's Evening Standard and knew that I had to get it. What makes this app different from all the other London travel apps? It's a guide to London for parents.
A new mum living in London was frustrated that it was so hard to navigate London's transport system and attractions with her young baby. It was hard to find places to change the baby, hard to find tube stations with elevators or step free access, hard to find a family friendly place to eat and hard to plan a family friendly day out.
So, she developed this iPhone app to fill that hole in the market. GoBaby London is the app for Mums (and dads) on the go in London.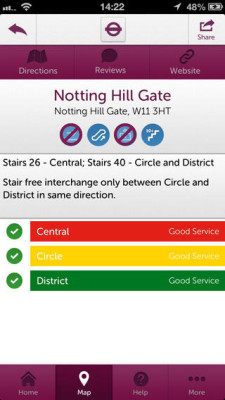 It features:
Researched and developed by a new mum for on the go parents.
Quick, reliable and easy to use.
More than 1,000 locations across Greater London including cafes, restaurants, libraries, museums, and retailers for easy access to the nearest baby changing places AND stair-free London Tube and DLR stations Zones 1-9.
Find easily London Tube stations that are stair free or with lifts, escalators or more than 10 stairs to help you travel without asking for help with your pushchair.
Live Service Updates for London Underground to speed up your journey.
In a hurry to change your baby? Find the nearest child-friendly location instantly where you are.
Search locations in List View or pull up your Favourite locations without Internet access while you're on the go.
Get social by sharing, adding or reviewing the best baby-friendly London locations to help other parents.
I cannot tell you how excited we are to be able to use this app on our upcoming trip to London – it will be invaluable as we'll be traveling with a 6 month old and a toddler. The app will also improve with time as parents add in their own information and leave reviews.
The app is easy to use, it's designed well and is full of useful information. It's only $1.99 – a pretty good price for all the information it contains. It's also continually updated with new information and it will warn you if you don't have internet access so you don't get charged data roaming on your phone.
Buy now in the App Store