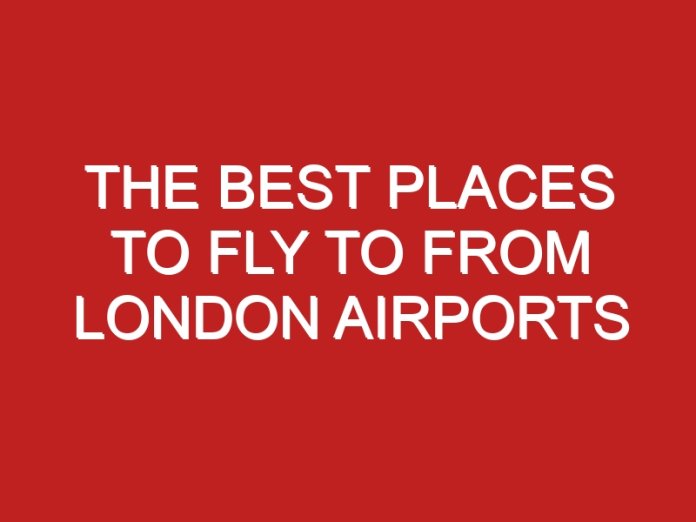 If you are on a multi-destination trip or have seen all of the attractions that London has to offer, there are many wonderful places that you can visit from the many airports in London, including Heathrow, Gatwick, Luton, and Stansted. To make sure that you can plan a great trip from one of these airports, read on for the best destinations from London.
1.   Orlando, Florida, USA
If there is one destination that the majority of UK families are desperate to visit, it is Orlando, Florida. The home of Disneyworld, Florida is one of the most popular tourist destinations for those within the UK, meaning that many flights leave each day for this magical destination from airports such as London Gatwick. If Florida is also on your bucket list, you should consider booking an Airbnb Orlando where you can relax after the journey and dive straight into the world of Mickey Mouse as soon as you leave the airport.
2.   Dublin, Ireland
Ireland's proximity to the UK makes this a great destination for your next weekend getaway if you are travelling from London. Not only do flights only take a little over an hour, but with flights usually starting from just under £20, you can't go wrong with a quick hop across the water to take a look around Trinity College or enjoy the buzz of Grafton Street.
3.   Amsterdam, The Netherlands
One of the closest destinations – and the most popular – for those travelling from London is Amsterdam, with many people travelling across the ocean for a fun getaway with friends. Not only does Amsterdam have an exciting nightlife that you can enjoy, but it is also home to colourful canals which you can cycle along, as well as a hub of cultural buildings and museums that can inspire history geeks. What's more, with flight times of under 2 hours, you can easily decide to travel to Amsterdam in the morning and be there before the sun goes down.
4.   Marrakech, Morocco
If you are looking to travel somewhere a little further afield, Marrakech, Morocco, is one of the closest destinations to the UK in North Africa. With flight times of around 7 hours,  Morocco has everything that you could want as a tourist, including a vivid culture, sprawling sand beaches, and even a backdrop of beautiful mountains that dominate the skyline. With balmy weather all year round, you can even experience once-in-a-lifetime activities, such as flying in a hot air balloon.
5.   Canary Islands, Spain
Lastly, if you are longing for a bit of sun and sand, then the Canary Islands is one of your best options to travel to from London. Not only can it give you the winter sun that you are looking for, but its many beaches allow you to get a tan that will make all of your fellow Londoners infinitely jealous. With cheap flights taking around 4 hours, you will be lounging on the beach in no time at all.