There's been a building under construction in the City of London that's colloquially called the Walkie-Talkie Tower – because it looks like a child's toy. It's real name is 20 Fenchurch Street and while normally a new skyscraper in London wouldn't warrant a story – this one has something amazing in store for Londoners.
At the top of the 38 story building, there will be a 3 story atrium that will have a garden along with several restaurants that will have far reaching views of the London Skyline.
There will be a "sky garden" champagne bar on the 35th floor with the Darwin Brasserie above and the more expensive Fenchurch Seafood Bar and Grill on the 37th level. Patrons will be able to go outside onto a balcony and enjoy the London views all around.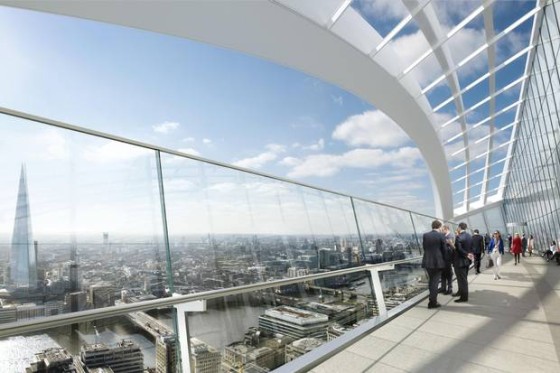 It won't be a hot greenhouse, they'll be using the latest technology to keep it as a moderate temperature year round. It will have a verity of plans that thrive in low water sub-tropical environments. The building should be opening to the public in a year or so.
I can't wait to check it out!