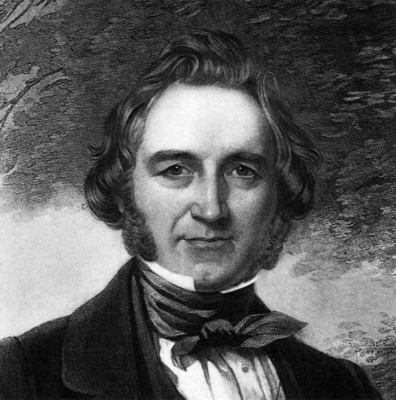 Born in Bedfordshire and a gardener by trade, like his 18th Century predecessor Capability Brown, Joseph Paxton would become known for more than just his care of plants.  Born in 1803, some materials listed his birth year as 1801, which Paxton himself later admitted was made up so that he could enroll in Chiswick Gardens to study as a gardener.  He began working there in 1823 at a time when William Cavendish, the 6th Duke of Devonshire, leased the gardens to the Horticultural Society.  While at Chiswick, Paxton had the opportunity to befriend the Duke and impress him with his work, so much so that Cavendish appointed him the head gardener of Chatsworth House.
Paxton really flexed his design muscles at Chatsworth House, designing the gardens, fountains, a model village, and an arboretum.  Perhaps one of the most well-known and lasting contributions he made to Chatsworth was the Great Conservatory.  Taking four years to build and measuring at 84 metres long, 37 metres wide, and 19 metres wide, at the time it was the largest glass building in England.  The conservatory was large enough that two carriages could pass through its main thoroughfare and was heated through a series of boilers and pipes.  Its ridge and furrow roof would admit a maximum amount of daylight while draining away rainwater.  Paxton also built the Conservative Wall (now known as the Case) while at Chatsworth.
Following his work for the Duke, Paxton's reputation grew.  He began to take commissions for other gardens such as Prince's Park in Liverpool and then Birkenhead Park, the latter of which was the first publicly funded park in the world.  Paxton also became interested in journalism during this period and helped to found The Gardeners Chronicle as well as being an editor for the Horticultural Register as well as his own magazine of botany.  Paxton would also take plant expeditions and include any new varieties he found in his own hot houses.
The Great Conservatory would prove to be a test for his greatest contribution to London—the Crystal Palace.  By 1850, the Royal Commission for the Great Exhibition had received at least 245 submissions for a building to house the exhibition, but none of them had proved suitable.  Paxton was visiting London at the time of the plan selection and when he heard about the difficulties in finding a workable design, he sketched his own plan for the exhibition hall on blotting paper and submitted it in less than nine days.  The design for what would become known as the Crystal Palace was, in essence, a larger version of the Great Conservatory.  Once constructed, its length was 563 metres, its width 124 metres, and its height was 33 metres.  It covered 18 acres with a floor area of 23 acres, housing 14,000 exhibitors with nearly half being from outside of the UK.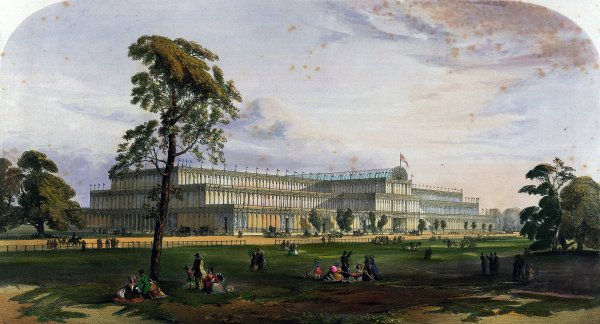 Despite the initial criticism of the Great Exhibition, it (and by extension, the Crystal Palace), proved to be an incredible success when it opened in May 1851.  It was so successful that Queen Victoria knighted Joseph Paxton in October of that same year.  Around the same time, the Exhibition was deconstructed in Hyde Park and moved to Syndenham in South Lodon.  There it would remain until it burned down in 1936.  As for Paxton, he would continue to be the head gardener at Chatsworth until 1858 on the Duke's death, as well as taking commission jobs for other gardens and investing in the Midland Railway.  From 1854 until his death in 1865, Paxton was a Member of Parliament representing Coventry.  He was buried near Chatsworth in St. Peter's Churchyard in the Village of Edensore.
While no other building he designed would equal the fame of the Crystal Palace, its existence in Hyde Park and Syndenham would cement him as one of many important people who had a major impact on London's history.  His work would be imitated everywhere from Ireland to the United States and would become a prime example of Victorian steel and glass architecture.  The work of Joseph Paxton may not still be available to see in the city, but the subsequent inspirations created by his designs remain in many of London's Victorian buildings.