Growing up in the 90s, I was taught to believe that smoking is generally one of the more evil things you can do. I remember the transition period, when smoking was forbidden on domestic but permitted on international flights and there were smoking sections in restaurants. (Really, smoking sections on an airplane make no sense. It's all recycled air! I had no friends whose parents smoked (at least that I knew of), and seeing images of smokers in advertising or movies made us burst into laughter – who would DO such a thing??? Trips to Europe, then, were always an issue.
We would suddenly be thrust into a world filled with second-hand smoke, cigarette ash, dank-smelling hotels, and the ethical dilemma: if smoking is so wrong, how come so many nice people do it? In my teens, I realized that contrary to my DARE education, smoking is not an indicator of any grave character flaw, but just something that people do. I have some friends who took up smoking because they were bored, and I think the turning point came when my friend who smokes one cigarette every three hours became physically distressed at taking a four-hour flight. It still struck me how many more Europeans than Americans smoked, and that while our great country was slowly eliminating cigarettes from public sight, Europe puffed away none the wiser.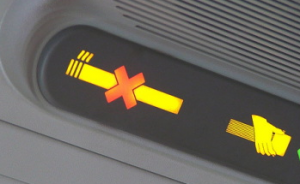 I have to say: I'm not against smoking in principle. I have good friends who do it. But at the same time, I like to enjoy my meals in clean air (it enhances taste, after all), and I really don't like to get a face full of someone's exhaled air as I walk down the street. Europe has made great strides towards improving public health, England in particular, as I'll recount below.
In 2007, London banned smoking in all public indoor spaces. This meant restaurants, the tube,  and hotel lobbies. I happened to be visiting London the final week before the great smoke-out, and it was awful as everyone in the city tried to take their last indoor puff. Now, though, it's really great. The wonderful thing about Britain is that most people actually respect rules regarding public niceties – I've only once seen someone drinking on public transit, for instance – unlike Paris, where people will actually stand with their cigarettes and beer underneath a sign outlawing both in the Metro. I actually feel like smoking is not that much a problem in London, although I may have become more tolerant with age. I don't know the statistics, but I feel like less people I've seen here chain-smoke than in other European cities (ahem, Tel Aviv, Paris, and Prague, to name a few); anecdotally, only one out of 12 classmates smokes regularly. Smoking is allowed outside, though – pubs and clubs will almost always have a piece of pavement designated for smoking. It's allowed in the outdoor sections of restaurants and in beer gardens, but this feels ok as there's fresh air and a breeze.
I was actually quite shocked to see almost no one smoking when I was back in the US, particularly in California. I was having drinks on a terrace with a French guy who exclaimed that he could really use a cigarette, and I asked why he didn't just do it. He looked at me askance and said, "ehhh, because we're in a restaurant?" I had completely forgotten. Good thing I'm not a smoker or I would have been stuck with a $250 fine and a polite request to leave the terrace.
Hookah bars, on the other hand, are oddly not considered smoking. I know lots of people who would never smoke cigarettes but love hookah, Americans included. Hookah smoking has also been relegated to outside, which diminishes the "lounge" aura some restaurants have clearly tried to cultivate, but puts them back in their logical place: in the Middle East, I have never seen anyone smoking hookah indoors. Scientists report that smoking shisha (not to be confused with hashish – shisha is flavored tobacco) is just as addictive and dangerous as smoking cigarettes and warn teenagers of the many dangers of getting into it. What they don't realize is that unless you're an old Turkish man, you're not going to smoke shisha more than once a week at most. (Hookah bars, like the one near Russell Square, also serve little snacks and mezze platters and drinks.)
The one place where the smoking ban is really good, in my opinion, is restaurants. No longer will American tourists have to shoot evil glares at British smokers across their fish and chips, trying to protect their children from second-hand smoke: this is the new Britain, the Big Society. We love our tourists! Anyway, if you're an American, be prepared to experience more smoke than usual, but don't get too upset: you can always hide out in the tube, which only has 150 years of trapped smoke and grime.