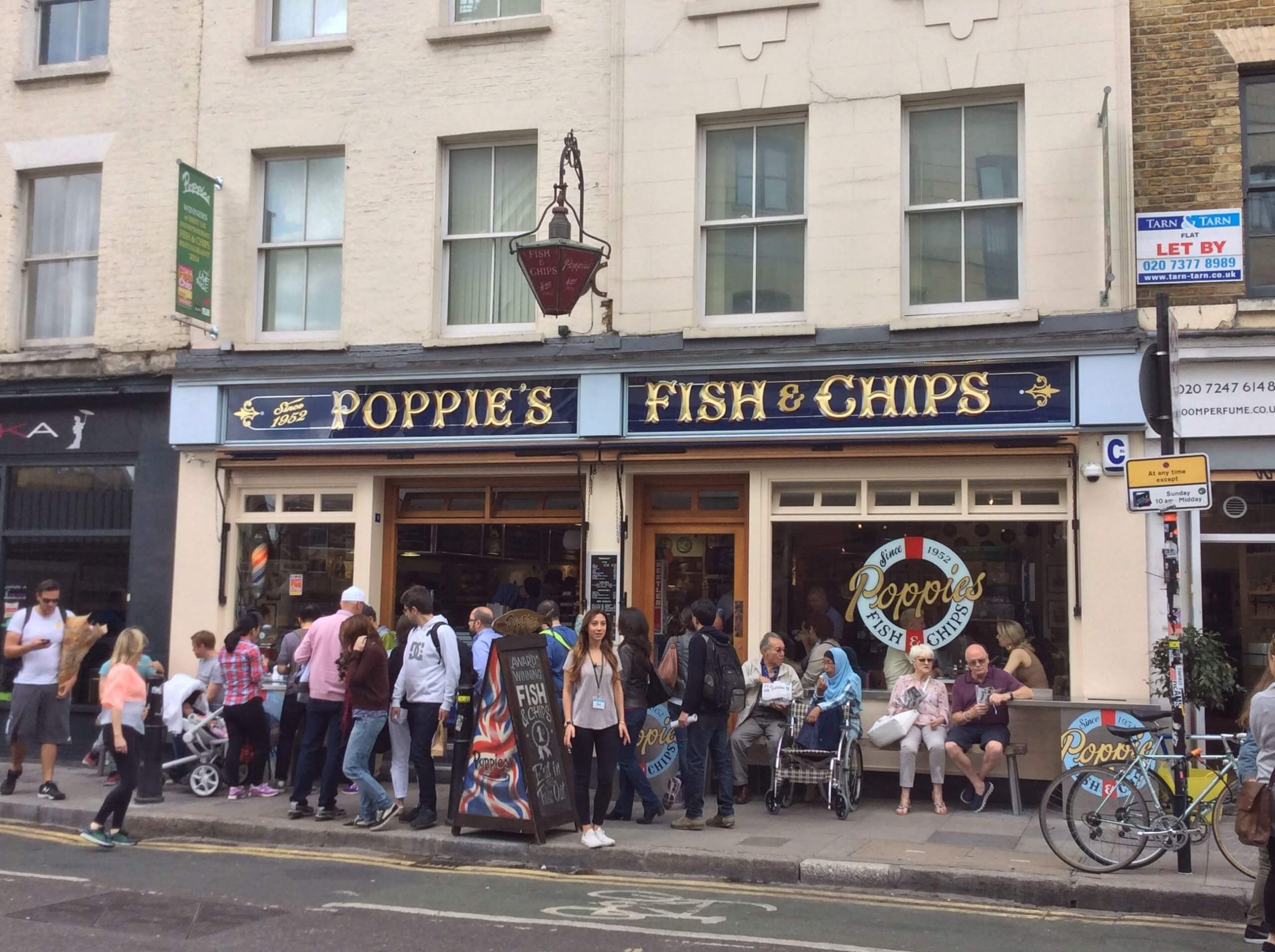 Fish and chips is one of those iconic British foods.  A good, fried piece of cod and what we Americans would call French fries is all you really need for a good meal.  Naturally, there are chippies all over the UK and there are arguably as many in London as there are pubs, so figuring out which chippies to visit can be a challenge.  Fortunately, we at Londontopia have helped to identify ten of the best in the city.  Whether you're looking for something traditional or more adventurous, you should give one of these ten a try.
Poppies has a few locations in Soho, Camden, and Spitalfields Market. This chippie prides itself on being traditional and the interior will take you back in time to the fish & chips shops of the 40s and 50s. In addition to several types of fish from cod to mackeral, you can get a number of classic starters including jellied eels or side such as mushy peas.
Toff's has been around since 1968 and the interior is the right marriage of traditional chippy with posh restaurant thanks to its great menu and wood-paneled walls. The cafeteria-style counter will let you see the fish in all its golden glory. The traditional fish and chips is the meal of the day every day here, but there's also a good selection of other seafood and traditional British options.
For the vegetarian or vegan in your life (especially if that person is you), try Sutton & Sons in Hackney. This particular location is the first all-vegan fish and chips shop in the city and that doesn't mean the flavor is anything less than perfect. Of course, they also offer non-vegan options here and at their more traditional locations in Islington and Stoke Newington.
Fish House's takeaway boxes remind me of quality fast seafood, but you'll certainly want to dine in with a menu that also includes fish tacos, fish finger sandwiches, teriyaki salmon bowls, and more. Side selections here are great as well and besides traditional chips you can get sweet potato chips, butter kale, or a trio of pickled gherkin, egg, and onion if you feel adventurous.
The Golden Chippy was founded by a Turkish immigrant in 2005 and his commitment to giving the people of Greenwich has made it one of the best chippies in all London. The Mediterranean influence adds to the flavor of your fish dinner that also includes a Mediterranean salad as well as halal and gluten-free options.
If you or your friends are concerned about gluten, Fish Lounge in Brixton offers "Gluten-free Mondays" so you can be less concerned about cross-contamination. The menu is pretty traditional here but you can also get burgers, chicken, and a greater selection of British pies than you'll find at other restaurants on this list. You can also get a cool curry dip for your chips if you want to try something besides ketchup.
The Golden Hind is certainly for those who want a fancy take on this British classic. The fish is fried in groundnut oil which offers a light fried layer that hugs the fish. It is more a seafood restaurant than a straight-up chippie and has been in Marylebone since 1914. It was originally owned by Italians but for the last twenty years it's been run by Greek-descended Anthony Christou and the influences of both Italian and Greek owners can be found on the menu in such items as feta cheese fritters and limoncello.
Want to have a good beer with your fish & chips but don't feel like going to a pub? Seventeen Fish & Chips in Balham has what you're after. Severing a selection of bottled beers from Japanese Ashahi to local Camden Hells, they have something cool to wash down your meal. The interior also has a cool look with white tiles that scream fresh and hip.
Golden Union is what you might imagine a chippie would look like if opened by Americans, which isn't a bad thing in this case. Entirely British, this restaurant with its wooden tables and neon offers some big and lovely pieces of fried fish and the steakhouse chips you expect in several varieties from traditional cod to coley. If you don't feel like a whole filet, there are fish bites and also several other British favorites from sausage to steak and ale pie.
Oliver's has three locations across London with dine-in at Belsize Park, takeaway at Wembly, and both at Whetstone. I think this restaurant has one of the most expansive menus of any chippie on this list as it serves not only fried or grilled filets, but fish sandwiches, fish bites, salads, and desserts from cheesecake to brownies.