Open from Friday 21 April 2023, The Queen's Gallery at Buckingham Palace has a major exhibition revealing life in the 18th century through the fashions of the day. This was an exciting period when trade, entertainment and technological innovations became driving forces for iconic fashion trends across all levels of society.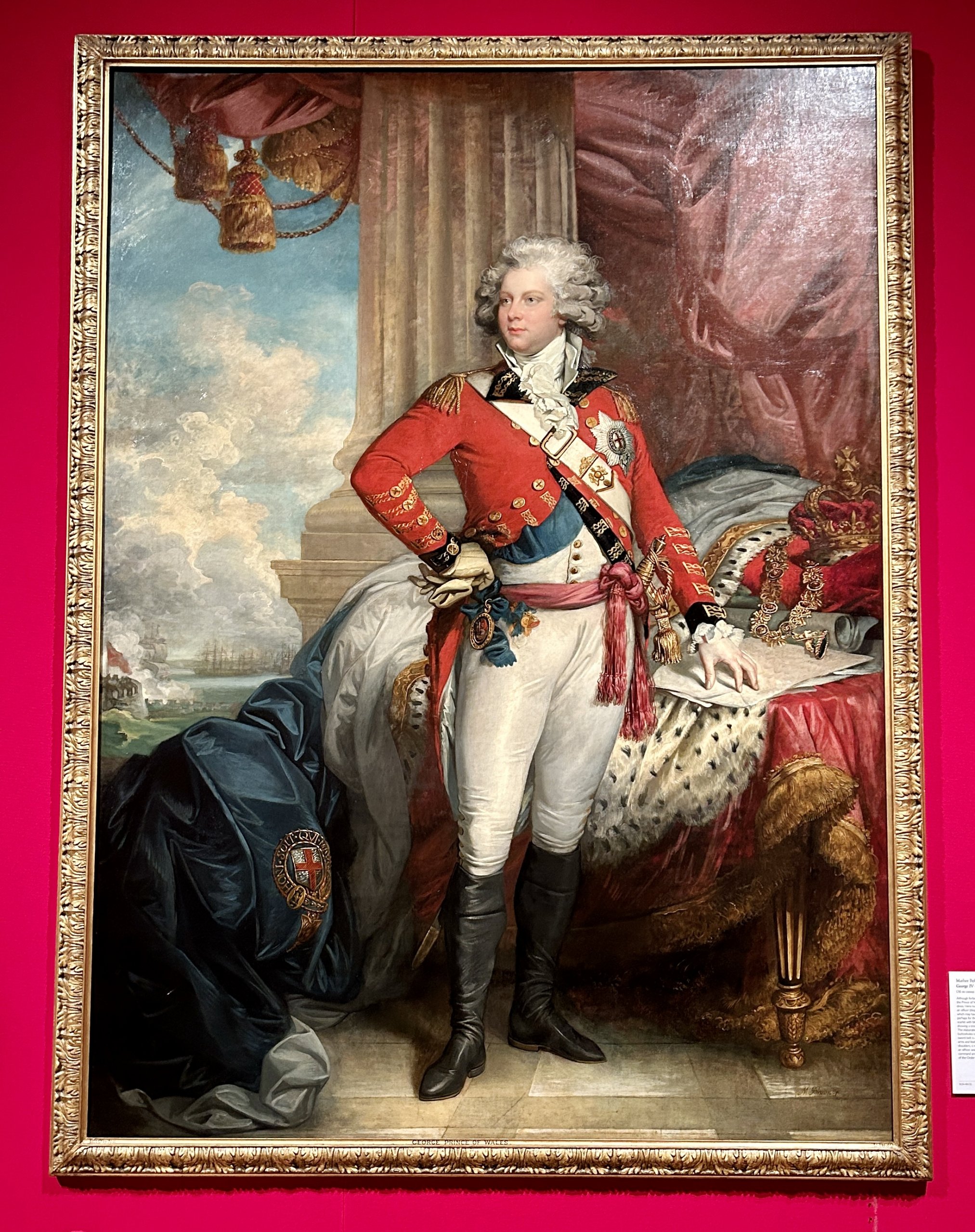 Style & Society: Dressing the Georgians brings together over 200 works from the Royal Collection, including paintings, prints and drawings by artists such as Gainsborough, Zoffany and Hogarth, as well as rare surviving examples of clothing and accessories. About 10% of the exhibits are on loan so we can see three-dimensional additions from the Fashion Museum Bath and others.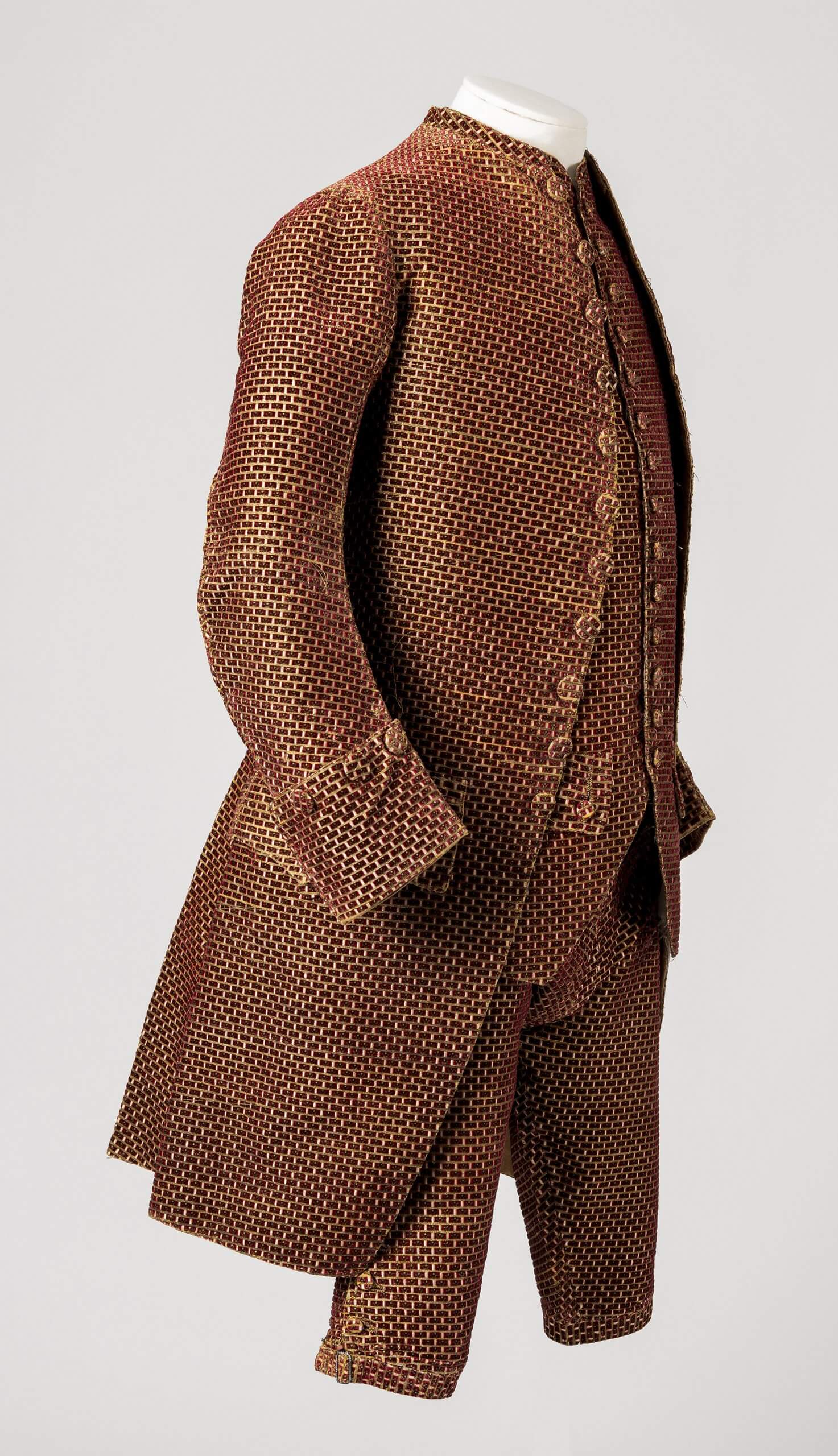 Portrait Insights
Portraits are an invaluable source for understanding the fashions of the past. While some were modified for artistic effect, others depicted dress with great accuracy.
George Ill is shown here in the Windsor uniform he was responsible for introducing – a dark blue coat with red collar and cuffs, and pale breeches. This became the king's favoured style of dress for the last 30 years of his life – he ordered up to 14 new Windsor uniform coats each year.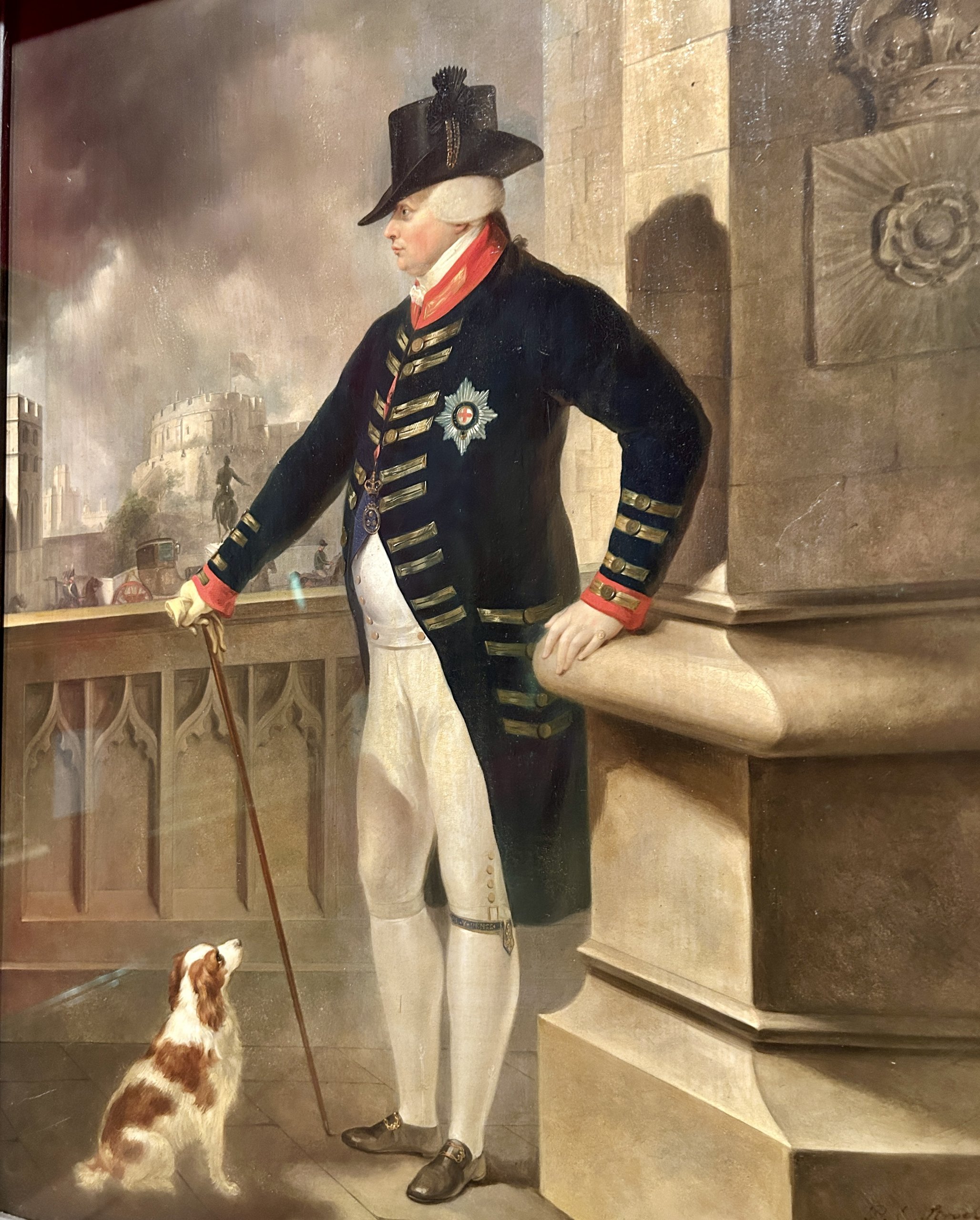 Genre scenes like this, depicting people from different angles, often show details of dress that are not visible in formal portraits, such as the delicate pointed white shoe worn by the central woman, or the pleats in the back of the brown coat worn by the blindfolded man. The deep cuffs of the men's coats and their stockings worn pulled up over the knee are relatively old-fashioned by this date, although the woman's dress is in the modish pink colour particularly associated with the rococo period.
On the far right is a man wearing a banyan gown, a comfortable and informal option; it may be intended to indicate he is the host of this gathering, at ease in his own home.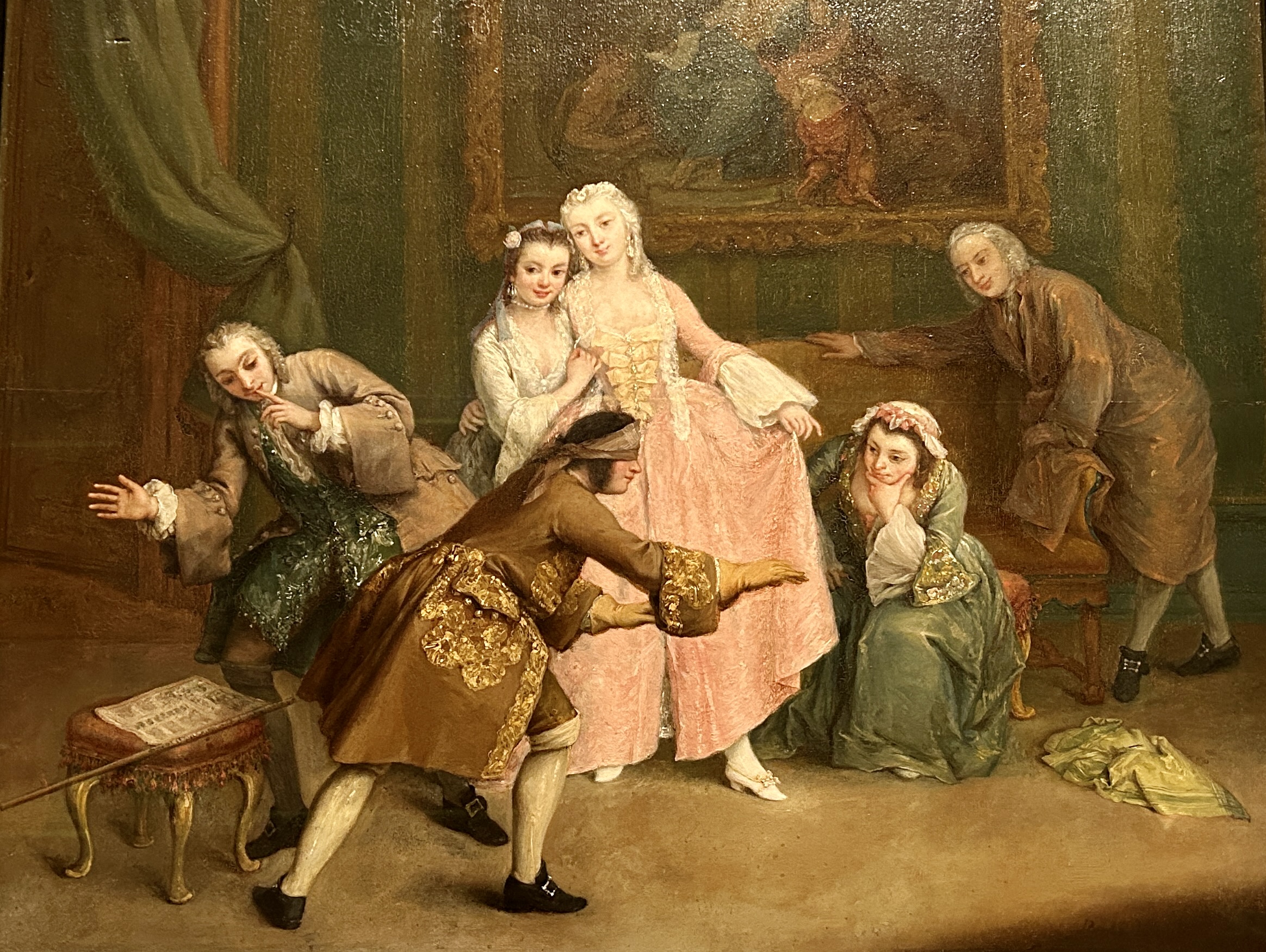 The exhibition builds up a layer-by-layer picture of what the Georgians wore – from the practical dress of laundry maids to the glittering gowns worn at court – and charts the transformation of clothing and silhouettes from the accession of George I in 1714 to the death of George IV in 1830. As everyone wears clothes, it's a good way to feel connected to the sitters of these portraits and imagine what their clothes would feel like. You certainly gain an appreciation of the craftmanship involved as everything was made by hand.
At the heart of the exhibition is a rarely displayed, full-length portrait of Queen Charlotte by Thomas Gainsborough, c.1781. (This usually hangs in the White Drawing Room at Windsor Castle.) Painted by candlelight in one night, it depicts the Queen in a magnificent diaphanous open gown of silk gauze with a matching petticoat, worn over a wide hoop and covered with gold spangles and tassels.
It is definitely one of those paintings that you need to see in real life as the skill of the artist portraying the texture of the fabric is fabulous.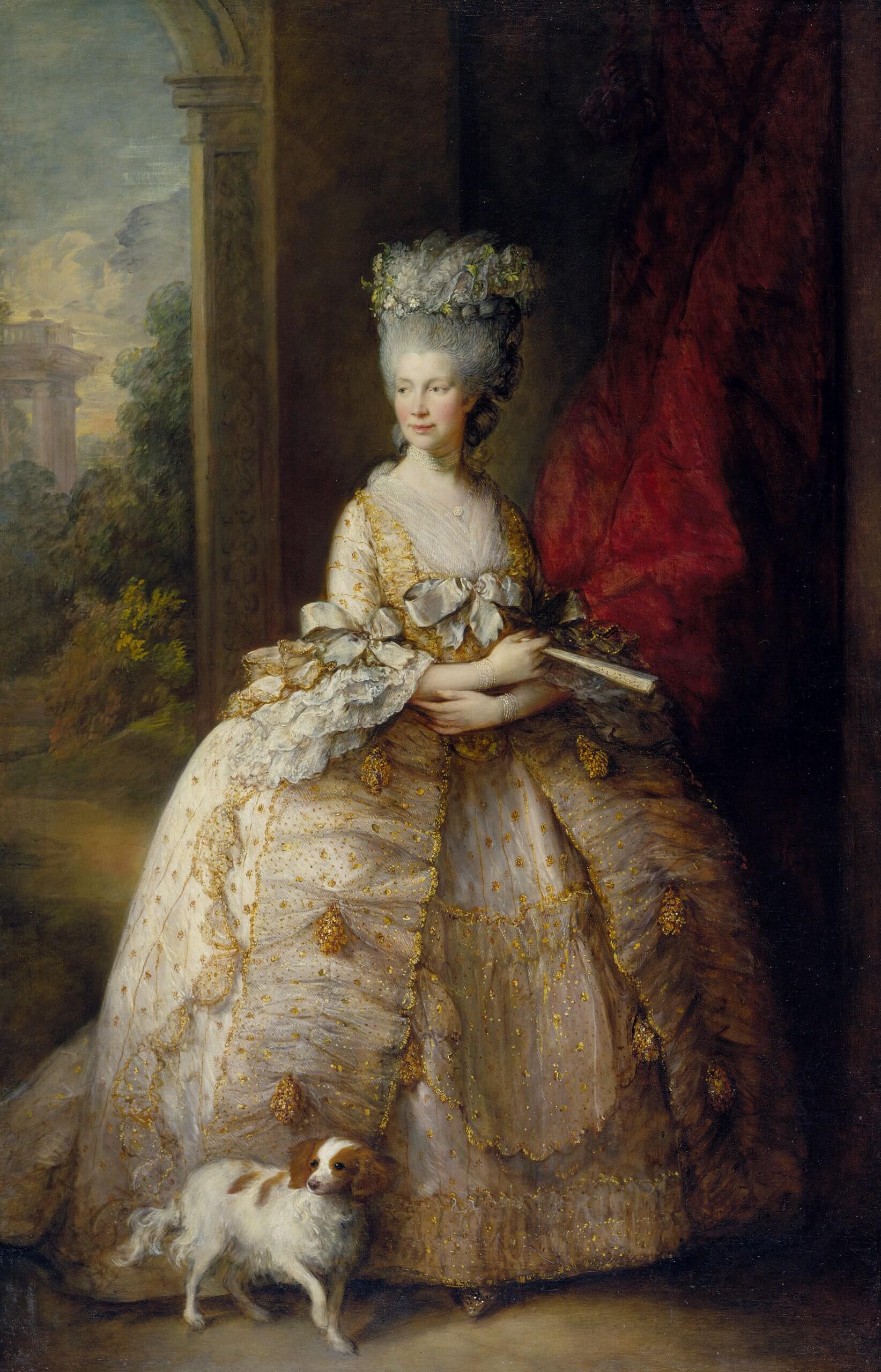 The painting is shown alongside a beautifully preserved gown of a similar style, worn at Queen Charlotte's court in the 1760s, on loan from the Fashion Museum Bath.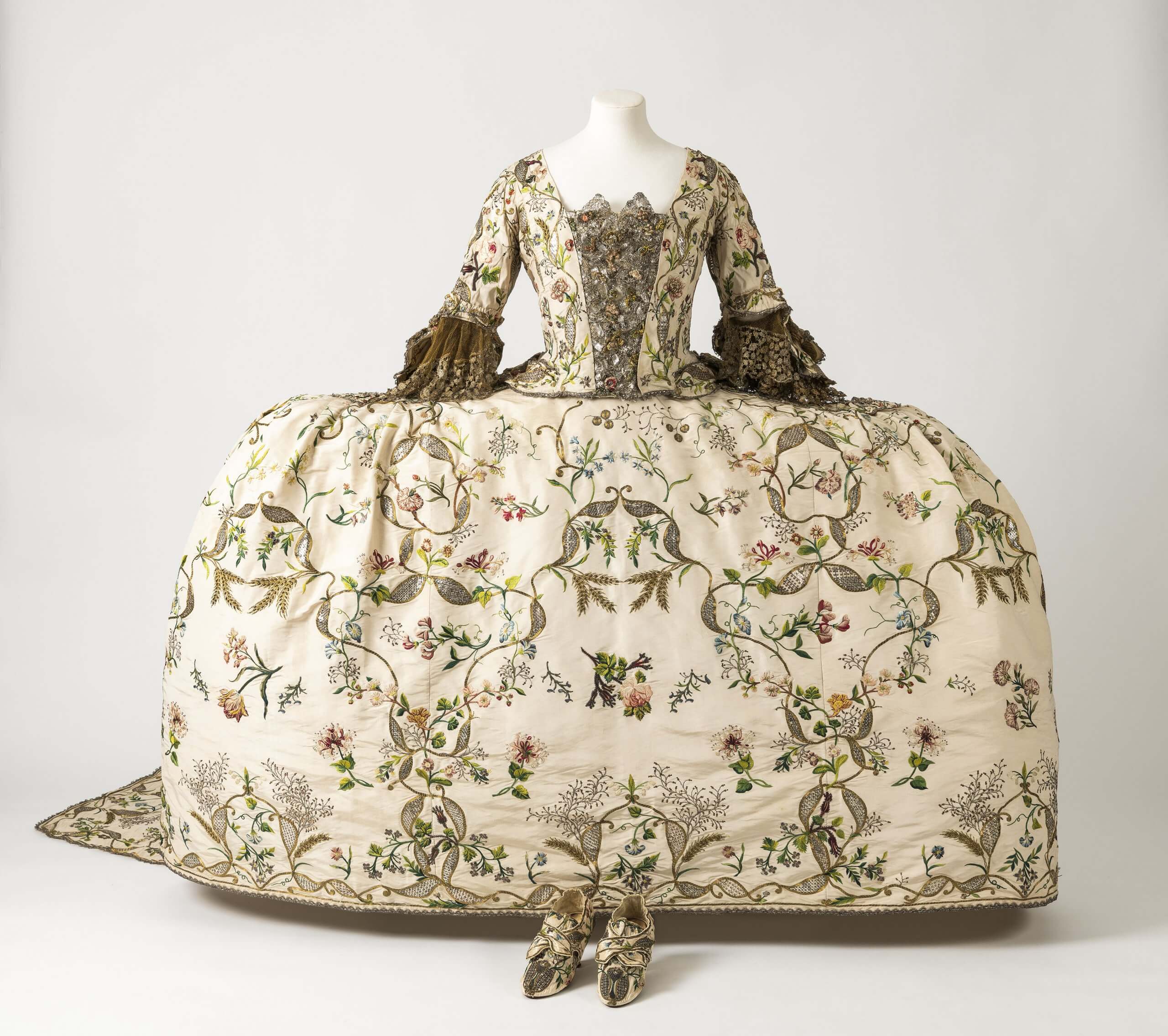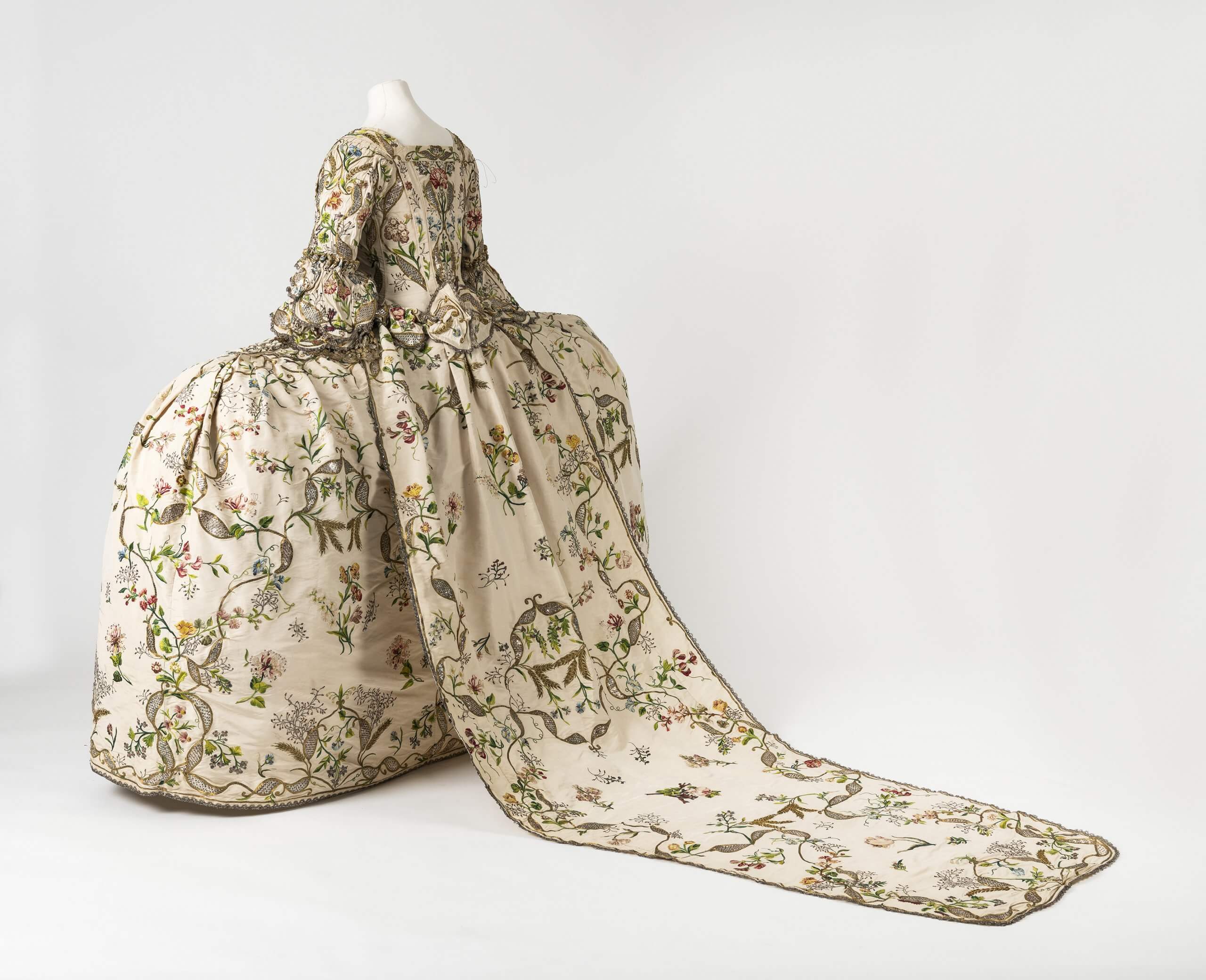 On display for the first time is Queen Charlotte's book of Psalms, covered in the only silk fabric known to survive from one of her dresses. The expensive fabric, decorated with metal threads to glimmer in candlelight, was most likely repurposed after the dress had passed out of fashion. As textiles were highly prized, Georgian clothing was constantly recycled, even by the royal family, and there was a thriving market for second-hand clothes.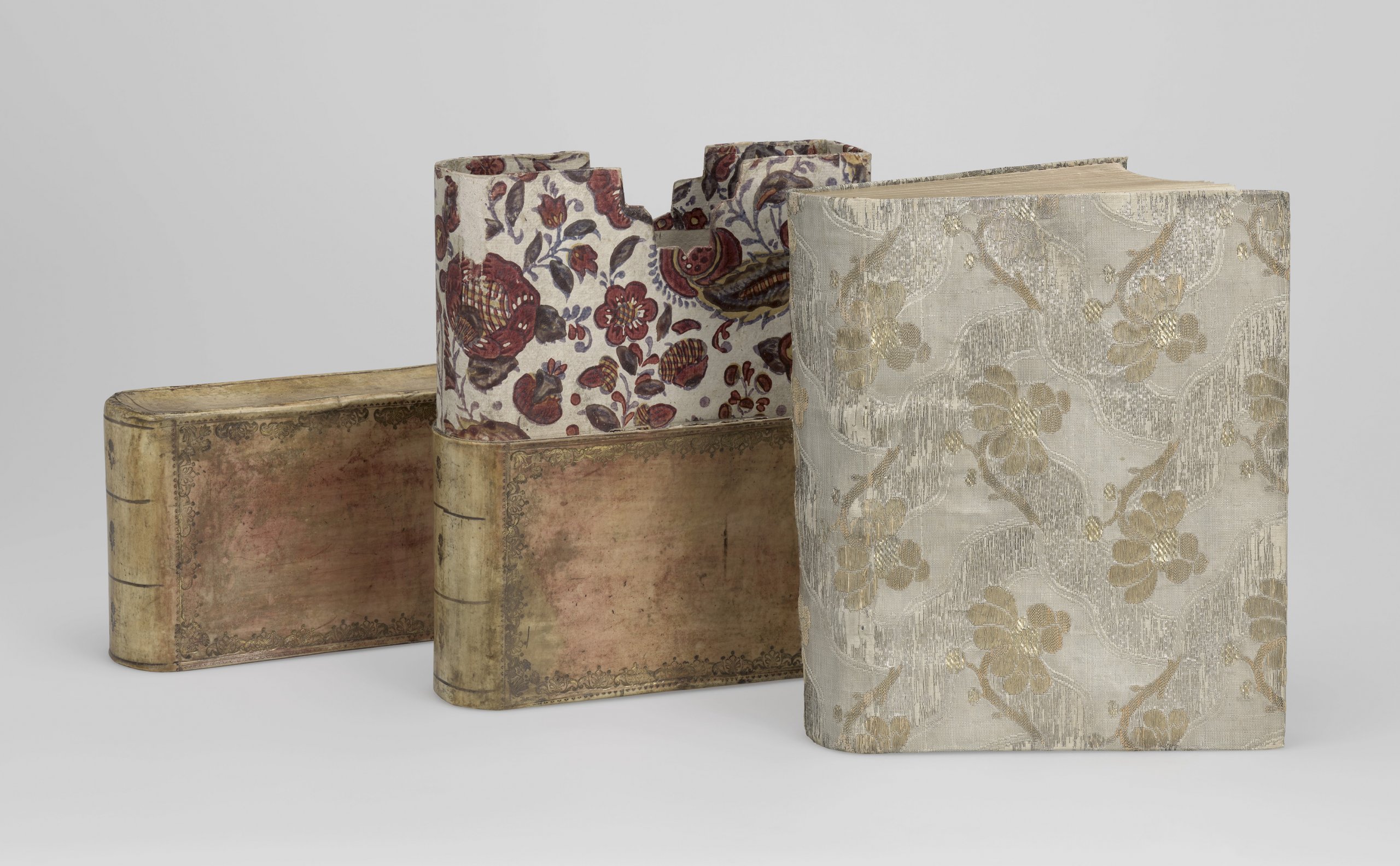 Street Style
While court dress provided a brilliant spectacle, it was on the streets of Georgian Britain that a fashion revolution was underway. As court styles became increasingly outdated, new forums for fashionable display emerged, including pleasure gardens, coffee houses and theatres.
The painting St James's Park and the Mall (British School, c.1745) brings to life the hustle and bustle of 18th-century London's most fashionable meeting place and provides a fascinating snapshot of Georgian society.
There really is a lot going on here so it's worth taking your time to inspect everyone in the crowd. Just to the right of the centre, Frederick, Prince of Wales (wearing a tricorne hat and blue Garter riband), walks with three elegantly dressed companions. Soldiers from various regiments, clerics, a sailor and even a fireman wear the clothing associated with their occupation, while on the left a working-class woman serves cups of fresh milk, and in the foreground, an elegantly dressed lady fixes her stocking.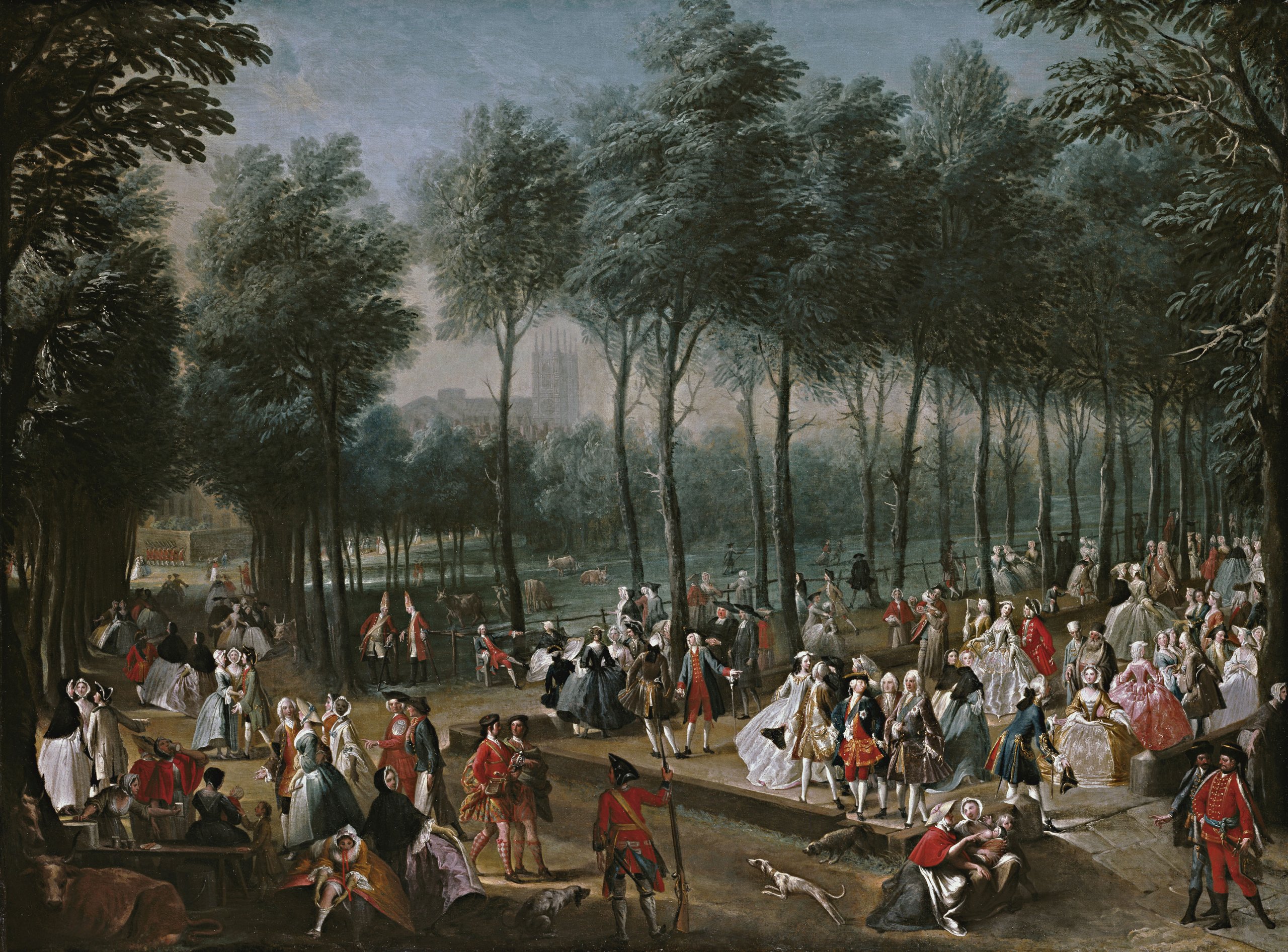 Worn over the shift by women from all classes, stays provided comfortable support (like the modern bra), shaping the torso, and creating a smooth line for garments worn above. This close-up section of William Hogarth's 'The Tavern Scene' from A Rake's Progress, 1735, identifies the woman as a prostitute, or someone lacking moral values, as she has removed her stays.
Stays were also worn by children and there are small stays worn by Prince George, later George IV, c. 1764 on display.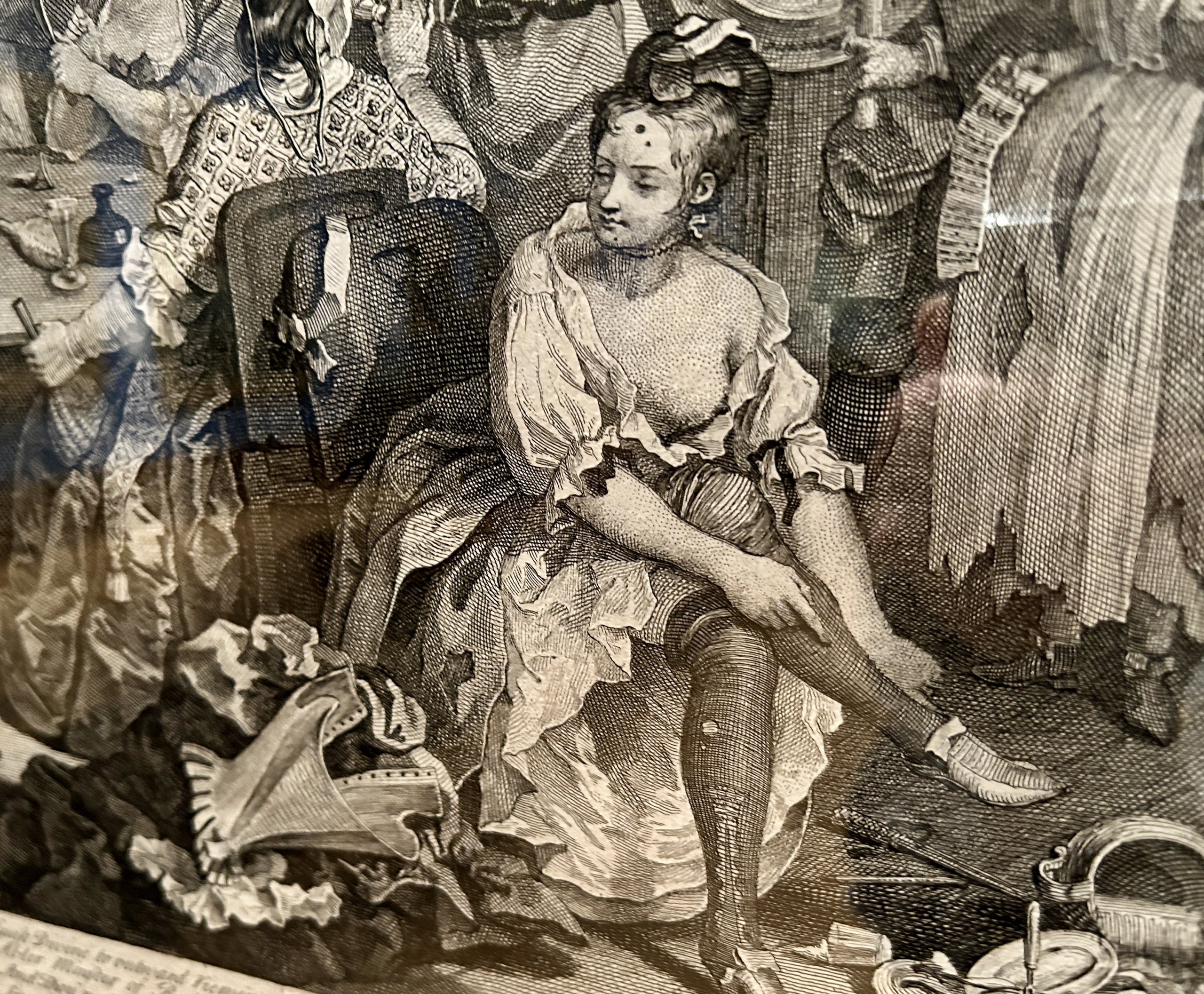 International Influence
Britain dramatically expanded its global reach during the 18th century via trade, travel and empire. Styles and fabrics from the Ottoman Empire, India and China were incorporated into everyday dress.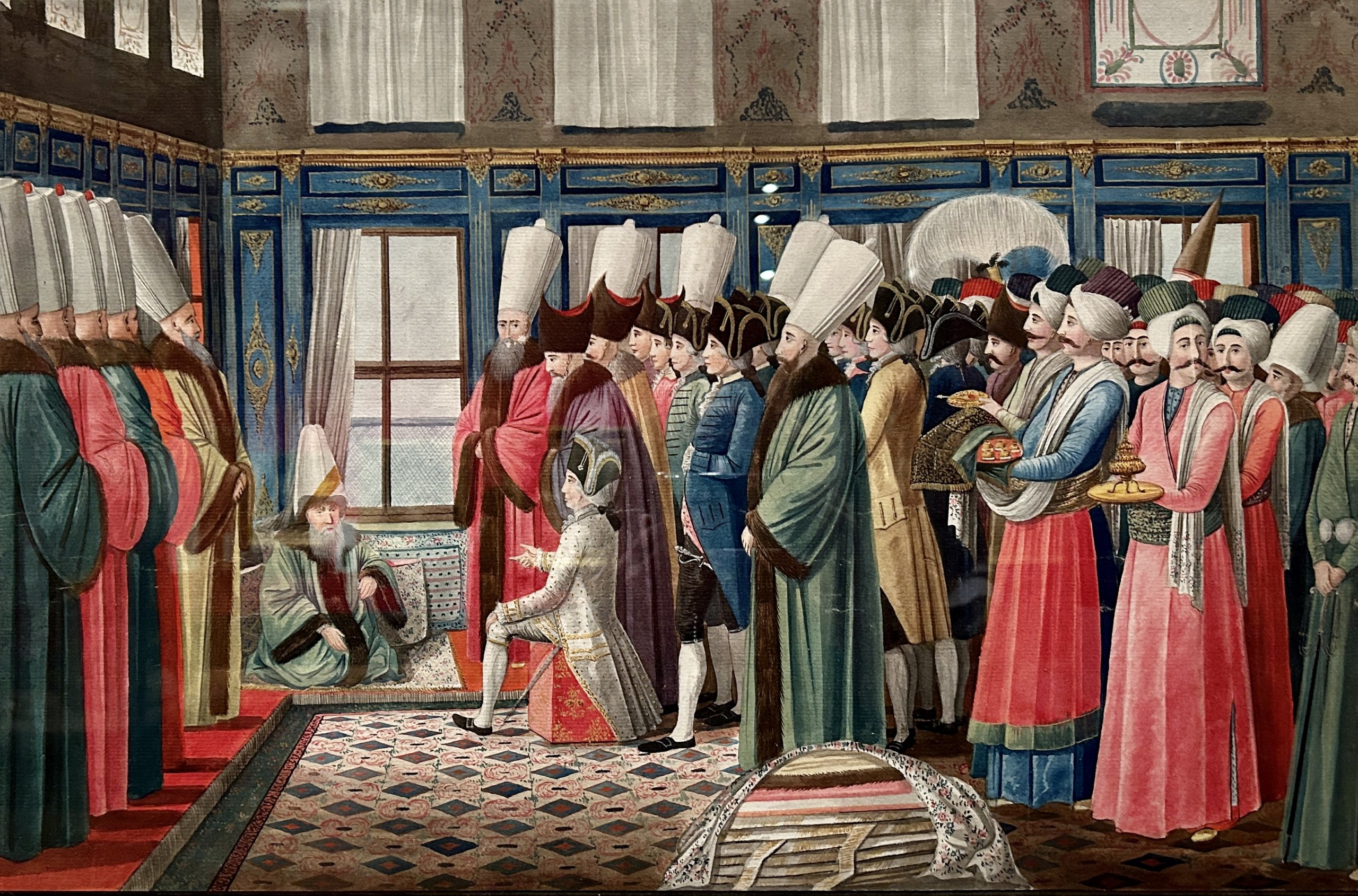 In a portrait of Madame de Pompadour, Louis XV's stylish mistress wears a floral gown, possibly made of painted silk imported from China.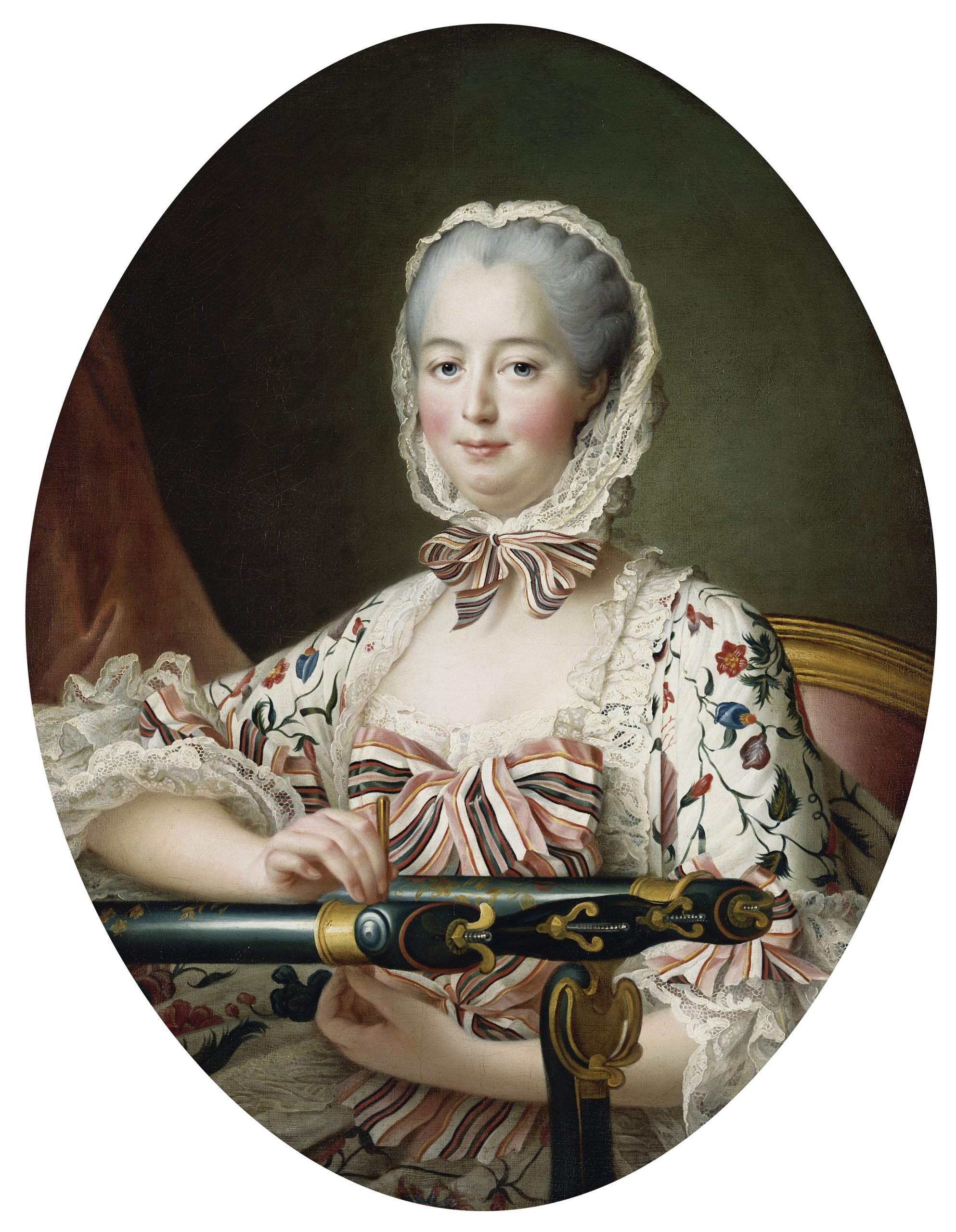 The portrait is shown alongside a roll of Chinese hand-painted silk from the 1760s covered with an almost identical pattern, on loan from The Bowes Museum, Barnard Castle.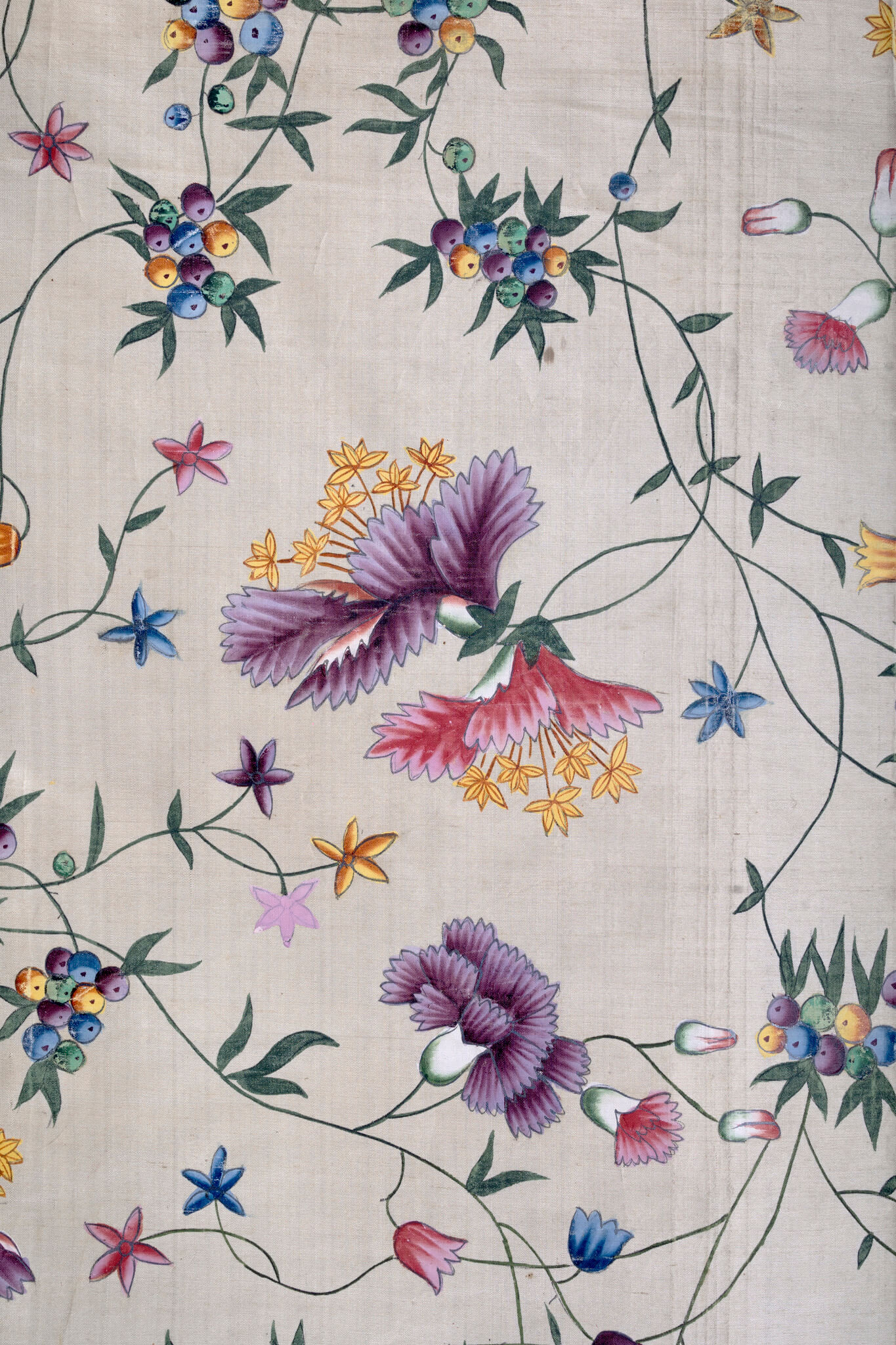 In William Hogarth's c.1757–64 portrait of the celebrated actor-manager David Garrick and his dancer wife Eva-Maria Veigel – one of the most high-profile couples of the era – Veigel chose to wear a gown in a distinctive 'egg-yolk' shade of yellow. The colour was revered in China due to its association with the emperor and became popular in Britain at this time during a craze for chinoiserie, a decorative style that incorporates Chinese motifs. Although such a colour was typically achieved with dyes derived from plants such as turmeric, it bears a similarity to gold, achieved without the expense of precious metal threads.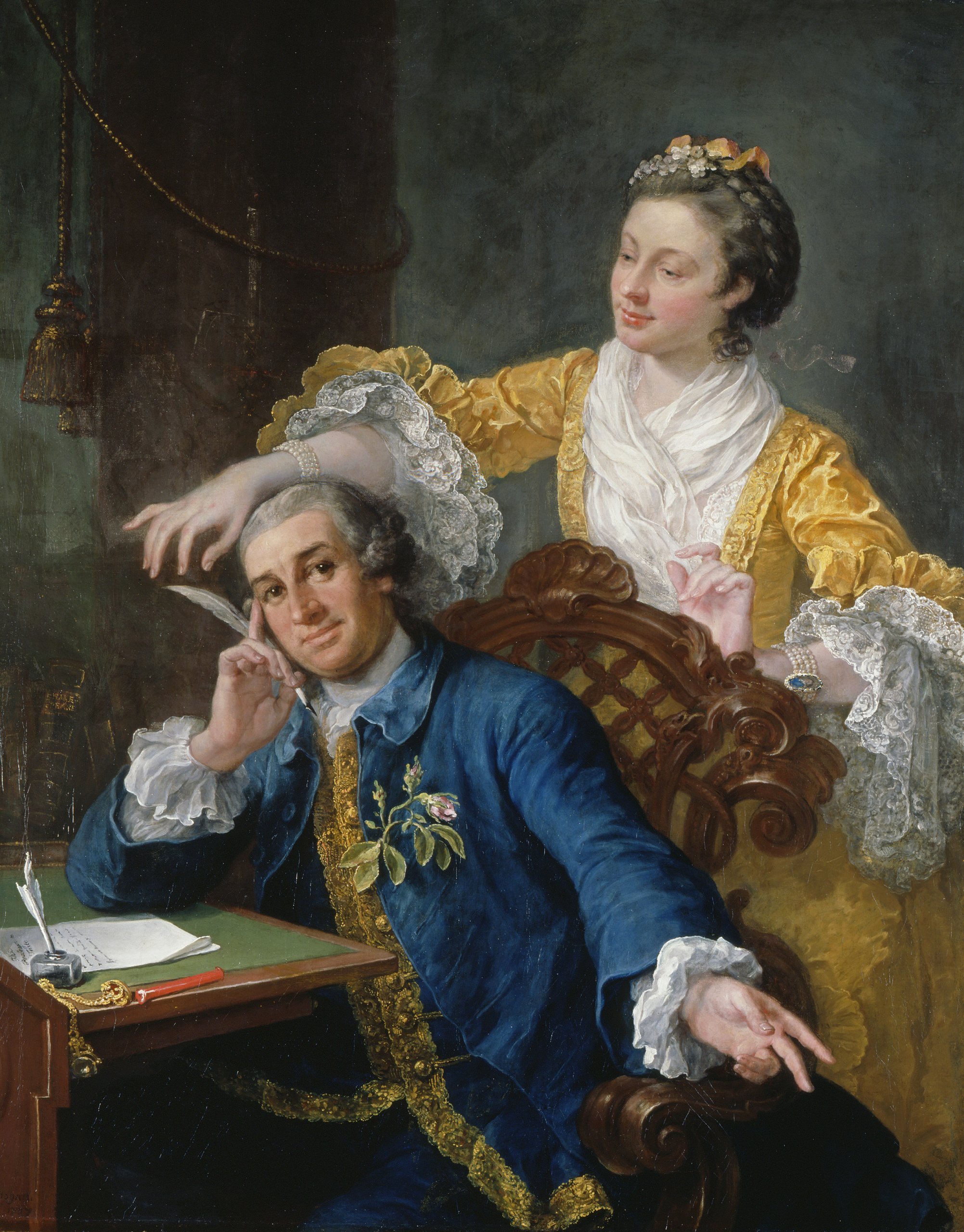 Working Class Fashion
As well as influences from abroad, fashionable society increasingly looked to the practical wear of lower classes for style inspiration, adopting previously working-class garments such as aprons and trousers. Knee breeches were worn by men for most of the 18th century as seen in Thomas Gainsborough's portrait of the famed musician Johann Christian Fischer, 1774–80.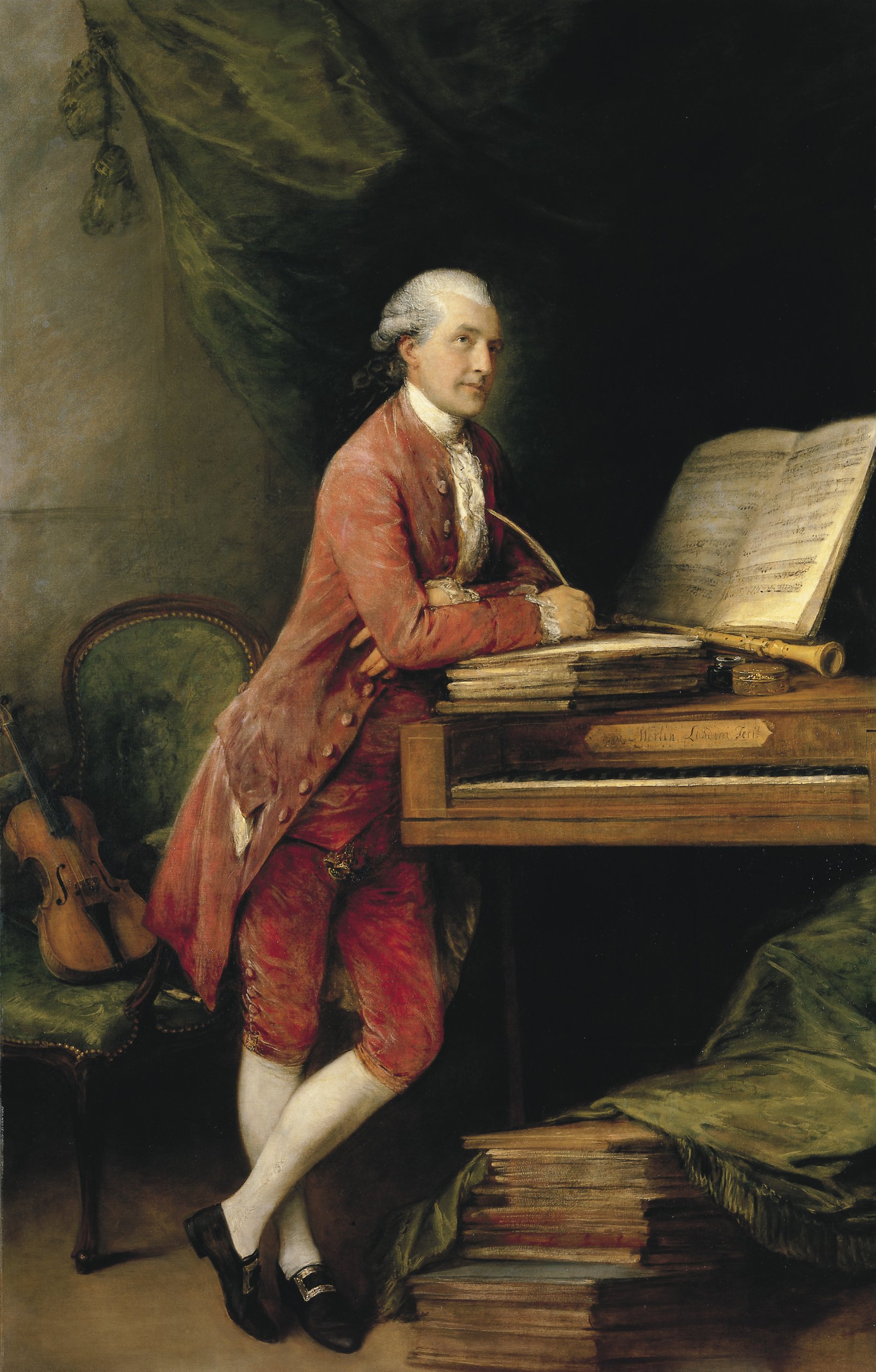 These breeches illustrate the new style of 'fall flap' front opening typical of the second half of the eighteenth century, which fastened with buttons at each top corner and provided a neater and more practical option. Tightness at the knee is achieved through three cut-steel buttons and a tiny buckle on each leg.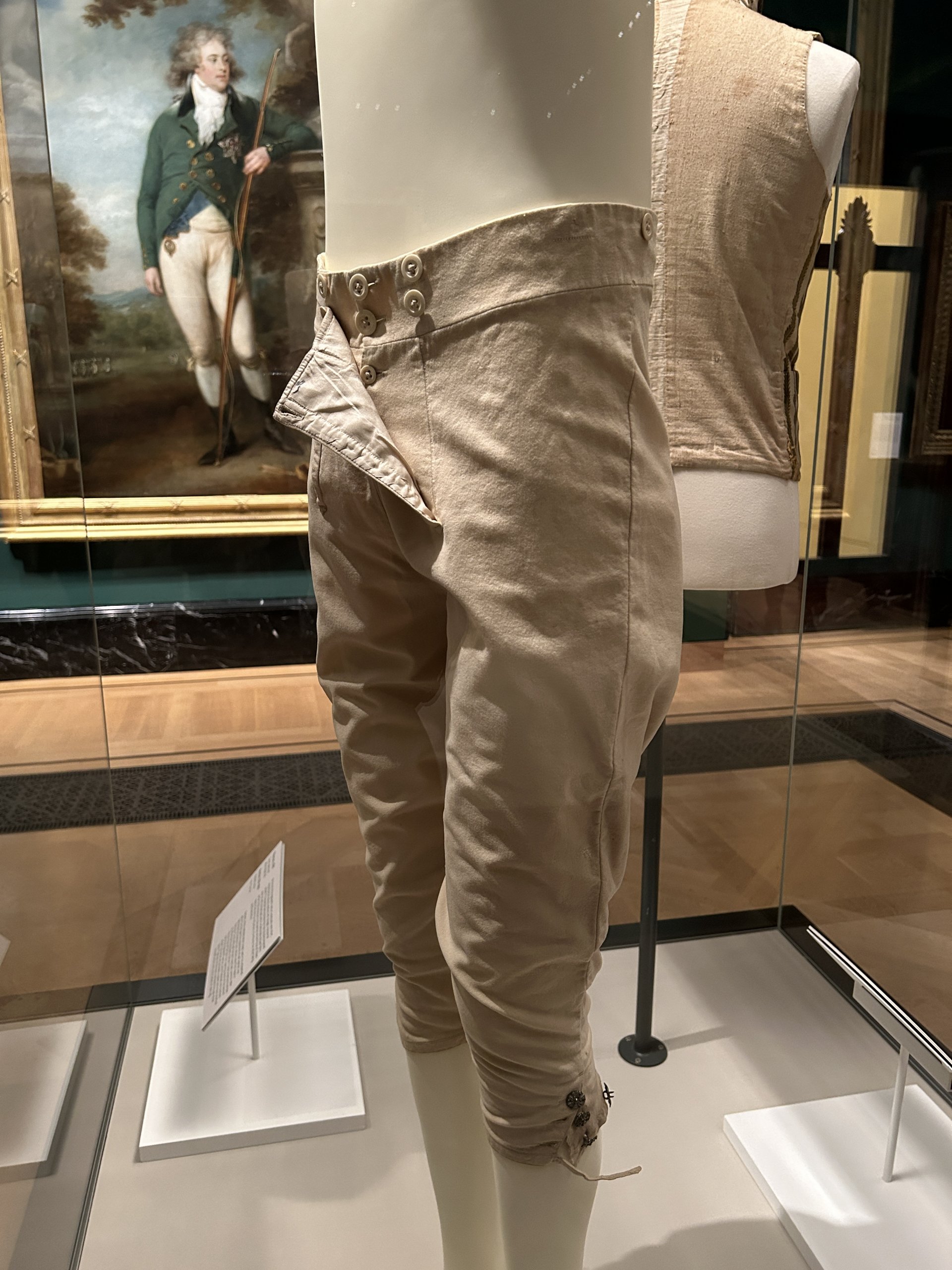 However, by the end of the Georgian period, upper-class men adopted trousers for the first time, a legacy continued today.
Long trousers were associated with the baggy style worn by sailors as seen in the painting below.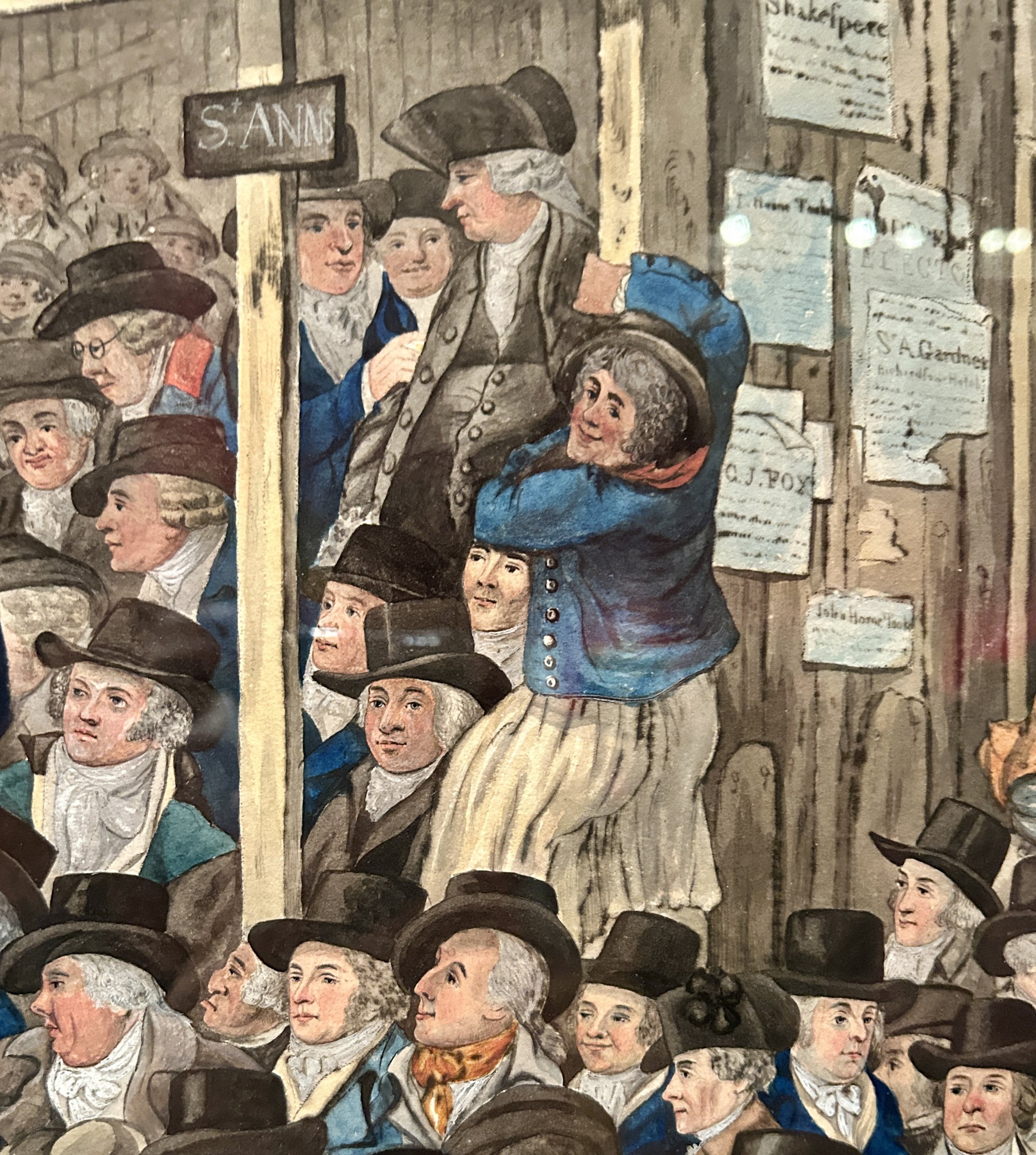 But the future George IV and Lord Byron were early adopters of the new slim-fit long style, as shown in a portrait of Lord Byron by George Sanders, c.1807–8.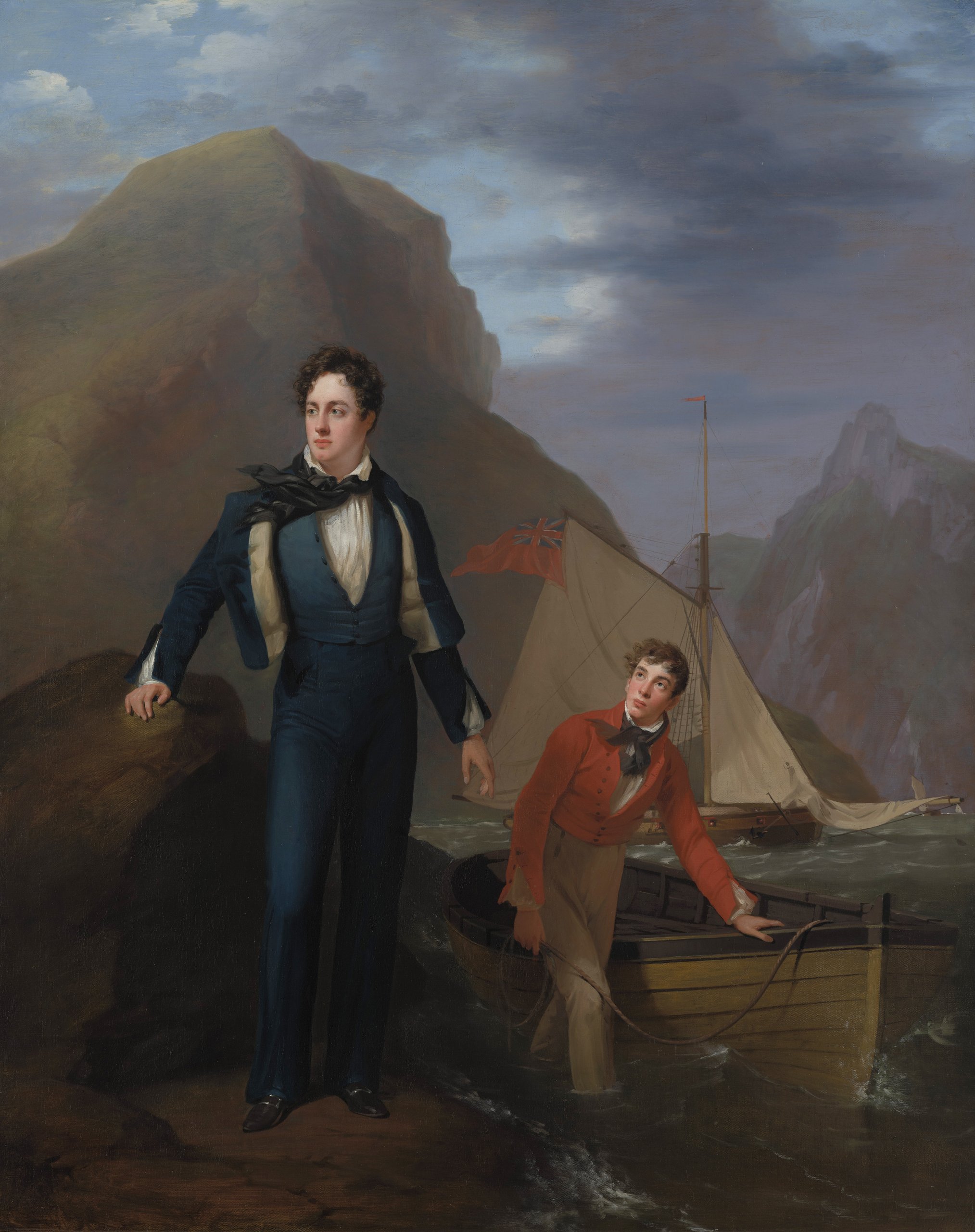 Satirical Print
The exaggerated fashions of the period were a gift for caricaturists, coinciding with what has become known as the golden age of the satirical print. In the never-before-displayed New Invented Elastic Breeches, 1784, Thomas Rowlandson depicts a large man being manhandled into an optimistically small pair of leather breeches by two tailors.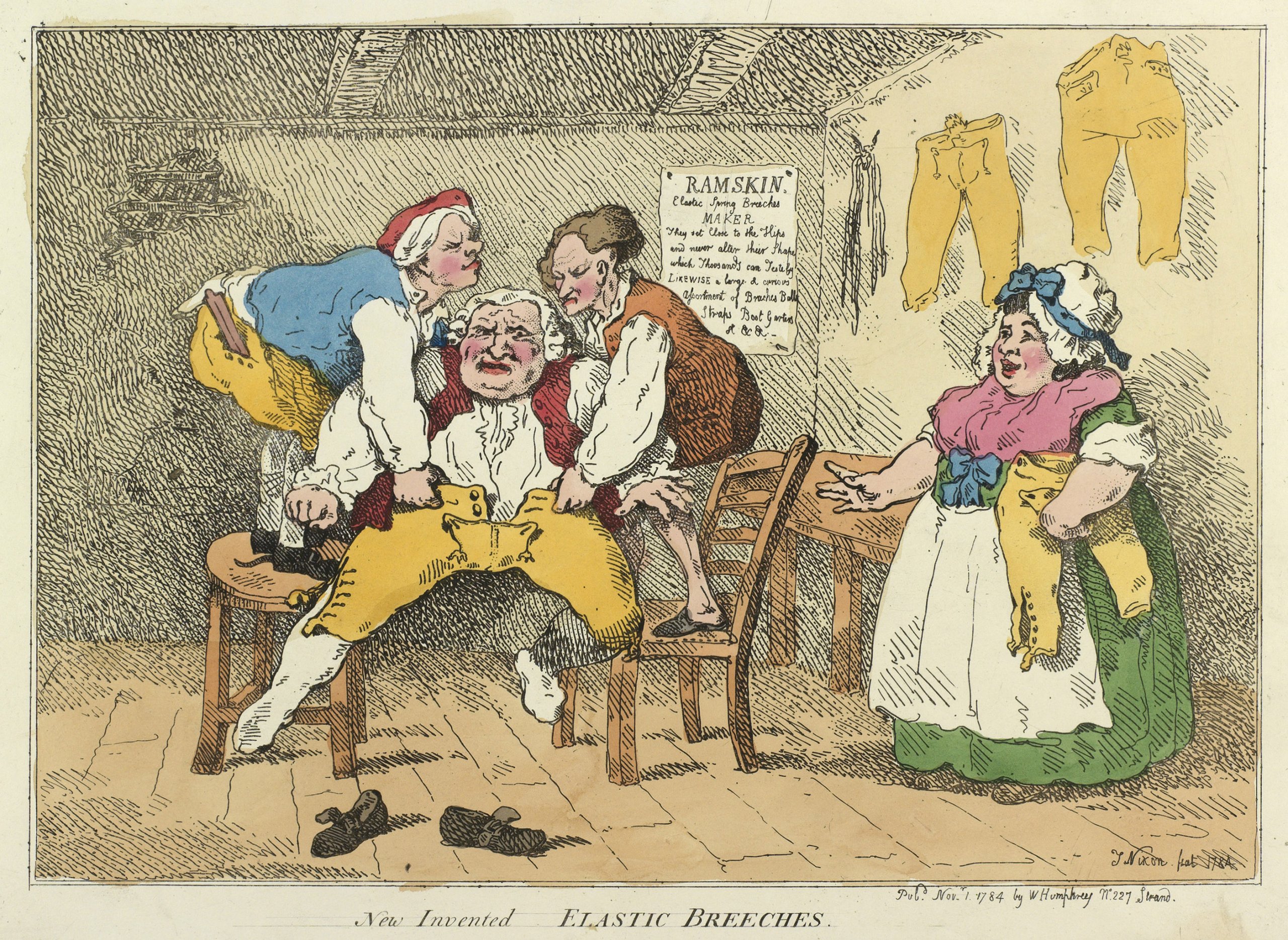 Royal Clothing
These 1762 coronation portraits of George III and Queen Caroline by Allen Ramsey (1713–84) are wonderful to admire. Ramsay reported that he had 'the Royal robes set up upon my figure'. It was common practice for clothing to be lent to an artist after an initial sitting to avoid the subject needing to sit for lengthy periods.
The stomacher on Queen Charlotte's coronation dress was constructed from a fine network of small diamonds, overlaid with a folate design of larger stones. It was valued at £60,000 which is the equivalent of £10 million today.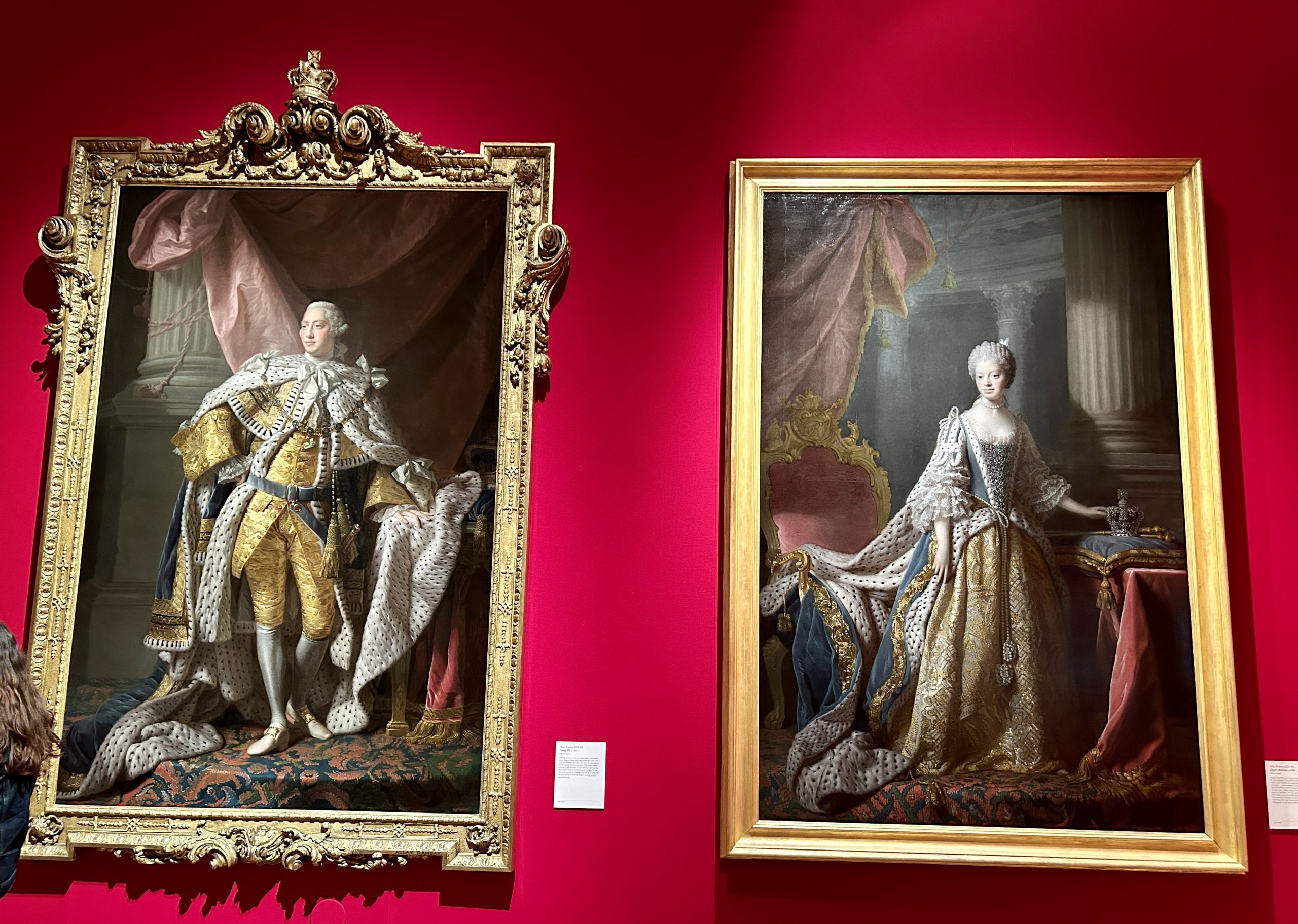 It's not all grand clothes on display as this is a linen shirt worn by George III. We know this was his as there is a monogram and crown embroidered in red cross stitch above the right side vent, together with the date.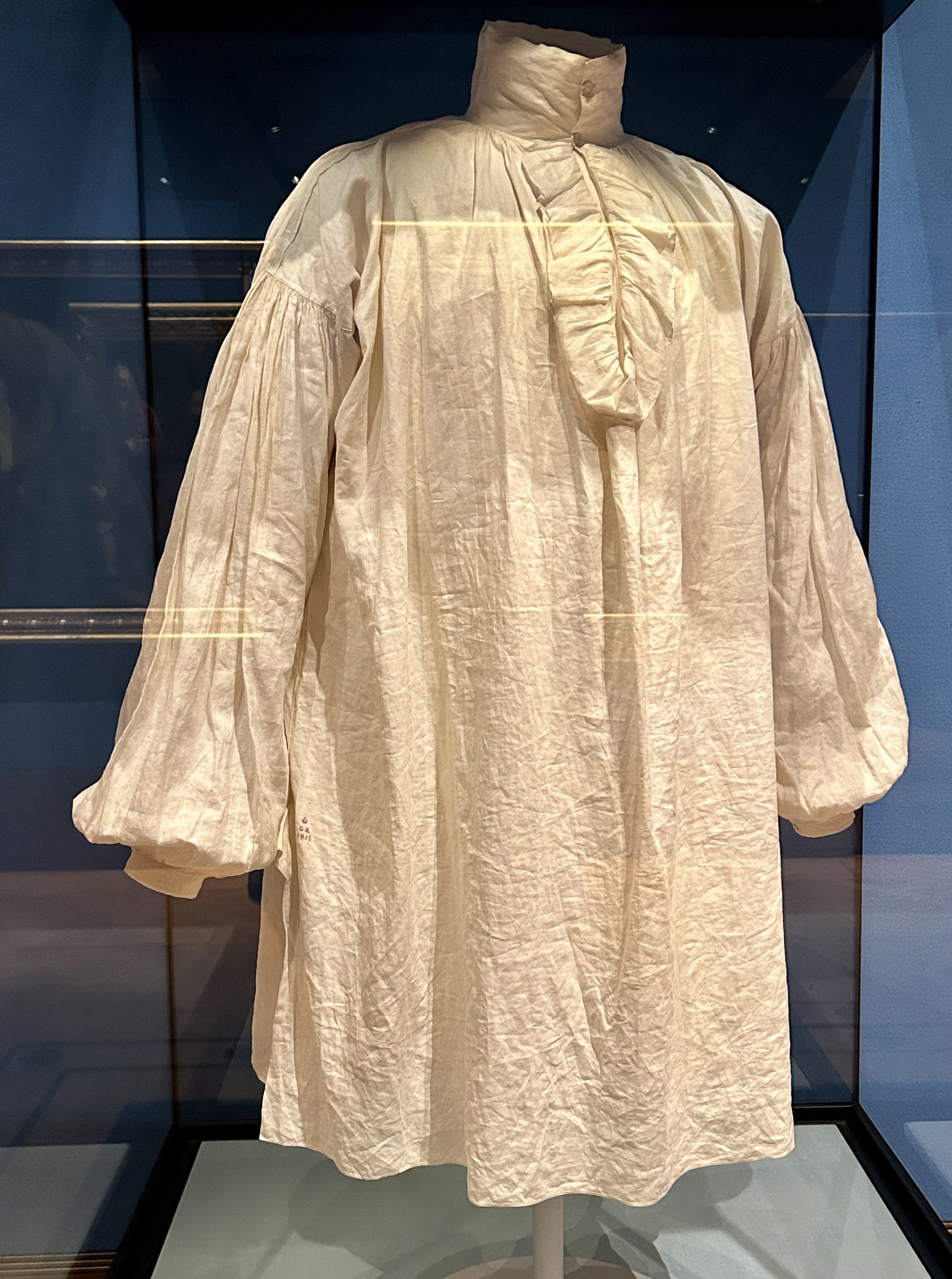 These tiny shoes, made of soft twill-woven cotton with cream silk satin ribbon rosettes, fasten with string ties on either side. Their size (equivalent to a modern UK infant's size 3) suggests they would have been worn by Princess Charlotte at around the age of one.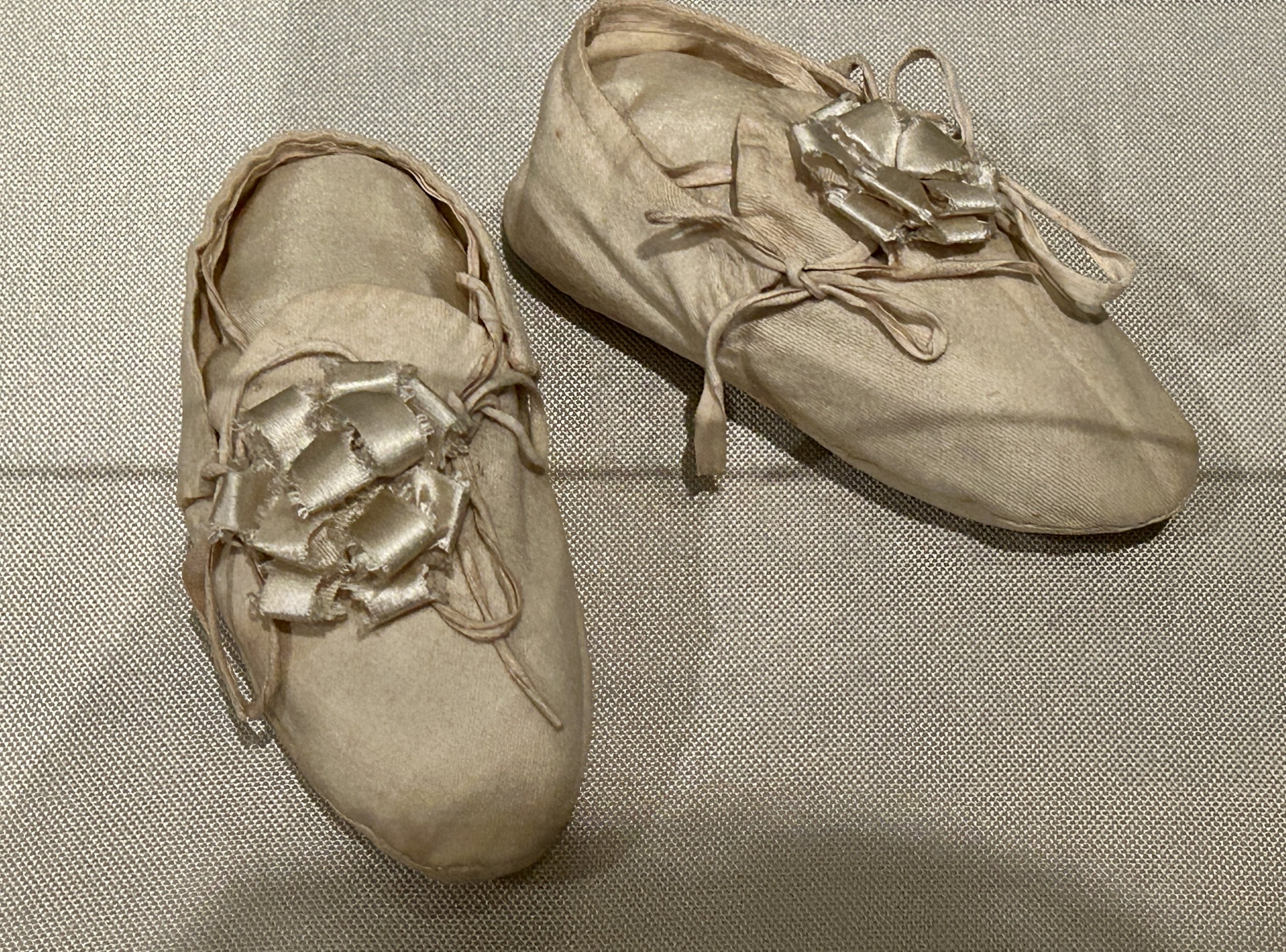 Military Dress
All the Georgian monarchs took a great interest in military clothing even when they were not particularly interested in fashion, and instigated various projects designed to systematise and record military dress. In Britain, the first official pattern uniforms were formalised for both the army and navy during the reign of George II and subsequently revised under George Ill and George IV.
In the same year of his appointment as colonel of the 10th Light Dragoons, the Prince of Wales commissioned George Stubbs to record the uniform of the regiment, showing (from left to right) the ranks of mounted sergeant, trumpeter, sergeant and trooper.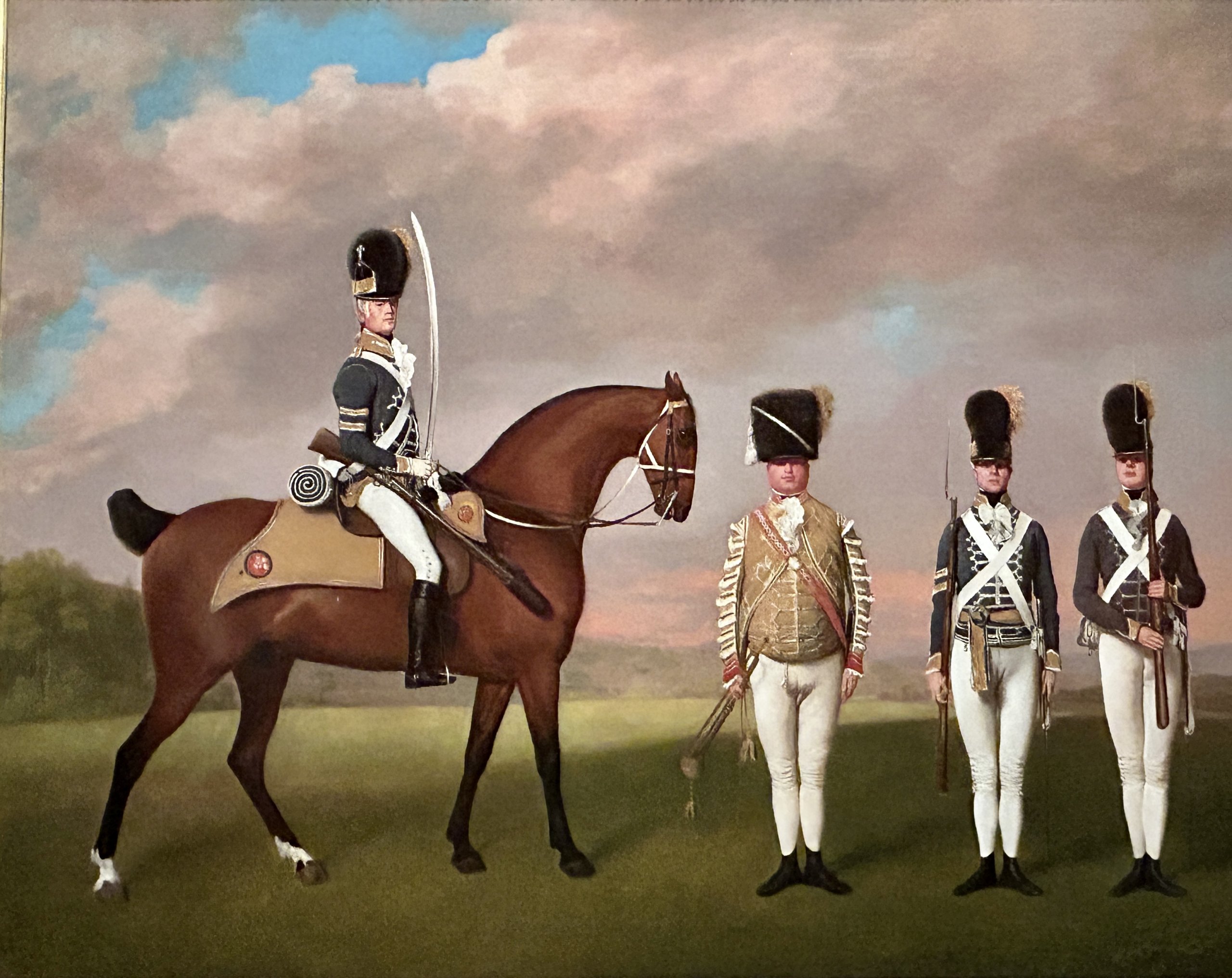 Painted for the Duke of Cumberland, this is a piece of propaganda exaggerating the contrast between the British redcoats and the Jacobite troops in Highland dress, reinforcing stereotypes of Highlanders as unshaven and barbaric.
Within a year of his accession, George I was faced with a challenge to his legitimacy from Jacobites who aimed to restore the Stuart bloodline to the throne. Tartan became a conspicuous feature of Charles Stuart's attire during his early military campaigns, and he encouraged its widespread use among his army.
The powerful link between clothing and Jacobite ideology is indicated by the Disarming Act of Parliament of 1746 which banned Highland dress for men in Scotland – legislature that officially lasted until 1782.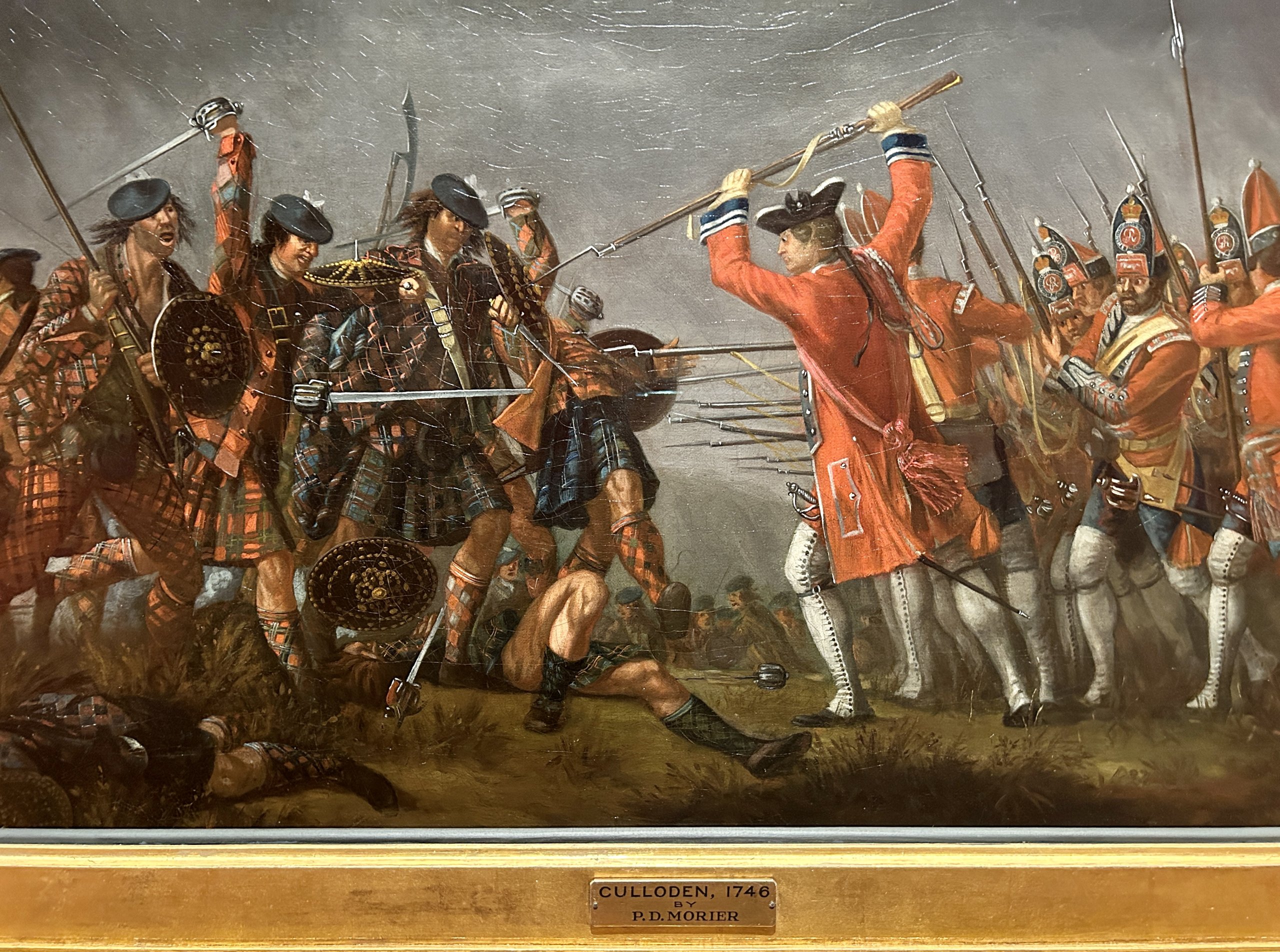 Jewellery and Accessories
The exhibition includes items of jewellery from Queen Charlotte's famed collection, such as a diamond ring featuring a miniature of her husband George III, given to her on her wedding day.
Obviously, these items are small and, displayed in the dark side rooms, they were hard to see well.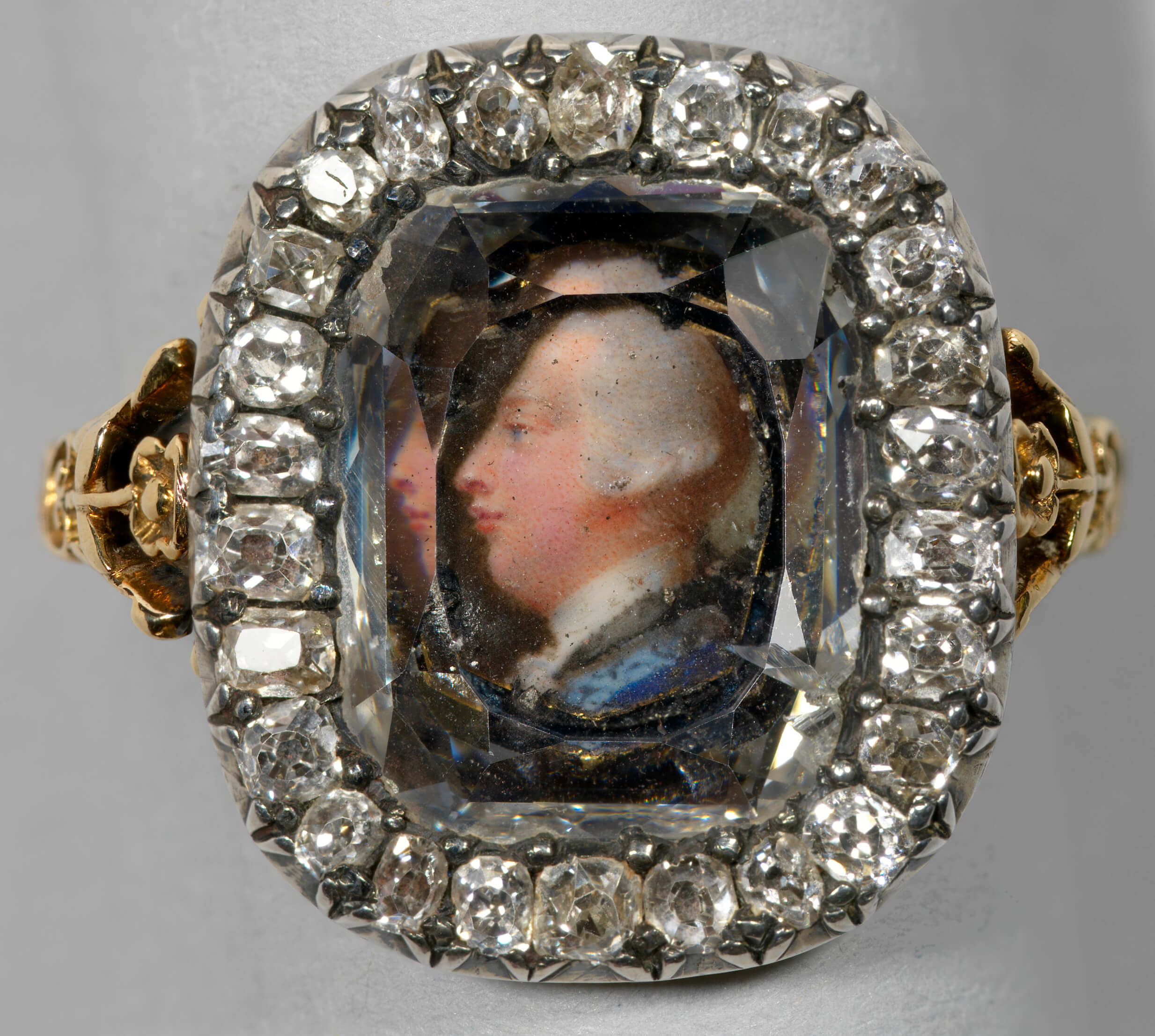 Other accessories on display include beautiful English and French fans, which reached their fashionable zenith during this period, some representing topical events such as the first hot air balloon flight.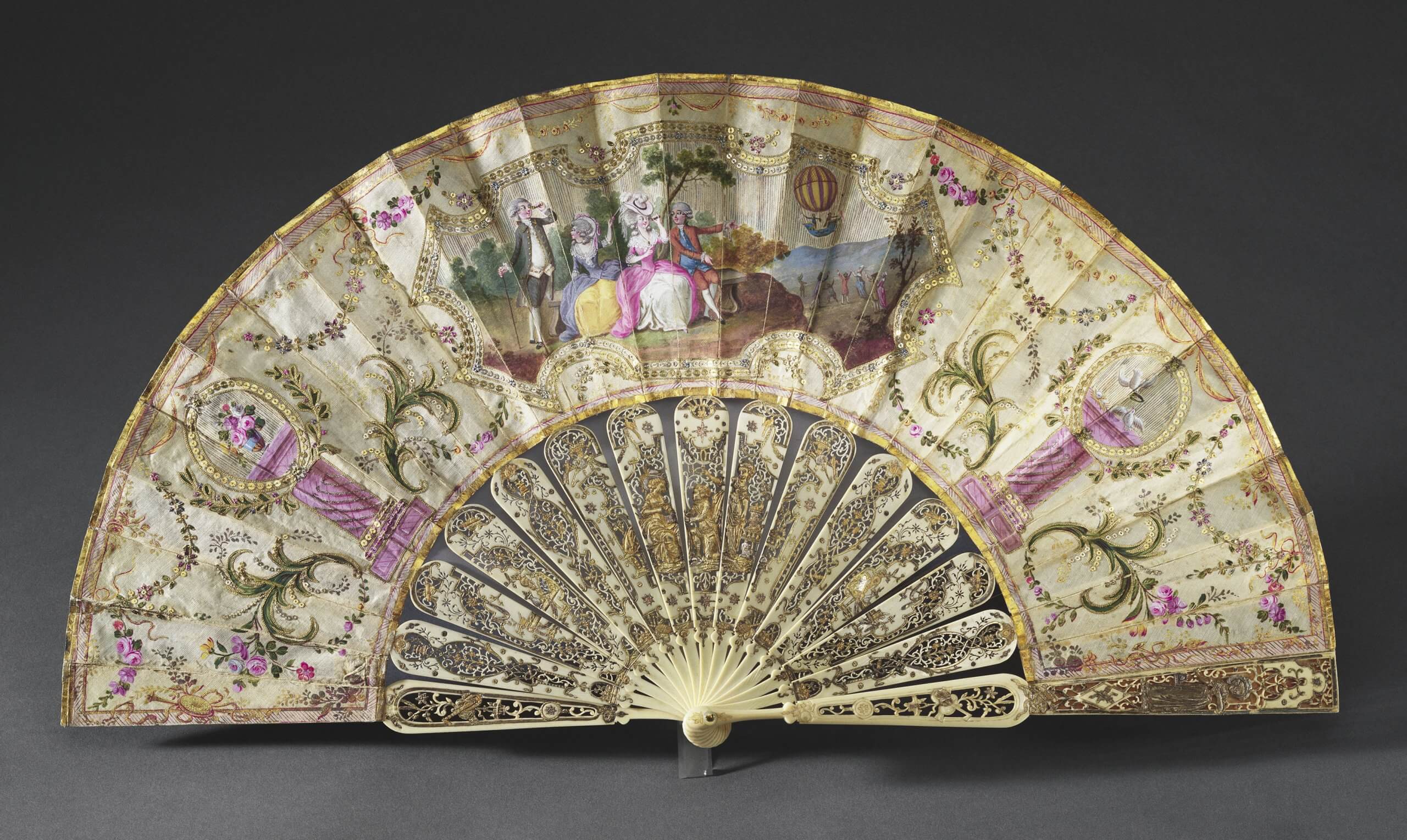 A jewel-encrusted snuffbox reflects the craze amongst both men and women for taking snuff throughout the 18th century.
I was so pleased to have this press image as the snuffbox is very small (under 2 inches wide). Again, it was dark in the side room where it was displayed so it wasn't easy to see this level of detail.
Hair and Makeup
Advancements in hair care, cosmetics, eyewear and dentistry are also explored.
The eighteenth century was a great period of innovation for optical aids, including the development of spectacles with side arms. Before this, they were generally of the pince-nez type (balancing on the nose) or a single eyeglass on a chain. The circular frame was most common because round lenses were easiest to grind.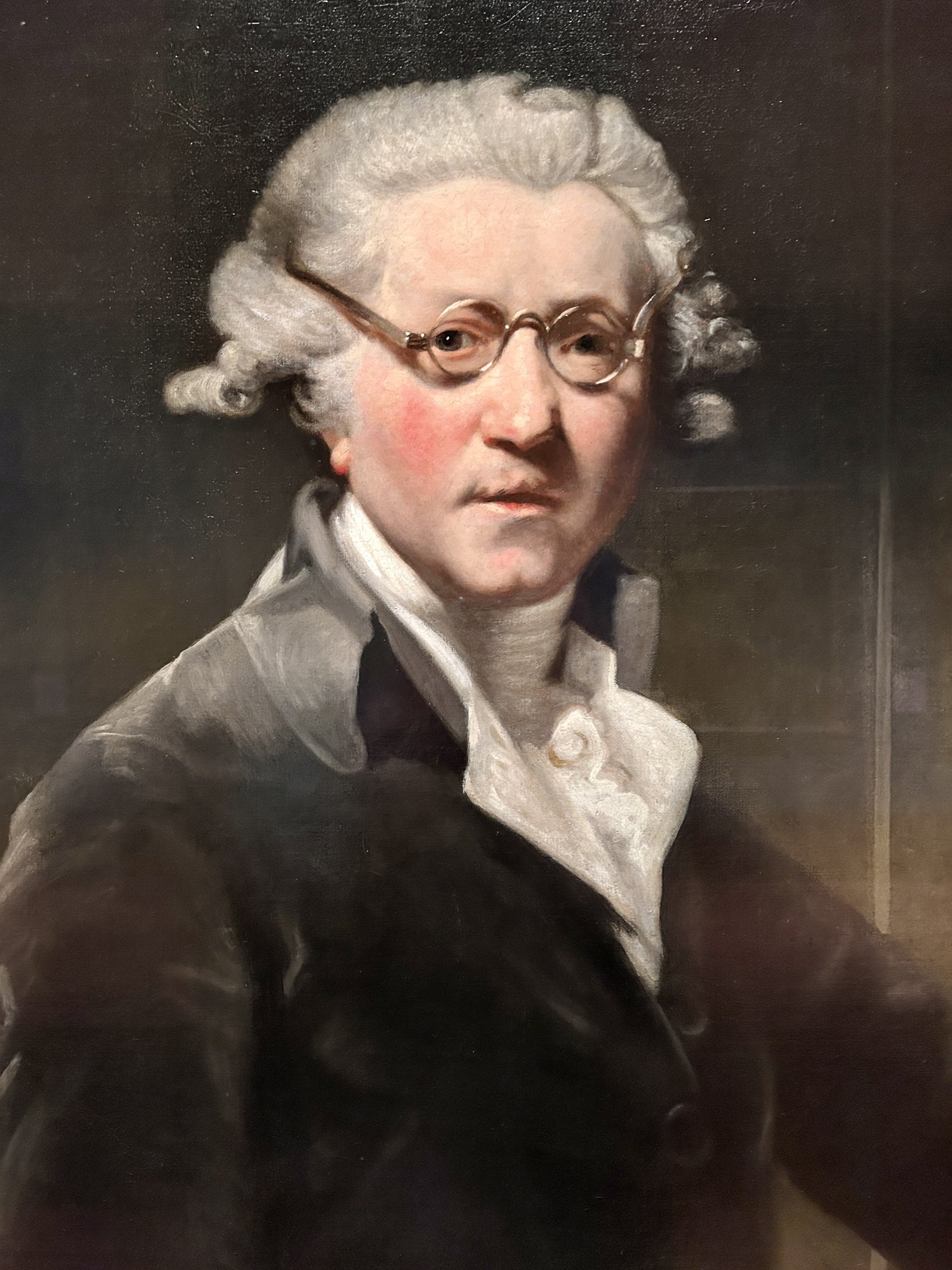 By the time of this portrait, George Washington only had one tooth, and his ivory false teeth were painful, which may account for the closed mouth expression.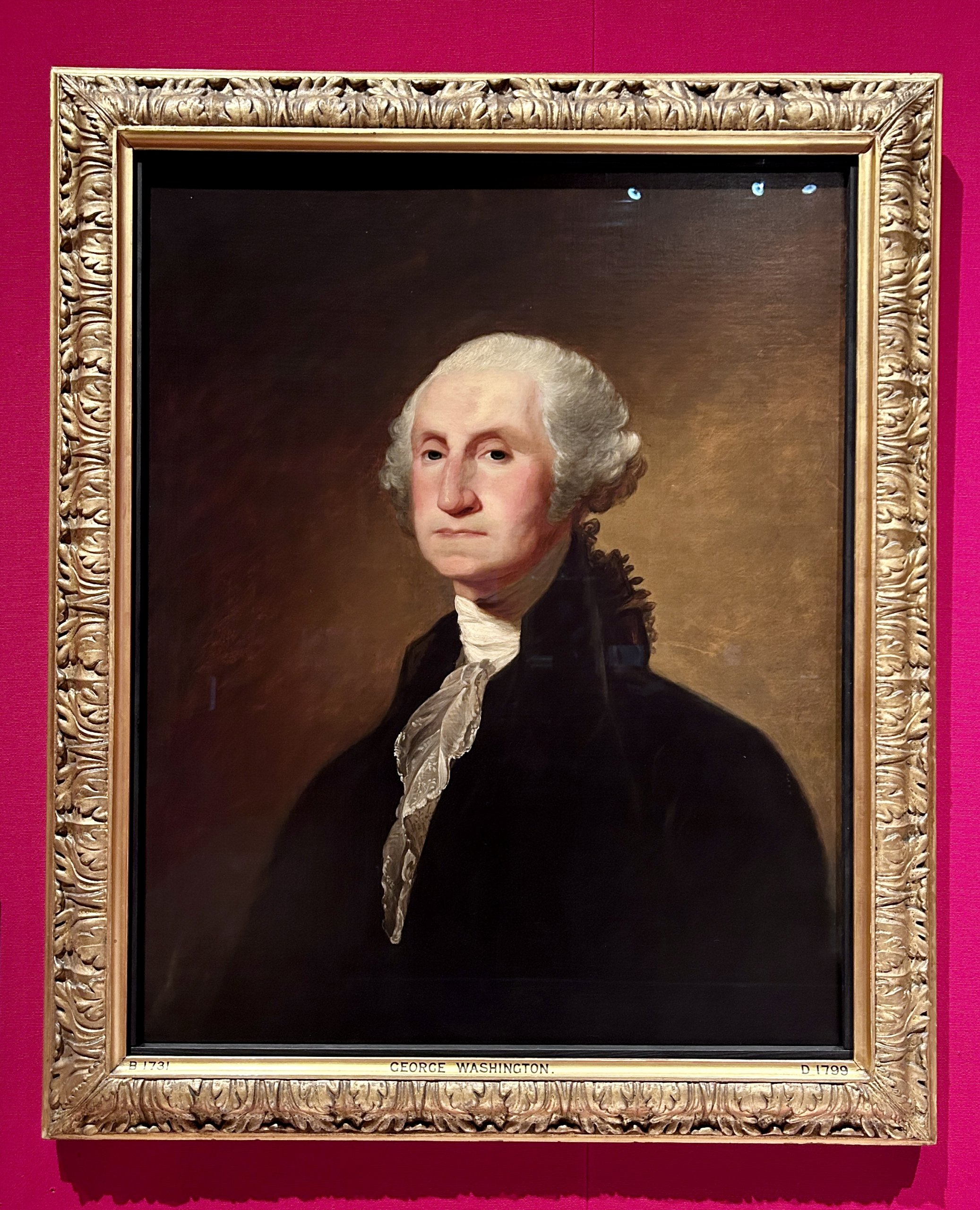 Immensely tall and wide hairstyles became fashionable for women in the latter half of the century, resulting in the development of an entirely new trade: the hairdresser. Quirky items on display include a set of miniature bellows and a sprinkler used for applying hair powder, loaned by The School of Historical Dress.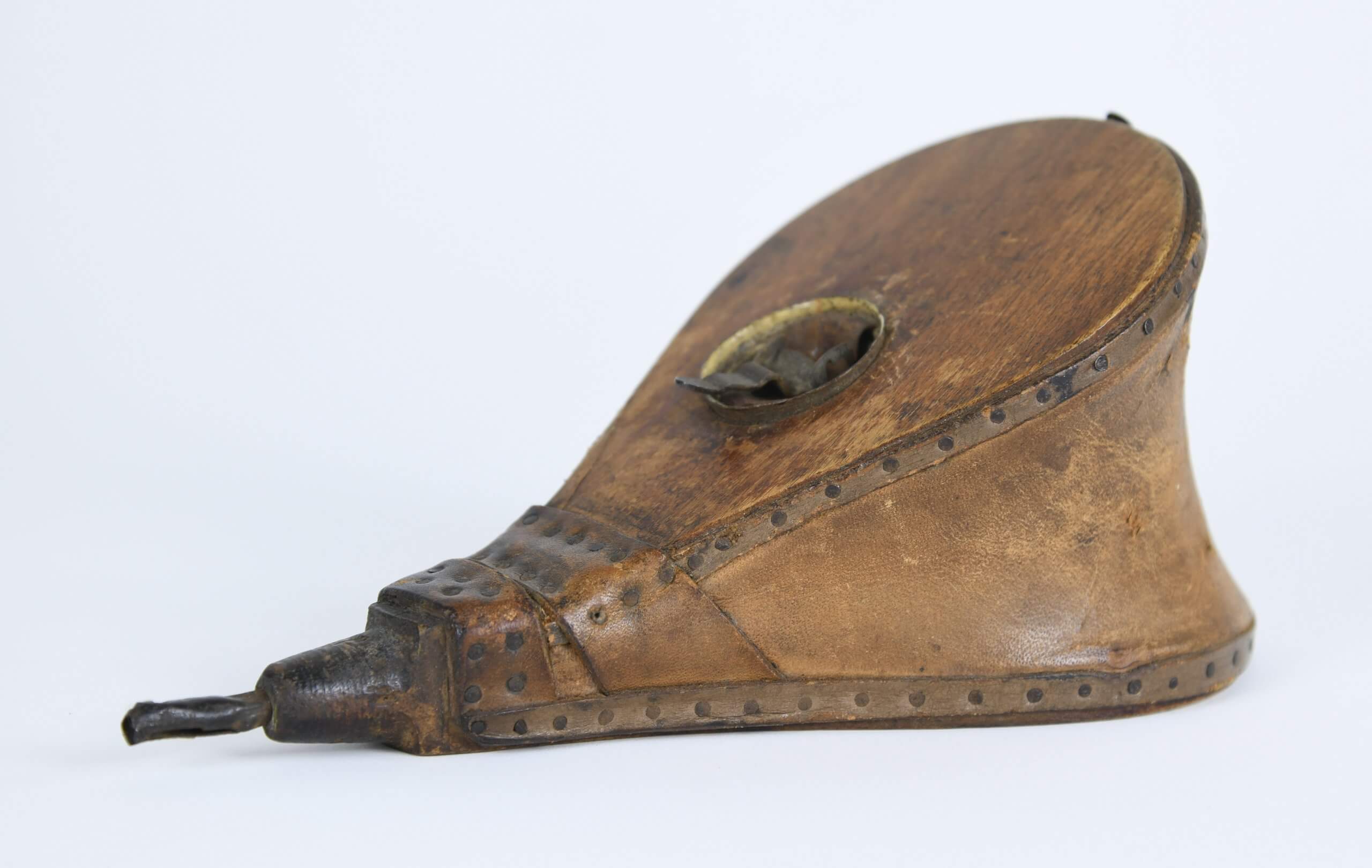 Throughout much of the eighteenth century, most men shaved off their real hair and replaced it with a powdered wig. This was linked to ideas about health and cleanliness as hair was thought to spread infection and lice.
I thought it was interesting to be able to see this wig from above. While the most expensive wigs were made of human hair, this was made of horsehair, linen and silk.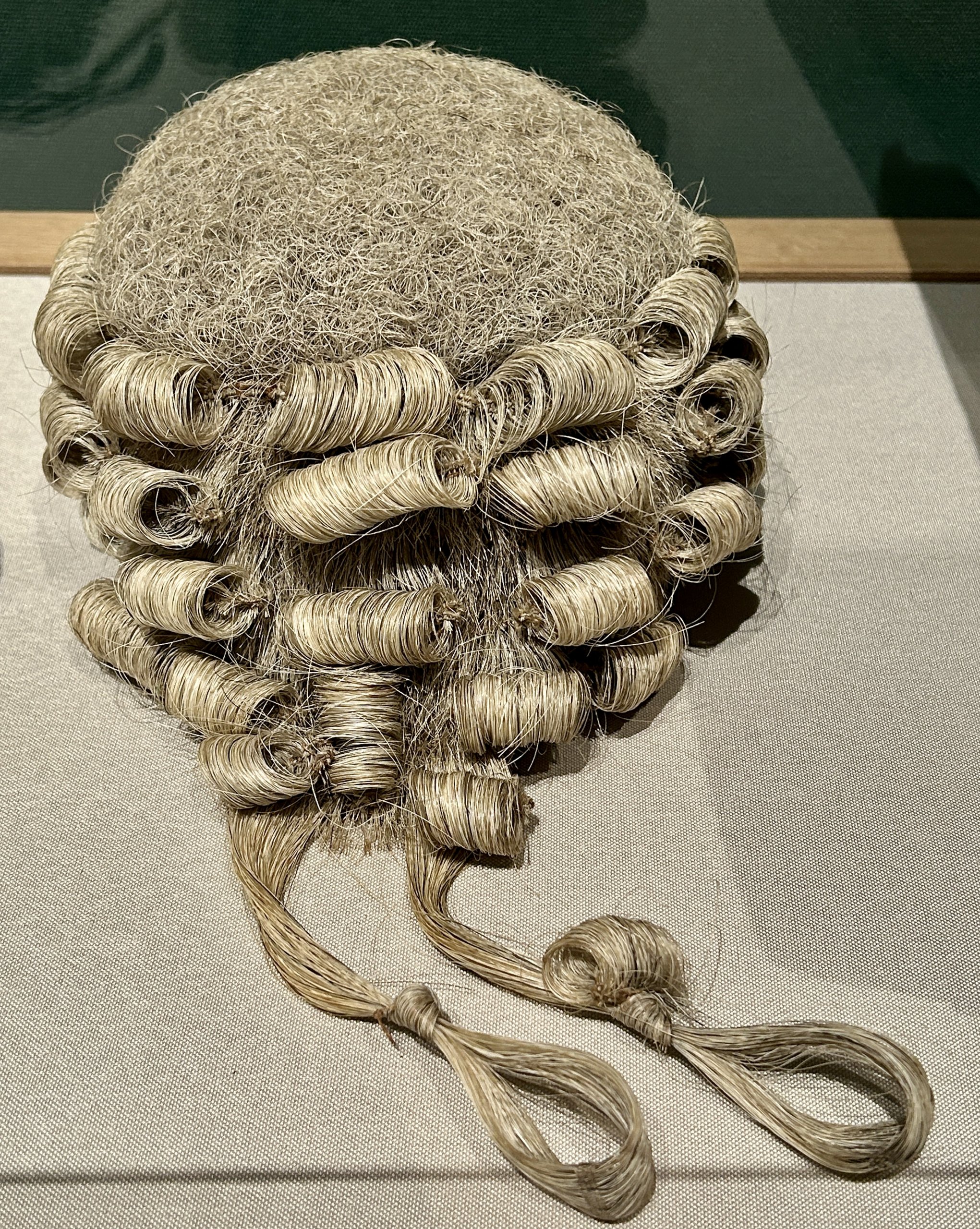 Not Always What You Are Expecting
While there are stunning portraits and fabulous historic dress on display, I also found this etching.
By the 1780s the fashionable body shape was rounded. An emphasis on the posterior was typically achieved using an undergarment stuffed with fragments of cork or horsehair. Unlike stays, these could be bought readymade. Here various underpinnings hang on the wall, ranging from crescent-shaped rumps to full petticoats with padded sections. While the slender customer in the centre has the various options explained to her by the assistant, the lady on the right admires her new silhouette using a pair of mirrors.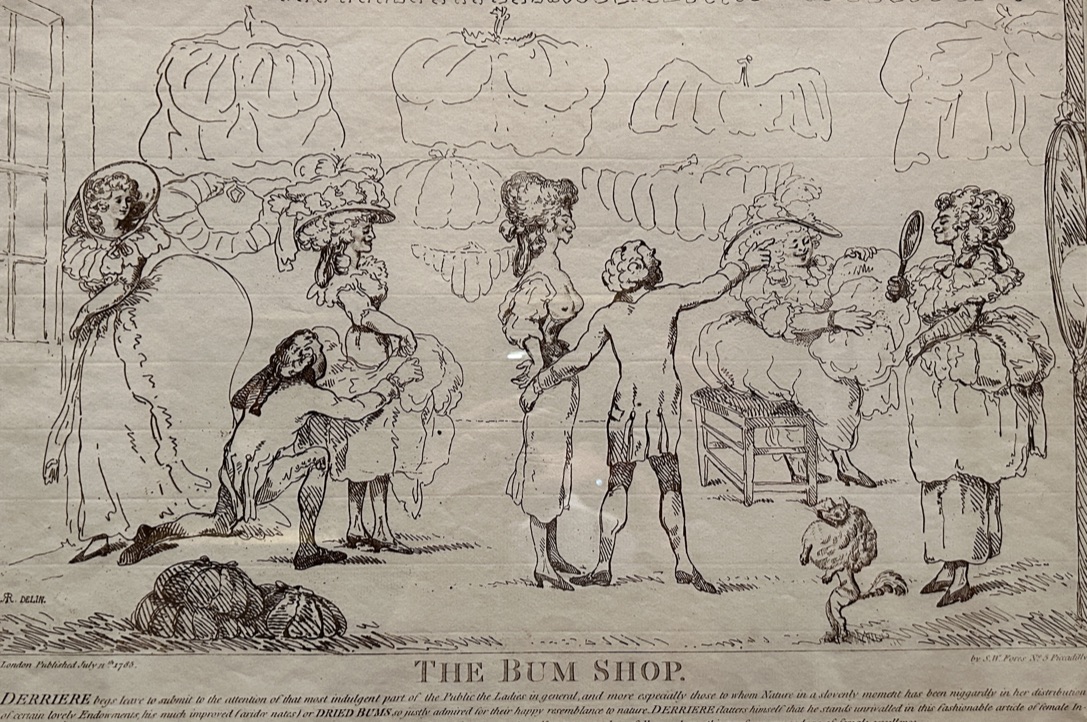 Visitor Information
Title: Style & Society: Dressing the Georgians
Dates: 21 April – 8 October 2023
Location: The Queen's Gallery, Buckingham Palace
Official Website: www.rct.uk
The shop has some items relating to the exhibition including this lovely scarf.