We often talk about the National Gallery having all the big hitters in the art world. Well, this exhibition has brought a lot of household names together. There are over 100 paintings and sculptures by artists such as Cézanne, Van Gogh, Rodin, Picasso, Matisse, Klimt, Kandinsky and Mondrian. Essentially, After Impressionism: Inventing Modern Art includes some of the most important works of art created between 1886 and around 1914.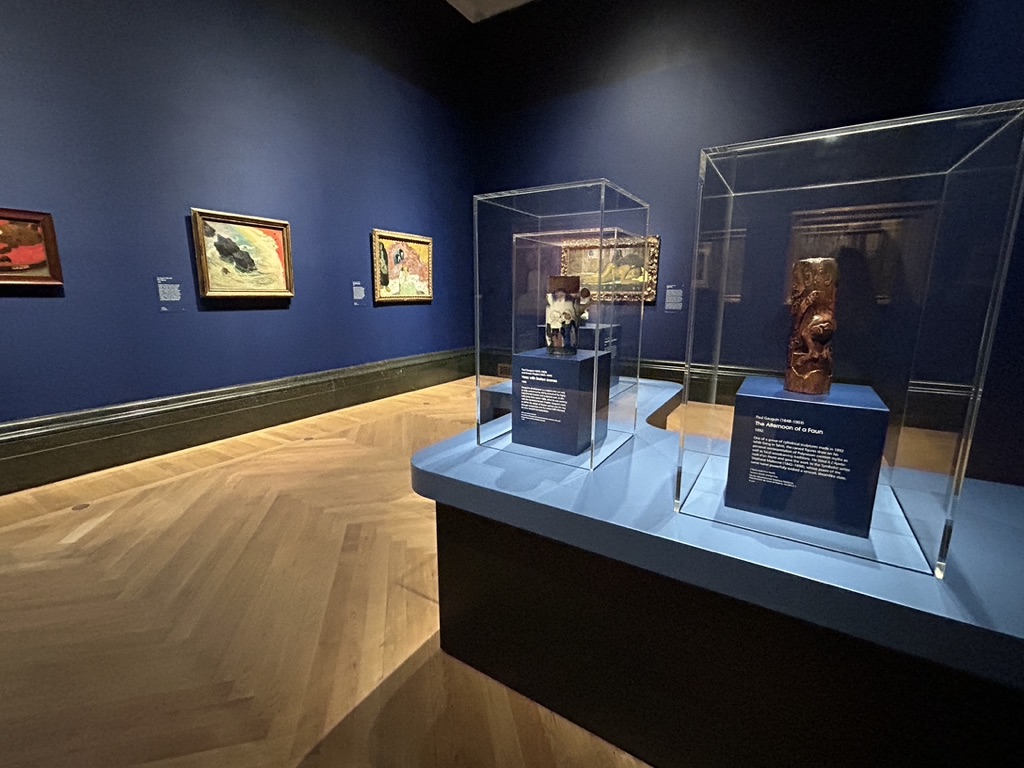 The Impressionists held their last exhibition in Paris in 1886. After Impressionism looks at what happened in the following three decades up to the eve of the First World War. It was the longest period of peace experienced in Europe. Industrialisation was pushing forward and colonial exploitation continued.
Paris and Beyond
While celebrating Paris as the international artistic capital, this is one of the first exhibitions to focus on the exciting and often revolutionary artistic developments across other European cities during this period such as Brussels, Barcelona, Vienna and Berlin.
So Many Loans
I can't imagine the complexities of preparing for an exhibition like this as there are loans from the Museum of Modern Art, New York; Musée d'Orsay, Paris; Art Institute of Chicago; Musée Rodin, Paris; National Galleries of Scotland, Edinburgh; Museu nacional d'arte de Catalunya, Barcelona; Tate; and Wadsworth Atheneum Museum of Art, Hartford, Connecticut, as well as many private collections.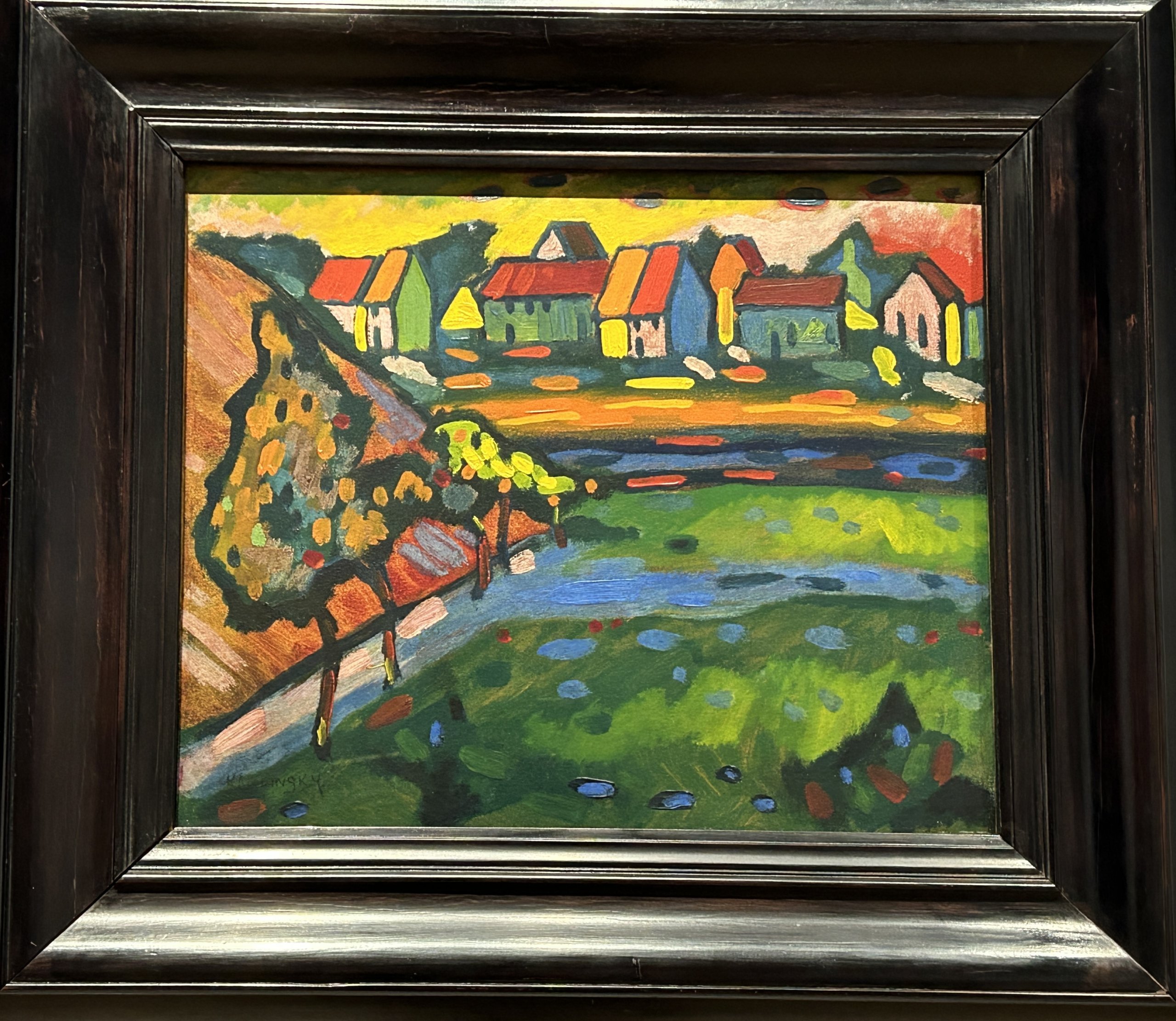 Introduction Room
The ante-room features two seminal works by Pierre Puvis de Chavannes and Paul Cezanne, framed by two radical sculptures by Auguste Rodin (Auguste Rodin Monument to Balzac, 1898, plaster; and The Walking Man (L'Homme qui marche, 1905-7, bronze; Musée Rodin, Paris).
It would be easy to rush past these to the larger galleries but I stopped to admire the huge Rodin sculpture. Rodin depicts the celebrated writer Honor de Balzac (1799–1850) wrapped in his dressing gown as this what he liked to wear while working.
This is the full-scale plaster Rodin worked on before it was cut into three pieces for casting in bronze. The bronze can be seen outside at Musée Rodin, Paris.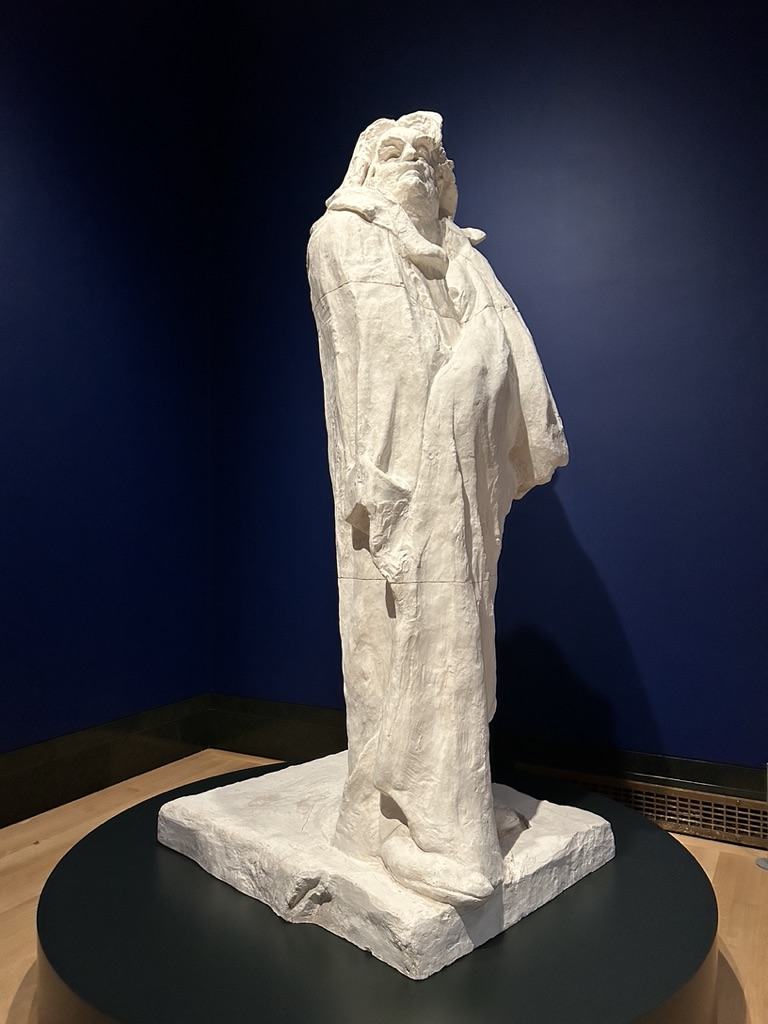 Pivotal Figures
Pivotal Figures presents Paul Cezanne, Vincent Van Gogh and Paul Gauguin.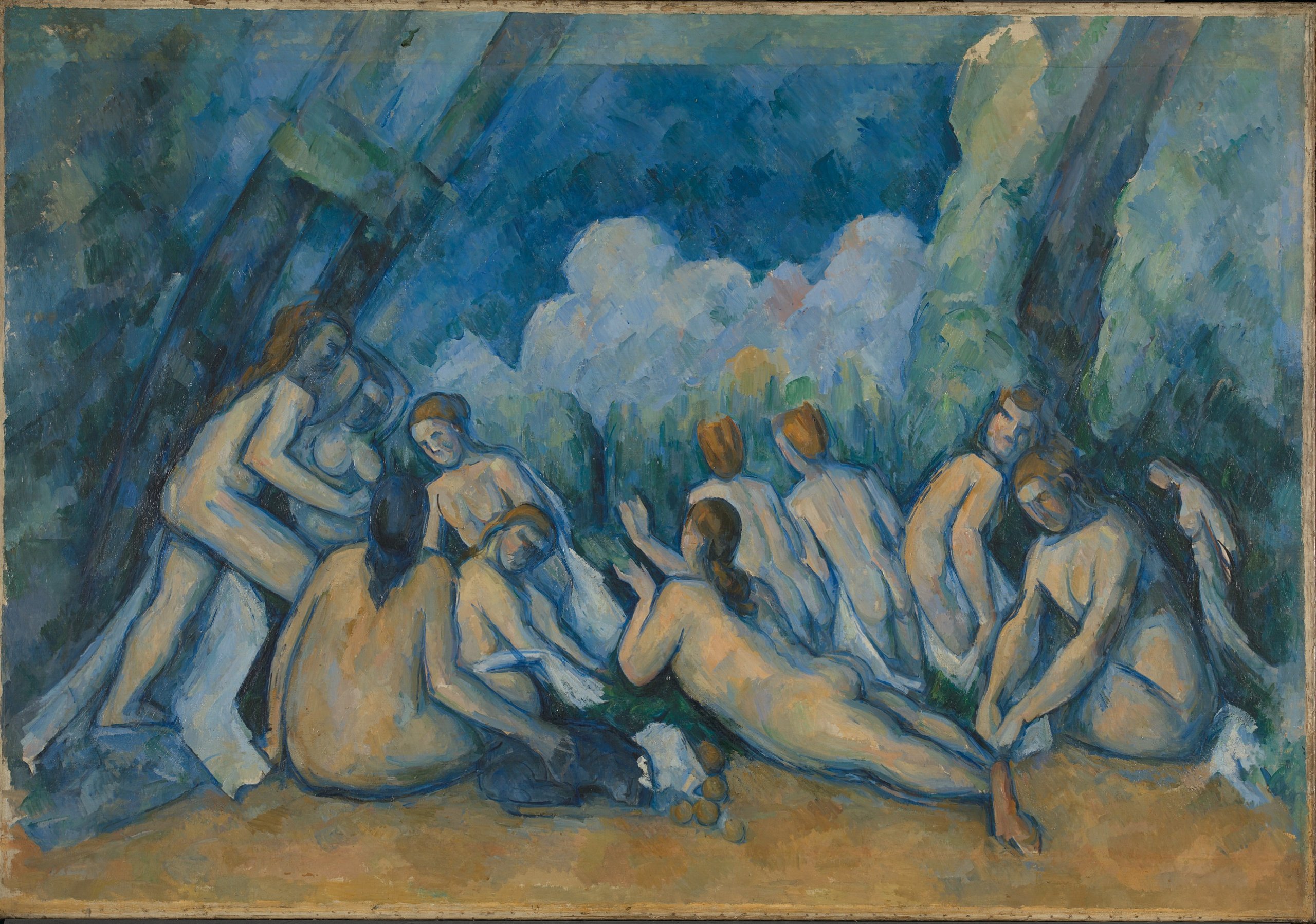 Although all three worked in relative isolation in their later careers – Cezanne and Van Gogh primarily in Provence, Gauguin in Polynesia – their highly individual approach to art and the international exposure their work received led to them becoming touchstones of all that was considered modern in painting and sculpture.
This was my favourite of the Van Gogh paintings on display. He was in the asylum in St Remy in 1889, following a severe epileptic attack and this was what he could see from his window. The colours and heavily-loaded brushwork are wonderful to see up close.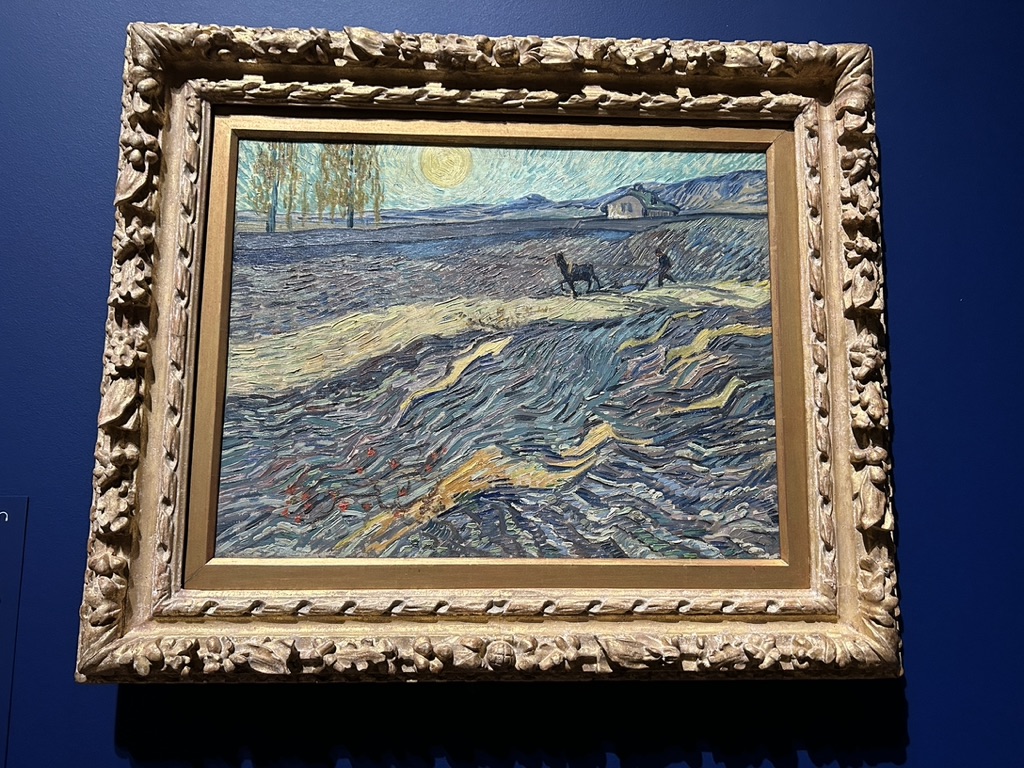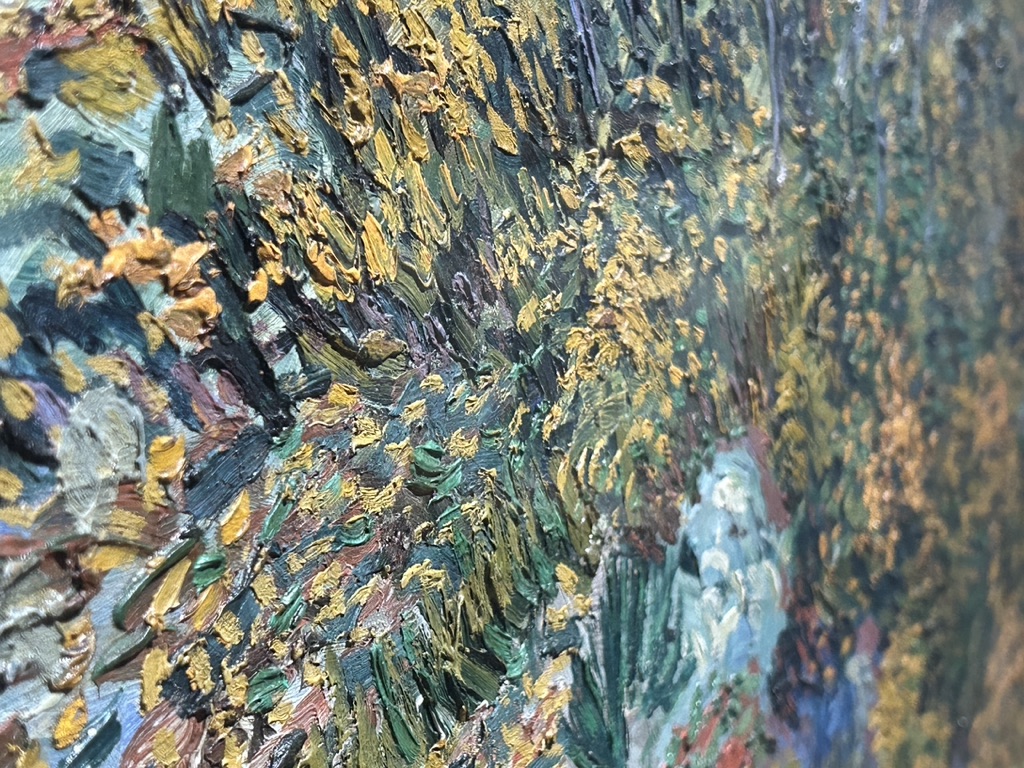 This February 1890 portrait of Madame Ginoux, the owner of the Café de la Gare in Arles, is by Van Gogh. He produced six portraits from a drawing Gauguin had left at his lodgings after his unsuccessful stay in Arles in Autumn 1888. Gauguin had argued for finding the essence of a subject by working from memory, an idea that Van Gogh resisted at the time.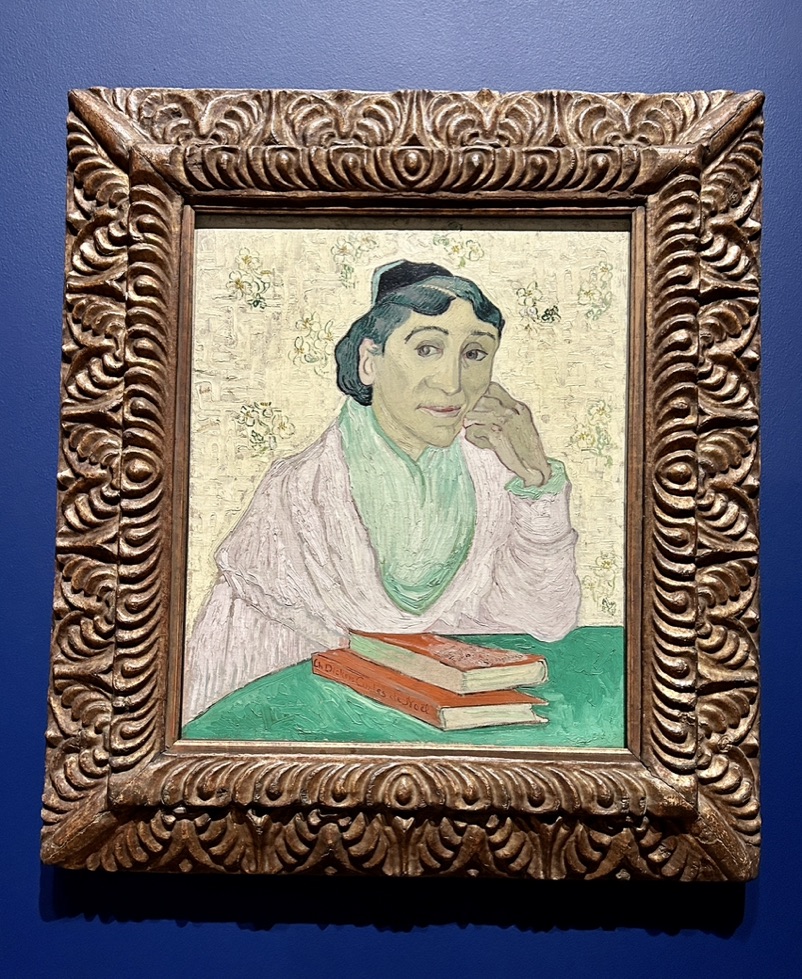 While the beauty of this Polynesian naked child can be seen in Nevermore by Paul Gauguin, it does make you feel uncomfortable as this is a 15-year-old child.
While he railed against the attempted destruction of Tahitian culture by French colonists, he perpetuated the western tradition of the exoticised female nude. He also exploited his position as a European in a colonised territory and had sexual relationships with teenage girls referring to them as 'wives'.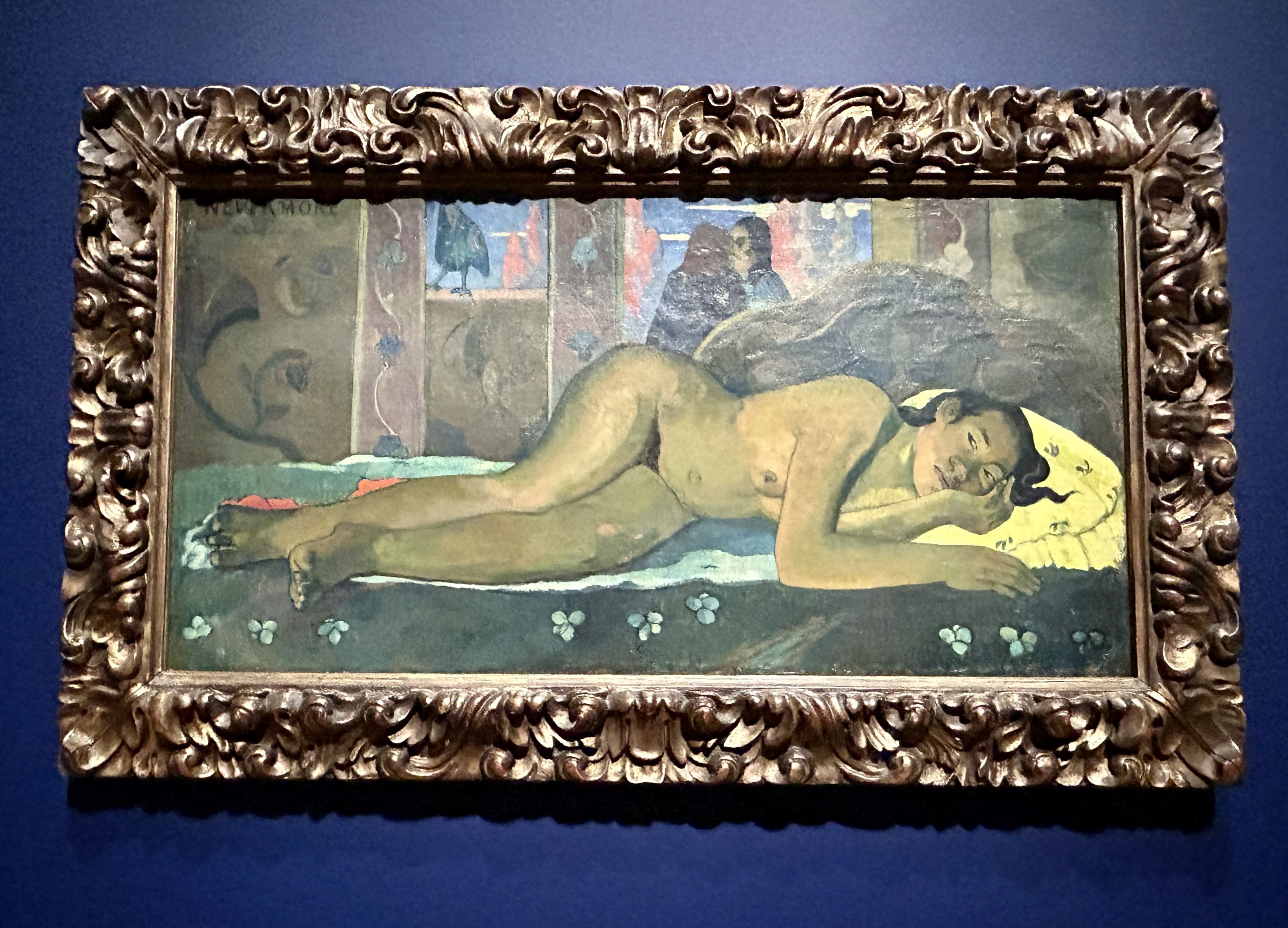 The exhibition often introduces us to sculptures produced by artists we primarily know for their paintings. This is one of a group of cylindrical wooden sculptures Gauguin made in 1892 while living in Tahiti.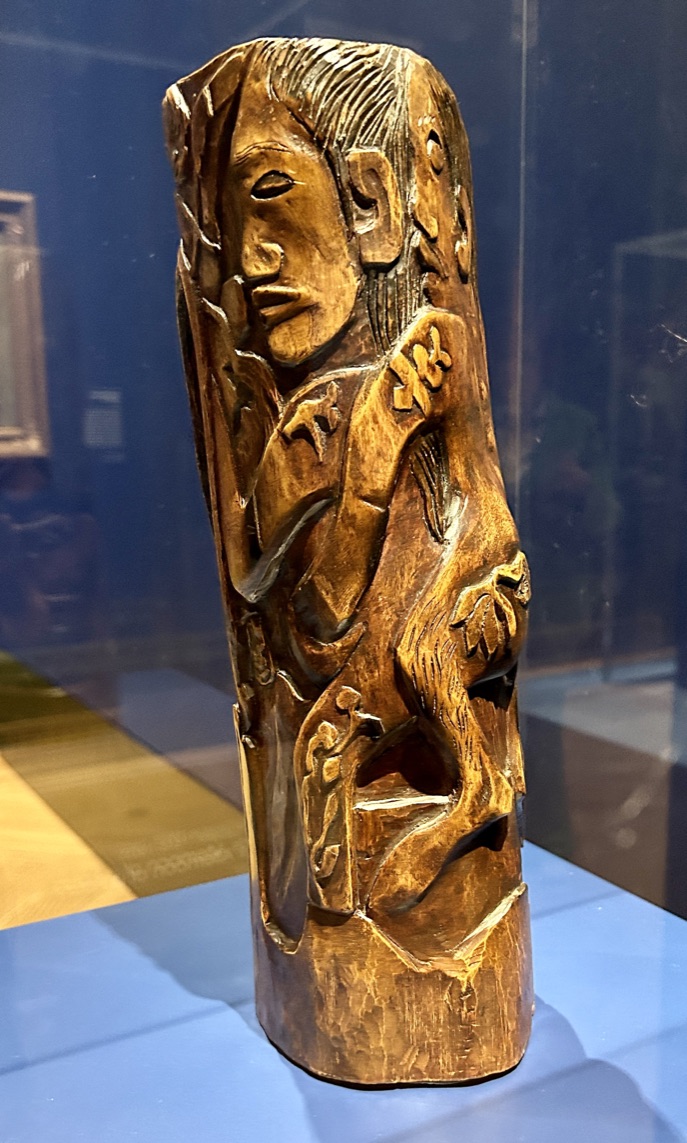 This section also features paintings by Edgar Degas (1834-1917). I liked Combing the Hair because of the way the reds merge the foreground with the background. The painting was later owned by Henri Matisse who was inspired to create his own series of red interiors.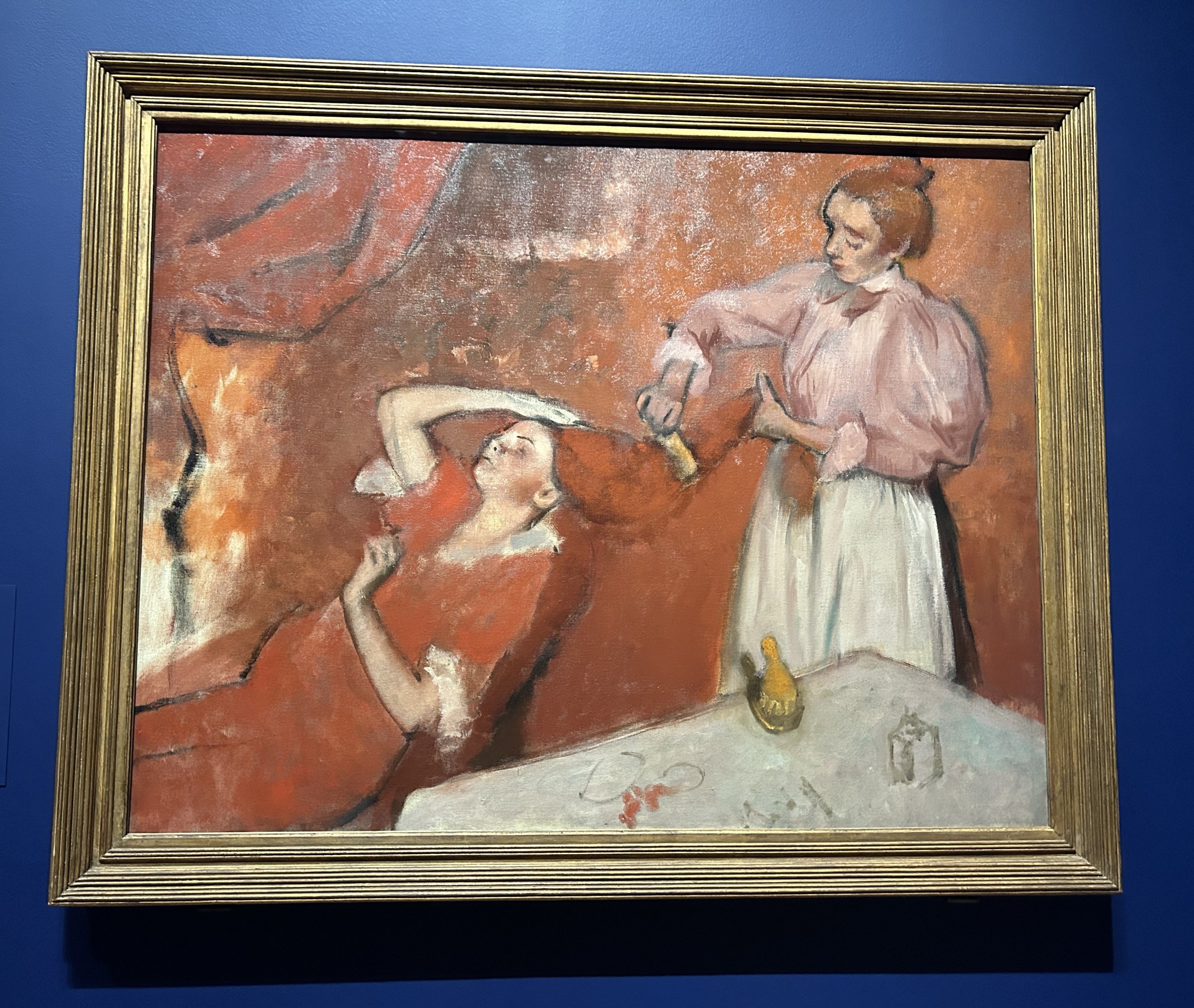 I discovered that snippet from the painting's caption so it seems like a good time to mention the descriptive words in this exhibition. This era of art and the famous artists featured will make this a popular exhibition. While I don't want the laboured preaching we had in the captions for the Hogarth and Europe exhibition at Tate Britain in 2021/2022, I did feel that the captions here were often too highbrow for me. Art should be accessible to all so this is a fine balance. I want to learn more about each artwork included so I take the time to read everything and study the detail of the chosen pieces. But I did start stepping further back and just allowing my own interpretation of what I could see as there are some beautiful paintings to admire.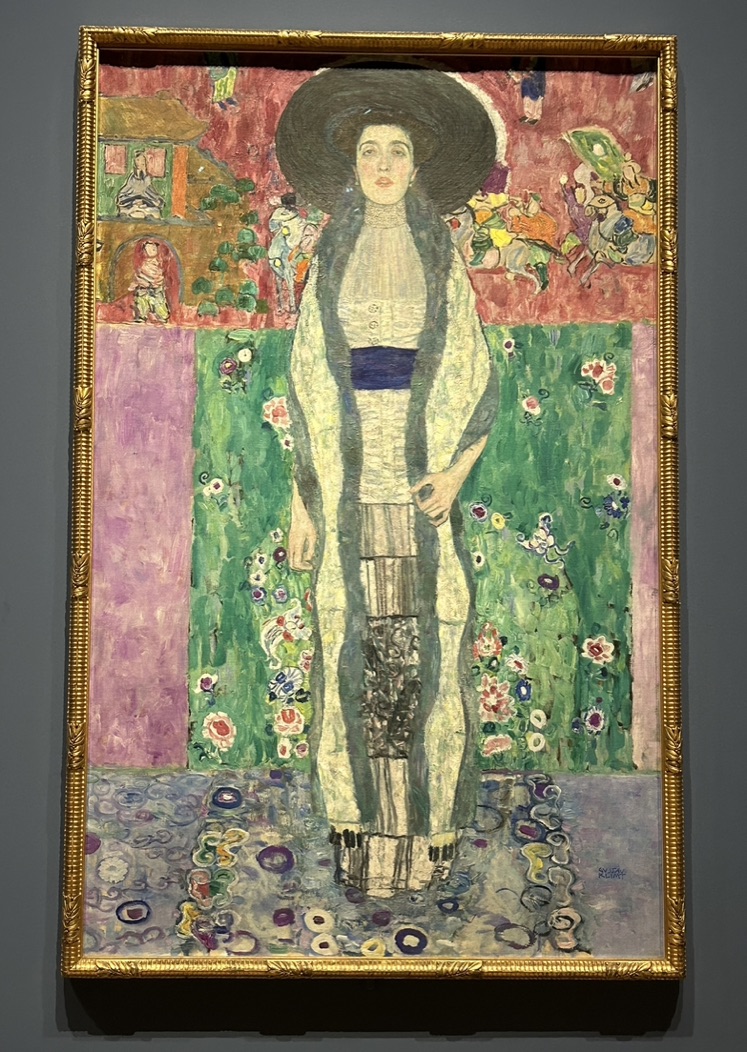 European Cities
While Paris remained the pre-eminent centre for the arts in Europe, other cities began to emerge as focal points. I read that the only sale of Van Gogh's career was made in Brussels.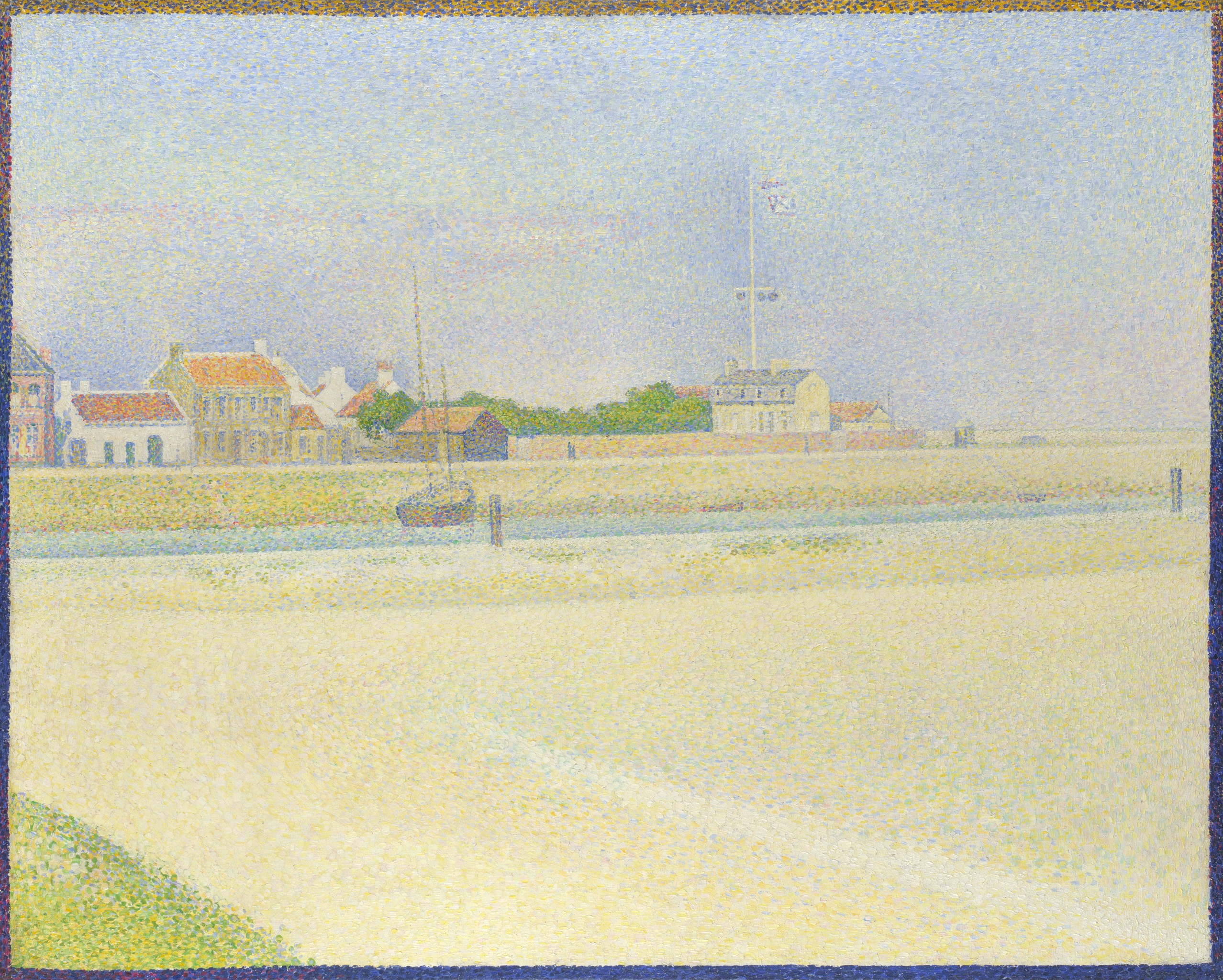 I liked seeing the examples of the pointillism style of Neo-Impressionism (dots of paint rather than brushstrokes). While I knew about Seurat from The Bathers on display in the permanent collection at the National Gallery, it was good to see other artists working in the same style. And that it wasn't always used for 'happy sunshine' scenes.
The Eve of the Strike (Dark Clouds) by Dutch artist Jan Toorop (1858-1928) shows a despairing miner with his wife and infant child. He was probably inspired by reports of appalling hardship suffered by families during strikes in the Belgian coalfields.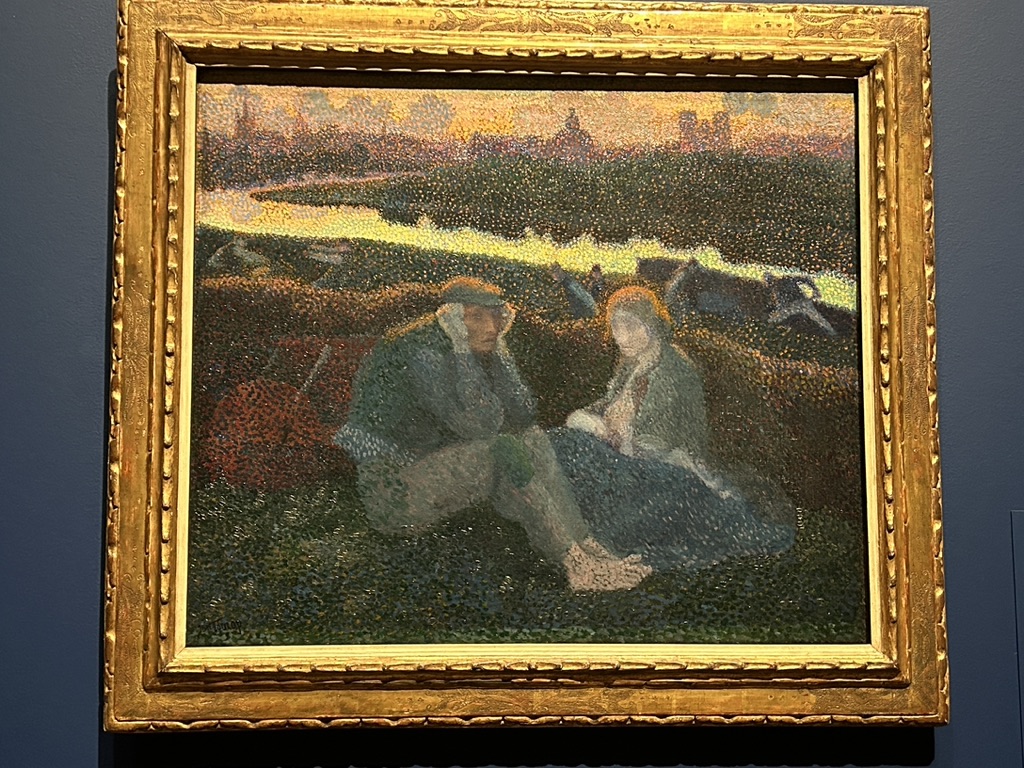 I also liked Avenue de Clichy (Street – Five O'clock in the Evening) by Louis Anquetin (1861–1932). It reminded me of last year's Edvard Munch. Masterpieces from Bergen exhibition at The Courtauld Gallery.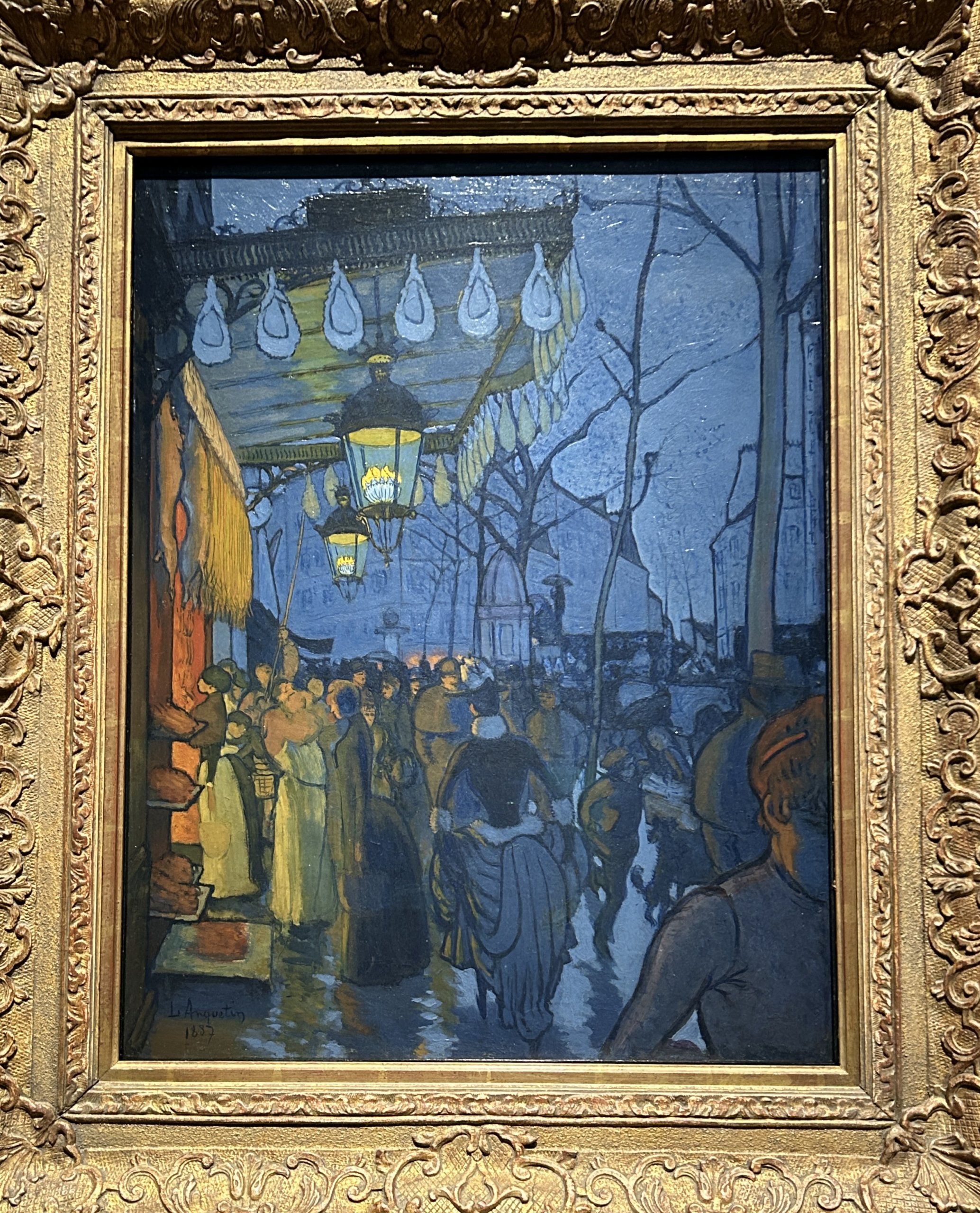 There are some paintings by Munch included here. Cabbage Field was produced in 1915. At the outbreak of the First World War in 1914 he found his loyalties divided: 'All my friends are German, but it is France I love.'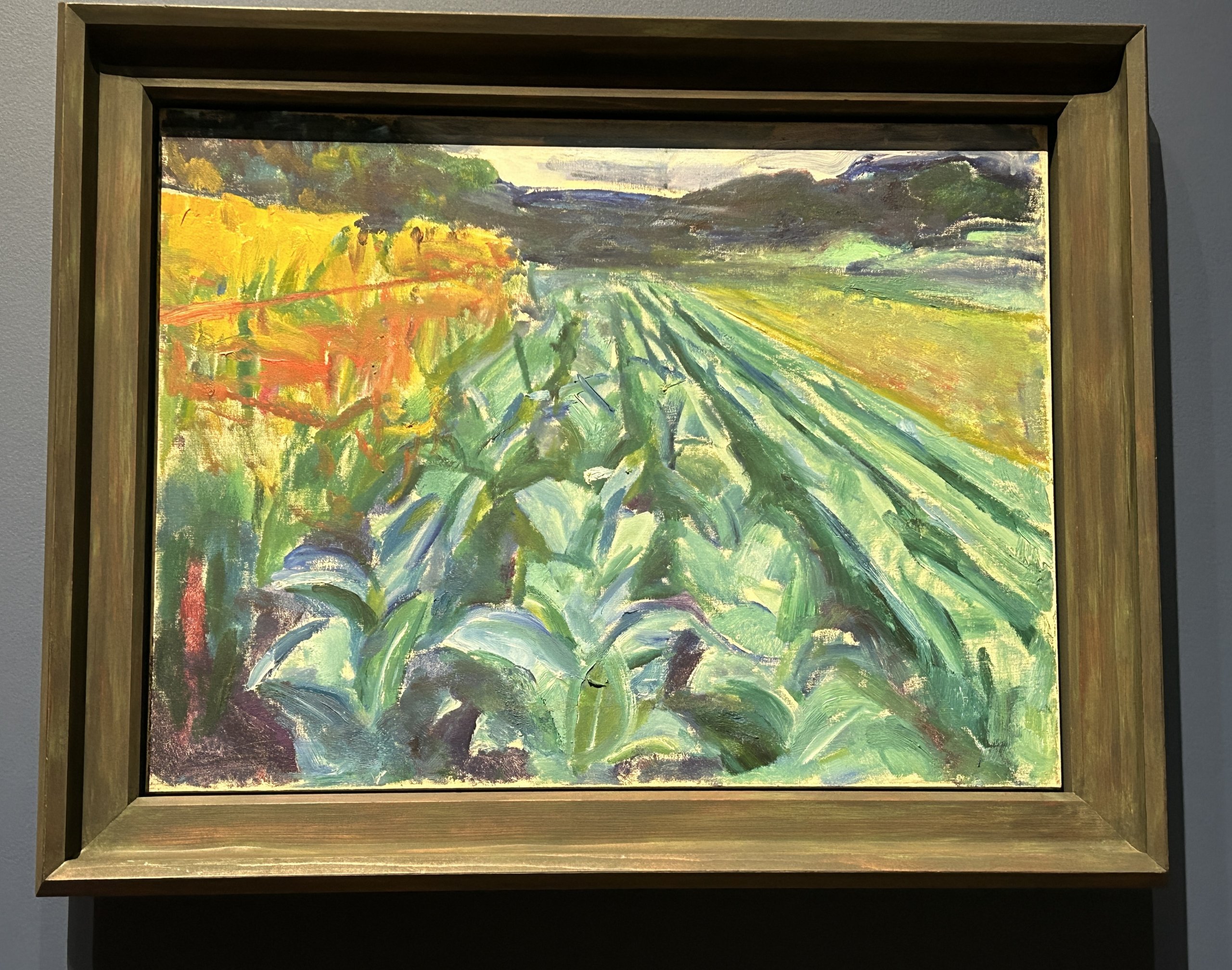 This larger-than-life-size painting by Munch was another example away from the style of The Scream (1893).
The portrait of Norwegian naval officer Christen Sandberg was first exhibited in Kristiania (now Oslo) in 1901. However, the lower part of the body was unresolved, and it only took on its current format following modifications to the size of the canvas made in 1903 and 1909–10.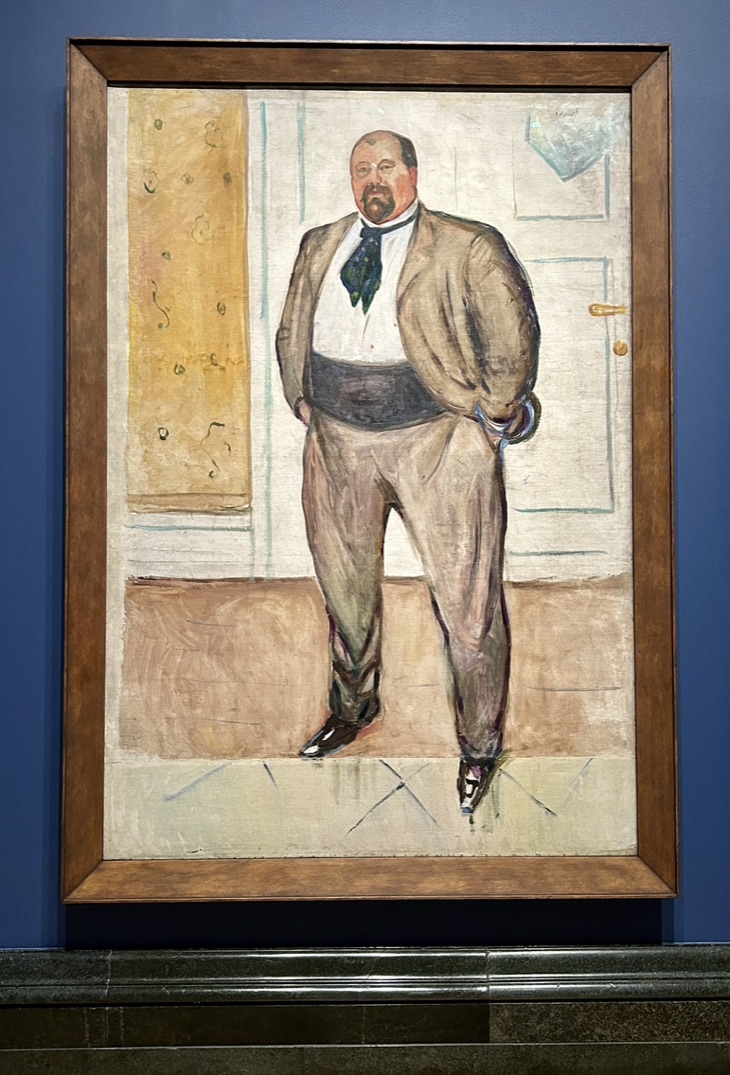 An interesting 1901 double-sided artwork by Pablo Picasso (1881-1973) shows two different styles. Painted in Paris, Woman in the Loge depicts a woman in a theatre box. And on the other side Absinthe Drinker shows a melancholy woman, seated alone beside a glass of absinthe.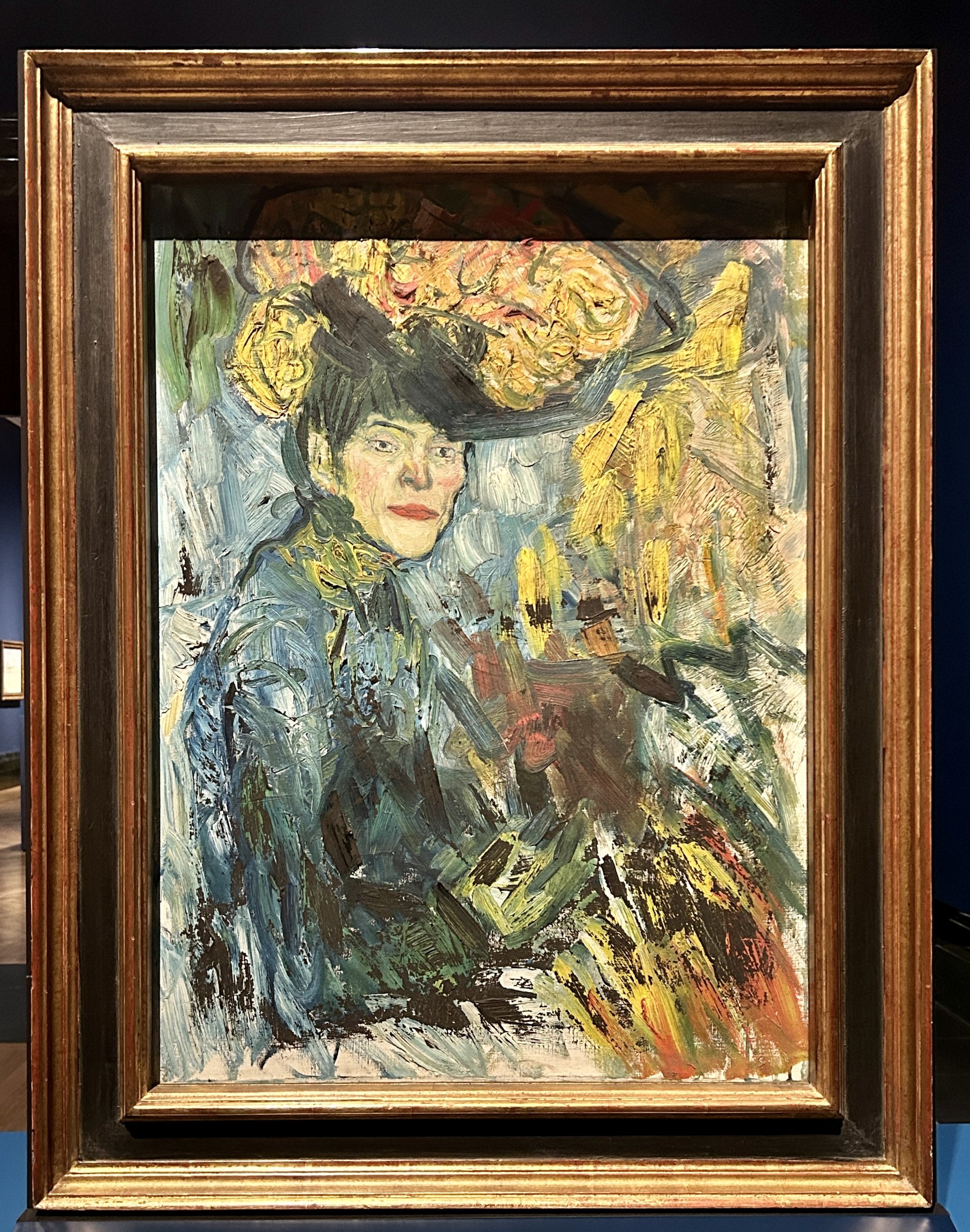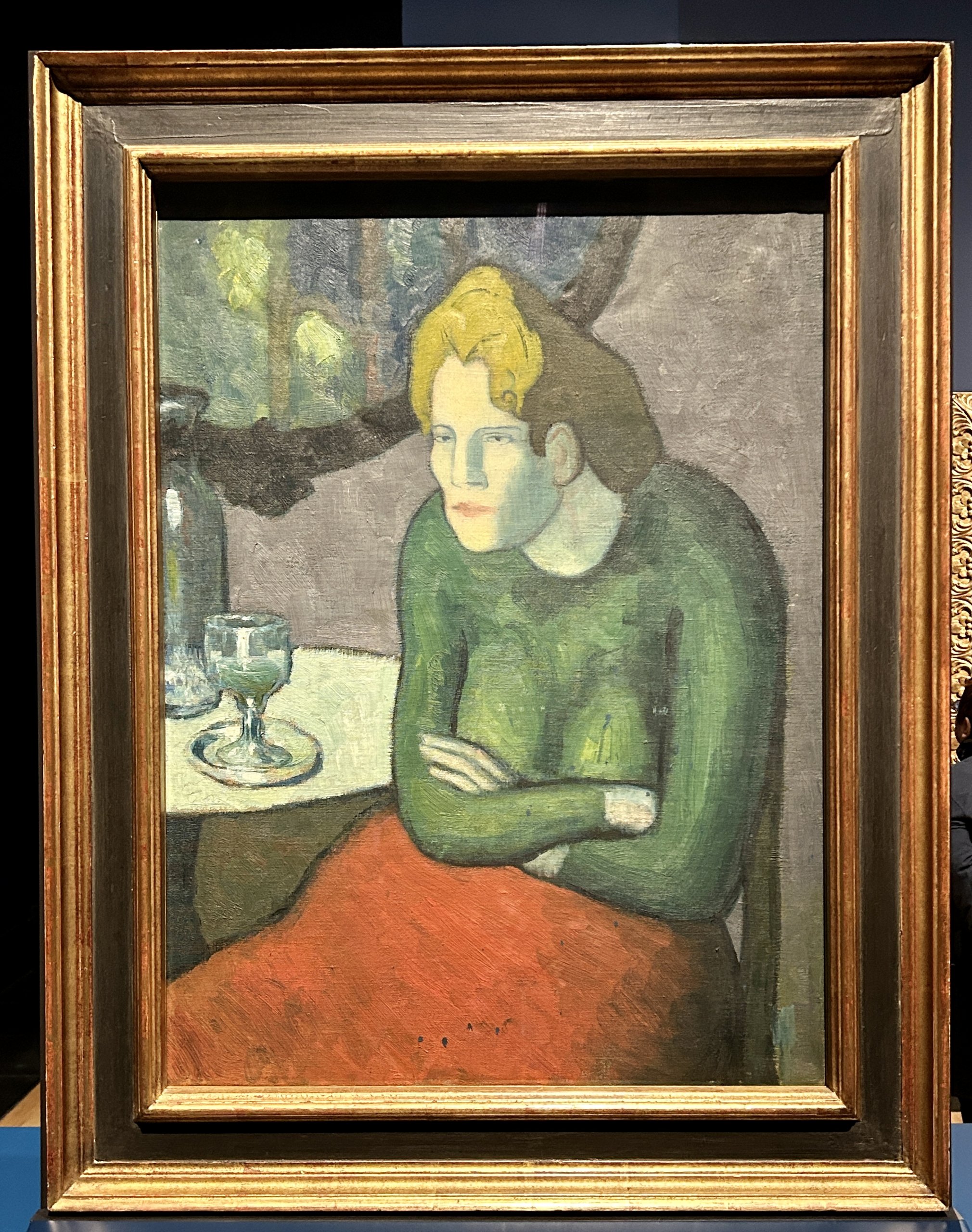 Modesto Sanchez Ortiz was painted by Santiago Rusiñol (1861-1931) in 1987. The artist's concern with the depiction of poverty and drug addiction was five years before Picasso's 'Blue Period.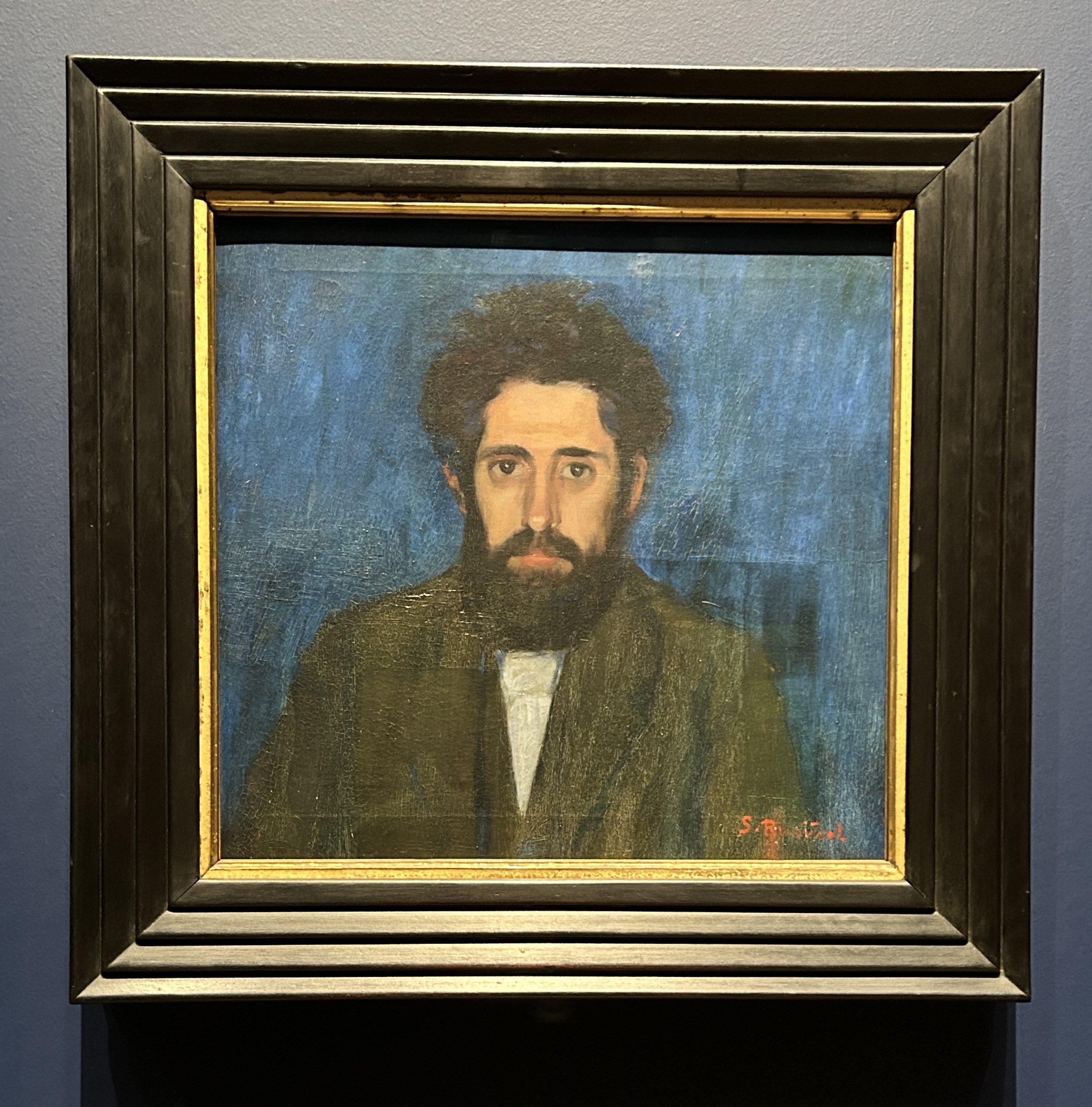 In the autumn of 1888 Paul Gauguin's radical, non-naturalist style inspired a group of young artist friends who came to call themselves the Nabis (Hebrew for 'prophets'). One of their number, Paul Sérusier (1864–1927), painted a landscape at Pont-Aven directly under Gauguin's instruction. Gauguin forcefully encouraged the younger artist to exaggerate the colours he saw, simplify the forms and attend to the decorative surface of the panel. We're told, this little picture, and the story of its origin, took on a mythic quality when Sérusier returned with it to the group of artist friends who subsequently became the Nabis.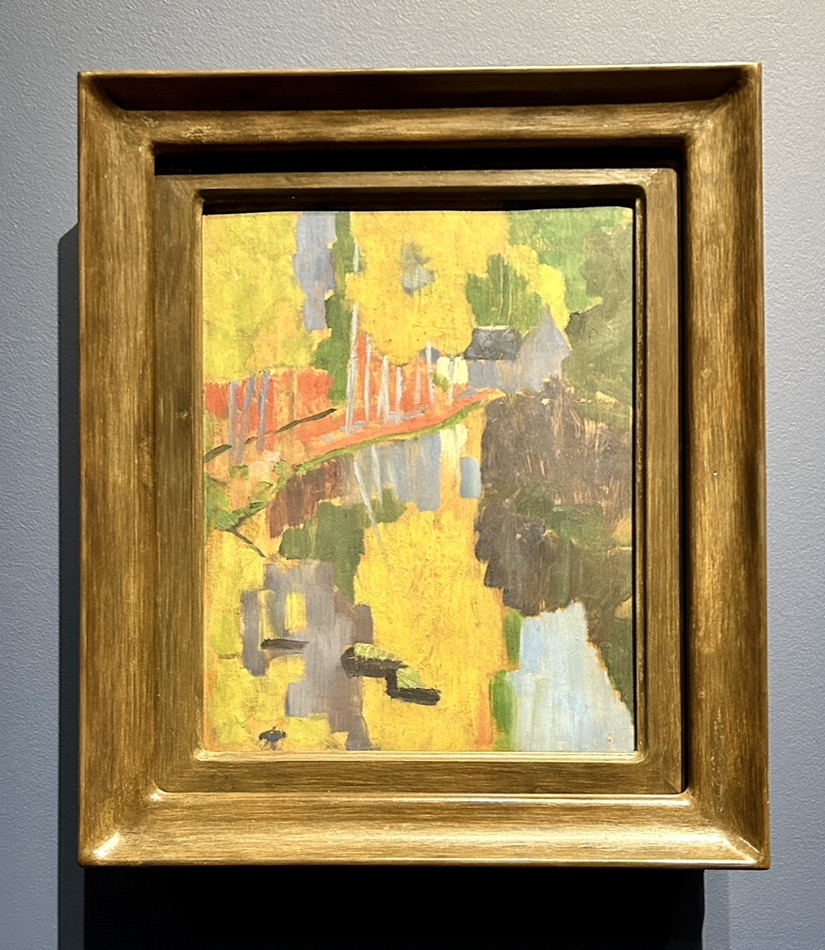 The Reader by Henri de Toulouse-Lautrec (1864–1901) is a portrait of his 17-year-old neighbour, Hélène Vary. It's a good opportunity to look closely at his characteristically 'drawn' painting style.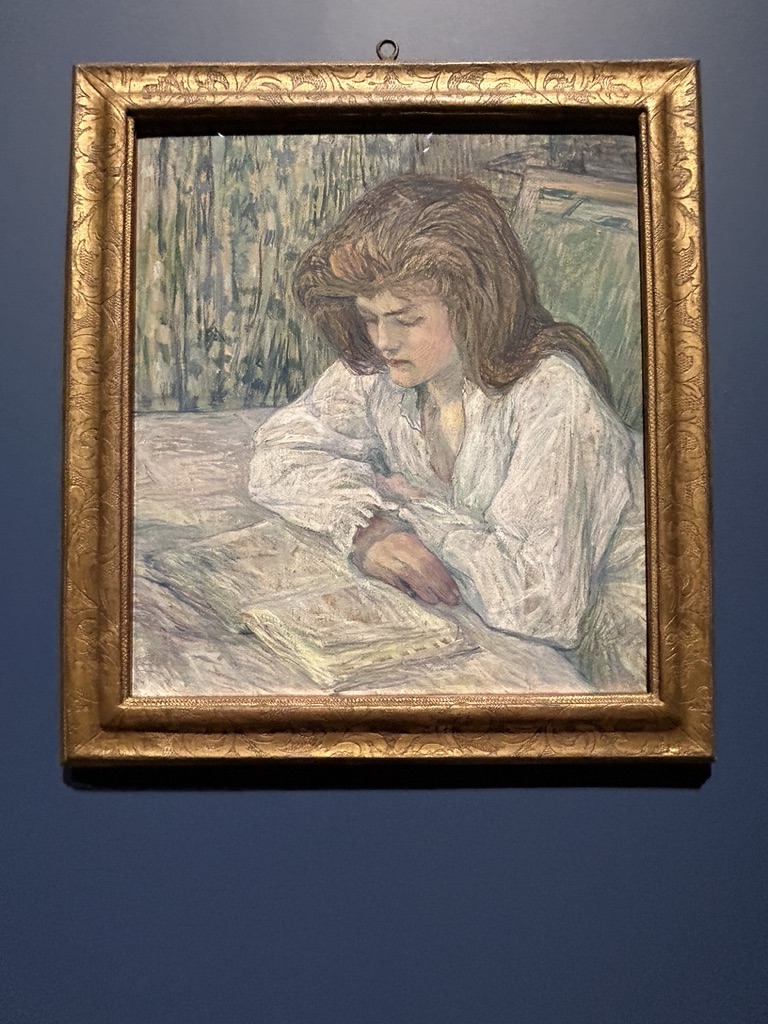 New Terrains
The exhibition closes with some of the most significant modernist works, ranging from Expressionism to Cubism and Abstraction.
I liked Joseph Brummer by Henri Rousseau (1844–1910) as it was easy to recognise his style from knowing the large Tiger in a Tropical Rainstorm/Surprised! in the National Gallery permanent collection.
I read that Picasso organised a banquet in his honour in 1908 attended by the luminaries of the avant-garde.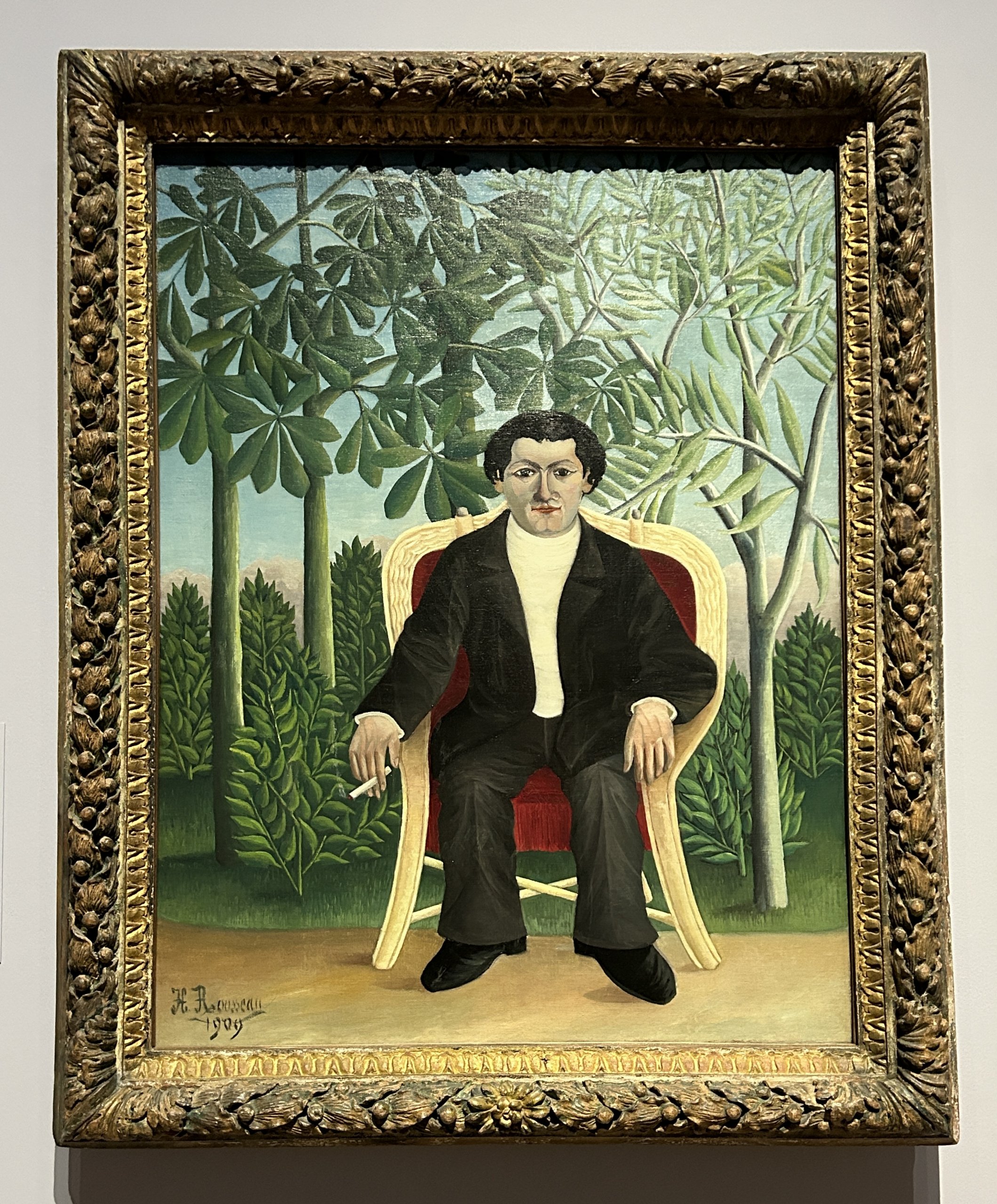 While we may think we know the work of Henri Matisse (1869-1954), The Riverbank was a delightful surprise. In 1907, Matisse returned to the fishing village of Collioure on the Mediterranean, which he had first visited with André Derain in 1905.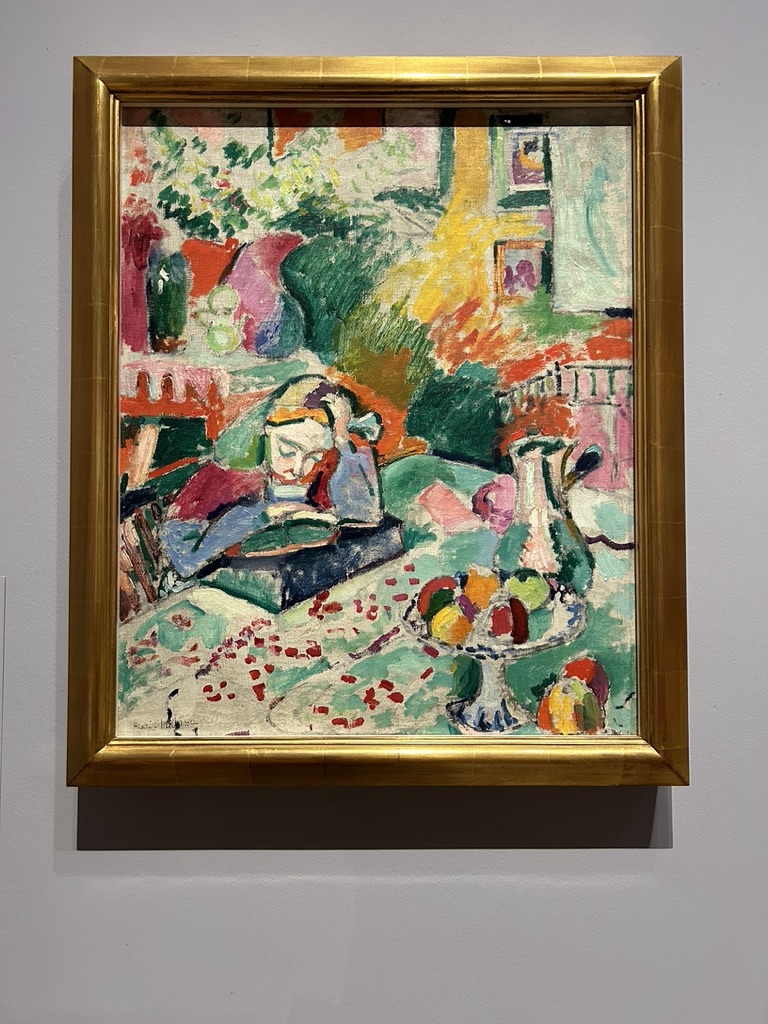 Another unexpected wooden sculpture, The Dance by Matisse was also produced in 1907 and was influenced by Gauguin's Tahitian work in wood.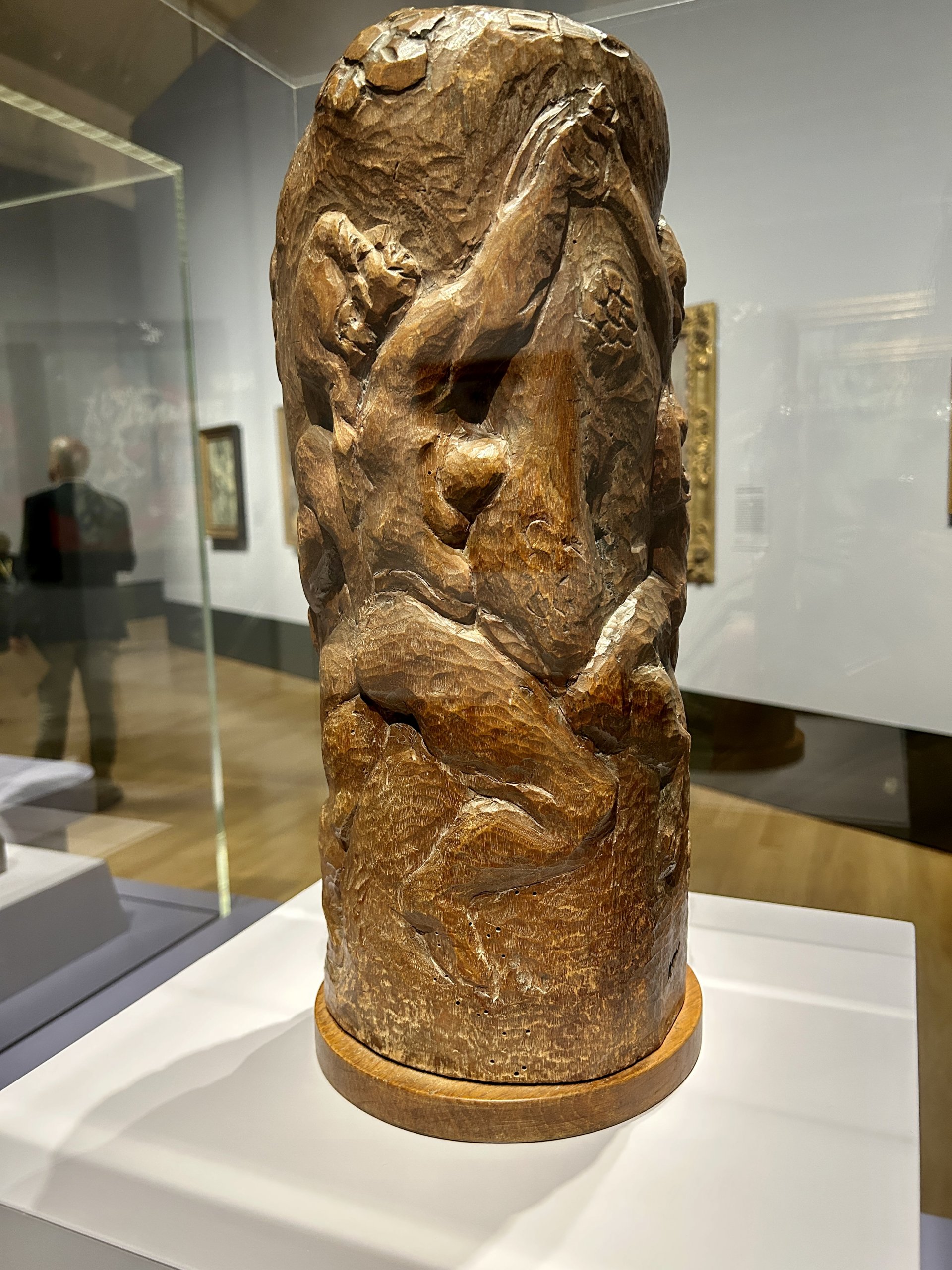 The friendship of Matisse and André Derain is shown further with Madame Matisse in a Kimono. Derain spent the summer of 1905 with Matisse and his family and this portrait is of Matisse's wife Amélie (1872–1958).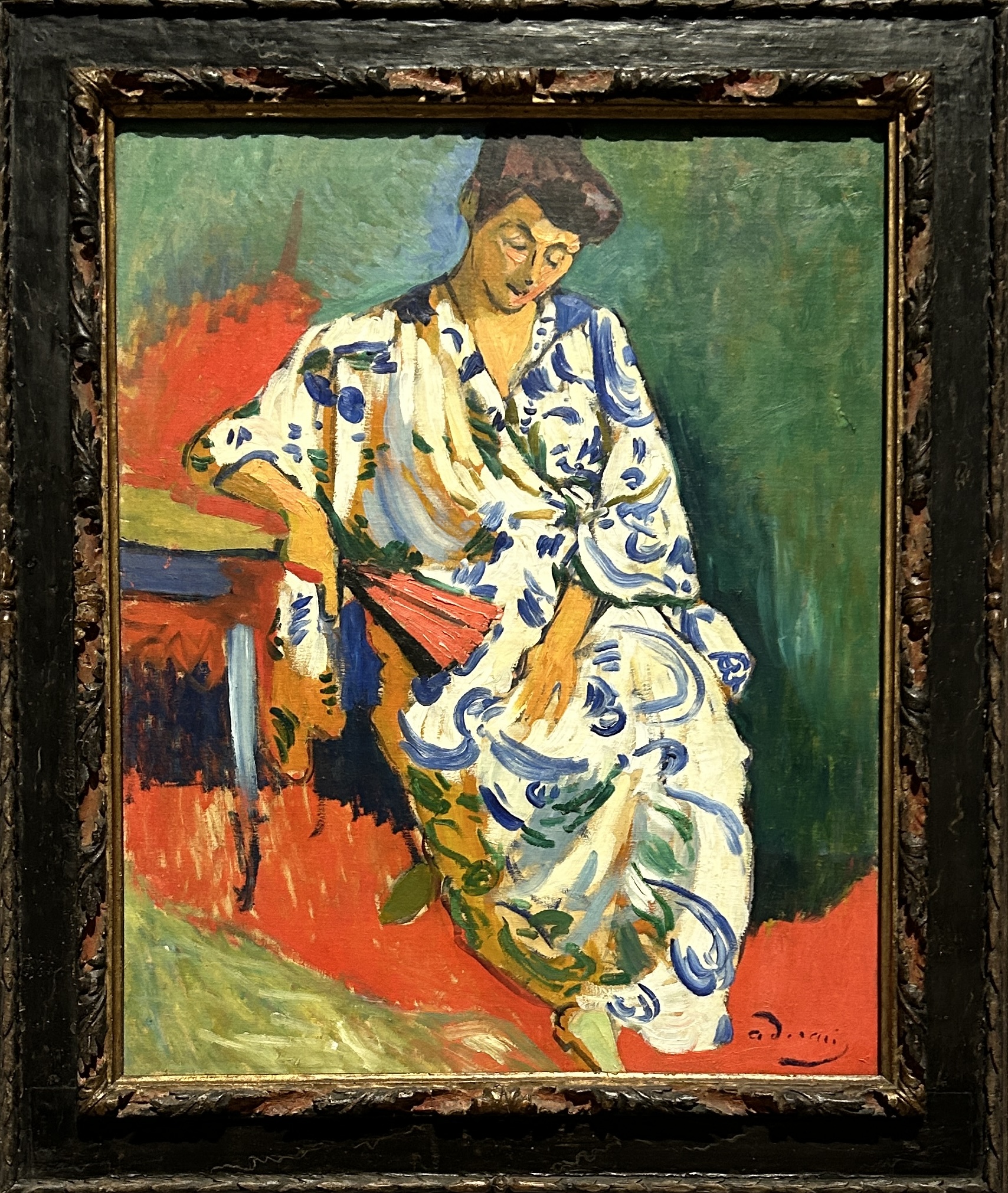 Picasso makes an assured declaration of Cubism in this portrait of the art dealer, collector, art critic and (briefly) first husband of Sonia Delaunay, Wilhelm Uhde (1874-1947).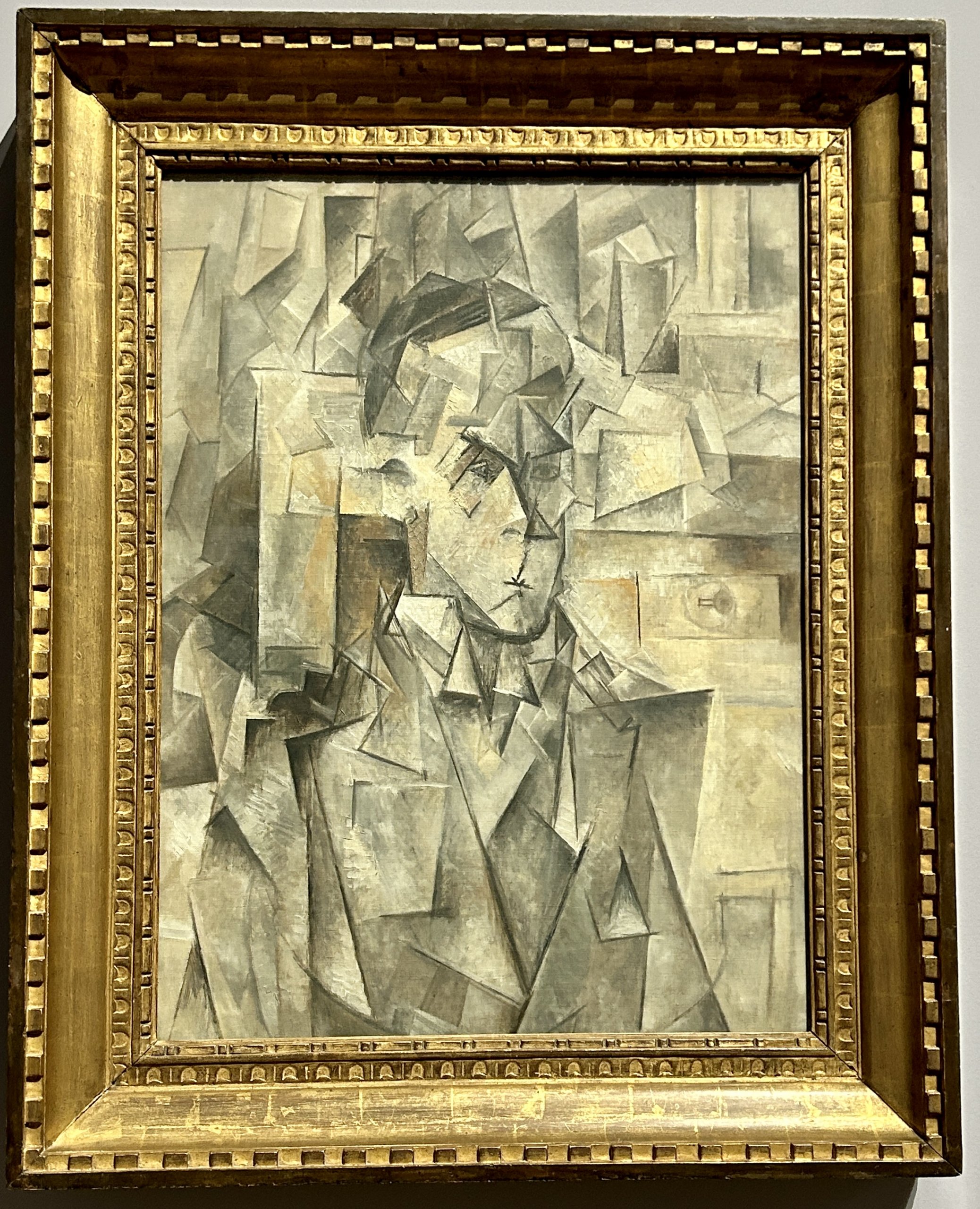 Do take the time to just walk around freely in the exhibition and not feel you have to find certain artworks or learn something new. On my 'free stroll' I found this painting by Edouard Vuillard (1868–1940) of an old school friend.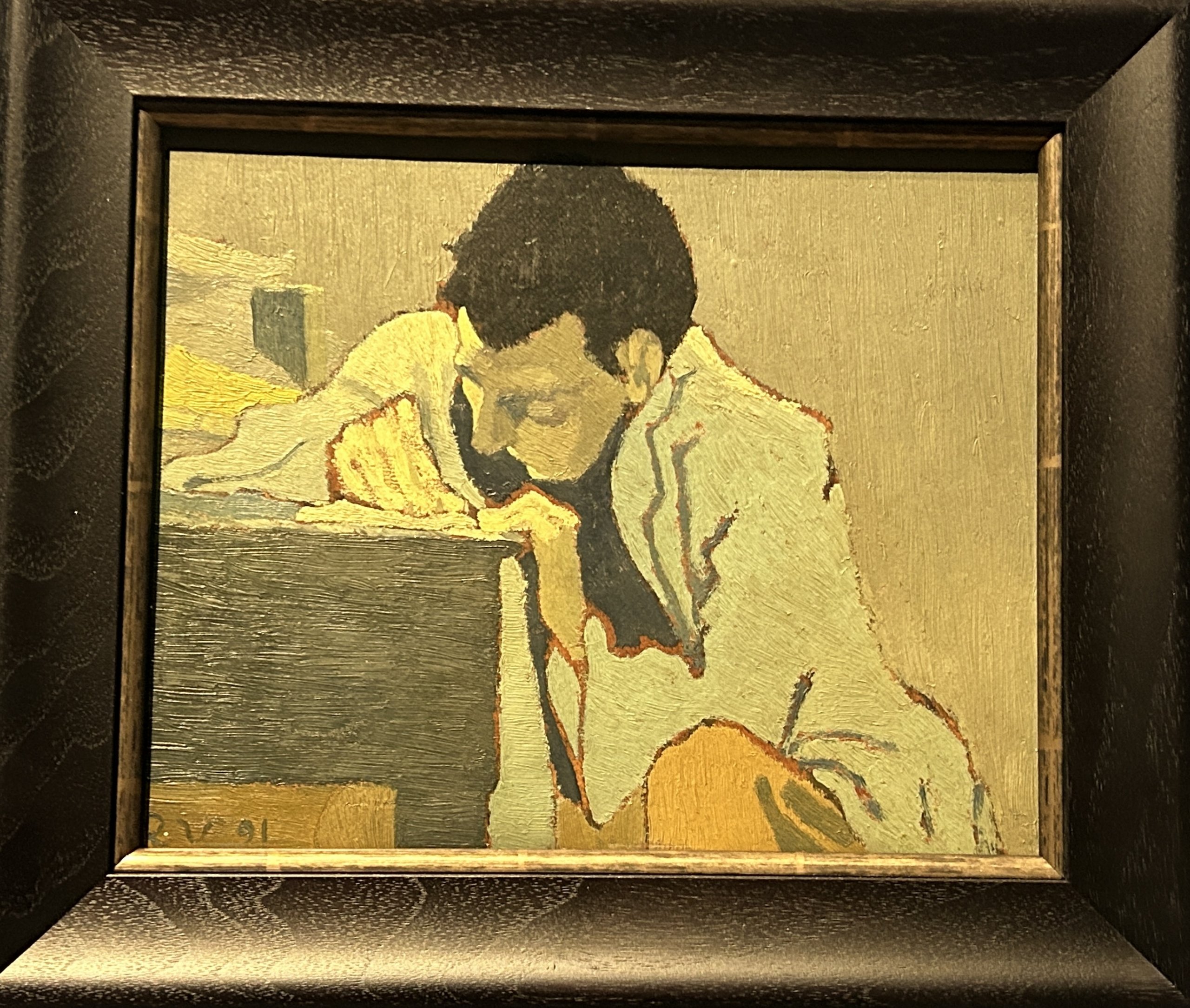 If you visit by 11 June 2023, you can also see The Ugly Duchess: Beauty and Satire in the Renaissance as room 46 is opposite rooms 1–8 (where this exhibition is being held).
Visitor Information
Title: After Impressionism: Inventing Modern Art
Dates: 25 March – 13 August 2023
Location: Rooms 1–8, National Gallery, Trafalgar Square, London WC2N 5DN
Tickets: From £24 Monday – Friday | From £26 Saturday and Sunday
Official Website: www.nationalgallery.org.uk/exhibitions/after-impressionism-inventing-modern-art