One of the most important collections of paintings by Edvard Munch (1863–1944) is being shown in the UK for the first time in a new exhibition at The Courtauld. Eleven of the paintings have never been on display in the UK before.
The Morgan Stanley Exhibition: Edvard Munch. Masterpieces from Bergen brings together 18 seminal paintings by Munch from KODE Bergen Art Museum, Norway. It is the first time the paintings have been shown together as a group outside Scandinavia.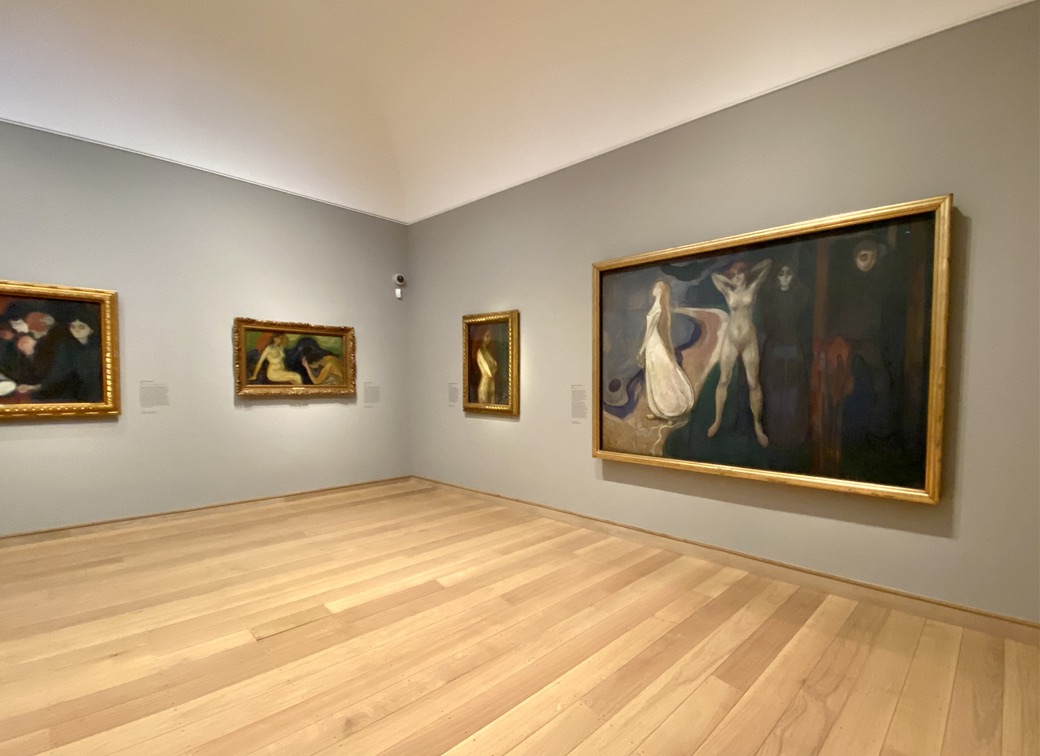 The remarkable collection was formed at the beginning of the 20th century by the Norwegian industrialist and philanthropist Rasmus Meyer (1858–1916). Meyer was a passionate collector. He knew Munch personally and was one of the early champions of his work. The collection charts Munch's rise to fame over three decades and shows pivotal works from all of Munch's distinct periods so you can see his artistic development.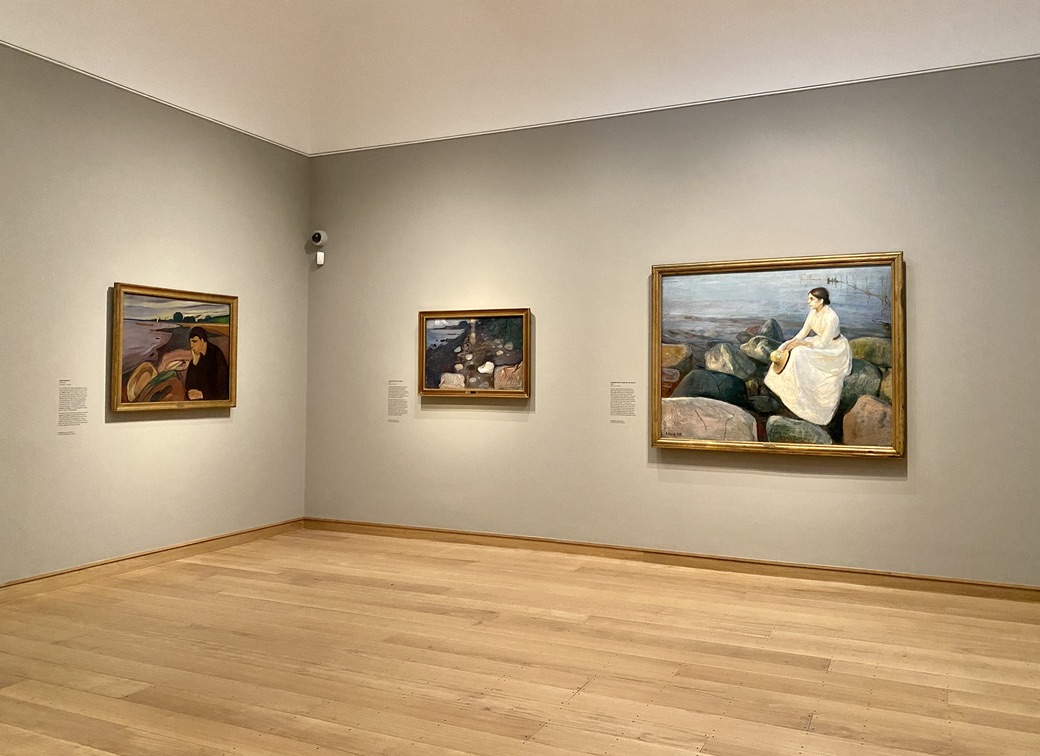 About Edvard Munch
This Norwegian artist is most well known for The Scream (1893) which depicts the iconic image of a ghost-like angst-ridden face. It is often used to represent the turmoil of the modern mind but Munch said he was inspired to paint it after he "heard the enormous, infinite scream of nature". (Note, The Scream is not on display in this exhibition.)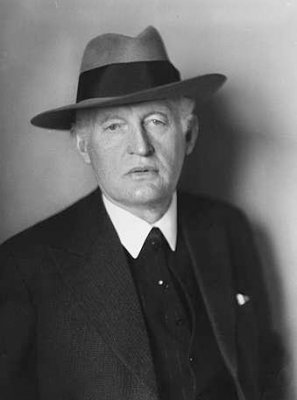 His mother died young as did his favourite sister (Sophie died aged 15). This left his childhood blighted by bereavement as well as issues with family mental illness. (Edvard suffered from anxiety and hallucinations. It is presumed now that he lived with Borderline Personality Disorder.) While his overtly religious father was against his artistic career, Edvard found the right people to encourage him to produce impressive Expressionism. Mental anguish was always near the surface though for Munch and he had a mental breakdown in his forties.
Munch's work was influenced by Impressionists including Manet, and Post-Impressionists including Van Gogh and Gaugain all of whom have works on display in the permanent collection at The Courtauld. It is, therefore, exciting to see Munch's work in dialogue here with his contemporaries.
The Exhibition
The exhibition begins with important early paintings from the 1880s when Munch was drawing on the legacy of Impressionism to create his own style. This is exemplified by his first major work, Morning (1884), painted when he was just twenty years old. This painting of a young woman – probably a domestic servant – captures an intimate moment as she pauses while dressing.
Morning marked him out as a rising star but also drew harsh criticism. Whilst some admired the painting, others found its technique rough and its subject matter distasteful. Even so, the picture helped to establish Munch's name as a modern painter and was exhibited at the Paris World Fair in 1889.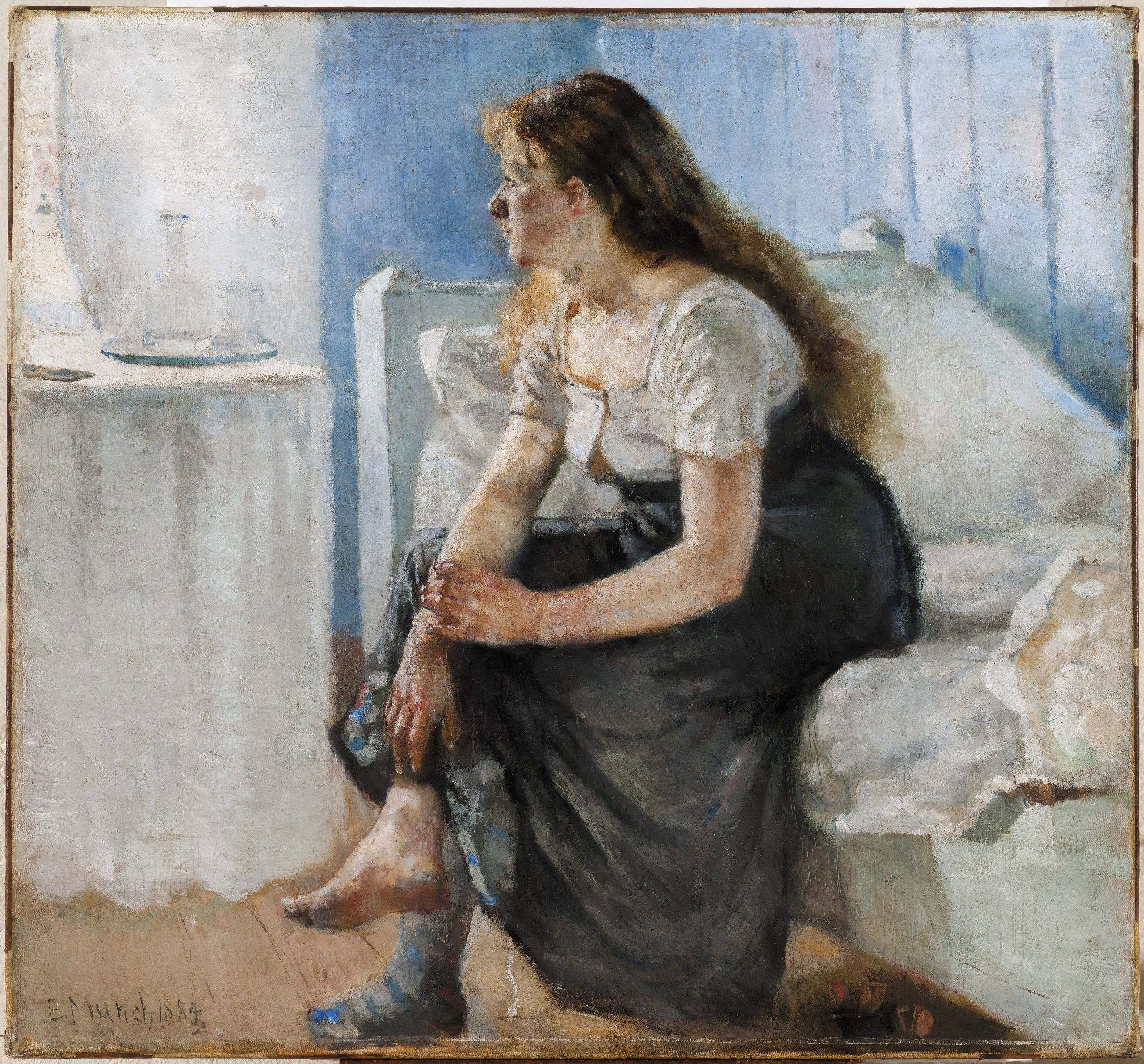 Another work from Munch's early 'realist' phase in the 1880s, is the large-scale canvas Summer Night (1889). It is of his sister Inger sitting by the shoreline of a fjord.
It is worth seeing in real life as the evening light is evocative. This contemplative painting is often considered to be the moment Munch found his unique artistic voice. You can see his move towards the expressive and psychologically charged work for which he became famous.
In December 1889, after Munch's father died, leaving the family destitute, Munch assumed financial responsibility for his family. From here on he used his own experiences as source material to make visceral depictions of the human psyche which he hoped would help others understand their own life.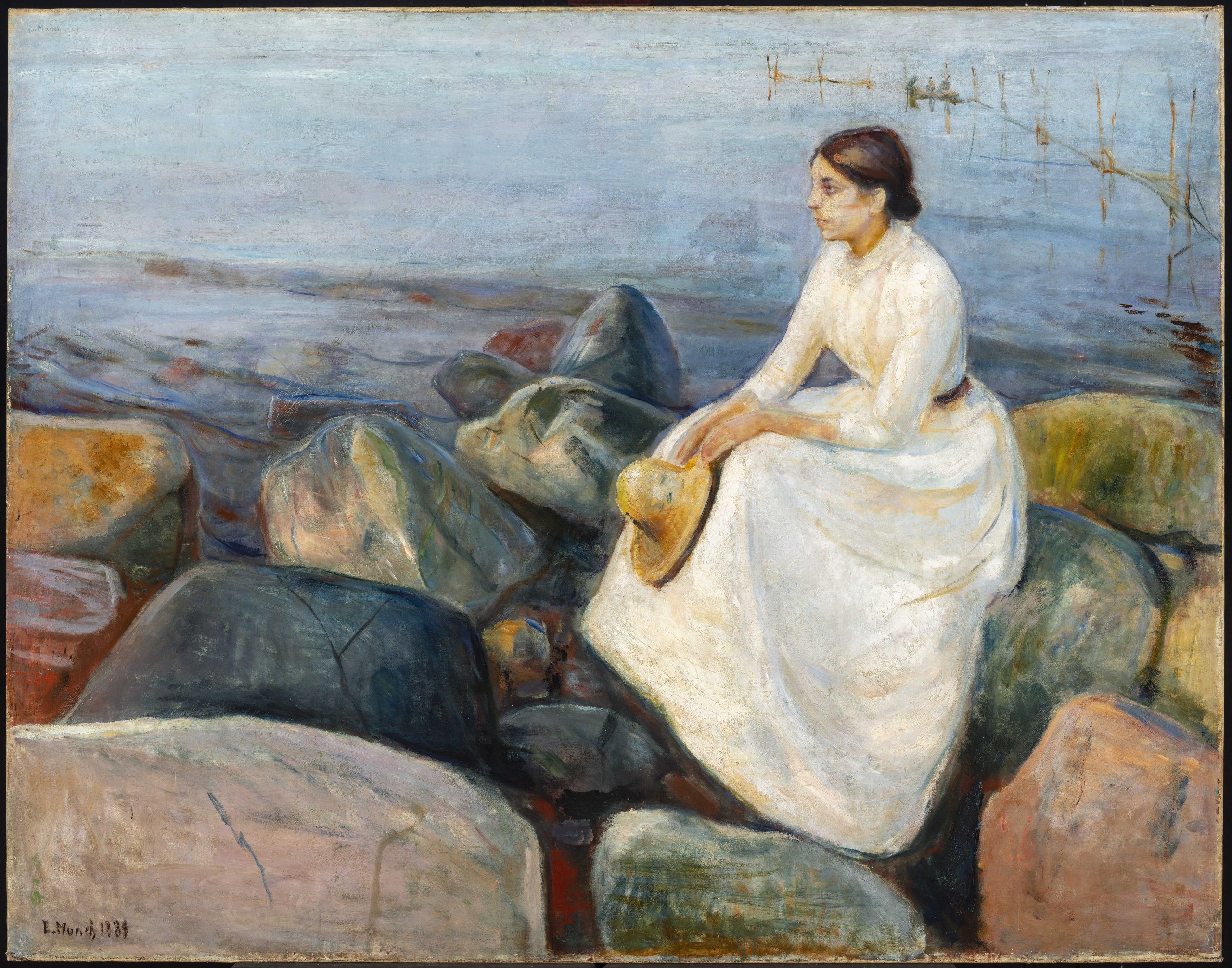 In Spring Day on Karl Johan (1890) Munch depicts Oslo's main boulevard using numerous dashes of paint. This work was inspired by the techniques of the French Impressionists, which Munch experimented with for a short period. Some Norwegian critics found his Impressionist approach baffling or even unhealthy and nicknamed him "Bizzarro'.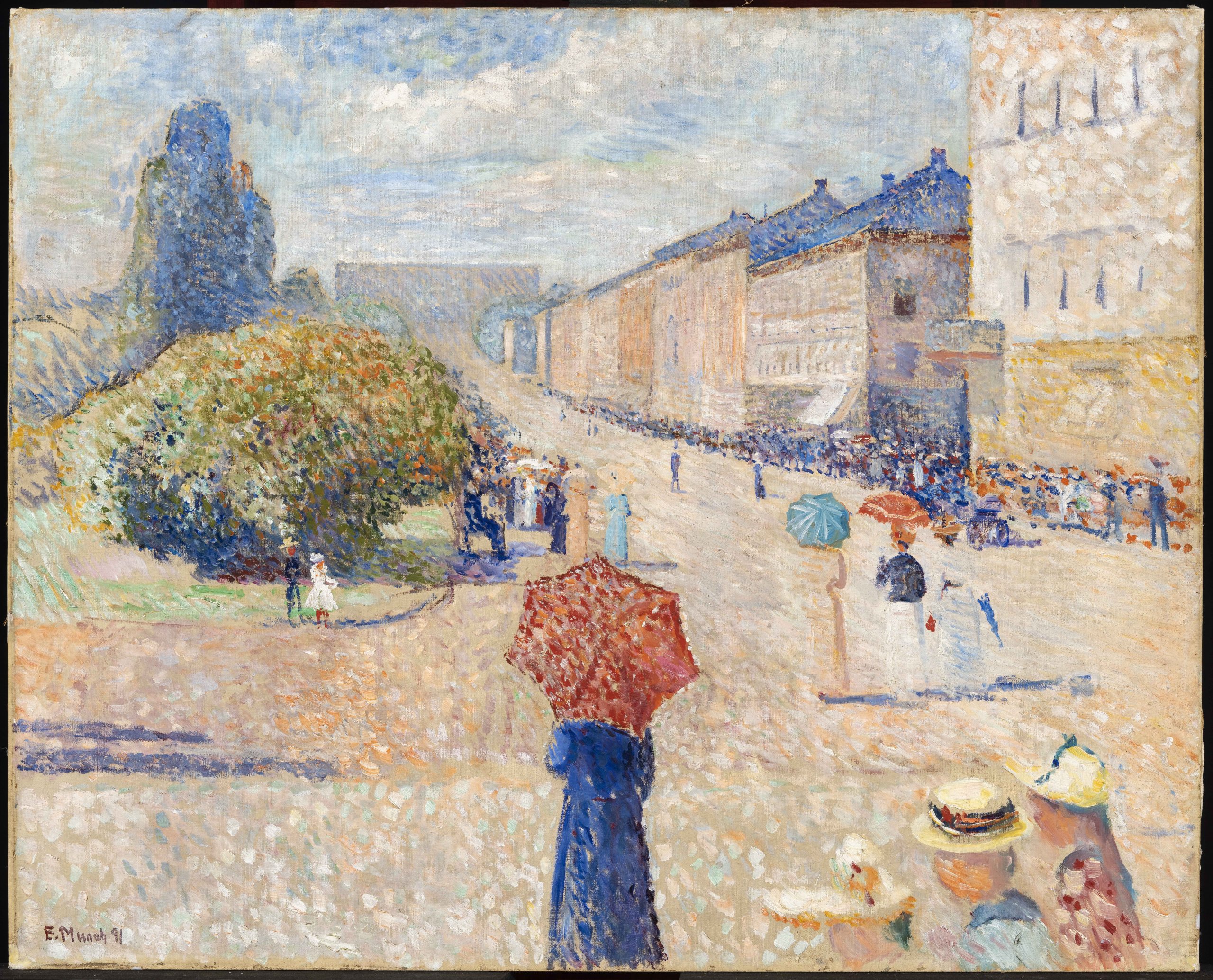 House in Moonlight (1893–95) shows yet another style while the artist is still learning about himself. Likely inspired by Munch's affair with a married woman, it feels clearly Nordic to me and full of secrets.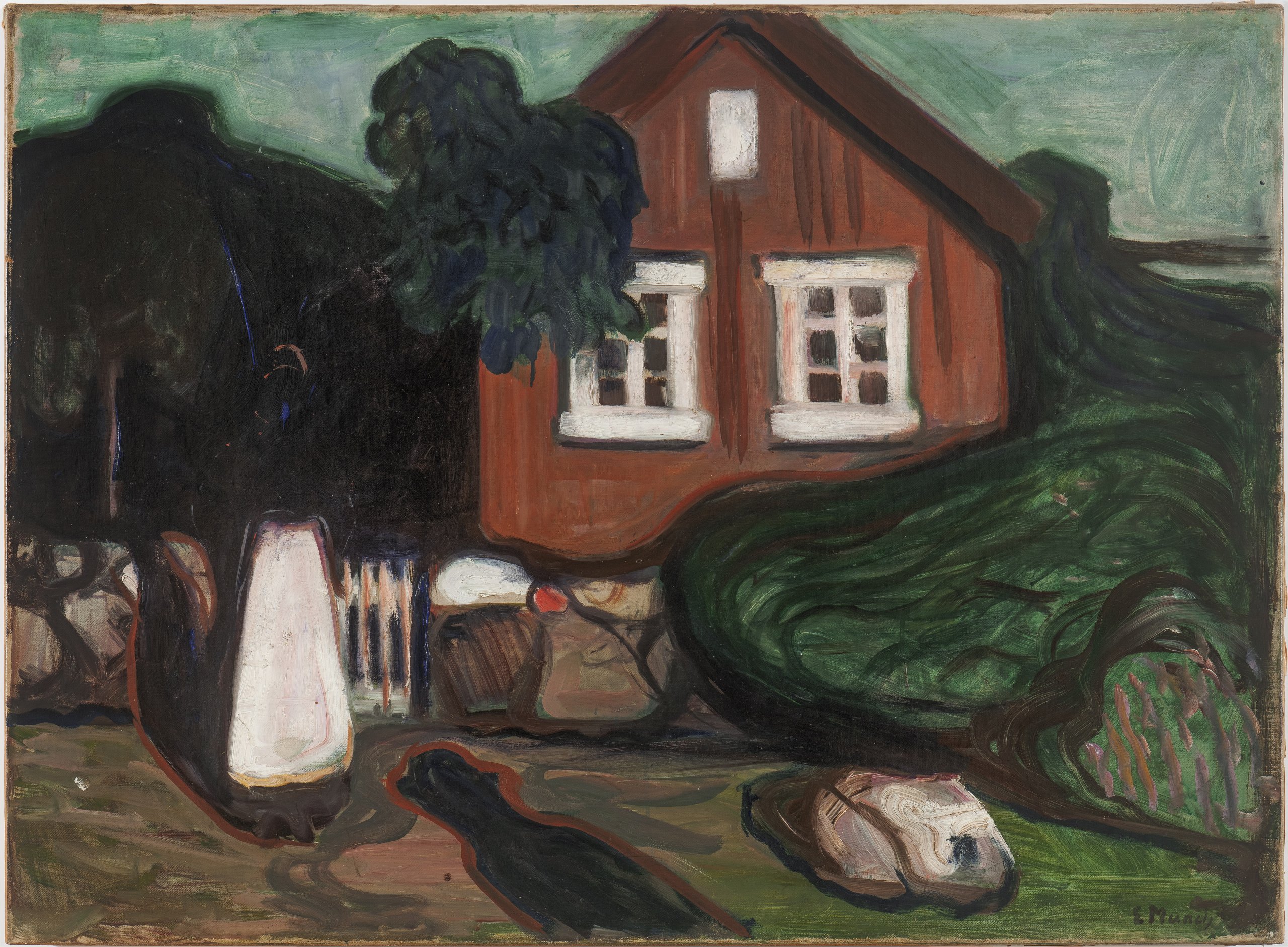 The Frieze of Life
In the 1890s and into the new century, Edvard Munch worked between Germany, Norway and France, and travelled extensively elsewhere in Europe. During these years, he produced a series of remarkable paintings that he later exhibited as 'The Frieze of Life'.
Munch intended these paintings to convey different aspects of human emotion and experience, entwining feelings of love and desire with those of anxiety and a fascination with death. Munch brightened his palette and his brushwork became more vigorous. Several of the works are on display here.
In Evening on Karl Johan (1892) we are back on Oslo's main boulevard but this time we are in the path of oncoming figures. Their ghostly faces are similar to The Scream (this was produced first).
Munch's writings suggest that this painting was inspired by a memory of searching for a woman with whom he was infatuated and of becoming emotionally overwhelmed in the crowds.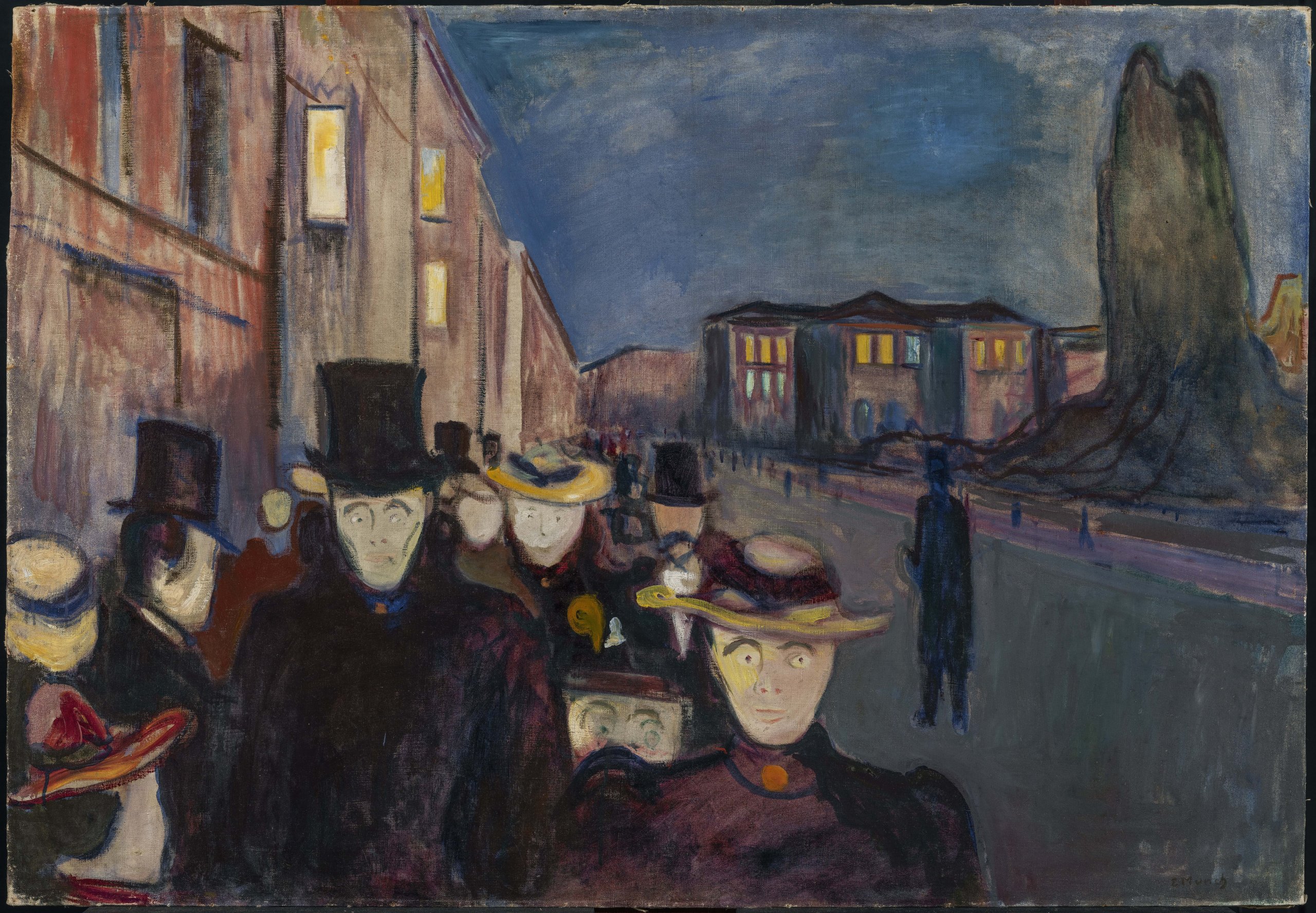 Like Summer Night (above), Melancholy (1894–96) was also painted on the shore at Äsgärdstrand. This time, he depicts his friend the writer Jappe Nilssen consumed by melancholy following a failed love affair. The mournful colours definitely convey heightened emotions.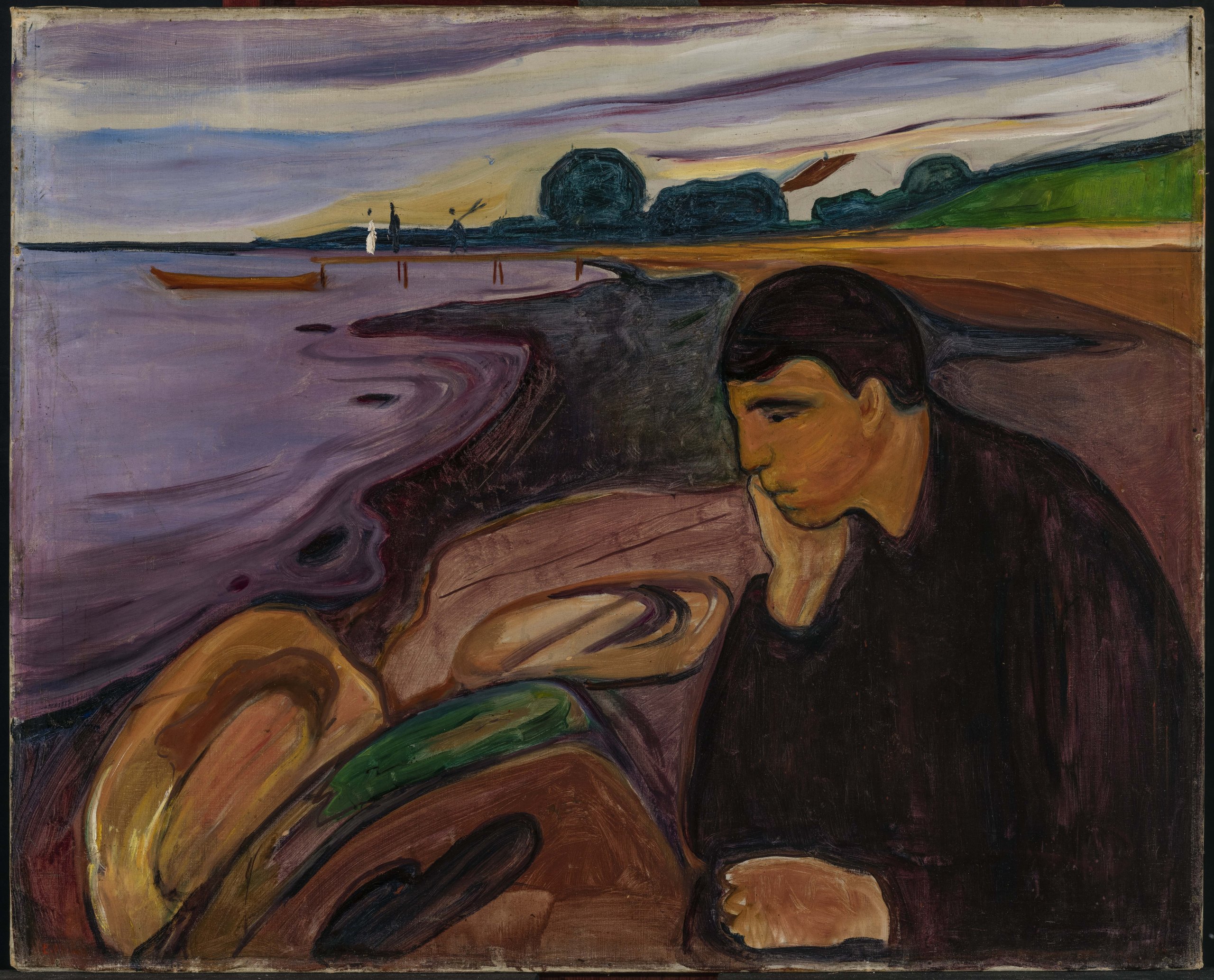 The monumental painting Woman In Three Stages (1894) demonstrates his embrace of Symbolism, an artistic movement that sought to reflect profound ideas through symbolic or evocative forms and colours rather than by closely depicting nature. Here, Munch arranges three imagined women on a shoreline at twilight, representing a progression from youth to maturity and old age.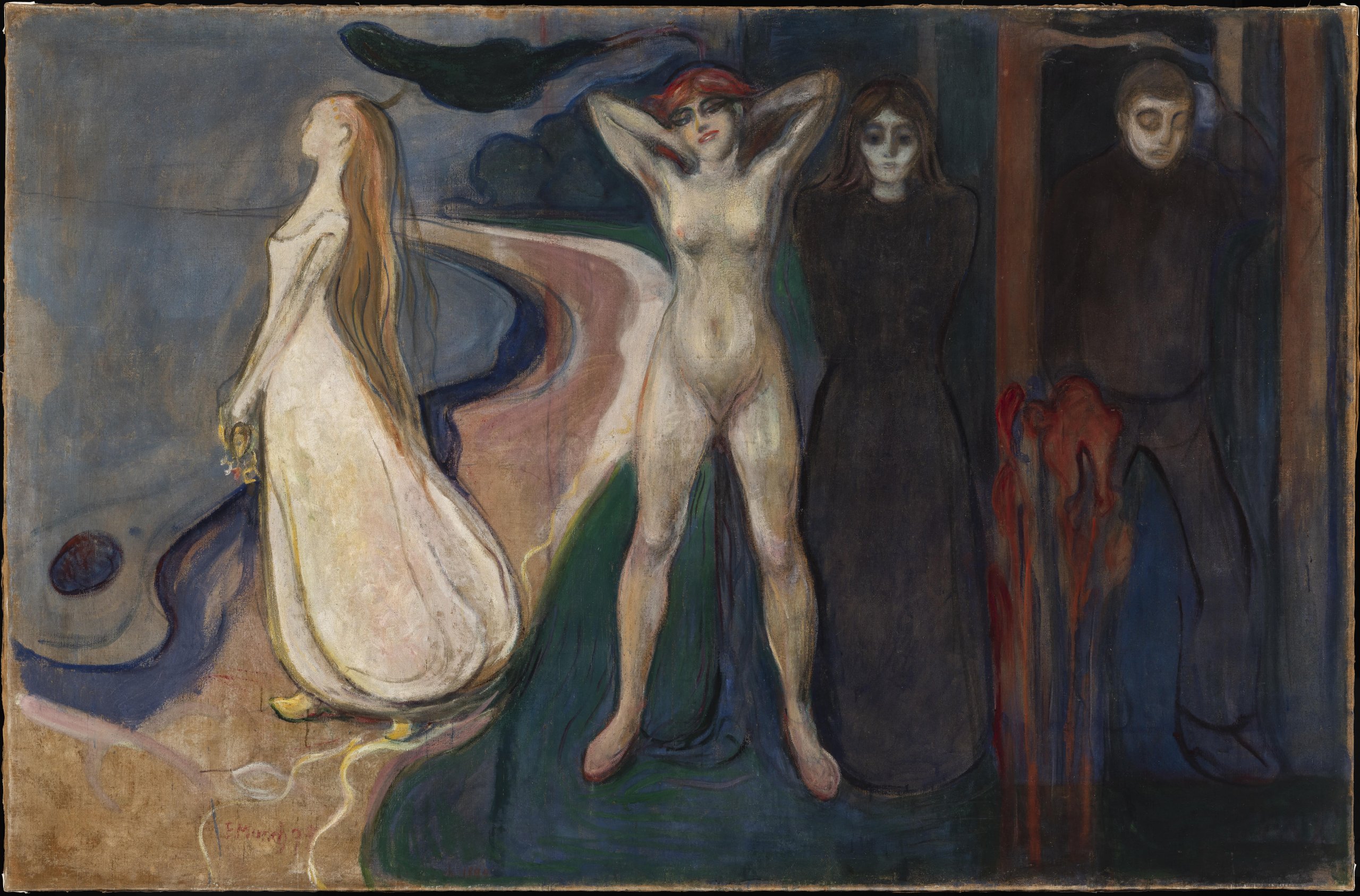 I wonder if it is the same model in Nude In Profile Towards The Right (1898). This work was probably painted in preparation for Metabolism (1898-99, Munch Museum, Oslo), which depicts the biblical figures Adam and Eve.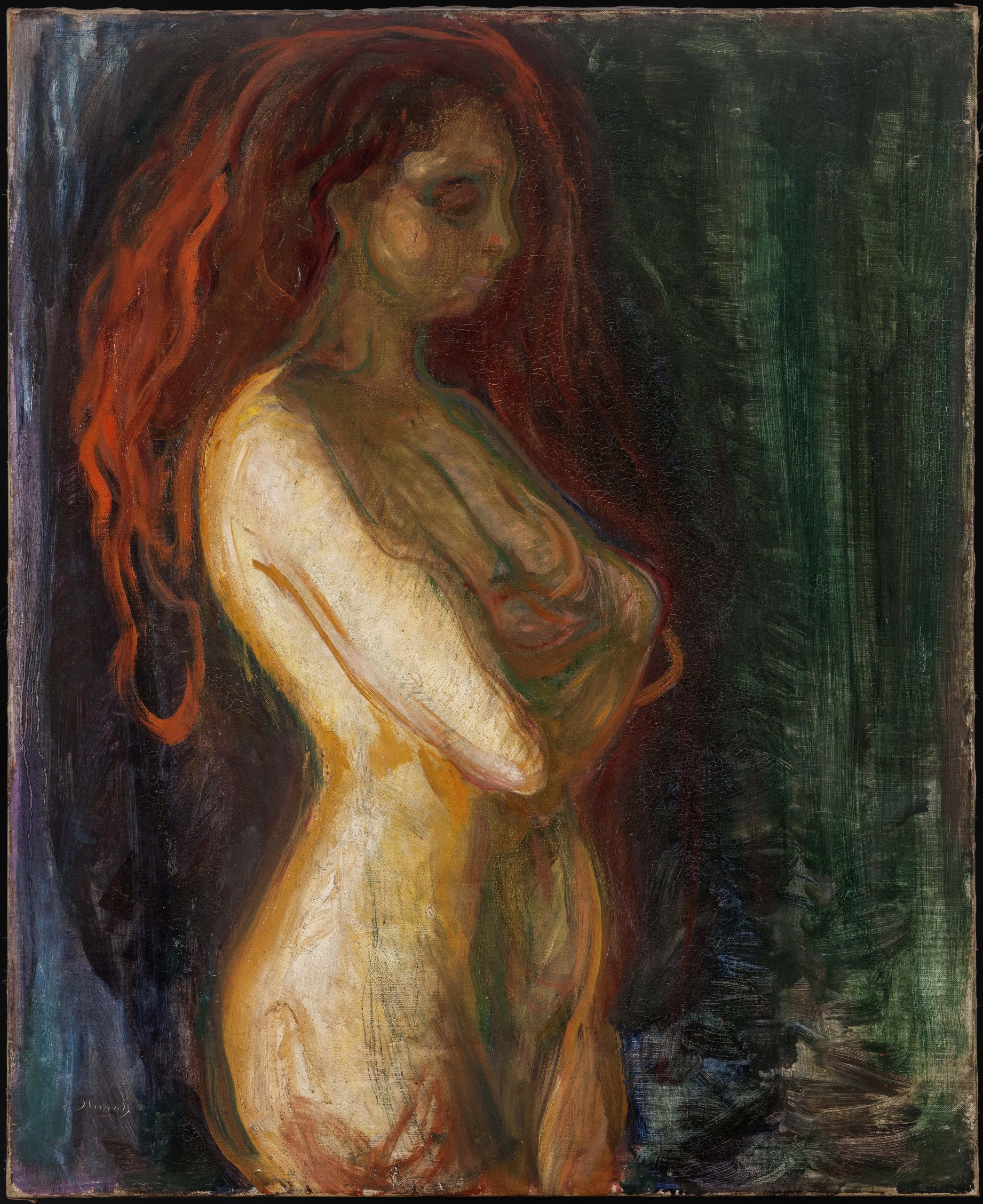 And it may well be her again in Man and Woman (1898). In this raw, sketch-like painting Munch stages a seemingly tense interaction between two naked figures. He was particularly interested in examining the destructive potential of romantic relationships – what he described as "the struggle between man and woman that is called love".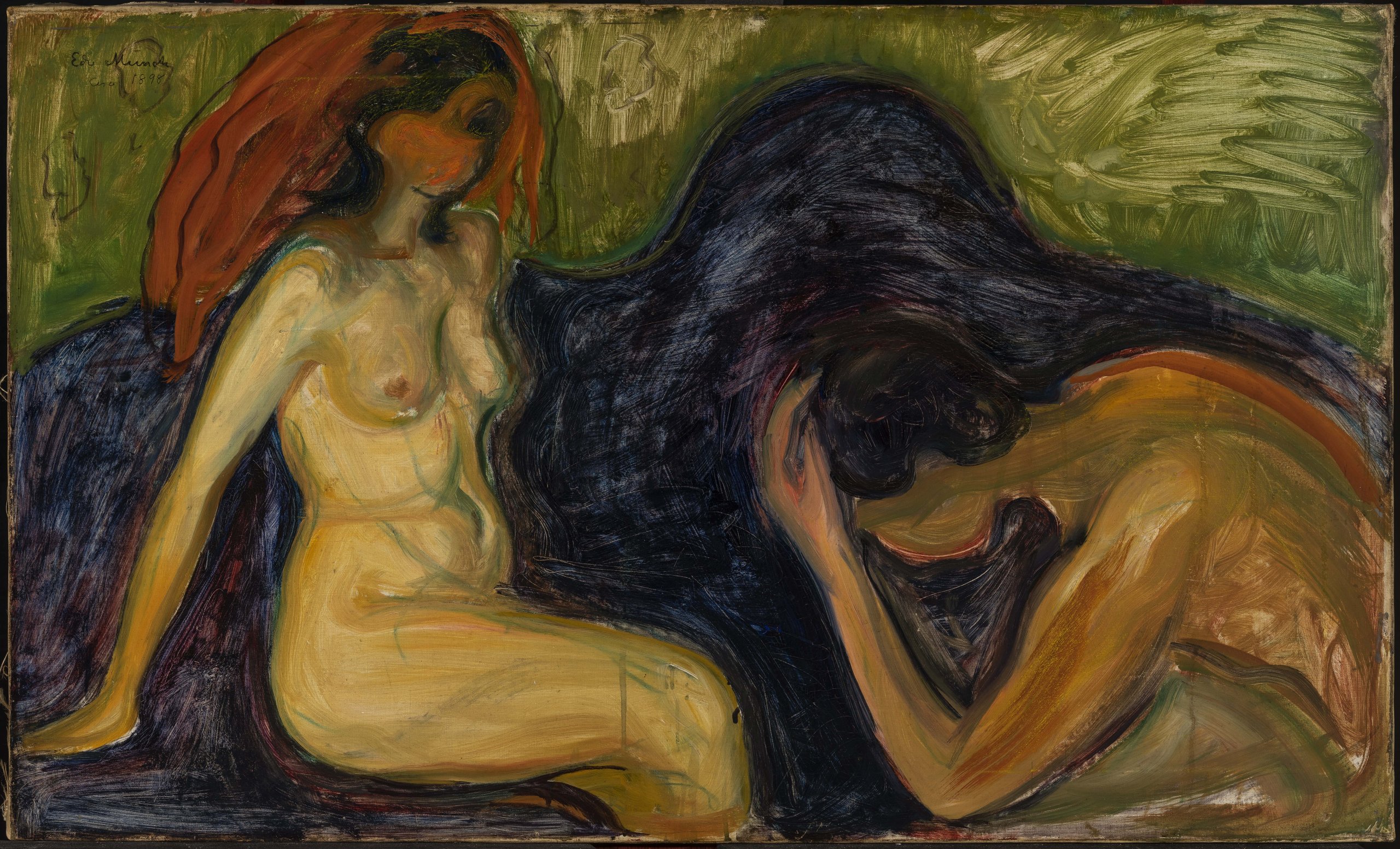 Edvard Munch often depicted the stages of life, as people matured from youth to old age. Although he sometimes presented the subject in a dream-like or timeless setting, as in Woman in Three Stages (above), here, he chose a street scene to present the life cycle.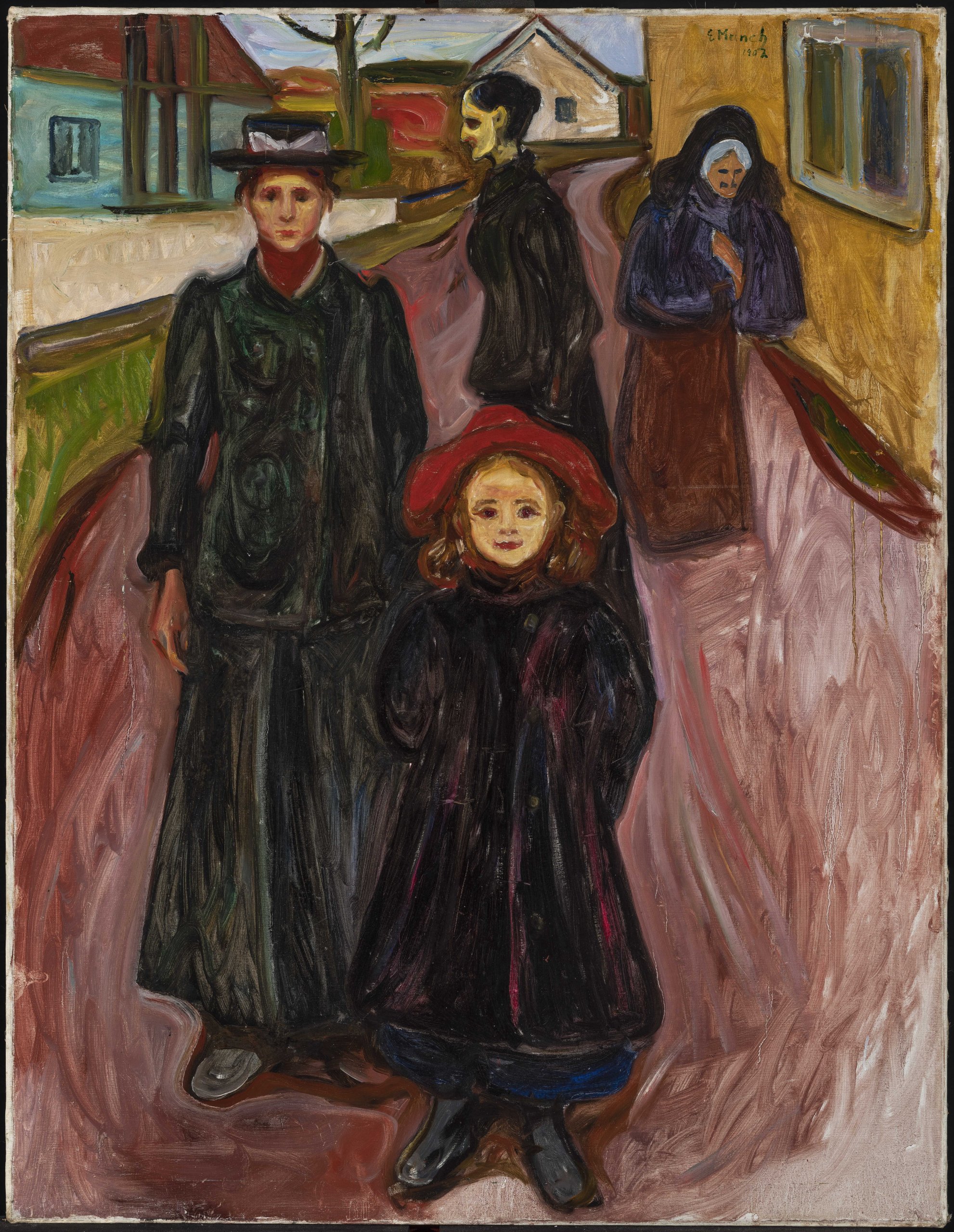 Street scenes were a recurring feature in Munch's work. This allowed him to explore the private feelings of a figure placed in a very public setting. In Children Playing In The Street in Åsgårdstrand (1901–03), the young girl stares out of the picture intently, perhaps determined to separate herself from the boys behind her. She may also want to confront us as we enter the scene as viewers.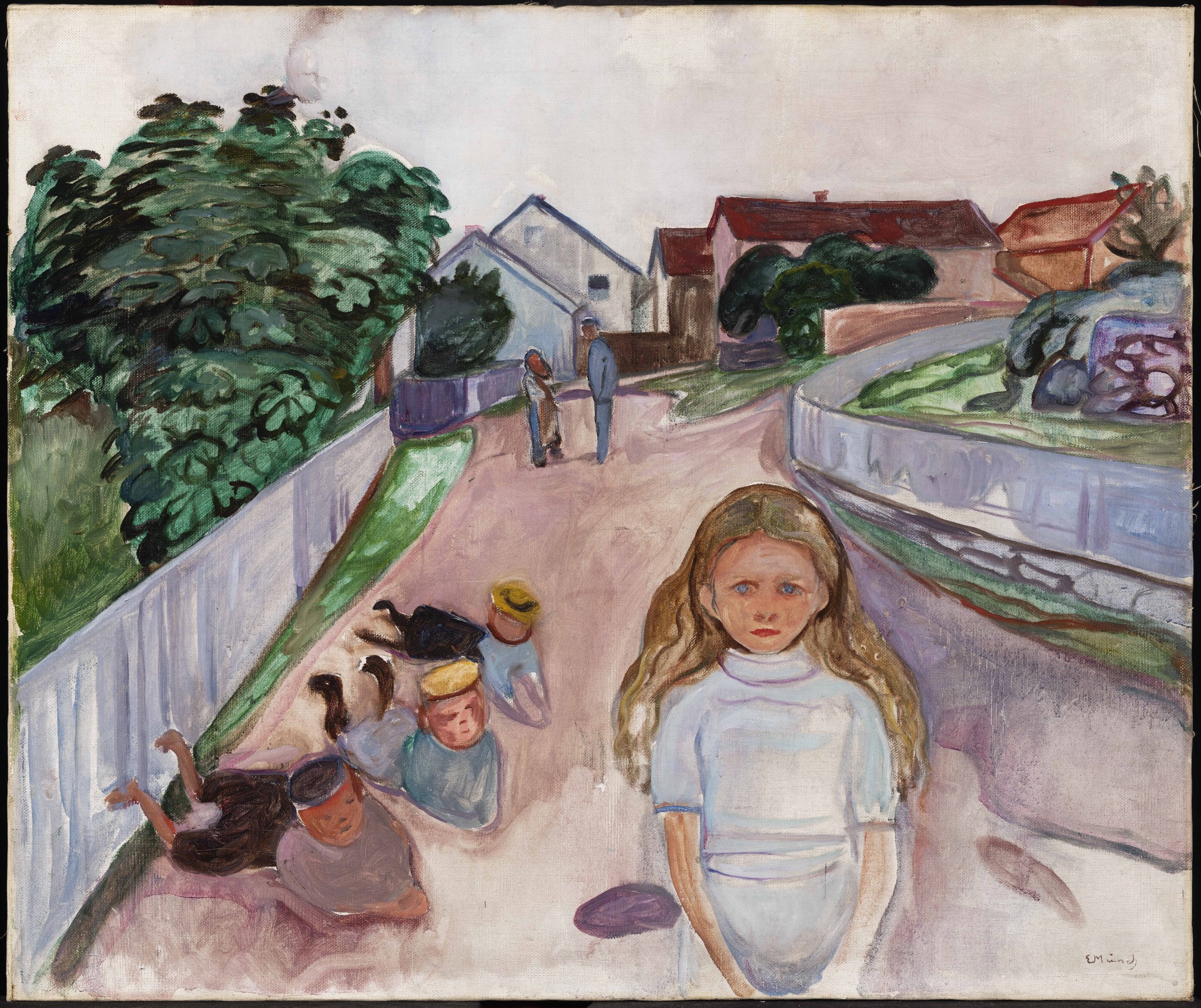 "Disease, insanity and death were the black angels that stood by my cradle," Edvard Munch wrote of his childhood. He lost both his mother and sister Sophie to tuberculosis when he was young and was himself beset by ill health. In At The Deathbed (1895), he depicts Sophie disappearing within the white sheets. She is contrasted with the heavy shadow of grief formed by family members gathered at her side.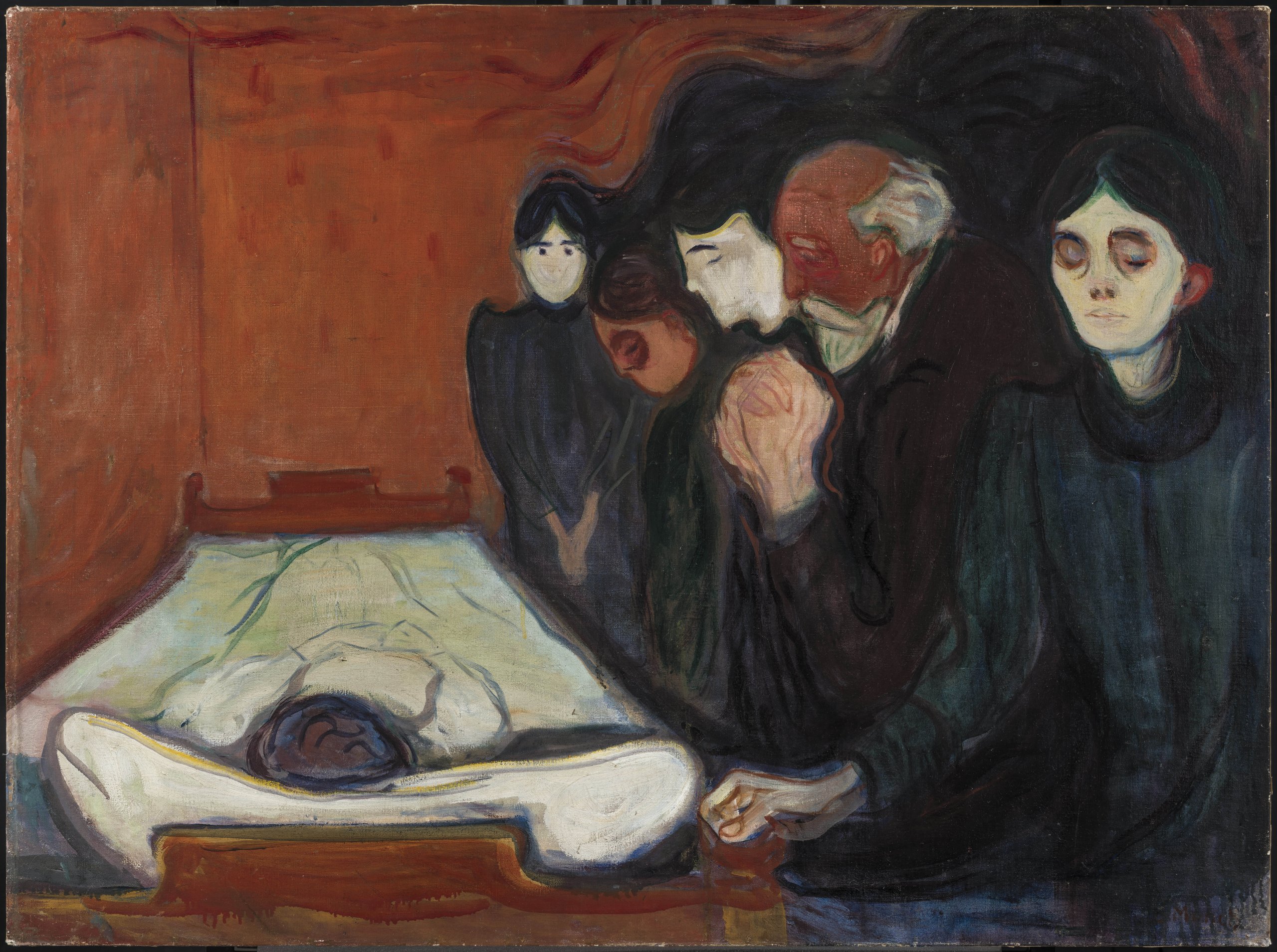 From 1907, Edvard Munch rented a house in Warnemünde, on the northern coast of Germany. Located on the Baltic Sea, it was, for Munch, the German version of Äsgärdstrand, the Norwegian seaside town where he spent many summers. Youth (1908) is one of the ambitious works depicting male bathers that Munch produced here. It was likely painted on the beach itself. Its near-life sized depiction of a naked young man on the beach is full of a renewed sense of vitality that characterised Munch's work at this time.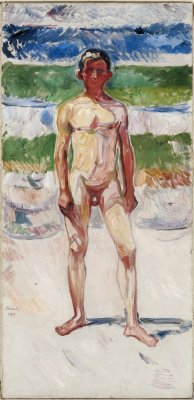 Bathing Boys (1904–5), also on display here, is another painting on this theme. Munch's loose handling of paint, with drips and a watery transparency, is at one with his subject matter.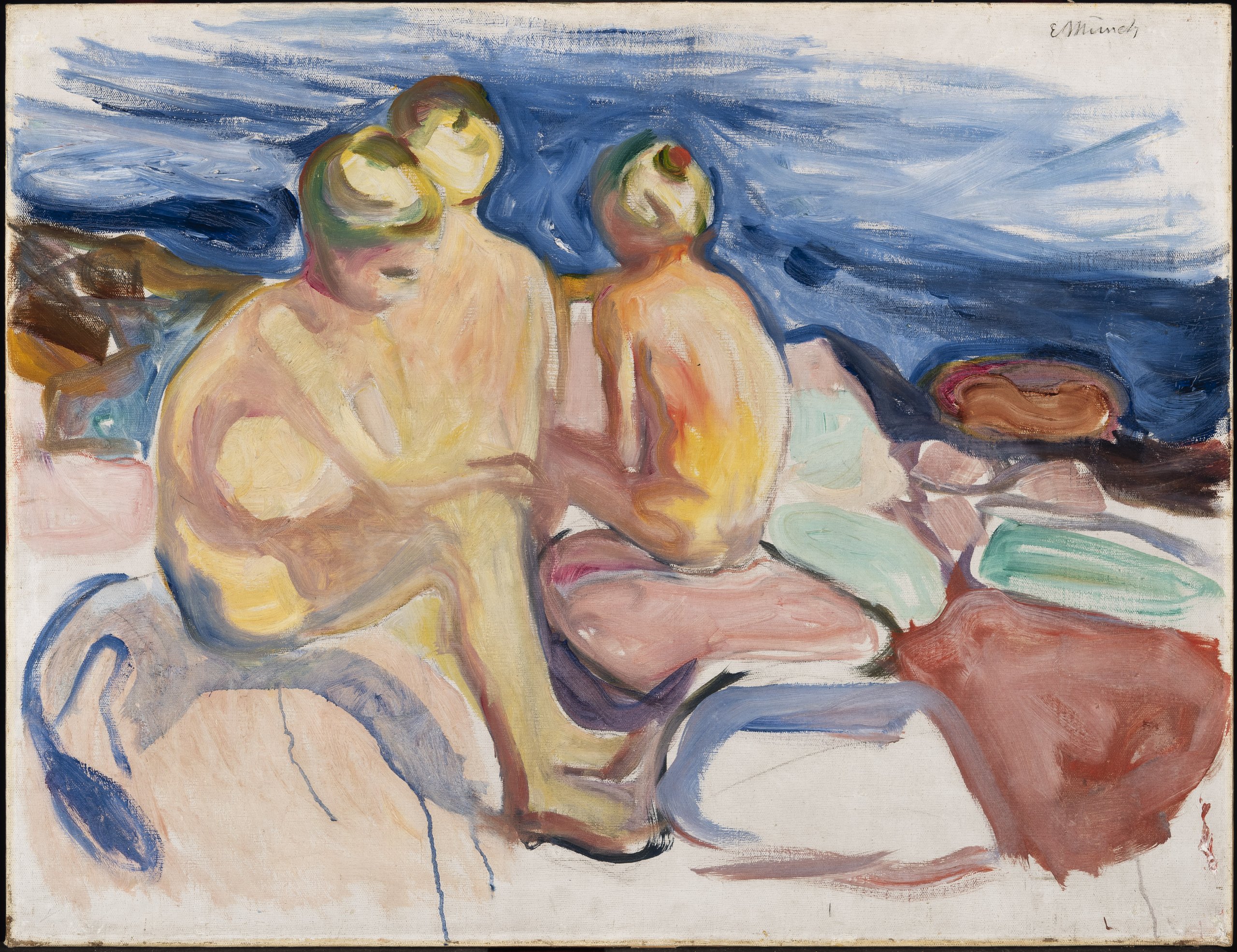 In the autumn of 1908, Munch suffered a nervous breakdown. He was treated for eight months at the clinic of Dr Jacobson in Copenhagen. He was weaned off alcohol and tobacco which helped to calm his volatile mental state.
Partway through his stay, Munch turned his room at the clinic into a studio, where he produced this major self-portrait. This powerful work marked a significant and lasting shift in Munch's style, as he adopted a brighter palette and started applying paint with loose, jagged brushstrokes that left parts of the canvas visible.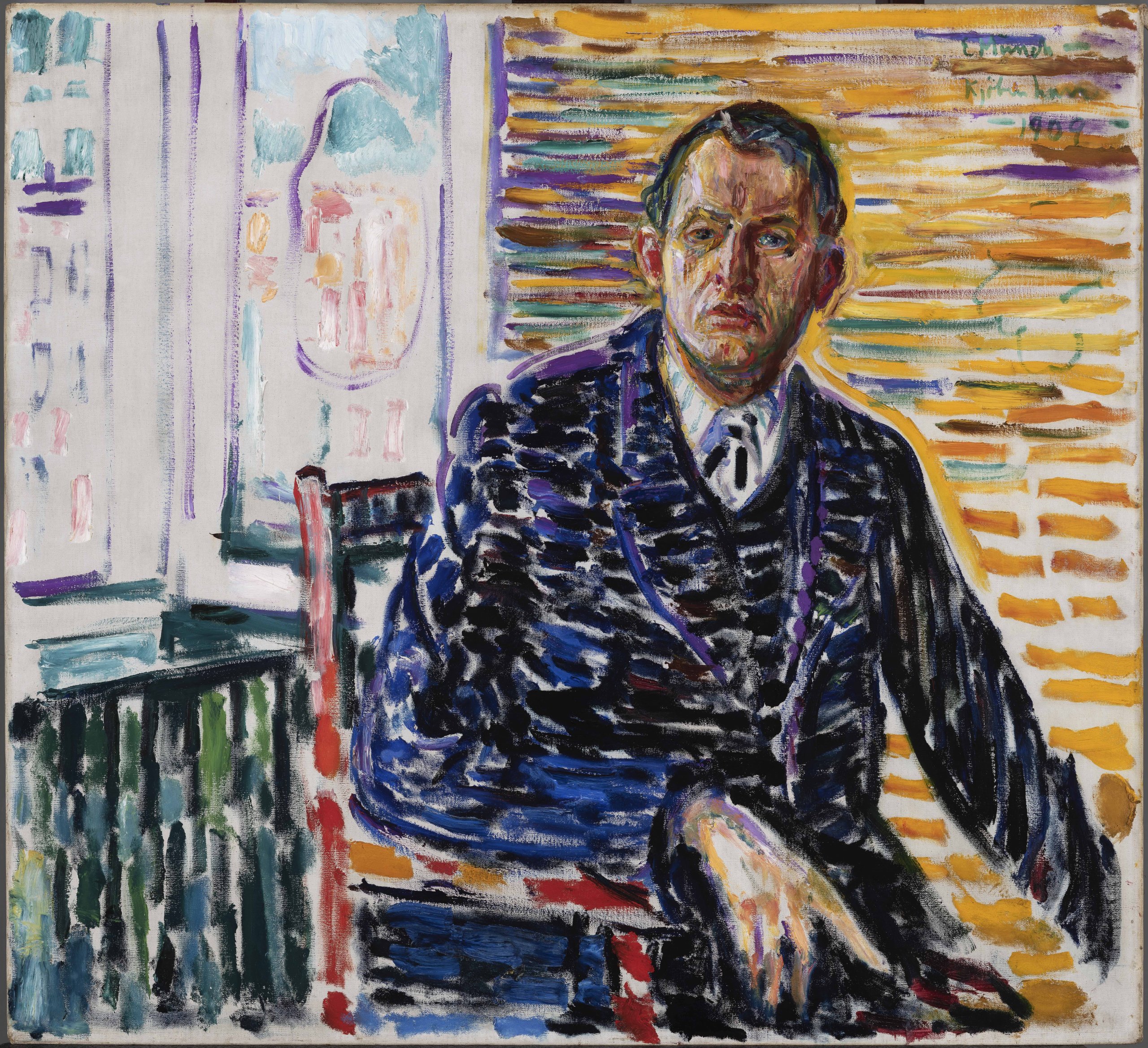 Conclusion
Edvard Munch. Masterpieces from Bergen is the second in The Morgan Stanley Series of temporary exhibitions at The Courtauld (following the great success of the Van Gogh Self-Portraits exhibition). It is in The Courtauld's Denise Coates Exhibition Galleries, adjacent to The Courtauld's world-renowned permanent collection of Impressionist and Post-Impressionist art, featuring many of the painters who were central to Munch's development, including Gauguin, Toulouse-Lautrec and Van Gogh.
The exhibition is just two rooms but very much worth seeing. It gives yet another reason to return to The Courtauld.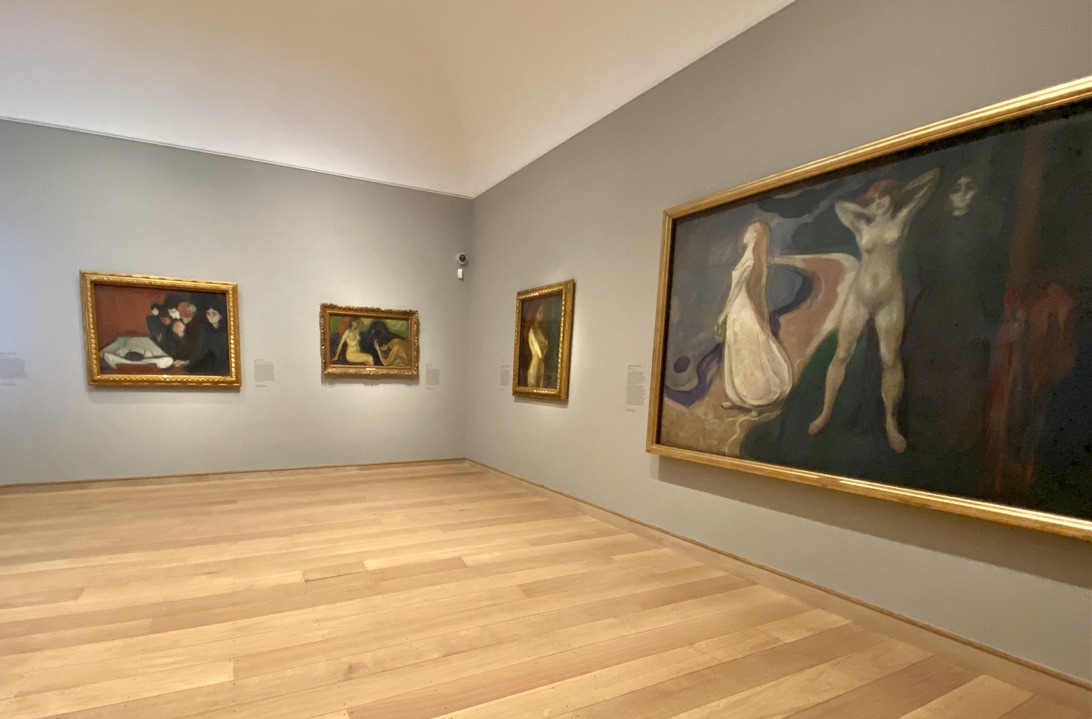 Room 10
When you leave the exhibition, you are in the Great Room (Room 10). This room presents one of the finest collections of Impressionist and Post-Impressionist works in the world. The display comprises paintings by all of the major artists, from Claude Monet to Vincent van Gogh, and includes some of their greatest achievements. Here's more about the permanent collections.
This was the first purpose-built exhibition space in the United Kingdom and the first top-lit public gallery in Europe. The Great Room was the backdrop to the Royal Academy's annual Summer Exhibition until 1837.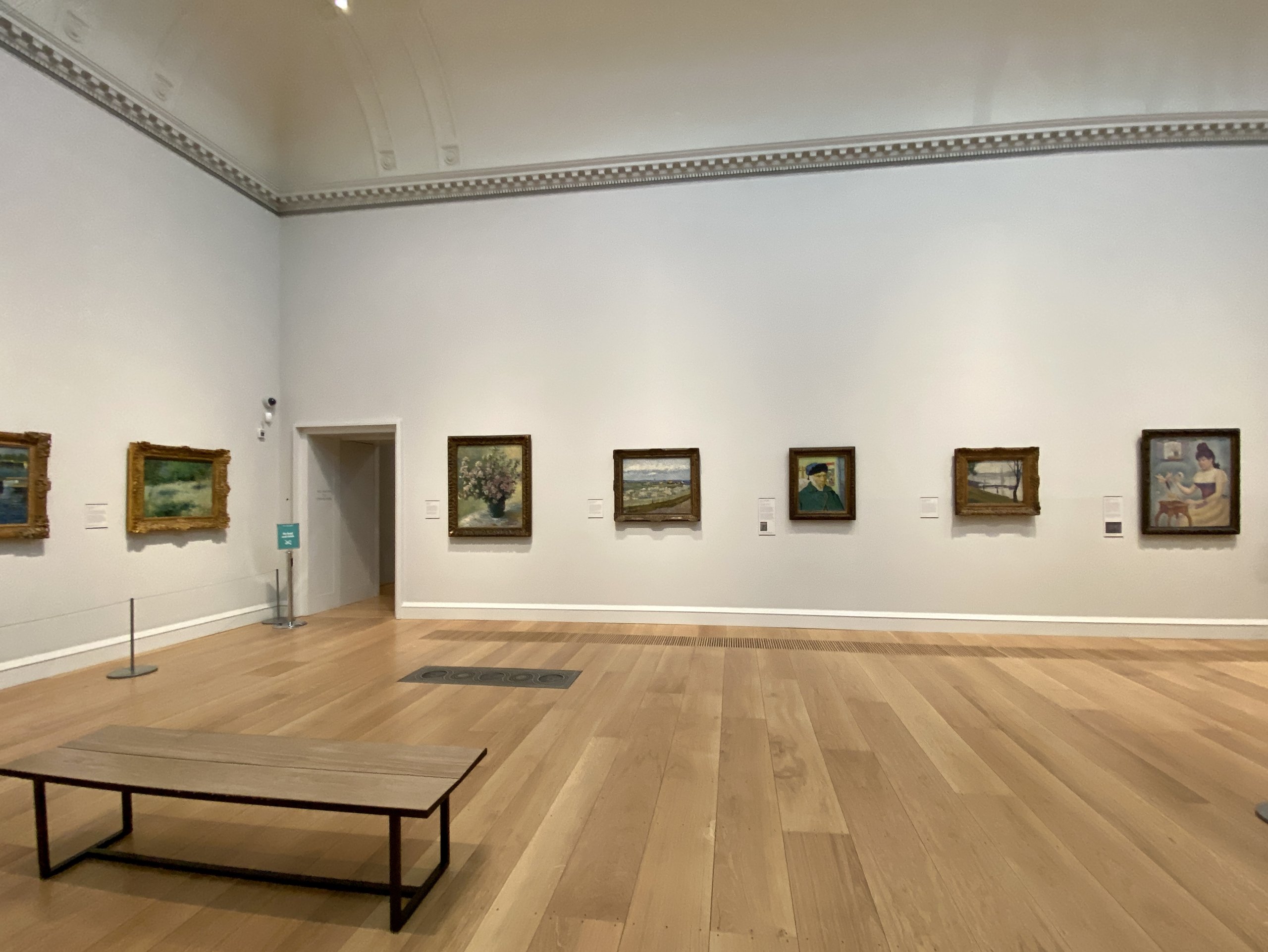 Visitor Information
Exhibition Name: The Morgan Stanley Exhibition: Edvard Munch. Masterpieces from Bergen

Dates: 27 May – 4 September 2022
Opening Hours: 10am – 6pm (last entry 5.15pm)
There is a late opening happening on Wednesday 22 June 2022 when the gallery will stay open until 10pm.
Tickets: Weekend tickets from £20, Friends and Under-18s go free
Address: The Courtauld Gallery, Somerset House, Strand, London WC2R 0RN
Official Website: courtauld.ac.uk