Christmas time is here again.  London goes all out for Christmas, with decorations covering every square inch from Trafalgar Square to Oxford Street.  Of course, the metropolis that gave birth to the modern idea of the holiday via Charles Dickens's A Christmas Carol knows how to put on events that make it feel special.  London offers a ton of great Christmas activities whether you're looking for a spiritual reminder of the holiday or just plain fun.  While the five activities listed here are not the only ones happening in the city, they are some of the best.  Let us know some of your favourite London Christmas events in the comments.
Christmas Past at Geffrye Museum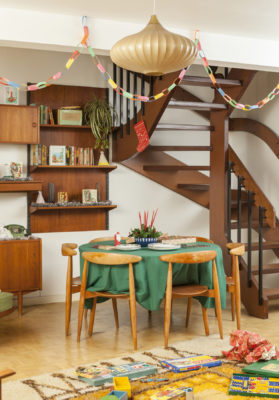 A museum of the home, the Geffrye Museum exists to show what live was like in the average British home from 1600 to the present.  Come Winter, the museum holds its annual Christmas Past event, in which each of the museum's eleven rooms is decorated to display how Christmas was celebrated in each period.  As you walk through Geffrye's rooms, you'll also learn about the beginning of Christmas traditions such as kissing under the mistletoe, hanging up stockings, and throwing cocktail parties.  The Geffrye Museum also hosts a number of Christmas activities featuring carols over the years as well as opportunities to make your own greenery and decorations.
Christmas Markets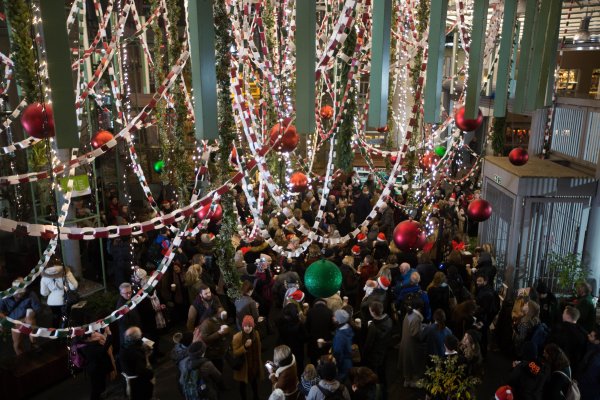 Even if your Christmas shopping is finished, it's still worth checking out the markets that pop up during the holiday.  Leadenhall is one of the best markets in London throughout the year, so you can bet at Christmas everything there is brilliant.  The Leadenhall Festive market takes place from 19 – 23 December is full of Christmas food, drink, and gifts even beyond what the market offers normally.  For something a little different, Barbican's Christmas Market is full of alternative gifts from over thirty-five rotating designers.  Everything from vintage items to handmade gifts can be found there, though you may have to wait until next year since the market isn't being held in 2016.  Even more, Christmas Markets are held across the city including the Tate Modern, Kingston, Camden Market, and even the Chelsea Physic Gardens.
St. Paul's Christmas Services
One of the greatest churches in the world, St. Paul's Cathedral is a must to visit during Christmastime.  St. Paul's hanging decorations are worth the trip alone and the abounding amount of evergreens, flowers, and lights that all hold special symbolism in Christianity.   As throughout the year, all services are free and open to the public during the Advent season, including the carol services and Advent procession on the 26th and 27th.  Some concerts still require a ticket to attend such as the concert for Handel's Messiah and it's advised to get there early for services as they can fill up quickly.
Hogwarts in the Snow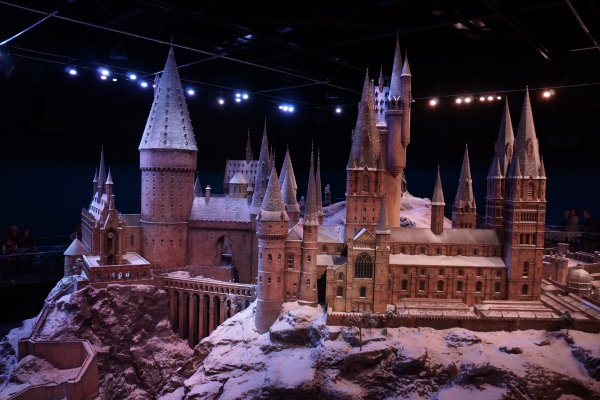 The Warner Bros. Studio Tour is worth going any time of year, especially for the Harry Potter sets.  During Christmas, visitors can experience those same sets as they were for the Christmas scenes in each of the Potter films, but not only that, they can learn all about how set designers made that magic possible.  Crews are ready to explain everything from everlasting film snow to special movie fireplace blazes and special Christmas gifts such as Harry's invisibility cloak, and the Weasley jumpers are on display.
The Great Christmas Pudding Race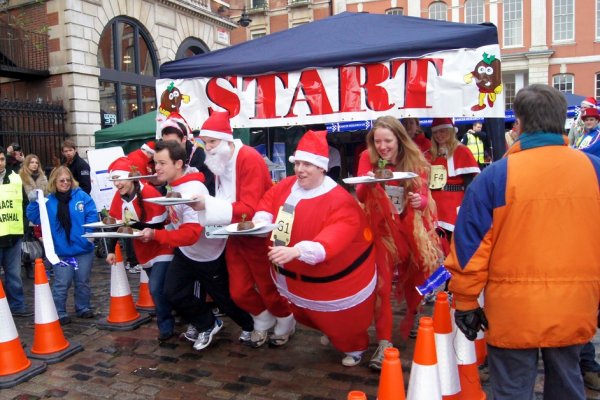 Christmas pudding is a tradition dish of dried fruit, treacle, molasses, suet, and alcohol that completes every Christmas dinner.  It's not exactly something you would think about running with, but that's what happens every year in Covent Garden to raise money for cancer research.  Teams of six in fancy dress run a relay obstacle course while attempting to keep the pudding level on a plate.  Spilling the pudding means the race is over and that team won't win the coveted trophy.  Even if you're not racing, it's worth watching, or even celebrity spotting as the annual event draws all types.