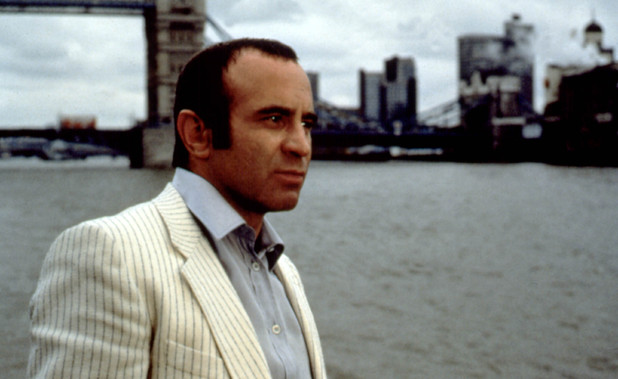 Every city has its criminal element, and London is no exception.  The universe of the criminal underground is one that varies in its organization and is full of complex, interesting characters.  Filmmakers have long called on the complexities to tell stories of another side of the city that most people do not see.  These films have included real and fictional gangsters and gang members and their tales range from the humourous to the blood-chilling.  In all of them, London has played a central role, displaying how crime affects each part of the metropolis and the people who live there.
Eastern Promises
British-Russian midwife Anna is drawn into the world of the Russian Mafia when one of her patients at a London hospital dies in childbirth, leaving behind a journal that she can't decipher.  Stumbling onto an illegal prostitution ring, mafia boss Semyon uses the baby's life to keep her silent while dealing with his son Kirill and Kirill's driver/bodyguard, Nikolai.  As with any David Cronenberg movie, surprise twists abound and not everyone in Semyon's empire is who they seem.
The Long Good Friday
This 1980 Bob Hoskins film views much like a modern Shakespearean tragedy set in the criminal underground.  Harold Shand is at a precipice in his life, trying to forge an alliance with the American mafia while mysterious attempts on his life threaten to disrupt his new allies' confidence in him.  Harold has to solve the mystery while trying to keep the alliance afloat, though it all comes crashing down around him.  The film is considered to be one of Hoskins's best roles and some real mobsters had minor roles in the film.
The Lavender Hill Mob
A dark comedy caper, The Lavender Hill Mob sees a group of would-be criminals try to sneak gold out of the country, only for everything to go hilariously wrong.  While the group's plan is sound, a series of mixups and misunderstandings ultimately doom the heist, though Alec Guinness's "Dutch" Holland is able to get away.  Of course, even this turn of events has its own final twist.
The Krays
Based upon the lives of real-life East End gangsters Ronnie and Reggie Kray, the 1990 film is considered one of the best tellings of their story.  Brothers Gary and Martin Kemp play Ronnie and Reggie, doting on their mother Violet while plotting their rise to power in London's criminal scene and becoming major celebrities in the process.  The film won several awards, but Ronnie and Reggie allegedly hated the film due to Violet's swearing, something the brothers claim she never did in real life.
Lock, Stock, and Two Smoking Barrels
Guy Ritchie's first major cinema success was largely inspired by The Lavender Hill Mob and it shows in this comedy of errors about a group of pot dealers who run afoul of real gangsters and hitmen.  While Eddie, Tom, Soap, and Bacon find themselves in some real trouble, the plans of other criminals end up tripping over each other due to a pair of antique shotguns.  The film would come to exhibit several characteristics of many of Ritchie's later films, including another on this list.
Gangster No. 1
Paul Bettany's breakout role, the unnamed Gangster is played in the present by Malcolm McDowell and in the past, his younger self by Bettany.  Bettany's Gangster is recruited by mobster Freddie Mays (David Thewlis) to be an enforcer in his organisation and Gangster quickly becomes equally skilled at violence and envious of the lifestyle that Mays lives.  As his rises to power, the ensuing decades show that the criminal lifestyle has taken its toll on Gangster.
Snatch
Perhaps Guy Ritchie's best-known London gangster film, it builds upon the multiple storylines and characters present in Lock, Stock, and Two Smoking Barrels to find several criminals embroiled in a diamond heist that goes hilariously wrong.  It features many great performances from Alan Ford, Jason Statham, Vinnie Jones, and Brad Pitt.  One of the things that works best about Ritchie's films is their ability to show multiple facets of London criminal life while peppering the story with an equal amount of violence and comedy.
We Still Kill the Old Way
When an old school London gangster is murdered his old crew gets back together to exact revenge on the local street gang responsible.  While maybe not the best film on the list, one of the more interesting things about the movie is the dichotomy between the old East End heavies and the newer gangs that have risen in their wake.  What's more, the film attempts to harken back to the classic crime films while forging a new path and establishing the stark differences between the two groups.
Adulthood
The sequel to 2006's Kidulthood sees Noel Clarke return as Sam Peel, who was sentenced to prison for six years for the murder of the previous film's protagonist.  Released on the completion of his sentence, the film's focus is on Peel as he tries to rebuild his life and reconnect with the people left behind while trying to atone for his crime.  Of course, not everyone is ready to forgive him, and some old friends are now enemies with a score to settle.  While Clarke merely wrote the original film, his also directs the sequel and delivers a great performance.
Sexy Beast
Ray Winstone, Ben Kingsley, and Ian McShane come together in a masterful picture featuring retired safecracker "Gal" Dove who is drawn back into the criminal life by crime lord Teddy Bass (McShane) and his former associate Don Logan (Kingsley).  But after Gal is forced to kill Logan and go through with the London caper to cover up his involvement in the murder, things go downhill.  Despite not appearing in the majority of the film, Kingsley's performance still earned him several nominations and awards, including an Oscar for Best Supporting Actor.
Which one is your favourite? Let us know in the comments!