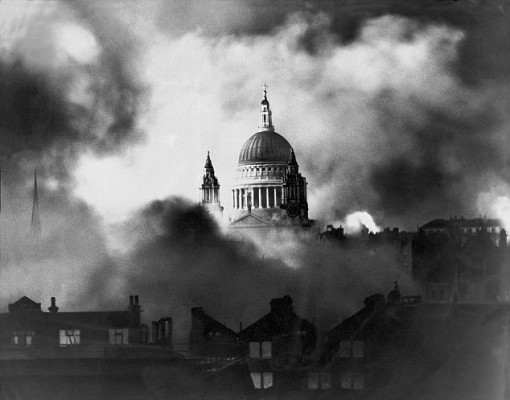 Between 7 September 1940 and 21 May 1941, Nazi Germany launched a bombing campaign against major cities in the United Kingdom. The Nazis targeted a total of 16 British cities, with Birmingham, Liverpool, and Plymouth hit 8 times, Bristol 6, Glasgow 5, Southampton 4, Portsmouth and Hull 3, and nearly every other major city at least once. London, though, got the worst of it with 71 attacks. Despite the relentless pounding by the bombs, London remained resilient and outlasted a campaign that ultimately did little to hurt Britain's war effort. Check out ten interesting facts and figures from this trying time in the city's history.
Phoney Baloney
Many people expected an immediate attack from Nazi Germany after Britain declared war on 3 September 1939, yet no attack came. Part of this was that Germany wasn't yet ready to take on Britain and was still solidifying their efforts on the continent. This period of inactivity was referred to as the "Phoney War".
Meaning
"Blitz" is short for "blitzkrieg" or "lightning war". It was a style of the Germany military during World War II to move quickly with a great amount of force in hopes of convincing their opponents to surrender.
In a Row
Of the 71 times that London was targeted by the Luftwaffe's bombing campaign, the city was once hit for 57 consecutive nights. That represents 80% of the bombing in London. The hope was that such a consistent attack would eventually cause Britain to tire of the war, but there was no chance of that as long as Winston Churchill was Prime Minister.
Verboten
Another reason for the long period between declaring war and German's attack was that Hitler initially declared London off-limits for attack. His feeling was that if the Luftwaffe didn't attack London, the RAF would not counterattack Berlin. As the bombing campaign against targets supporting the war effort proved ineffective, Hitler's frustration grew until he decided to start attacking British cities.
Gimme Shelter
Public air raid shelters were constructed to outlast the bombing and many people built their own bomb shelters in the gardens of their homes. The government was initially against people using London Underground stations as temporary shelters out of concerns that disease would spread, people would fall over the lines, and that they would not want to leave the tunnels. Despite this, Londoners took shelter there anyway and the government's concerns proved to be unfounded.
Are You My Mummy?
Gas masks were passed out to military and civilians alike as it was thought Geran bombs could carry poisonous chemicals. The look of the masks was used to chilling effect the Moffat-penned episodes "The Empty Child" and "The Doctor Dances" as the look for the primary antagonists.
Symbol of Defiance
The Luftwaffe hit the City of London hard on 29 December 1940 and resulting fires raged until New Year's Day. Over 75% of the City was flattened by the bombs, but St. Paul's Cathedral survived more or less in-tact.
Evacuations
Nearly 3.75 million people were displaced by the bombing. In the first three days of the evacuation, 1.5 million people were moved, including: 827,000 school-age children, 524,000 mothers and young children, 13,000 pregnant women, 7,000 disabled persons, and more than 103,000 teachers and other "helpers" and caregivers.
Football Legacy
Not football as we think of it, but an American football club exists that calls itself the London Blitz. The club formed in 1984 as the Ealing Eagles and play as part of the European Association of American Football. The Blitz have won the EFAF's National Championship in 2007 and 2009-2012.
Defeated by the Light
The Luftwaffe conducted many of its bombing raids at night due to heavy losses sustained during daytime raids. As winter came to a close and days got longer, the number of bombing runs dropped as there was less time available to the Germans. Having learned that Britain meant its motto of "We can take it", Hitler turned his attention away from London and to Operation Barbarossa—the invasion of the Soviet Union.