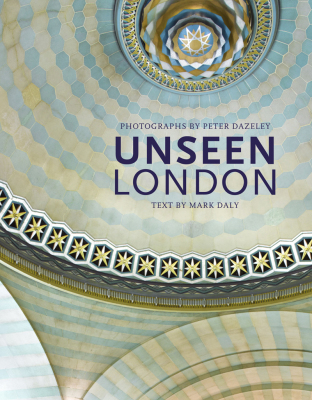 There's nothing quite like cracking open a big photography book about London, so it was with great excitement that I received a copy of Unseen London by photographer Peter Dazeley (which text written by Marc Daly). It's a tour of iconic London buildings that aren't tourist attractions and are generally not open to the public. Some are in danger, some are being redeveloped, almost all of them are beautiful.
The photography, Peter Dazeley, was given exclusive access to many London buildings not normally open to the public – such as 10 Downing Street, Battersea Power Station, Iconic theatres and tons more. His photography is beautiful and this book is a joy to sit back and read. There are a total of 50 locations in the book, most with several pictures of each.
The detail in some of the pictures is amazing – it's a great insight into London's architectural history – going back hundreds of years. In addition to the beautiful pictures, there is great text written by Mark Daly who gives insight into the history of each building and also how they've developed over time. Mark and Peter make an excellent team and have created a stunning book.
Most of the places in the book you can happily see from the outside, but the inside is generally off limits to the public – which is what makes this book such a treat. He even got access to the Bank of England – it took him over 5 years to get the necessary permissions. Just getting access to all these buildings was an achievement in itself.
The book is a wighty tome – definitely a coffee table book and it clocks in at over 300 full color pages. It is a beautiful book to behold and will be a great addition to any Londonphile's library.