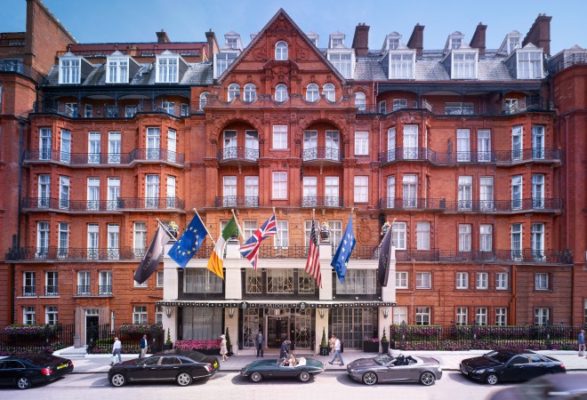 One of the swankiest five-star hotels in London, Claridge's has been a top place to stay since it opened in 1812.  It's seen many interesting uses as it grew, including a wartime base of operations, clandestine diplomatic meetings, and Hollywood star hangout.  What was once a modest townhouse now encompasses almost an entire block and its reputation for luxury is well deserved.  Have a look at these ten interesting facts and figures about one of London's most prestigious hotels.
Nickname
Claridge's has been so well-known for its luxury that it's been referred to as an "annexe to Buckingham Palace."
Joining Forces
When it opened originally in 1812, the hotel was known as Mivart's Hotel, opened in a single townhouse.  Next door, William and Marianne Claridge opened their own hotel at 51 Brook Street and in 1854, Mivart sold his hotel to them.  The Claridges expanded into five other buildings and renamed the hotel as Claridge's in 1856.
Royal Fame
It wasn't long after the Claridges expanded the hotel that they had a couple of royal visitors.  Queen Victoria and Prince Albert visited the hotel in 1860.  Their prestige added to the hotel's already growing fame, and it became a favorite place to stay for visiting heads of state.  Over the years, it also became a regular hotel for the Royal Family.  When he would visit Claridge's, King Hassan of Morocco, who was famous for always bringing his own mattresses, would use a Savoy mattress.  Additionally, it was used as the site of a secret meeting between then-West German Chancellor Konrad Adenauer and Jewish World Congress President Nahum Goldmann in 1951 to discuss reparations for the Holocaust.
Cost
Claridge's can get pretty expensive if you want to stay there.  Rooms can cost up to £7,000 pounds per night.  Afternoon tea runs £50 per person.
Claridge's in Wartime
When German and Italian forces took over Yugoslavia in 1941, it pushed out the Royal Family, including King Peter II.  Peter set up his government in exile at the hotel and coordinated its forces from there.  When his son, Crown Prince Alexander, was to be born, Peter wanted to be certain the boy was born on home soil and reportedly had some placed under the bed.  At any rate, the government of the United Kingdom permitted Suite 212 where he lived to be Yugoslavian territory for a single day to give Peter his wish.  Later in the war, Claridge's served as a temporary home for Sir Winston Churchill and Lady Clementine.
Matching Colours
Dame Barbara Cartland would often take her afternoon tea at the hotel.  Reportedly, her assistant would ring the hotel before she arrived there to let them know what colour she was where so that the hotel could dress her table to match.
Hotel to the Stars
Starting in the 1950s, Claridge's became a popular hotel for Hollywood's most famous actors and actresses.  Names such as Cary Grant, Yul Brenner, Katharine Hepburn, Bing Crosby, and Audrey Hepburn were regulars there.  In fact, Katharine Hepburn's preference for trousers didn't sit too well with the hotel's policy for its tea rooms, and she was told several times that she had to wear a dress to tea.  She got around this by using the service entrance instead.
Anything for the Guest
The high-class guests can have some pretty heavy demands.  A Japanese pop star who stayed in the hotel wanted to have a Jacuzzi in her room, so the hotel ripped out the existing bath and installed the new tub for her.  A Middle Eastern princess and her retinue booked 40 rooms on the third floor, having some of them converted into kitchens and dining rooms, while at least a couple were solely to store her shopping purchases.
Building a Legacy
The current Claridge's building was constructed in 1898 by George Trollope & Sons.  It is Grade II listed and boasts over 200 rooms.  The interior is considered one of the finest examples of the 1920s and 30s art deco.  Basil Lonides redesigned the hotel's restaurant and several suites.  In 1929, Oswald Milne designed a new main entrance to replace the carriage drive.  In 1996, Thierry Despont revamped the hotel to update the Foyer while keeping its classic art deco look.
Oldest Lift in London
The hotel's OTIS lift was installed in 1896, making it the oldest still-working lift in the city.  As such, it is still operated by an attendant.