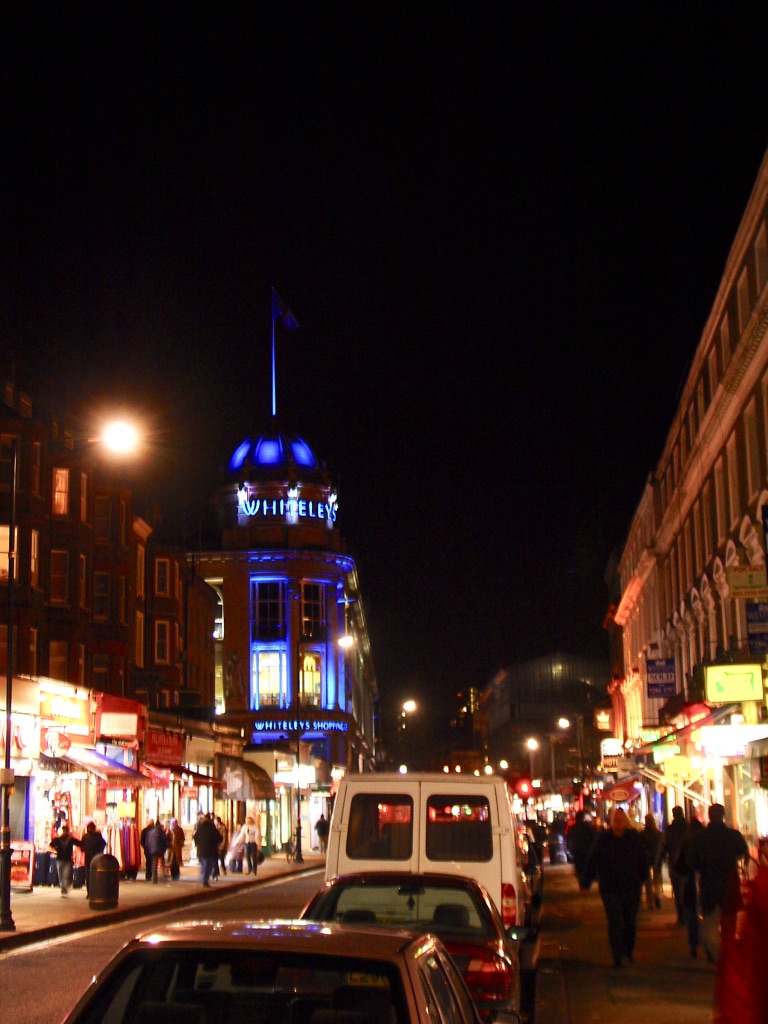 Editor's Note: This is a new ongoing article series telling short little stories about London from our 20 years of travel there. Stories we haven't told before or stories that we think will be interesting. If they prove popular, we may compile them into a book like our Anglophile Vignettes book we released last year. 
Whiteley's was in the news recently, it recently got planning permission to go through yet another round of redevelopment. One thing is for sure, the Paddington area is going through constant change and here was stately old Whiteley's being renovated yet again.
It used to be a grand old department store in the same vein of Selfridges or Harrods, but it closed long ago. Then it was turned into an indoor shopping mall with a host of interesting shops.
And this is where I enter the story. We discovered it by chance one day wandering the streets of Paddington around our hotel, on one of our early trips to London during college (the early 2000s). It looked grand. It looked historical.
We decided to go inside and have a wander around. The grand old store had been turned into a shopping arcade. But what struck me about the place was how empty it was. There was scarcely a soul inside. The stores, while in business, were mostly empty.
There was a lovely bookstore there, a stately Waterstones and I remember buying far more books than I could have afforded at the time (this is an ongoing problem for me…). This was where I got my beloved copy of Far From the Madding Crowd by Thomas Hardy from.
I also discovered a store that became a true love – Muji. Muji is a Japanese brand, whose primary concept is that it's not a brand. Their goods are unbranded (well, they say Muji), but they design products to be as simple and functional as possible. I have found their pens to be the best writing pens around, and now, whenever I visit London, I'm sure to visit a Muji and stock up on pens (and mandarin Orange soap, but that's another story).
Remember Internet cafes? In a world where computers were becoming commonplace, but still expensive, there used to be entire places dedicated to renting a few minutes on a computer. These were the halcyon days before smartphones, now we all have computers in our pockets.
In Whiteley's, there was an EasyInternet Cafe (Easy being the brand by Stelios Haji-Ioannou – who famously founded Easyjet). You paid money into a vending machine, then got access to a computer terminal for just a few minutes. Needing to check my email, I paid a few pounds and used a foreign computer in the middle of a renovated Victorian shopping arcade. What a world we lived in then. It was more novelty the than was necessary, and let's be real, that's the same today too. We don't really need to check our email as often as we do.
It's now an experience you cannot have – I can't remember the last time I saw an Internet cafe in London! And Whiteley's, despite being in an up and coming area, continued to decline. More and more stores closed up shop and the place became a ghost town. It was ripe for re-development, again.
And that's what's happening now. There will still be a few shops, but now most of the building is being turned into something that London appears to always need more of: high priced flats for foreigners to park their money and leave empty most of the time.
I'll miss Old Whiteley's and that dodgy Internet cafe.