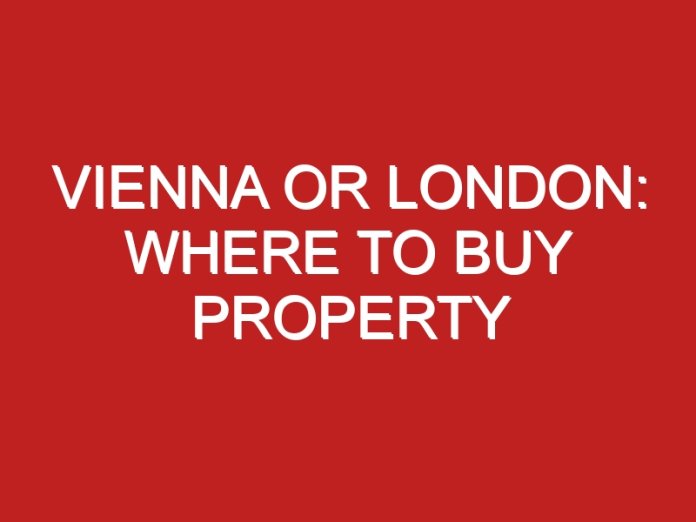 Some people are looking for a place to live, while some are searching for profitable real estate options. Regardless of the end goal, buyers tend to pay close attention to London and Vienna's real estate markets.
The capital cities of the UK and Austria are both quite liveable places. The Quality of Life Index of London is 126.15 based on Numbeo's evaluation, while Vienna managed to score as much as 178.95. From an investor's standpoint, the main measure that guides a decision is the return on investment (ROI) indicator. This value heavily depends on the chances of the property multiplying in its price.
House Price Increase Five Years is exactly the indicator to consider here. The housing market in London showed a roughly 26% gain, while property in Vienna added almost 41% in its price over the same period. So, purchasing real estate in both cities may seem to be an equally right call. But it's not that simple at the second glance, and some additional factors must be scrutinized.
Pros and Cons of Buying Property in Vienna
If you are deciding whether to buy property in Vienna, it's essential you consider the advantages and disadvantages of this location. The following factors significantly affect the probability of selling property profitably as the comfort of living is the most important aspect from an end buyer's standpoint.
Pros
For starters, let's review the benefits of purchasing property in Vienna:
Investment potential. The expected profitability of reselling property here is high. Capital gains tax is 30%, which is a bit too much, but it does not nullify the effect of the housing market growth. Rental income tax in Vienna is comparatively high and equals 24.92%.
Health Care and Climate indexes here are very high, while pollution is low. Besides, Vienna placed first in the ranking of the greenest cities in 2020.
Stable economy. Austria has one of the highest standards of living overall and ranks highly by the gross domestic product (GDP) per capita indicator. It means that the odds of the housing market in Vienna declining in its value are low.
Price per square meter. Many may disagree with this point, but compared to London's price range, Vienna's €5,766-8,328 per square meter is not that much.
The real estate market in Vienna may offer plenty of promising investment opportunities based on the indicators.
Cons
Some issues greatly affect the attractiveness of property here in the eyes of end buyers.
Price-to-Income Ratio. Citizens of Vienna are not the most well-paid in Europe. So, it's often that foreigners can afford to buy a more expensive property compared to locals. Anyway, the high price-to-income ratio limits the number of interested buyers.
Cost of living. Vienna is a comparably affordable city to live in but still has a moderate cost of living index. It may lower the number of end buyers looking for budget-friendly options.
Unsurprisingly, Vienna's real estate market equally benefits investors and end buyers.
Advantages and Disadvantages of Buying Property in London
Let's review the specifics of the London real estate market.
Advantages
Here's the description of the same metrics that we used for Vienna so that the comparison is more descriptive:
Investment potential. Capital gains tax here equals 28%, but the tempo of real estate market growth is nearly two times lower. However, landlords here are not obligated to pay rental income tax at all.
Health Care and Climate indices here are high as well. Besides, London has a lot to offer to history enthusiasts. It's one of the most culturally significant capital cities.
Permanent residence status. The extra benefit is that purchasing property in the UK is legal grounds for obtaining a permanent residence status and, eventually, British citizenship.
London offers fewer benefits than Vienna but still represents a solid real estate market.
Disadvantages
And here are some limitations of purchasing property in the capital city of the UK:
Unfortunately, the safety index in London is moderate, meaning that some boroughs have high crime rates.
Cost of living. Even though London is known for its fairly high income level, the cost of living here is even higher. It drastically lowers the number of foreigners willing to buy property here.
Price-to-Income Ratio. On the other hand, the housing market here is greatly overvalued. So, end-buyers that are citizens of the UK may struggle to afford an expensive property.
Price per square meter. The price per square meter outside of the center is about €7,411. At the same time, investors may be asked to pay as much as €15,626 per square meter for property in the center of London.
Well-seasoned investors probably won't care much about the expensiveness of real estate here, but end buyers may be unpleasantly surprised.
To Sum Up
Purchasing real estate in Vienna may be an excellent opportunity for investors. The rapid growth in property prices here is likely to be long-lasting.
As for London, investors may benefit from purchasing property here as well. However, the real estate market in this city is nearly oversaturated. So, the profitability of local options is questionable. Investors are also likely to have a hard time reselling property as the comfort of living here is rather mediocre.
To make sure that you're getting the best deal possible it is a good idea to turn to a real estate company like Luxury-Vienna.