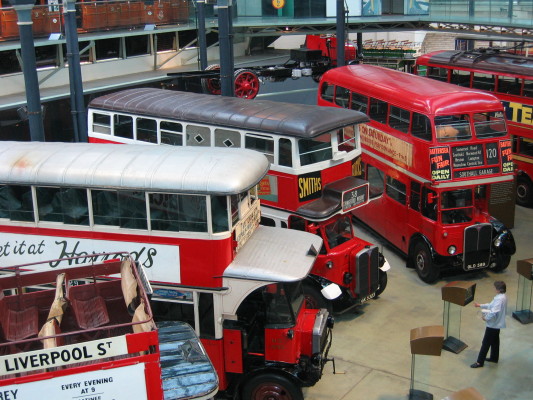 The London Transport Museum is one of our favorites in London and now we have another excuse to visit again. They're opening two major new galleries in 2018. First up is Digging Deeper, opening March 23rd, a new permanent gallery dedicated to London's tunneling history from Brunel to Crossrail. Second is the Future Engineers Gallery, opening July 13th,  and it will be geared towards getting kids interested in the STEM fields.
From the London Transport Museum:
The Museum's new permanent displayDigging Deeper, opening on 23 March, will tell the story of tunnelling from the troubled Brunel tunnel under the Thames in the mid-19th century, to the innovations of James Greathead, a pioneering engineer who invented the ground-breaking 'Greathead' digging machine. The tunnelling history of the past will link directly to the giant tunnelling machines used by Crossrail to construct the new Elizabeth line which opens in December this year.

Digging Deeper will highlight the contribution of Greathead and his shield to the growth the Underground system through the unique geology of London since 1870. Visitors will be able to see a multi-projector AV show in a new enclosed Tube environment, which will highlight models, drawings and tunnelling artefacts from 1840 to 2015 as part of an immersive experience. The gallery will feature a life-size recreation of the tunnelling shield that dug the world's first electric Tube railway in 1890, overlaid with footage from the Elizabeth line and the latest Northern line extension tunnels. Younger visitors will be able to build a set of foam tunnel rings.

Children and adults will be able to try their hand at driving a brand new train simulator in the new future Engineers gallery opening on 13 July. The Future Engineers gallery will be an interactive, hands-on space for 7-11 year olds and their parents. This new gallery will highlight the creativity, social value and sheer range of jobs available in engineering.

Drawing on the Royal Academy of Engineering's '7 mindsets of an engineer', the gallery will ask our visitors "are you a Dreamer, a Planner or a Fixer?". It will explore these elements of the engineering mindset through case studies and a combination of the high tech and low tech interactives like 3D models which allow visitors to try their hand at solving engineering challenges.
In addition to these great sounding new galleries, the LTM will also be launching an exhibition on Crossrail, the new London Underground Line coming into service later this year. This opens March 23rd.
I will definitely be adding a new visit to the LTM to my itineraries in 2018!