Lumiere London brought over fifty light installations to six areas of central London for the UK's largest light festival. (But you knew that already, surely, as you saw my Lumiere London preview, didn't you?) I went out on the first night to see the fun.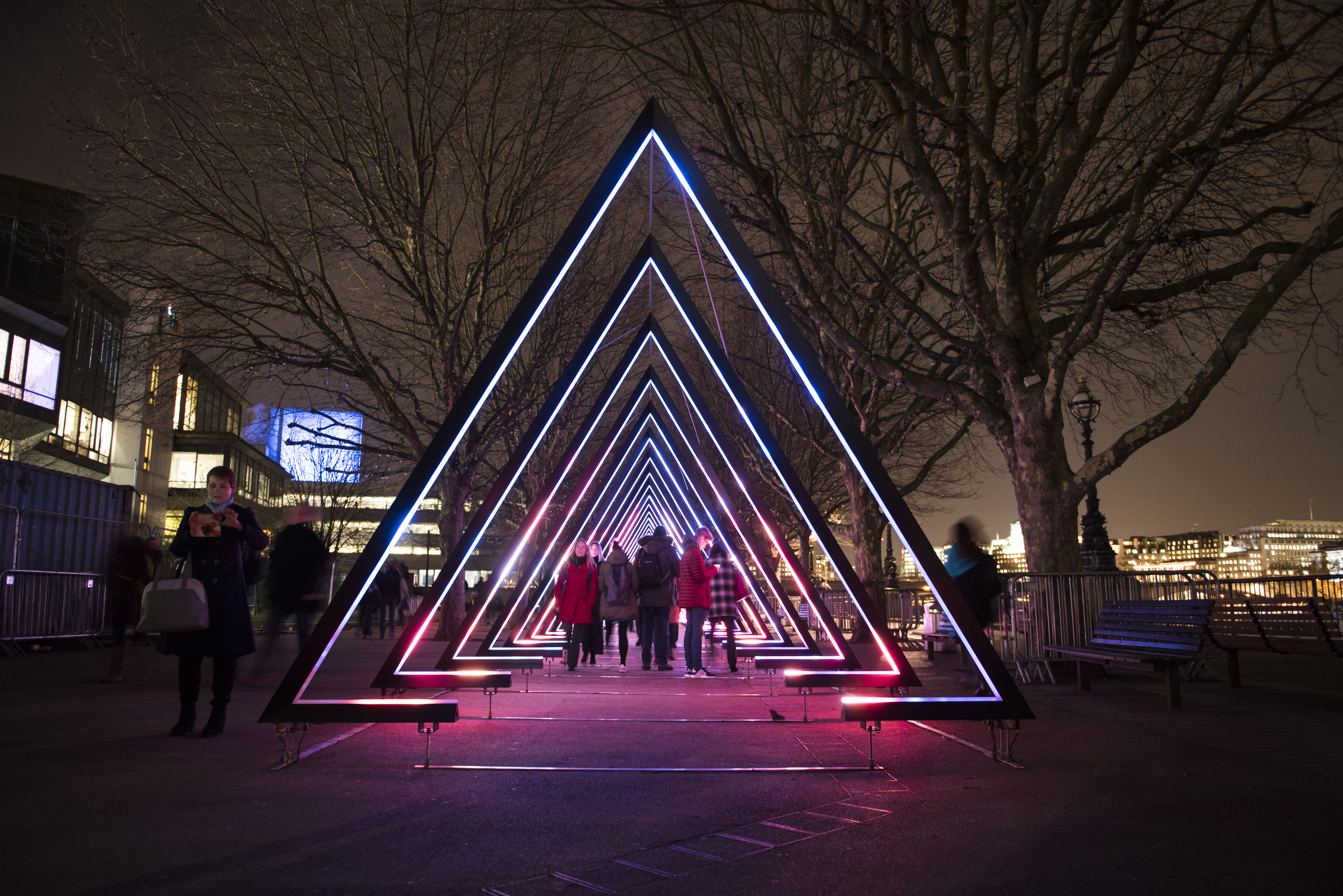 Something to Compare
As we had Lumiere London here in 2016 Londoners were able to make a comparison. Last time it brought 1.3 million people onto the streets of London to see the lights and the 2018 event was spread over a wider area with even more light installations.
Yes, there were comments of 'I saw this last time' and 'Not as good as last time' but we're Londoners so we do like to play down how much fun something might be. Whinging, complaining and nonchalance come so naturally that we sometimes forget to get excited.
I took my 11-year-old to see the lights with me and she still has enough grasp on childlike-wonder to not act too cool all the time. As we approached Westminster Abbey she called "Wow!" loud enough for everyone on the bus to want to know what had impressed her.
And when we got home a few hours later she thanked me for taking her to see the lights which is not standard behaviour for pre-teens.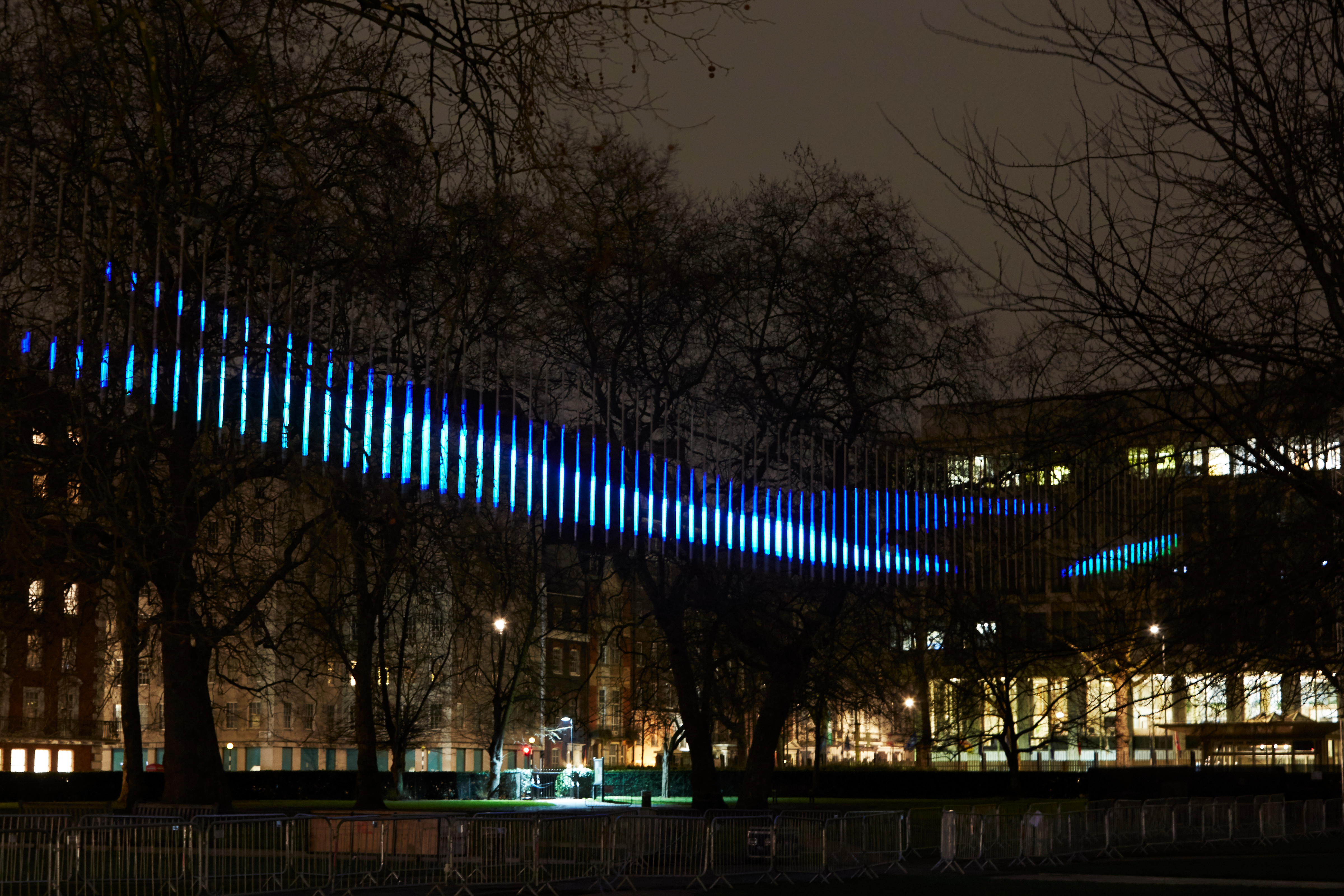 By Bus
As I wanted to see as many light installations as possible without lots of walking we got a 24 bus from Pimlico so we could watch from the front seats on the upper deck. (Pimlico is the start of the route so I knew we could guarantee this vantage spot.)
As I had warned you, there were many buses on diversion for Lumiere London but I checked in advance that the 24 could go through from south to north London.
The route took us along Victoria Street (the highlight was The Rose outside Westminster Cathedral which was illuminated by pedal power) and to Parliament Square (to see The Light of Spirit (Chapter 2) at Westminster Abbey. This is where we got stuck in traffic for some time as Whitehall was closed but that just meant we had longer to admire the projections on Westminster Abbey.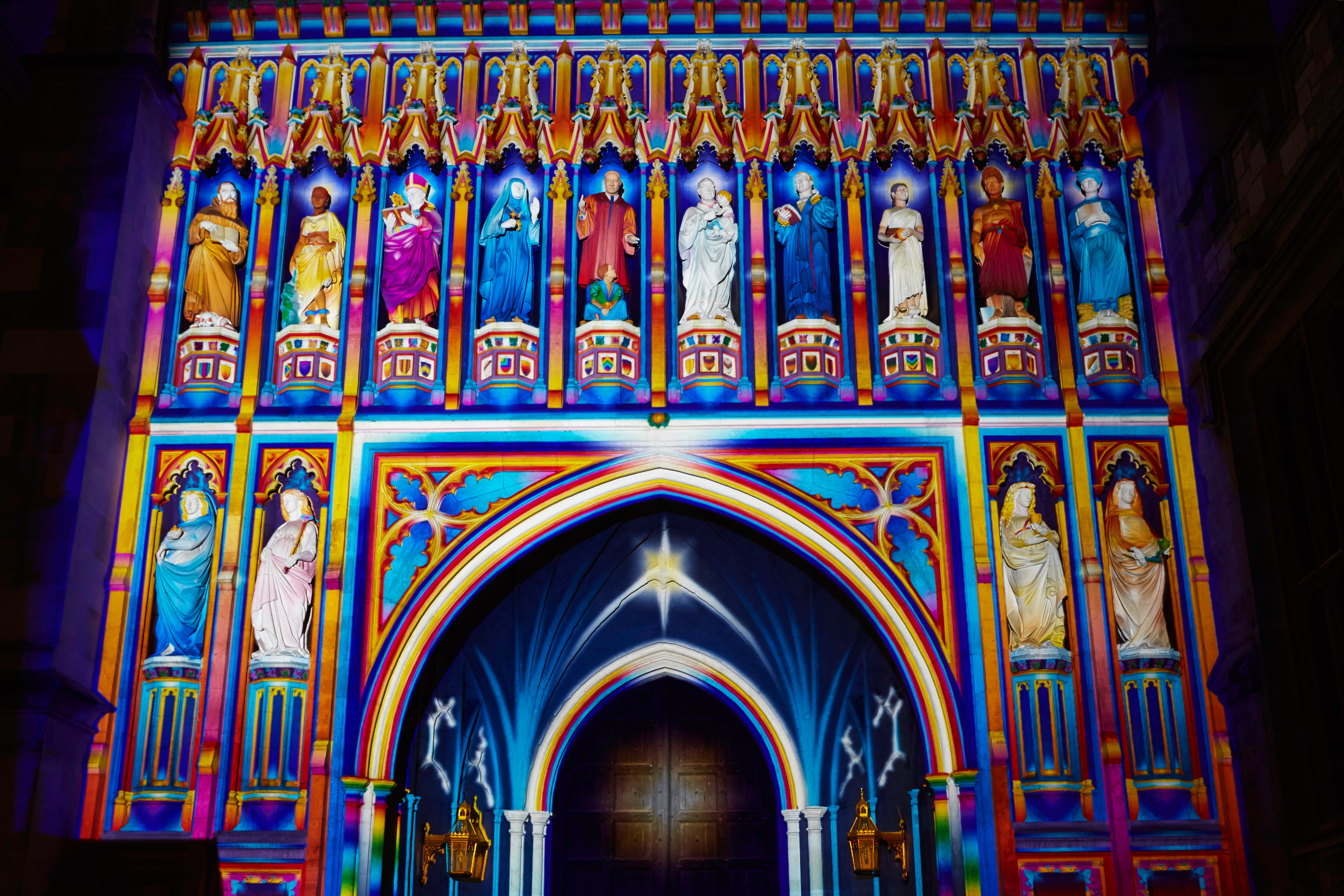 As we crossed Parliament Square, Event Stewards moved the traffic cones so the bus could go up Whitehall and towards Trafalgar Square. No other traffic was allowed through to keep the overcrowded pavements of people safe.
At Trafalgar Square we saw Child Hood which was essentially lots of balloons that lit-up. You couldn't walk amongst them though as there were barriers around the central part of the Square.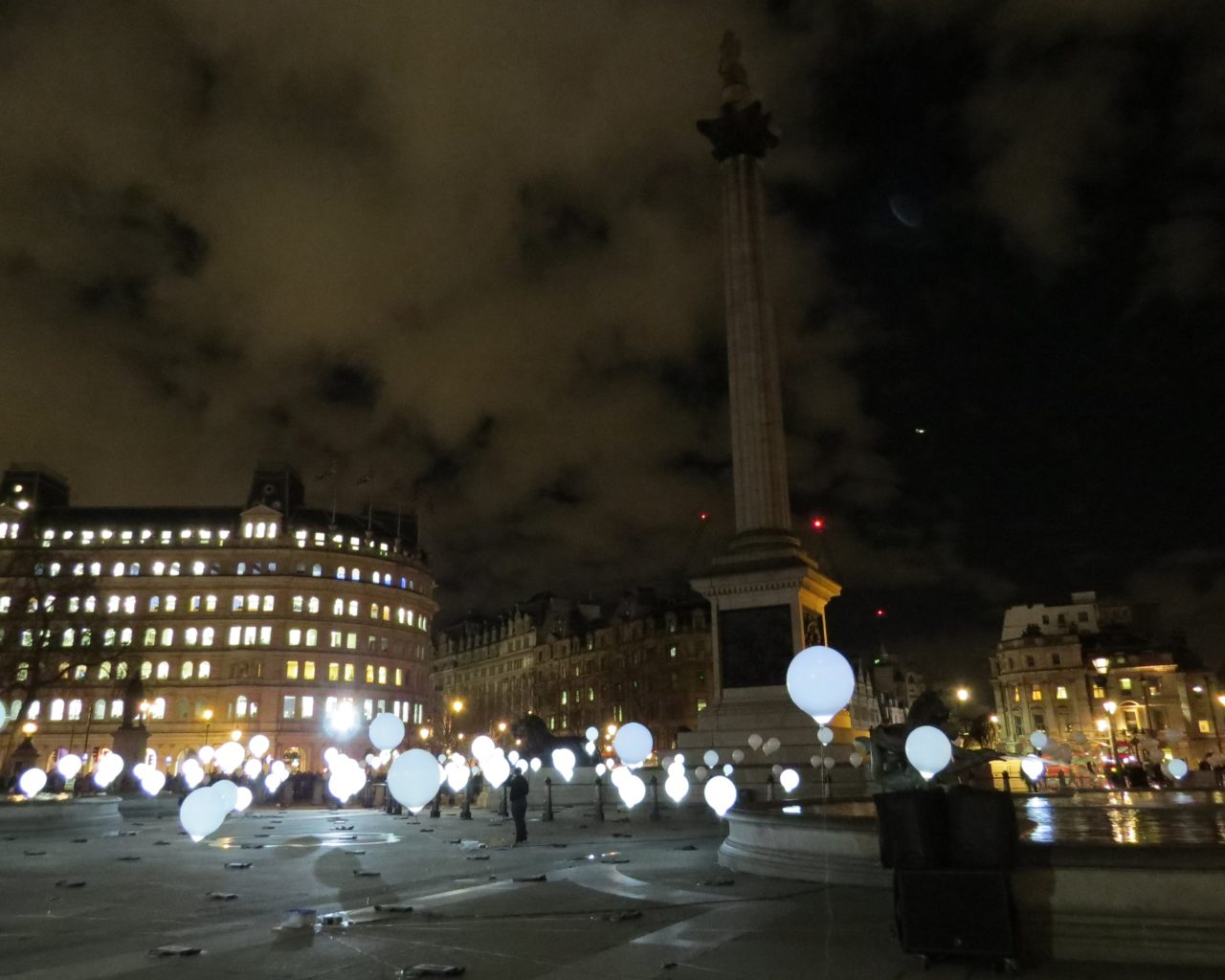 The bus route then went along Charing Cross Road and we got glimpses of Nightlife in Leicester Square. It has been one of the most shared installations on social media as the oversized flowers and animals are so wonderful.
We decided to get off at Goodge Street and saw the light and audio installation Control No Control which was a lot of fun (even if the noises could be quite grating after a while).
There were more light installations on nearby Store Street – one where you could play the Pong video game by raising your arms – and then we headed home.
Walking
As I suggested before you really did need to plan what you wanted to see as there was too much for one evening and you would want to have a rough idea of the route as you could easily miss things. The VisitLondon app was helpful and the downloadable map.
You definitely saw more by walking but the crowds meant it took much longer to get between each installation. Friends planned this route so a group of us could see light installations in Mayfair and the West End.
We started at the Impulse seesaws, on South Molton Street in Mayfair, which lit-up and made sounds. It was a good choice to start here as it wasn't too crowded ealier in the evening so everyone got to play. (Yes, it was all adults.)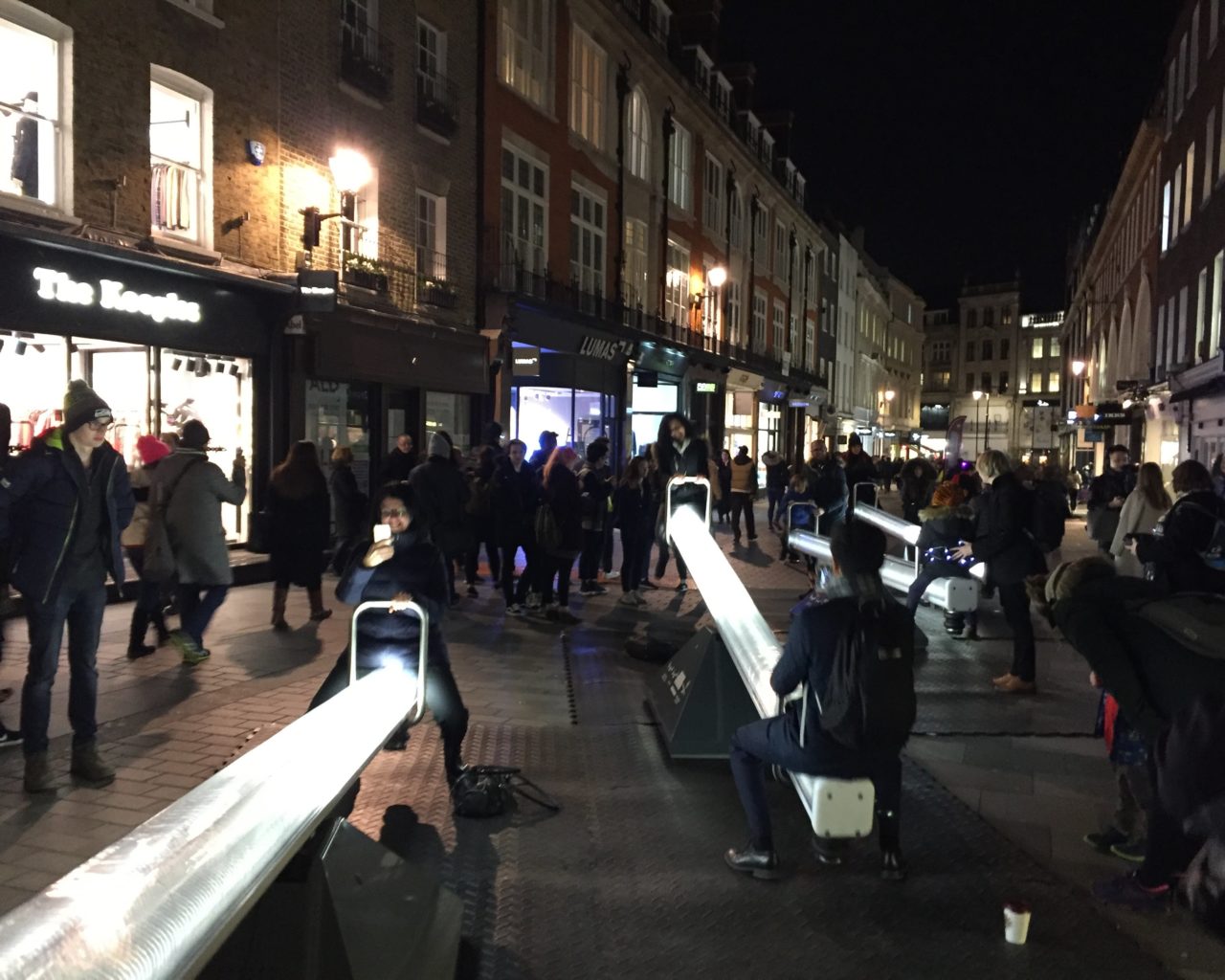 The next installation that stood out was Illumaphonium which is a wonderfully made-up word to describe a light and sound installation in Mount Street. It was good fun for visitors knocking the pipes but the Mayfair residents didn't seem to be enjoying it as much.
Was That a Dream? in Berkeley Square was a romantic location as illuminated birds lit-up in the trees. (Here's Vera Lynn singing A Nightingale Sang In Berkeley Square in 1940 for your soundtrack.)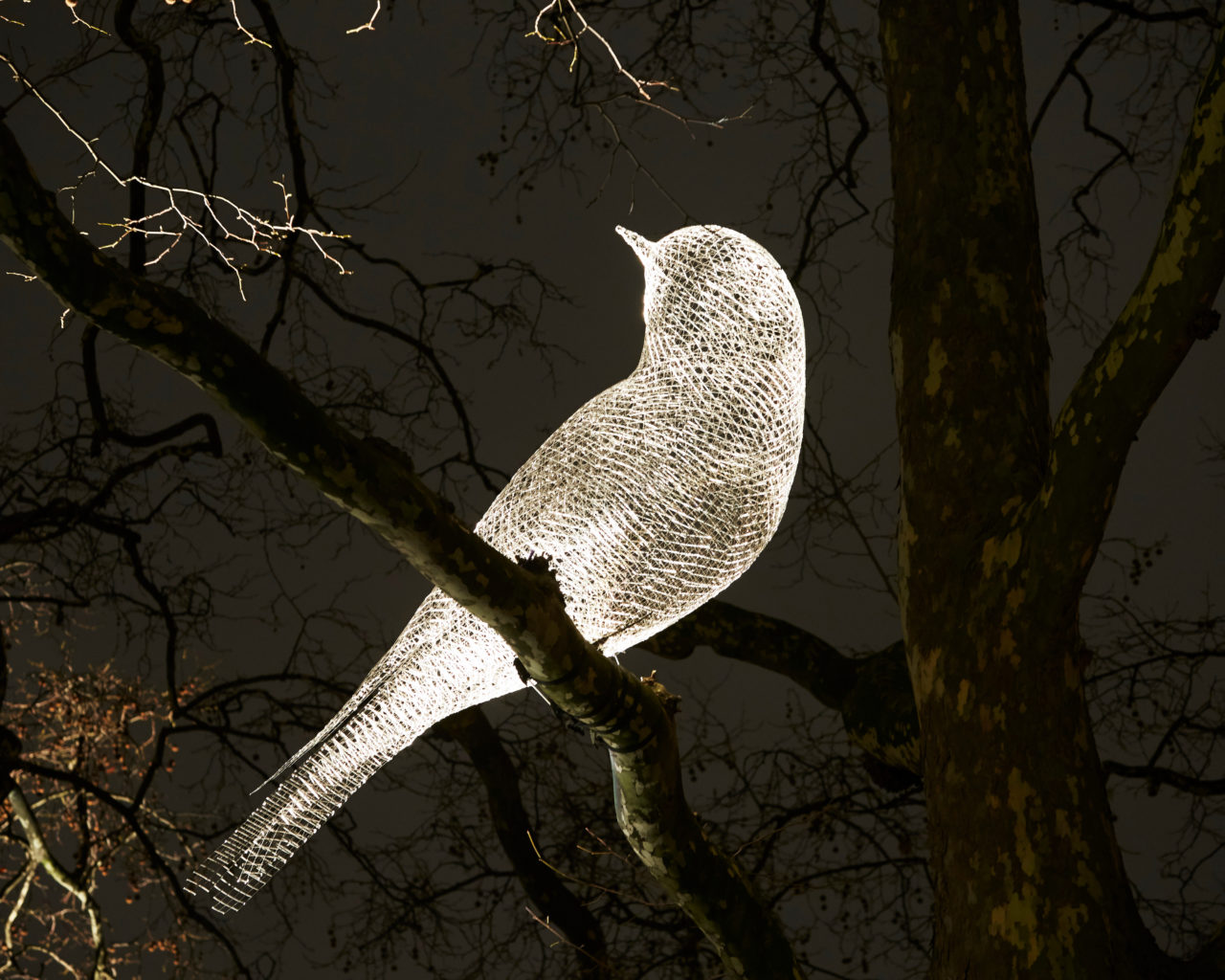 Keeping the love alive, Love Motion was a Matisse-style inspired video projected on the Royal Academy of Arts. Once we made it into the courtyard it felt quite calm and the music and video were wonderfully romantic.
We were all eager to see Voyage projected onto Hotel Café Royal at Piccadilly Circus. But the famous advertising lights were right next to it which made it harder to see the light show and, crucially for many these days, to take decent photos. Just listen to the Londoners whinging on this video!
Hotel Café Royal shared a live video on Facebook of the first time the light projections appeared on Thursday evening.
And here's a professional photographer's capture of the amazing projection.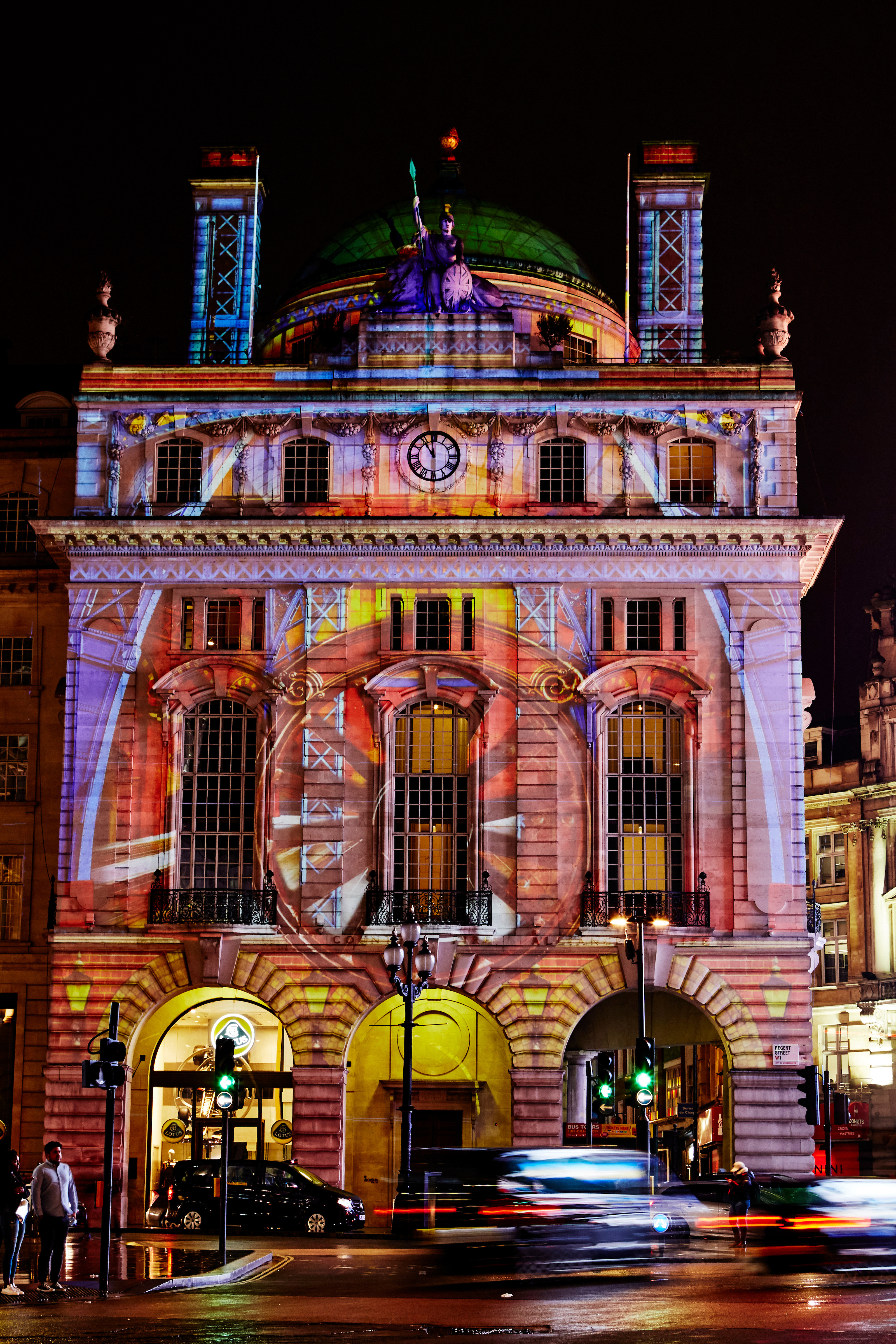 And There's More
Origin of the World Bubble 2018 suspended above the Oxford Circus junction wasn't available on the opening night due to high winds. Which was a sensible precaution as it had blown away on 4 January when they first installed it! But it was up on Friday night which kept the area busy with people watching the projections change colour.
King's Cross
Apart from The Wave (seen at the top of this blog post), there wasn't much reason to trek over to the South Bank. But King's Cross put on a good show.
Lampounette was a wonderful line of oversized desk lamps that made for fun photos.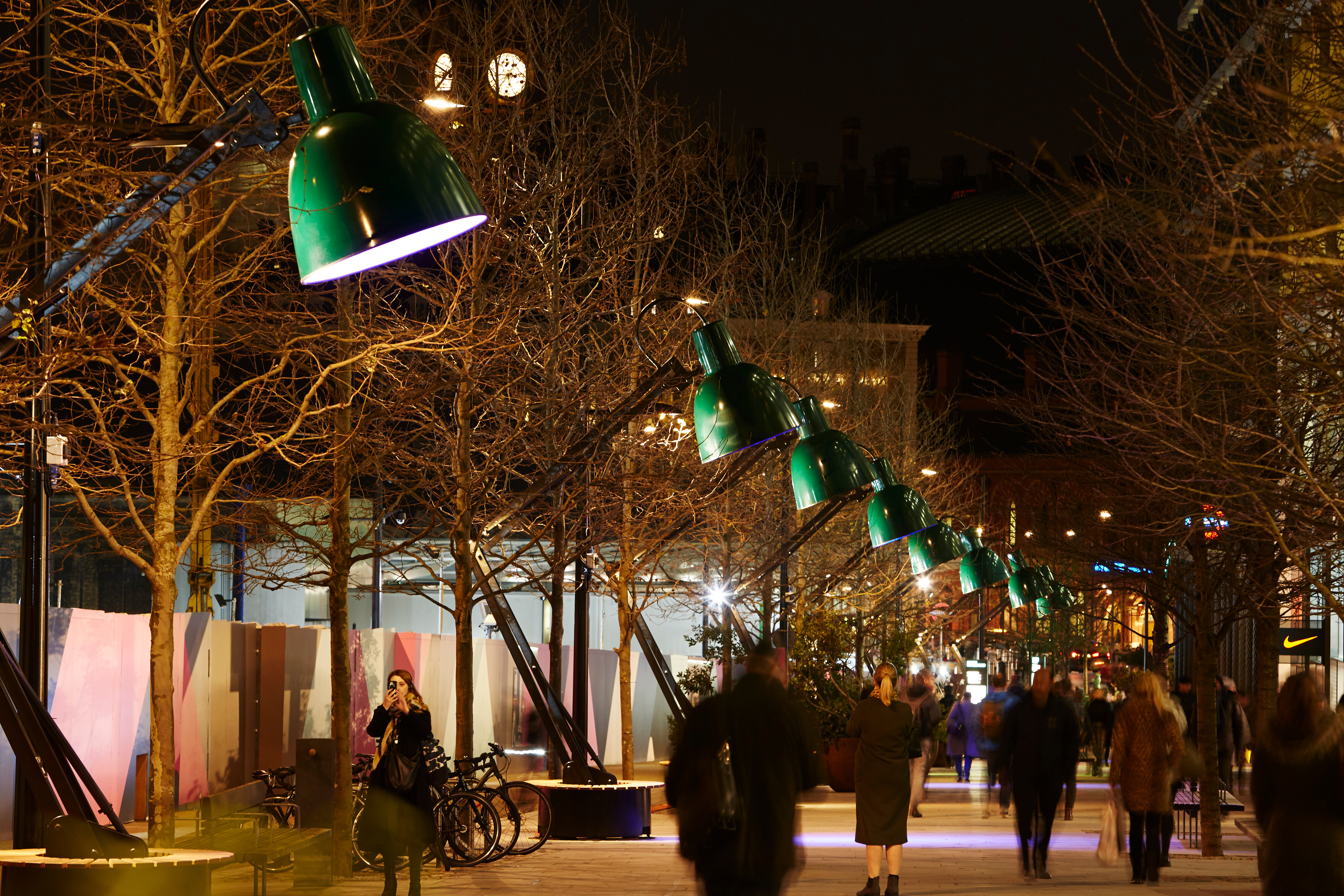 And Entre les rangs was appreciated too as it's like a field of wheat that you could walk through.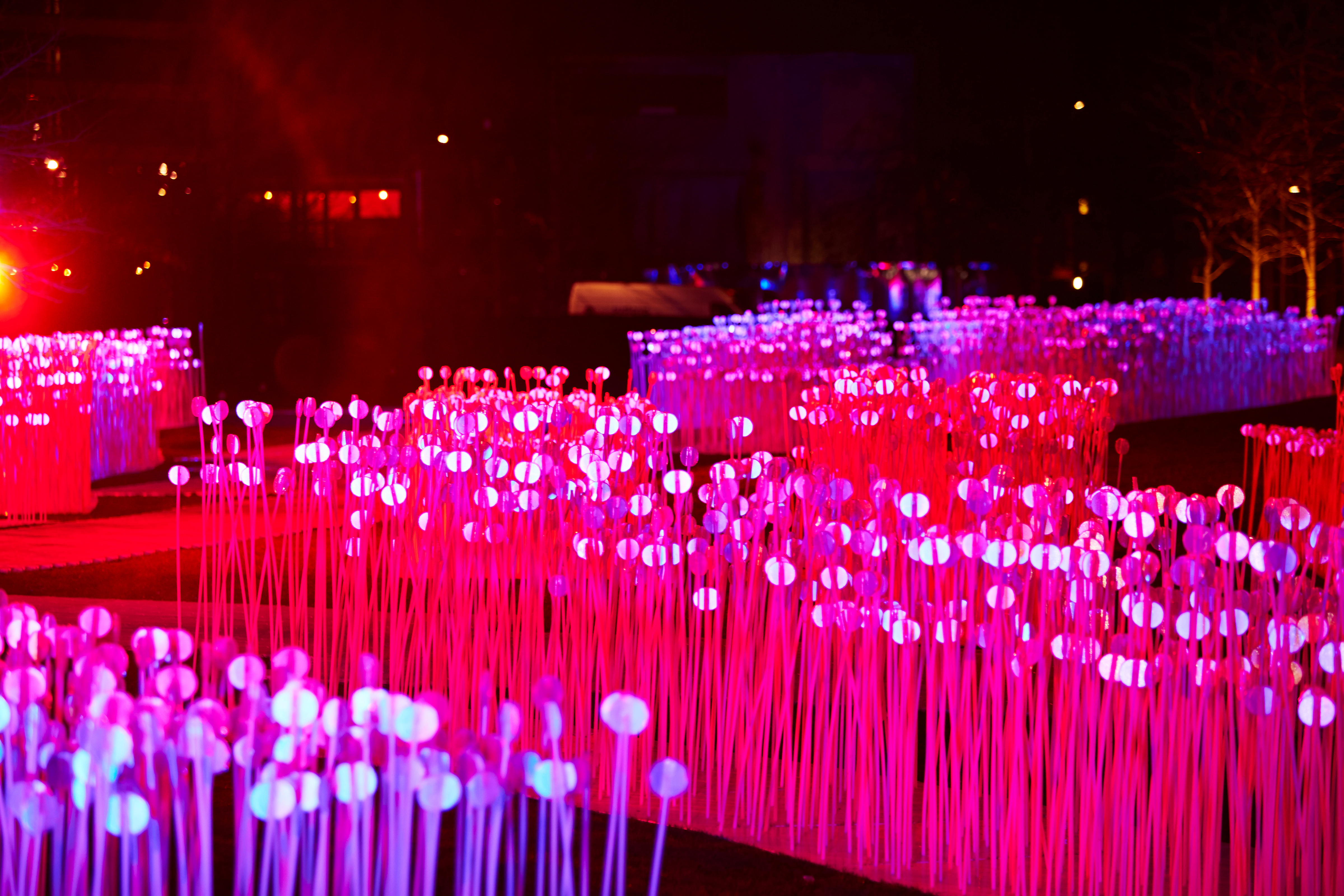 But the most popular light installation in King's Cross was definitely the amazing Waterlicht in Granary Square which was like a simulated flood making waves above the heads of excited Instagramming visitors.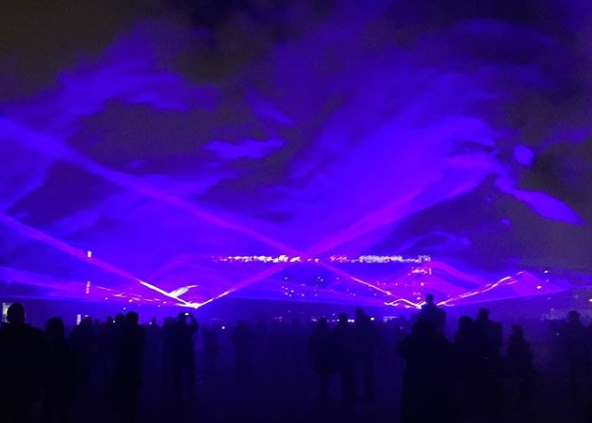 Judging from the number of photos being shared on social media, the most popular light installations were at Westminster Abbey, Leicester Square and Waterlicht at King's Cross.
Having this wonderful free light festival was a real treat and I hope it can return to London again.