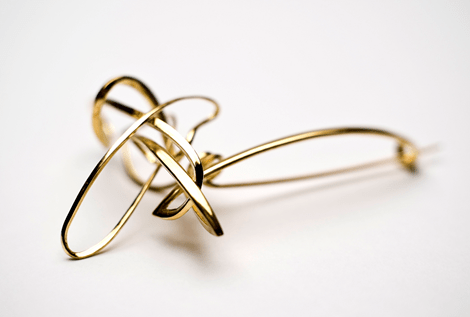 The Goldsmiths' Company is to showcase some of the most exciting independent jewellery designer-makers in the UK at a selling exhibition this summer.
Pavilion, a contemporary jewellery selling exhibition, will take place in the newly refurbished east wing of the neo-classical Somerset House in London. The show will include design-focused jewellers who have never before exhibited at a Goldsmiths' Company event, as well as emerging young jewellers keen to show their debut collections.
Participating jewellers will be vetted and accredited by the Goldsmiths' Company, which for centuries has supported and encouraged craftsmanship and design integrity among goldsmiths and silversmiths. As well as designs crafted in gold, silver and platinum, visitors will be able to see and buy jewellery made with Perspex, resin, Whitby jet and recycled materials. The event is designed to appeal to collectors from around the world, luxury fashion shoppers and art enthusiasts.
Somerset House was built in the 18th century to house government offices and learned societies. Its grand courtyard now has 55 fountains and becomes an ice rink in the Christmas season. Somerset House holds contemporary art and design exhibitions, free displays, family workshops and guided tours. It is also home to London Fashion Week and a perfect time to book car hire in the UK for the occasion.
The Goldsmiths' Company Pavilion runs from 13 to 17 June, 11am–6.30pm (10am–6pm Sat and Sun), admission £5. It is one of several jewellery events taking place at Somerset House over the summer.
Somerset House, Strand, London WC2R 1LA
Websites: www.thegoldsmiths.co.uk
www.somersethouse.org.uk
Facebook: Somerset House
Twitter: @SomersetHouse
YouTube: Somerset House London
Flickr: Somerset House