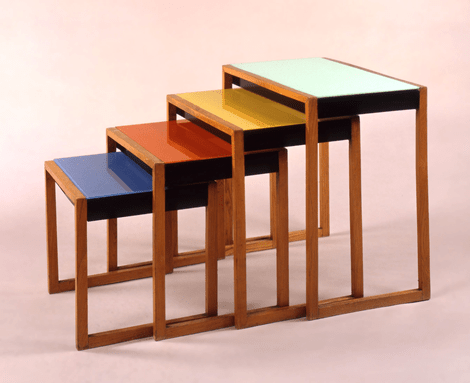 The Barbican Art Gallery in London is to hold the UK's biggest exhibition of Bauhaus art and design in over 40 years.
Bauhaus: Art as Life will explore the world's most famous 20th-century art and design school. From expressionist beginnings to a pioneering model uniting art and technology, the utopian vision of the Bauhaus sought to change society after the First World War.
The exhibition explores the diverse artistic production that made up its turbulent 14-year history and the subjects at the heart of the school: art, culture, life, politics and society, and the changing technology of the age.
Visitors will be able to study paintings, sculpture, design, architecture, film, photography, textiles, ceramics, theatre and installation. Works from Bauhaus masters Josef and Anni Albers, Marianne Brandt, Marcel Breuer, Walter Gropius, Johannes Itten, Wassily Kandinsky, Paul Klee, Hannes Meyer, László Moholy-Nagy, Ludwig Mies van der Rohe and Gunta Stölzl will be on display, alongside works by lesser-known artists and Bauhaus students.
The architecturally renowned Barbican Centre opened in 1982 and comprises the Barbican concert hall, Barbican Theatre, the Pit theatre, three cinemas, the Barbican Art Gallery, the Curve gallery, foyers and public spaces, a library, Lakeside Terrace, a glasshouse conservatory, conference facilities and three restaurants. The centre is free to enter and there are sometimes concerts and displays in the public spaces. It's also a great time to leave London and check out cruises from Southampton.
The Barbican Art Gallery is open daily 11am–8pm (Wed to 6pm, Thu to 10pm). Bauhaus: Art as Life runs from 3 May to 12 August, tickets £10 online (concessions £7) or £12 on the door (£8), under-12s free.
Barbican Art Gallery, Barbican Centre, Silk Street, London EC2Y 8DS
Tel: +44 0845 120 7 550
Website: www.barbican.org.uk/artgallery
Facebook: Barbican Centre
Twitter: @barbicancentre
YouTube: Barbican Centre
Flickr: barbican_centre's photostream