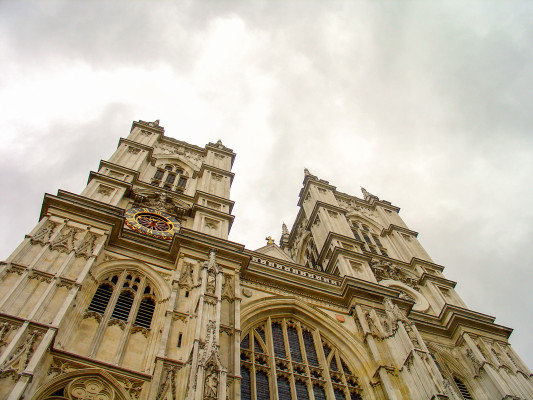 One of the most notable religious buildings in London, the site for Westminster Abbey has been around since the 7th Century. Its location near Westminster Palace makes it a place of royal importance, a place of coronations, weddings, and funerals. Throughout its long history, it has accumulated many interesting stories, facts, and persons.
Here are a just a few of them:
Best Wax Gallery Outside of Madame Tussaud's
Westminster Abbey's museum holds the wax figures of many previous monarchs, with nearly all of them in traditional full costume. They were often used during funerals, either displayed on top of royal tombs or paraded before the casket. Many were made from death masks, a plaster cast made of the deceased's face shortly after death.
From Its Consecration, an Important Piece of History
Edward the Confessor began construction on the church between 1042 and 1052 to provide himself with a burial church. No sooner had it been consecrated in 1066 that he died. Possessing no biological heir, his death kicked off a war of succession between Harold of Wessex and William the Conqueror, both of whom were crowned in the Abbey. Their coronations began the tradition of it being the coronation site for future kings and queens of England.
Standing Room Only
The Chapel of Our Lady of the Pew is carved out of the north wall and the space is so small that there is no room to sit in it. It was dedicated to the Virgin Mary in the year 1300. It is said that Richard II prayed here before riding out to quash the Peasants Revolt in 1381.
Royal Weddings
The first royal wedding in the Abbey took place in 1100 when King Henry I married Matilda of Scotland. Richard II's wedding in 1382 to Anne of Bohemia was the last one for nearly 500 years until 1919, when Princess Patricia of Connaught married to then-Captain (later Admiral) the Honorable Alexander Ramsay. This kicked off a new tradition of royal weddings at the Abbey, including: Princess Mary, King George VI (then Prince Albert) to the Queen Mother, Queen Elizabeth II to Phillip, Duke of Edinburgh, Princess Maragaret, Princess Anne, Prince Andrew, and most recently, Prince William to Kate Middleton (now the Duke and Duchess of Cambridge).
Posthumous Execution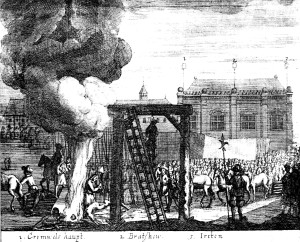 Oliver Cromwell, Lord Protector (and Dictator) of England was buried in the Abbey after his death in 1658. When the monarchy was restored under Charles II, Cromwell's body was dug up from the Abbey and given a ceremonial execution. His head was then placed on a pike in the yard. A stone in the pavement of Lady Chapel of Henry VII records where his burial spot was.
Henry the Builder?
The current Abbey was built by Henry III after he demolished the previous church. Known as Henry the Builder, no major wars occurred during his reign, allowing him to focus on many construction projects such as the new Abbey and several other churches.
Poets Corner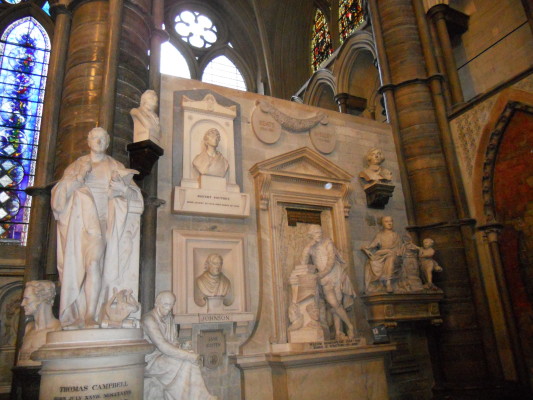 Found in the South Transept of the Abbey, it is perhaps the most famous part of the church, where many of Britain's famous writers are buried or have memorial plaques. It was not originally meant to be a burying place for these luminaries, and the first poet buried there, Geoffrey Chaucer, was interned for his service as Clerk of Works at the Palace of Westminster—not for his writing. It wasn't until Edmund Spencer was buried there in the 16th Century that it began to serve as a place of rest for the nation's poets, playwrights, and authors. Some monuments took ages to be placed in Poets' Corner. William Shakespeare died in 1616 and didn't receive a monument until 1740. Lord Byron, who died in Greece in 1824, led such a scandalous lifestyle that the request for a plaque for him was denied until 1969. Thomas Hardy's ashes are buried in Poet's Corner as well, but his heart was buried in his beloved Dorset.
The Bearded Lady
A statue of Saint Wilgefortis stands in the Lady Chapel of Henry VII and is notable for being the only statue in the Abbey of a bearded woman. Legend has it that Saint Wilgefortis prayed to be made repulsive in order to escape a forced marriage. Her prayers were answered and she was given a beard. Now she is the patron saint of women who wish to be liberated from abusive husbands.
Notable Graffiti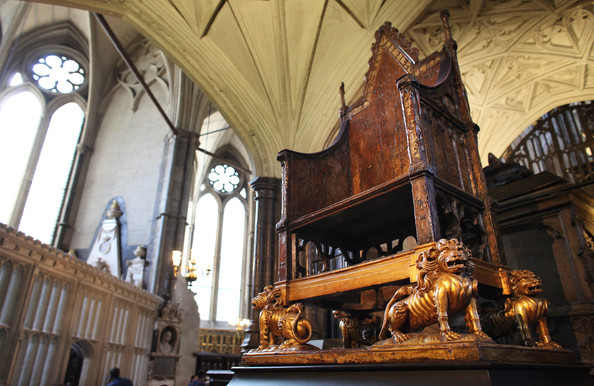 King Edward's Chair, or the Coronation Chair, is the throne that every British monarch sits on during the coronation since 1308. At a time when the chair was not so securely guarded and kept away from tourists, visitors, pilgrims, and choir boys would carve their names into it. The Stone of Scone, another significant part of the coronation, sat under the chair after being taken to the Abbey by Edward I. It was subsequently stolen by Scottish students in 1950, then returned back to the Abbey. In 1996, the British government formally returned the Stone to Scotland with permission to use it for future coronations.
Oldest Door in the Realm
An oak door by the Chapter House that connects a cloister that the Cannons of Westminster live behind to the Abbey itself has been carbon dated to approximately the year 1050. The oak wood used to make it originally came from Hainault. For years, a legend grew that hide found on the door was that of a flayed thief but has since been proven to be cow's hide.
Visiting the Abbey
Westminster Abbey is open to tourists Monday through Saturday from 9.30 AM to 3.30 PM (there is an admission charge). The Chapter House and the Pyx Chamber are open until 4.00 PM, while the Cloister is open until 6.00 PM. The Abbey is open Sundays for worship only. The closest tube stops can be found at St. James Park (District and Circle Lines) and Westminster (Jubilee, District, and Circle Lines).