When I first heard about this I knew I had to try it. I don't know why it hadn't been thought of before: combining a love of tea and cakes with the adoration of the old London Routemaster bus into a London Afternoon Tea Bus Tour.
BB Bakery have a bakery in Covent Garden and started the BB Afternoon Tea Bus Tour in April 2014. I tried the tour when it was still relatively new (they had only been running for ten weeks) so things will continue to develop and the team were really open to feedback.
The seating plan is available on their website and there are 11 tables in total for 2 or 4 guests. Larger parties can sit opposite each other as a group of 8 did when I was on-board. Do note that means some guests are facing backwards.
There is space between the backs of the seats so you won't be leaning against other guests. And there is background music although this was drowned out by the happy chatter of the guests.
As there is table allocation at booking, the tables are prepared with your order before you sit down. You can order gluten-free and vegetarian options in advance. Children are welcome and get a slightly reduced rate.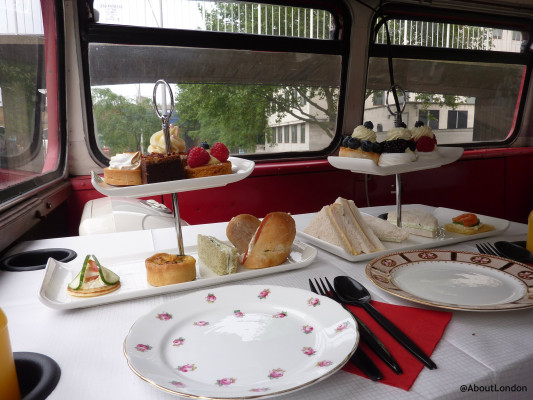 My order got slightly muddled as I wanted gluten-free and vegetarian but I got one of each which meant some of the gluten-free sandwiches had meat and fish. As I was only trying the gf version and don't have any allergies so it wasn't difficult for me to swap some of the savouries with my daughter but do confirm your booking well if you need these options.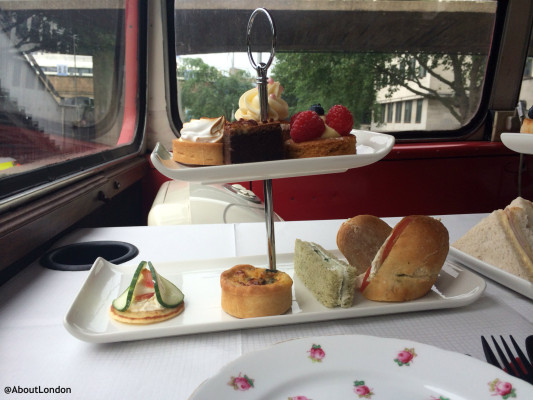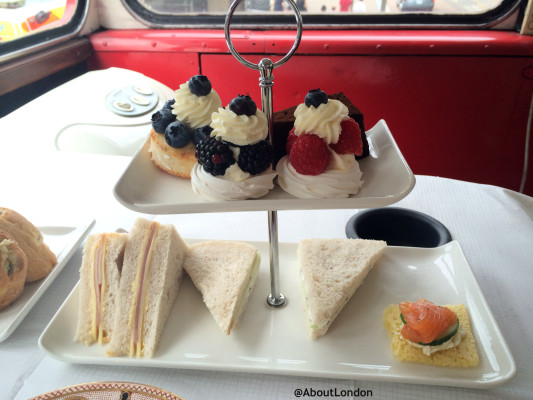 While the cake stand is 'real' we had plastic cutlery (fork, knife and dessert spoon), a paper napkin and a paper tablecloth so it felt a little like inflight dining or a picnic. There is a small mis-matched vintage-style plate each and a small bottle of orange juice was very welcome as it was hot on-board. Each table has four sunken cupholders which is very useful while travelling.
My daughter found it really hot on the bus but we did try this on one of the hottest days of the year. There was a portable air-conditioning unit but it didn't seem to be very strong as we were closest and didn't feel the benefit.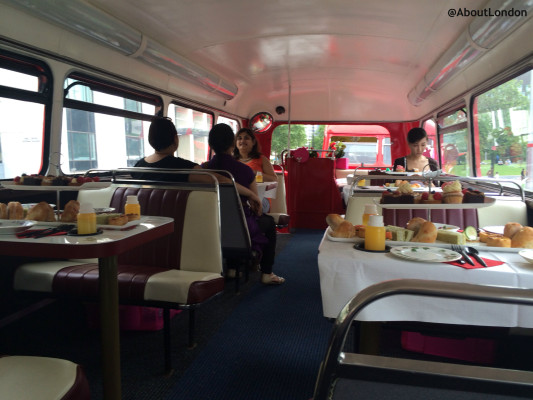 Rules
Once everyone was seated the rules for the journey were explained:
No walking on the bus while it's moving.
No jumping off.
There are no toilets.
Then the tea and coffee menu was read out; I think it was five tea varieties and three coffee options too.
A member of staff came to take our tea order and then a large branded ceramic cup of hot water, covered with a rubber lid, is delivered with a teabag, milk carton and sugar sachet. It's not classy but it's definitely safest on the journey. More tea was offered twice during the tour.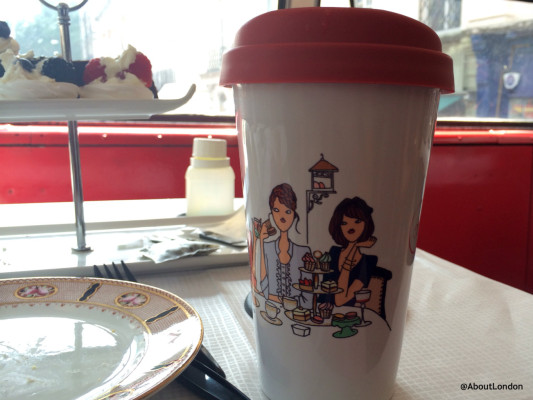 The tea is by Betjeman and Barton, so a respected French brand. Once we'd brewed our tea there was nowhere to put our teabags though and we had a plastic dessert spoon rather than a teaspoon. This meant drippy teabags plonked on the cake stand which was a shame.
The Route
The bus left on time and it was, initially, a wobbly ride. We got the giggles watching our cakes wobble but we soon got used to the bumpiness.
You board the bus right by the London Eye so it's an excellent, central location. Within minutes we were heading over Westminster Bridge and saw Big Ben and the Houses of Parliament.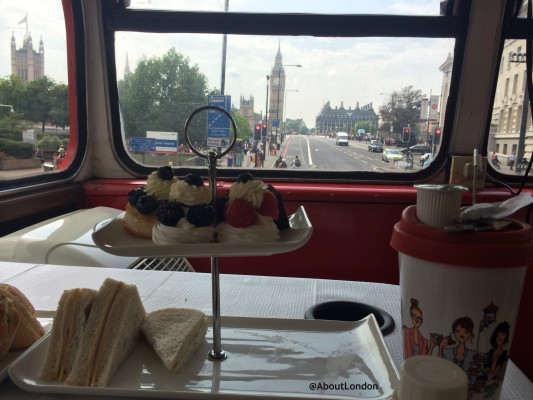 We went by Buckingham Palace and then over to Harrods and then the South Kensington museums. We saw Notting Hill and Hyde Park before Trafalgar Square and back to the London Eye.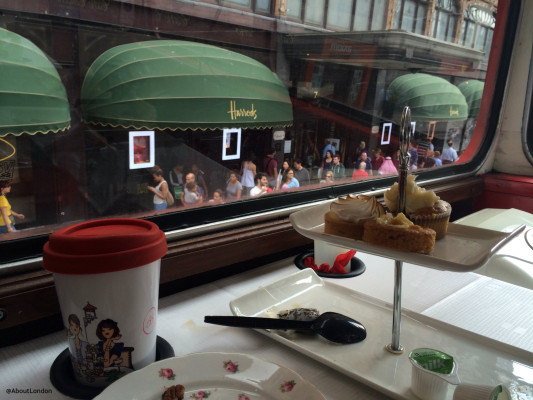 There is no sightseeing commentary provided but there is a postcard map available for you to see the route.
We enjoyed waving to people walking by as lots stopped to look at the bus. When we pulled up beside a normal London bus many passengers on the upper deck waved back to us too.
Savouries
Each cake stand had five savouries. The gluten-free choices included salmon on crispbread that my daughter thought was the best of all. I thought the gluten-free bread, on the cream cheese sandwiches, was exceptionally good as I've been trying lots of gf afternoon teas lately and I'd say this was the best for the sandwich bread.
The vegetarian savouries included a mini-quiche and a cream cheese & tomato blini.
Sweet Treats
There are four for each guest. The gluten-free options included two meringues with cream and fruit topping, a chocolate brownie and a coconut-based cake.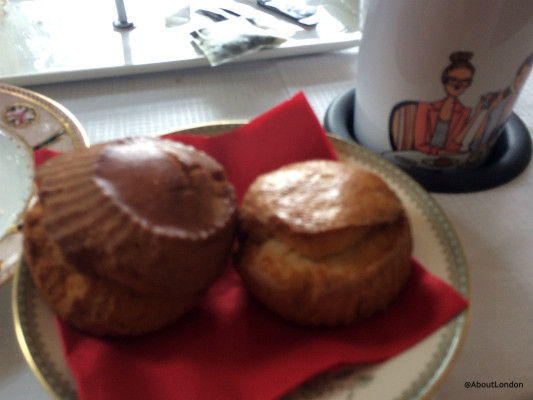 As we reached South Kensington, the scones were brought to the tables. There was one each plus a sealed pot of Rodda's clotted cream and a small jar of Bonne Maman strawberry conserve (jam/jelly).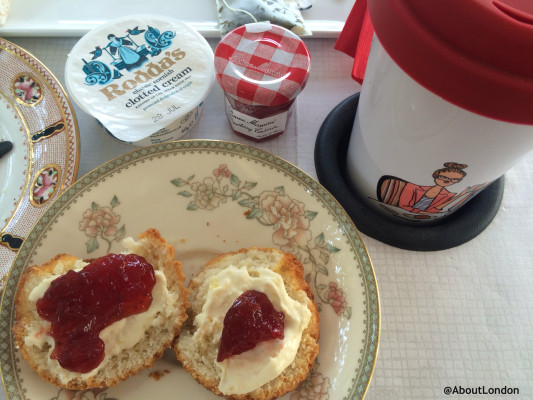 As you would expect, the gf scone was slightly drier tasting than the standard but both were good.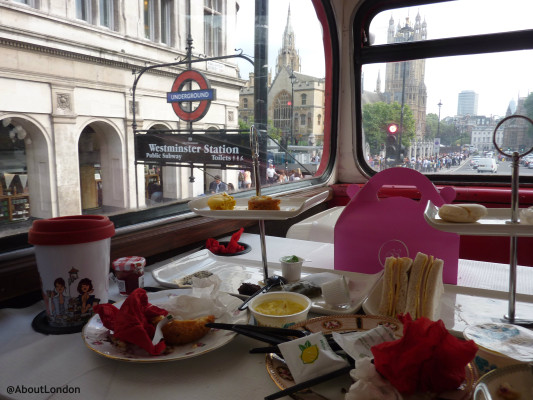 When we reached Marble Arch, macaroons were brought to the table with a choice of Vanilla, Pistachio or Citron.
And at Trafalgar Square little boxes were brought to the tables in case we'd like to take any of the cakes home. We packed them ourselves.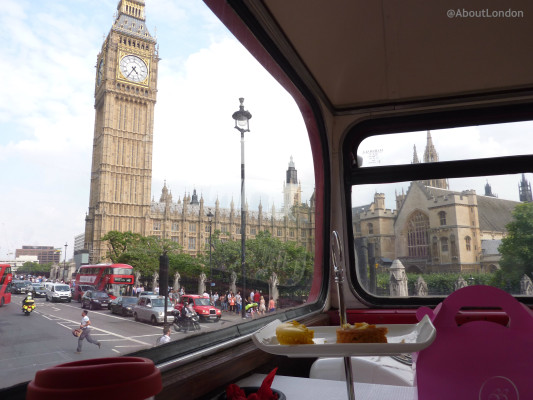 Towards the end of the journey, lemon-fresh wipes were offered which was a nice touch although it did feel a bit like we'd had KFC at that point.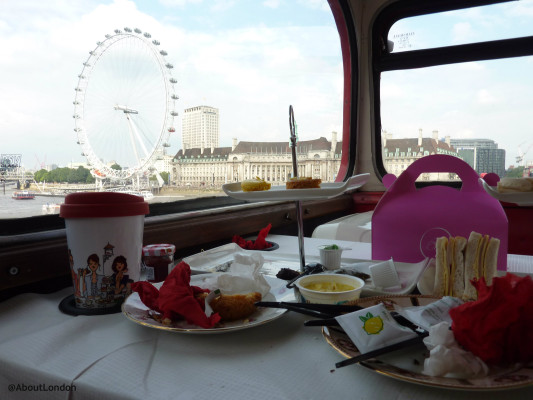 When it's time to disembark, the nearest toilets are at the Royal Festival Hall or in County Hall, under the London Eye ticket office.
Conclusion
I hope BB Bakery continue to do well with this Afternoon Tea Bus Tour. I would recommend changing the plastic cutlery and paper napkins and maybe providing a small bowl for the teabags and general mess that soon accumulates on the table. I'd also prefer a hot towel to wipe my hands but can see that this may well be difficult on a bus tour.
If you have a choice, I'd also recommend not booking on a super-hot day. My daughter thinks this would be even more fun on a rainy day as you'd feel even more blessed to be travelling along with tea and cakes.
Official Website: www.bbbakery.co.uk
Disclaimer: As is common in the travel industry, the writer was provided with complimentary services for review purposes. While it has not influenced this review, the writer believes in full disclosure of all potential conflicts of interest.