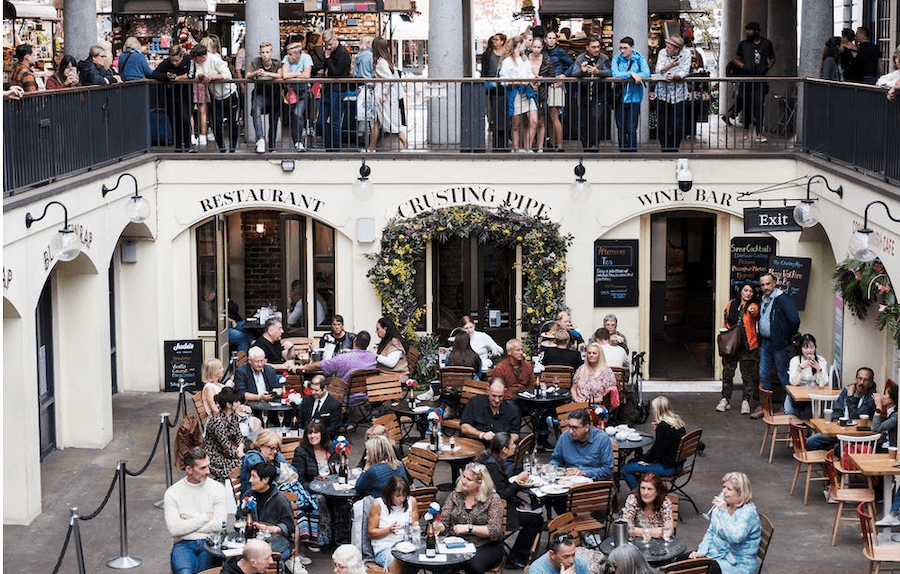 Wonderful London! It's the foodie paradise you've been dreaming of. The city is bursting with incredible restaurants and bars that will make your taste buds do a happy dance. Whether you're a local looking for a new spot or a tourist ready to dive into the culinary scene, we've got you covered.
We know, with so many choices, it's tough to decide where to go. But fear not, because Bloc has done the dirty work for you. We've compiled a list of the absolute best places to eat and drink in London for 2023. These spots are guaranteed to satisfy your cravings and leave you feeling all warm and fuzzy inside.
So, get your appetite ready and prepare for a feast of epic proportions. London is calling, and it's time to eat, drink, and be merry at these must-visit destinations. Trust us, your taste buds will thank you.
Allegra, Stratford
If you're looking for a restaurant that's high above the hustle and bustle of London life, then Allegra in Stratford has got you covered. As soon as you step onto the rooftop, you'll feel like you've entered a secret hideaway where the only things that matter are the stunning views and the mouth-watering food. Speaking of which, the menu is like nothing else you've ever seen, featuring avant-garde local seafood and meat plates that are so good, you'll be begging for the chef's secret recipes. And don't even get me started on the brunch; it's the perfect way to spend a lazy Sunday with friends. So, if you want to impress someone special or just treat yourself to a dining experience like no other, head on over to Allegra and prepare to be wowed at the best rooftop restaurant in London.
Bar Elba
Looking for the coolest rooftop hangout in Waterloo? Look no further than Bar Elba on top of Mercury House! Get ready to relax and soak in stunning London views, while sipping on the most epic cocktails you've ever tasted. Trust us, these drinks are so good, they'll make you swear you're watching the iconic Waterloo sunset. Whether you want a classic Espresso Martini or a refreshing Watermelon Margarita, Bar Elba has got you covered. Prepare to have your taste buds spoiled rotten!
1 Lombard Street
If you're on the hunt for an exquisite dining experience, look no further than 1 Lombard Street. Not only is this establishment housed in a former bank building, but it also boasts a modern European brasserie and a circular bar complete with a domed skylight. Let's just say, you won't find any of those boring financial reports here. Instead, you can savour a delectable meal and sip on a carefully crafted cocktail while admiring the unique and historic architecture. 1 Lombard Street also hosts the best brunch every Saturday which shouldn't be missed, as James Holden, the head chef, has created an incredible menu. It's the perfect spot to impress a date or just treat yo' self. Just remember to wear your fancy pants because this place is as classy as it gets.
Sketch
Let us spill the tea on Sketch, the coolest restaurant in London town. This place is all about being fancy and fabulous, from its quirky decor to its mouthwatering French cuisine. Step inside and prepare to have your mind blown by the jaw-dropping designs of Sketch's dining rooms. And let's not forget about the menu, honey. It's a masterpiece, with dishes like the succulent Veal Sweetbread and the indulgent Milk Chocolate Mousse. Trust me, this place is a feast for your taste buds and your eyes!
The Mitre
This wicked pub in Richmond has been slinging drinks since the 1860s, so you know they've had ages to get it right. And c'mon, there's something freakin' cool about tossing back pints in a joint that's been standing longer than your great-grandparents. But it's not just the history that's a draw – their beer garden is the perfect spot to soak up some sun and down a couple ciders. And let's not forget about the wicked decor – the leather chairs and vintage woodwork make this place feel cozy and old-school. All in all, The Mitre is hands down one of the best pubs in Richmond and London. Cheers, mate!
The Alchemist
The Alchemist is a must-visit destination for cocktail enthusiasts and foodies alike. With locations in both the City and the West End, the Alchemist serves alcoholic chemistry experiments and delicious food in a unique and vibrant setting. Be seduced by their signature drink, the Bubble Bath, or treat your taste buds to the luscious Lobster Linguine.
Dishoom
Step into this iconic café and prepare for a groovy trip back to 1960s India! From the second you walk in, you'll be whisked away to a buzzing Bombay café with mouthwatering smells wafting through the air. Dishoom's menu is bursting with amazing Indian flavours, like the can't-miss Black Daal and the delicious Keema Pau.
Ekte
If you're looking for a place to get your grub on while basking in contemporary aesthetics, Ekte in Bank is the spot for you. This all-day café is more than just a restaurant – it's an experience. The light-filled space is welcoming and spacious, and the Nordic cuisine is the cherry on top of the sundae. And let's not forget about the wine! Whether you're there for a quick bite or a leisurely feast, Ekte in Bank promises to leave you feeling satisfied and content. Plus, with a name like Ekte, you know you're in for some seriously authentic eats. So why settle for anything less? Head on over to Ekte in Bank and see what all the fuss is about!
Nightjar
If you're hunting for a cool joint to sip on mind-blowing cocktails in a cozy spot, stop your search right here, my friend. Nightjar is the place to be! Tucked away in Shoreditch, this swanky bar is just the ticket for a romantic evening or a wild night out with your pals. Trust me, you won't want to miss the live jazz vibes and the epic cocktail menu. Psst…make sure to try their gin concoctions, especially the crowd-pleaser, Lady of the Night. It's a winner!
With its eclectic mix of restaurants and bars, London's food and cocktail scene has something for everyone. So, whether you're looking for a casual night out or a fine dining experience, London has everything you need to satisfy your cravings. Visiting the best restaurants and bars in London will be an unforgettable experience that you won't want to miss. So, grab your friends, family or significant other and head out to explore London's culinary delights!