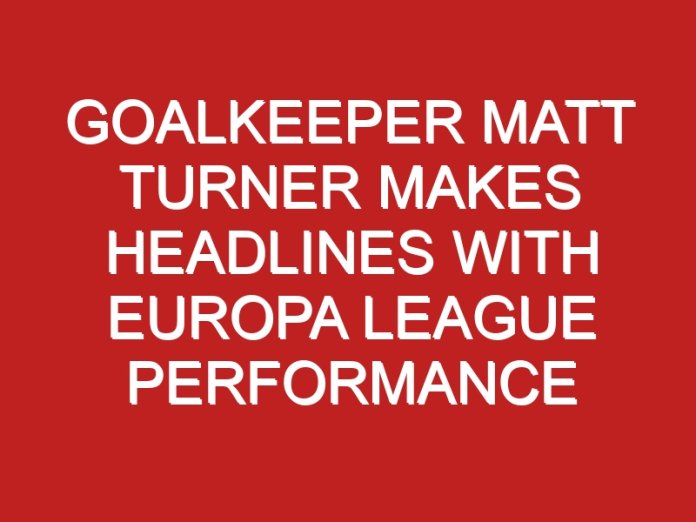 Finding first-team minutes ahead of his trip to the 2022 World Cup as a United States national was never going to be easy, but the Arsenal reserve keeper, Matt Turner, has gained much more since his arrival to England's capital.
With 270' minutes under his belt, the former New England Revolution starter has solidified himself as a valuable Premier League goal-stopper in three starts for the Gunners in their 2022 Europa League outings to date.
Turner, 28, has allowed just one goal in the Arsenal net through three Europa League match days, proving himself as a worthwhile backup for Mikel Arteta's squad during their tightly packed 2022/23 schedule. Of course, minimizing injuries and maintaining fitness is imperative for the Gunners this term. The EPL schedule, the World Cup in Qatar, and European fixtures force managers to make crucial squad selection decisions.
However, Arteta has found a unique backup option in Turner. Although the American has delivered an excellent performance in all three of his Europa League outings, Arsenal's most recent matchday 3 meeting with Bodo/Glimt sent his name into the football headlines.
Turner puts on a man-of-the-match-worthy performance in Norway
An unforgettable moment in his professional career arrived for Turner when Arsenal left Norway with their third straight Europa League victory.
The American backup goalkeeper for Arsenal began life in North London with much skepticism around his abilities in the top tier. This wasn't helped when he allowed FC Zurich to score in the Gunners opening Europa League game. However, consistency and a willingness to evolve have seen newfound confidence in Turner, a factor he displayed during the Gunner's 1-0 success against Bodo/Glimt.
Arsenal knew a three-point pickup from Norway would result in a more straightforward path to finishing top of Group A. Still, the formidable Norwegians were unbeaten at home in 14 consecutive home games, and an artificial pitch also presented an unfamiliar variable for Arteta's men. This didn't prevent Turner from putting on a man-of-the-match-worthy display, earning himself a second clean sheet from his Europa League appearances.
Born and raised in New Jersey, USA, life in London would always present unforeseen challenges for Turner. But for those placing New Jersey bets in bookies on the 28-year-old to keep a clean sheet will be swimming in profits. With a continuous surge of online sports betting in NJ, perhaps the local fans of Turner will now be paying attention to his future starts.
One man willing to bet on Turner is his boss, Arteta. "He's improving; he's getting better; we are demanding things different from what other managers have demanded him to do. He was much better in the first half than in the second half. In my opinion, we can have more control; he was phenomenal in goal, the way he reads the situation, especially the defending the back of the central defenders when he needs to control the space there, the way he set himself in the one-on-one situation he had, was really good." The Arsenal manager said when questioned about Turner's 90-minutes against Bodo/Glimt.
Will Turner secure his first Premier League start?
Arteta was further questioned regarding Turner and his chances of starting an EPL game; the Spaniard kept it clear and precise: "Yes." He said.
Overall, Turner had a fantastic night in Norway, momentum can be difficult to maintain for any reserve player, but Arteta is doing him right by giving the valuable American national some playing time in Europe. Thanks to his display and Saka's goal-scoring efforts, the Gunners are now atop Group A with nine points. As for the top-tier of English football, Arsenal is four points clear in first position, ahead of Manchester City. However, with Arsenal's first-choice goalkeeper Aaron Ramsdale struggling to keep a clean sheet this term, Turner's EPL start could be closer than we thought. Either way, it's safe to say that the USMNT coach Gregg Berhalter can be confident his team can hold England, Wales, and Iran to low-scoring affairs with Turner as an option.