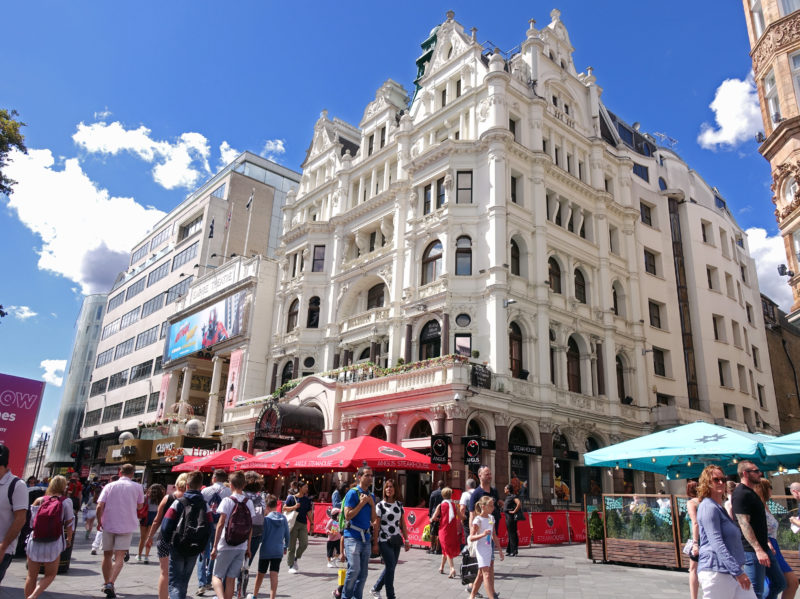 Caption: Leicester Square is where you'll find two of the entries on our list.
As you are probably aware, London has it all. From incredible tourist attractions to one of the best shopping streets in the world, you'll find anything under the sun here in the centre of the universe. But did you know that London is also home to some of the best poker rooms in the country? Of course, you did, but do you know which rooms are the best of the best?
If poker is your thing (and it should be), then finding a game is quite easy. Finding a good room with decent dealers and a good range of tournaments, on the other hand, isn't quite so simple. With that in mind, we've created this list of the best poker rooms in the city. Head along to one of these venues, and you're guaranteed a good game.
The Grosvenor Victoria – For Serious Players
Known locally as 'The Vic', this is the most famous of all the poker rooms in London and is also hands down the best for experienced players. Here, you'll find plenty of serious poker players who know their stuff, so this is not the place for the novice. If you want to avoid losing your stack at the tables here, you'll need to know your poker hands, so trust us when we say that this place is not for a newbie player.
The card room is upstairs and is the undisputed largest poker room in the city. To drive home the point of how seriously people take their cards at this place, the casino only allows registered members to play. However, the registration is free, and you can do it onsite.
There are quite a lot of cash games going at any time of the day, and locals will tell you that the best low-stakes games are here. The place is open 24-hours a day, and the dealers and staff are quite professional and polite. Better yet, the place is clean and comfortable, which is something that you can't always say for some of the casinos we've seen in our time.
The Empire – Pure Comfort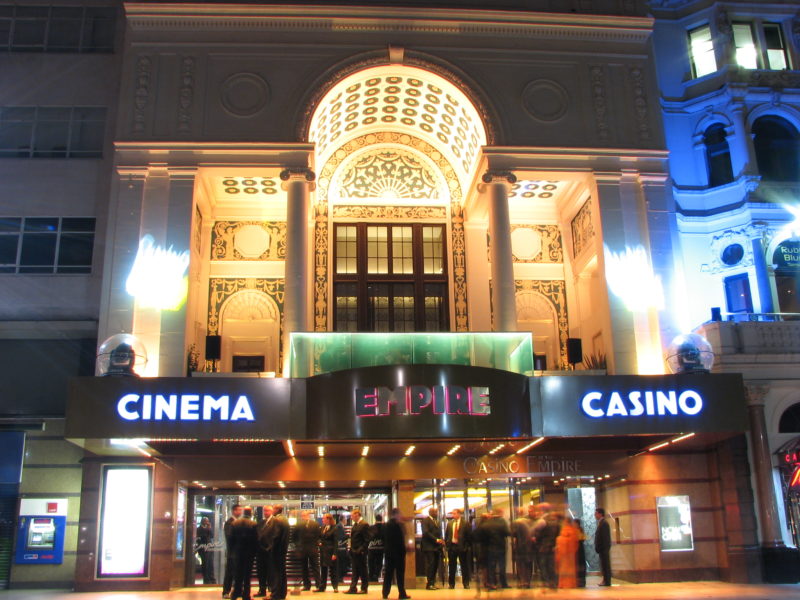 Caption – The historic Empire Plaza.
Located in Leicester Square, The Empire is a former ballroom that was once the largest casino in London. If you know your London history, then you'll know that this was once the most prestigious cinema in the city. These days, however, it is also home to one of the most luxurious poker rooms in London, if not the U.K.
There's no need to register at this casino, but if you do register, you'll build up some loyalty points, and you could even enter tournaments reserved for regular players. There's a pretty good range of cash games available. They even have a bad-beat jackpot, which goes to any player who loses with a hand of four twos or better in any game of Texas Hold 'em. But that's not what we love the most about this poker room.
Poker players can spend hours on end sitting at a table, and this can get uncomfortable. But that's not so at The Empire. Here, they have reclining seats at each table so that you can play in absolute comfort. It might not seem like a big deal, but after three hours at a table, you'll understand what we mean.
The Hippodrome – For a Bit of Everything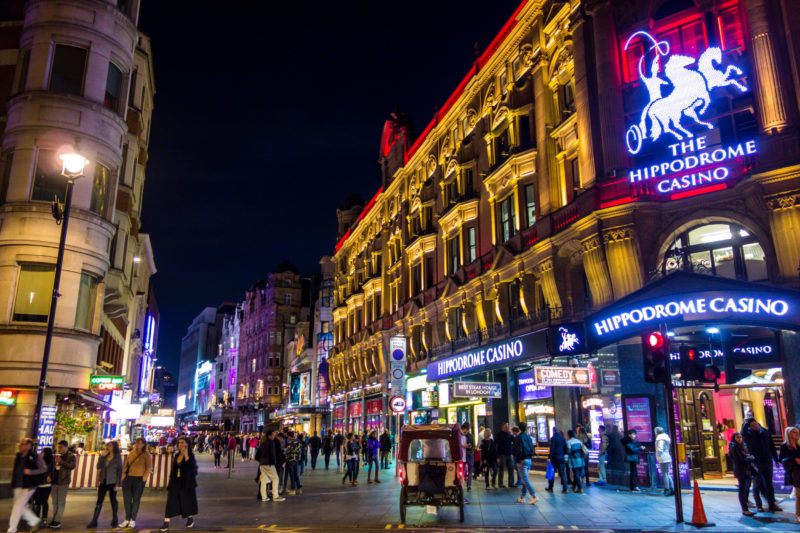 Caption – The Hippodrome has it all.
Okay, so we're going to cheat a little here and recommend a poker room for everything else it offers besides poker. The Hippodrome in Leicester Square offers visitors the complete gaming experience. It's a place that while surprisingly small, boasts a little of everything.
With only four poker tables, it seems to be limited in what's available. But there's more to this place than meets the eye. From blackjack to roulette and everything in between, no matter what game you want to play, you can have a go here at The Hippodrome.
The building is chock-full of history, as it has played hosts to a significant number of famous tournaments in the past and even a few well-known musical acts in the 180-seater cabaret music room. The casino still hosts quite a few regular tournaments, and there are live cash games going on 24/7. All in all, it's a great poker room.
Genting Casino Cromwell Mint – Dress for the Occasion
This Kensington poker room first opened its doors in 2010. Although based in London's most historically high-end neighbourhood, this poker room doesn't market itself as a high-roller casino. However, given where it is, there are a few rules for players.
For instance, there's a strict smart-casual dress code, so if you like to hide your poker face under a baseball cap, you won't be able to do so here. Likewise, you'll have to leave those comfy trainers at home. But such strict entry requirements make for a poker room with a decidedly high-class feel.
Interestingly though, this doesn't mean that you need to spend a small fortune to join a game here. There are plenty of low-stakes games, and the staff is quite friendly and polite. If you like to dress for the occasion when hitting the tables, then this is the poker room for you.
Aspers – The New Kid on the Block
The Aspers poker room is in what the company describes as East London's biggest 24/7 nightlife venue. Opened in 2012, this place has everything you could want in a poker room, but what we like best is how they welcome new players. Here, there are free rake tables that you can request to join where staff is on hand to give you some free tips and coaching to help improve your poker game.
Besides this service, the Aspers offers a host of live cash games throughout the day and night. They also play host to tournaments such as satellite qualifiers for big events. Like The Empire, the Aspers also has a house jackpot, but this one grows every time a cash game play. So, to win, you only need to flop a royal flush diamond. Easier said than done, but it's a nice addition to the gaming experience at this place.
There are many more poker rooms in London, but these represent the best of the best. So, if you're looking for a great environment with friendly staff and a variety of games, then you can't go wrong with any of our recommendations above. If you win either of those jackpots though, remember who sent you there.