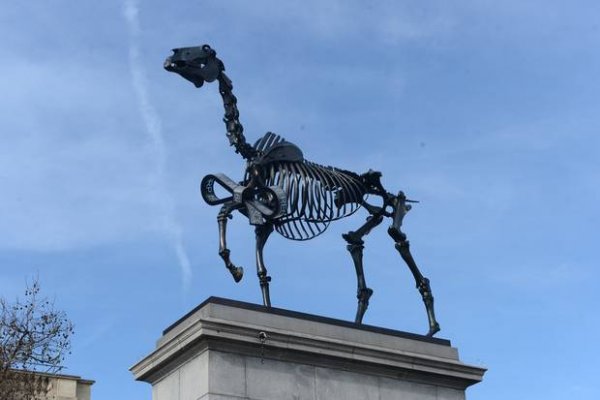 It's time for a new statue on the Fourth Plinth in Trafalgar Square. As many of you may know, they change the statue every few years, giving artists a chance to do something unique with the place.
The last statue was a giant blue cockerel.
The chicken has given away to a giant horse skeleton statue. I have a feeling it will be terrifying small children for the next couple years…
A bid morbid perhaps, but rather neat in its own way.
About the statue:
Gift Horse by the German artist Hans Haacke, 78, is a skeletal, riderless horse inspired by the equestrian statue of William IV that was originally planned for the spot and based on an engraving by George Stubbs, the English painter whose famous painting of the racehorse Whistlejacket can be seen in the National Gallery nearby. But tied to the horse's front leg is an electronic ribbon displaying live the ticker of the London Stock Exchange as the artist suggests connections between power, money and history at the location just up the road from Whitehall.
I'd much rather see the HMS Victory model that was there a few years ago stay there permanently.