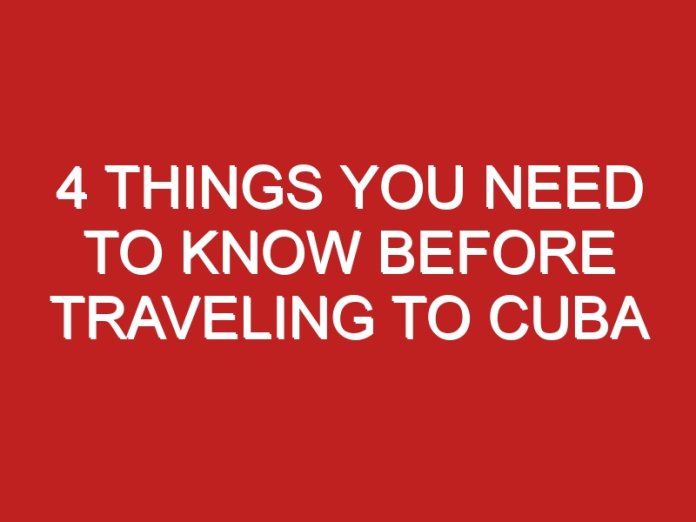 Cuba has become quite a popular traveling destination in recent years. From Old Havana to Vinales Valley and Malecon, Cuba has a lot to offer to its tourists. If you are thinking of visiting Cuba from the UK, then know that it is easier than ever before. You can even get direct flights as well which used to be rare at one point. But before you finally embark on your journey, you need to be fully prepared. You will need a visa as well so you should check Cuba VISA for UK requirements as well. In this article, I have mentioned a few things that every UK citizen must know before traveling to Cuba.
Exchanging Money at the Airport is Normal
When you are traveling to Cuba, you will hardly be able to find their currency in the UK. Which means you will have to exchange the money at the airport. Now, this may sound inconvenient because the exchange rate at the airports is usually high, but that is not the case in Cuba. When you land at the airport, you will be able to find two currency booths by the terminal. Both of them offer CUC at a very reasonable rate so you do not have to worry about paying extra for it.
Cash Is Preferred Over Card
While you may be doing all of your shopping in the UK with your credit or debit cards, you would not get the same experience in Cuba. People here prefer cash even if they have the credit card facility available. This might sound a bit odd to you, but you will have to adjust to it. So, make sure that you are keeping a sufficient amount of cash in your pocket when you are traveling in the city. It is recommended that one should always keep cash with them no matter where they are traveling. Because it lets you enjoy your trip to the fullest.
Not All the Stores Are Open for Tourists
There is no doubt that Cuba is an excellent tourist destination, but sometimes even buying a bottle of water can be difficult. Now, this may not happen to you much in Havana, but when you move outside of there, you will come across local grocery shops that do not serve tourists. These are basically the ration shops where rations are sold at an affordable price to Cuban citizens. That is why they only severe it to the people living there.
Internet Is Not Easily Accessible
If you are addicted to using social media all the time or cannot spend your day without the internet, then you will have a hard time in Cuba. The internet is available throughout Cuba in the form of hotspots. And to even use these, you will have to get pre-paid scratch cards. You can get access to the internet for an hour in two CUCs. But remember even these hotspots are very far from each other and not very common. So you if you are an internet lover, you will have to be patient in Cuba.