Big news in London transport today – London's new double-decker bus has gone into service after years of development. It's officially called the New Bus For London but it takes its DNA from London's old Routemaster buses which were phased out of service a few years ago (except on the 'Heritage Line').
The New Bus for London was an election pledge of London's Mayor Boris Johnson and after years of designs and development, it's finally hitting the road and going into service.
Today was the first day. The First bus begins to serve busy route 38 between Victoria Station and Hackney. It will be joined by seven more of the innovative super-green buses in the coming months. It's the first bus to be designed specifically for Capital's streets in more than 50 years.
The Mayor of London, Boris Johnson, said: 'From today Londoners will have the chance to jump aboard this stunning piece of automotive architecture on which every feature is tailored to the London passenger. It represents the very best in British design, engineering and manufacture and is a demonstration of what can be done given imagination and determination.'
I happen to really like the new design – can't wait to see it on the streets.
David Hancock from Commodore Travel was one of the first passengers to take a ride on the bus today and he forwarded us some images: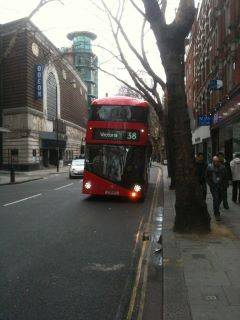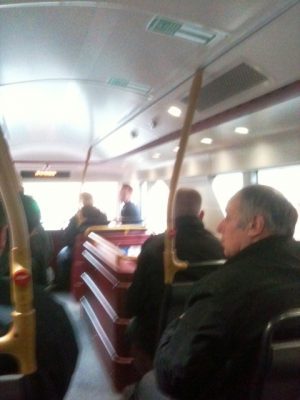 If you fancy a ride on the New Bus for London – check out this timetable on where and when to catch it.
I can't wait to take a ride we go come to London in June.
Here's a gallery of images from the launch and some other views of the new bus: