I thought about titling this "London and Her Airports," but I was unsure if London, like England, is referred to in the feminine. Do any British readers know?
I consider myself something of an expert on airports. The first time I flew internationally, I was 2 months old, and I've been on the go ever since. I'm like George Clooney in "Up in the Air," but happy – I know my way in and out, how to skip the queues, which ones have the best toilets, how to make everyone angry, and how to keep everyone calm. It helped that I have lived in two cities with international airports. Now, in London, I have SIX airports at my disposal. I shall now regale you with tales…
Number one on everyone's list is Heathrow (LHR). This is the big one, the world's fourth busiest. Delta has an entire terminal, as does Virgin and British Air. If you're on a flight from New York, Chicago, or Atlanta, you're about 80% likely to land here. This is great, because it has the best connections to the city! The Piccadilly line, which originally ran to Hammersmith, was extended in the 1930s to Hounslow and in 1975 to serve Heathrow Airport. Heathrow is so big that it actually has three stations serving it: Heathrow Terminals 1,2, 3, Heathrow Terminal 4, and Heathrow Terminal 5. These bring you right into the city, although you will have to buy a day travel card for zones 1-6, which is slightly more expensive. This gets you to Piccadilly Circus (pretty much the epicenter of tourism) in 45 minutes. If you prefer to travel in luxury (and quickly), you can take the Heathrow Express to Paddington Station for £16.50 (journey time 15 minutes). This train also has wi-fi and tea service and of course you get to see all of London's western suburbs on your way in. (Not much to look at though.) A taxi will cost about £60. Heathrow and Gatwick both list walking distances inside (ie Gates 5-10, 3 mins) so you know how long it'll take to your gate. In Terminal 4, the one with which I have the most experience, there's not much in the way of food (as I learned in December), but the Starbucks carries sandwiches and the Garfunkel's Cafe is pretty tasty. There's also an oyster bar of some sort in the middle of the terminal. To make up for the lack of food, there is excellent luxury shopping. In addition to little model Big Bens et cetera, you can also buy Versace, Pink, Burberry, and Liberty right in Terminals 4 and 5. Too bad you can't easily get between the two.
So now you're probably thinking Heathrow is a wonderful place filled with luxury shops. I'm going to burst your bubble: it's not. It was built for 55 million passengers per year as of the last renovation and now hosts 70 million plus. It's incredibly difficult to transfer between terminals. And now they have a foul mark on their record: the Great Snow-in of Christmas 2010. As I attempted to get home on December 18th, it started to snow. It snowed five inches. For the next four days, Heathrow was grounded. You'd think a big airport would be able to stay open with just five inches. Chicago O'Hare does it. Milwaukee does it. Moscow does it, for crying out loud. It snows at least once a winter here, so in my view, Heathrow really has no excuse. Although I (and millions of other stranded passengers) were frustrated beyond belief, I was cheered slightly by a twitter re-post by Stephen Fry:

Which linked to this picture…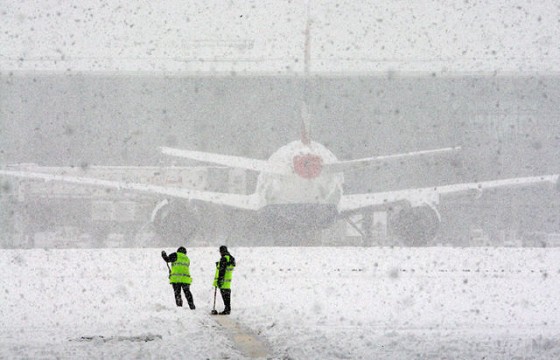 And if you're ever in the duty free and are being helped by a lovely Italian woman, be nice to her as she's my friend from university!
The next big airport you might encounter is Gatwick. Flights into and out of Gatwick are mostly European, although there are some from Africa, North America, and the Caribbean. Gatwick only has two terminals – North and South – which one can easily walk between. For some reason I find the security lines to always be very short here, although I don't know if this is because I fly at calmer times or because of their organization. It has less shops than Heathrow, and no luxury ones, but (oddly) way more food options, including many casual dining places you'd find on a high street like Giraffe and Pret. Getting to Gatwick is almost as easy as Heathrow as there is the Gatwick Express, which I presume is operated by the same company as Heathrow's train. A single trip, arriving at London Victoria, costs £15.95 and leaves every 15 minutes (journey time 30 minutes). A possibly-cheaper option is to take the Southern railway from Victoria station to Gatwick, but this can cost anywhere from £8 to £26 depending not only on the time of day but the individual train and class (the 12:30 is £11.15 but the 12:30 is £8.90.) A taxi will cost around £45. Sadly, there is no tube to Gatwick!
The third airport I have visited is Stansted, London's "budget airport." It's served by such airlines as EasyJet, RyanAir, and German Wings that are notorious for cheap flights and poor service. (I found RyanAir quite frightening as their planes are all decorated in a color I recognize as "caution tape yellow.") If you're planning on visiting London before continuing on to Europe, you might want to check this out as an economic alternative. They're all short-haul flights to places in the British Isles, Europe, and Turkey. The airport was quite light and airy, with high ceilings and lots of glass and only one terminal. It had a great food and shopping area inside the terminal, with your usual Pret and coffee places and Allsaints, one of my favorite shops!
One thing this airport completely lacked were rubbish bins, though – I know it's for security (they don't want people to hide bombs in bins), but a restroom with no bins is a bit strange, don't you think? There are two ways to get to Stansted – by bus or by train. The Stansted Express, which costs £21, leaves every 15 minutes (journey time 45 minutes). The bus, run by EasyBus, advertises £2 return fares but I have never seen this to be true. You will probably end up paying the regular fare of £8.99 each way, although if you book a return in advance you can get the second for £3.99. However, this relies on you knowing exactly how long it will take you to get through the airport as they are very, very strict about leaving on time and only allowing those with correct tickets onto the bus. It takes about 50 minutes to get to the stop (poorly signposted, outside a small pub) near Baker Street. A taxi costs £40 or more. As opposed to trips toward Heathrow and Gatwick, where you will see suburbs of London, if you go to Stansted you'll get to see some beautiful countryside. On my recent journey I even saw some cows grazing.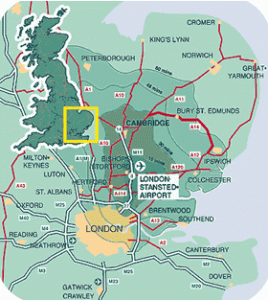 I have not been to London's other three airports so I can't comment in depth. Luton flies to Europe and is 25 minutes by rail from St Pancras station; it also houses EasyJet, RyanAir, Monarch, and other small airlines. London City, located in Docklands, is mostly used by business travelers going to a few destinations in northern Europe and Spain. It is easily accessible by the Docklands Light Rail, which connects to the tube. Southend, which I only learned about in my research for this post. It's out in Essex and only flies to three locations in the British Isles, but EasyJet is set to add a number of destinations and a new rail station by 2012 to serve the Olympics.
New Resource: Cheap Airfare to London