As many Londonphiles know, there's a Tube Strike starting tonight in London that will last for 48 hours. This is going to create all kinds of transport headaches for Londoners and tourists alike as they attempt to navigate a Tube network that is not running at full capacity. There will be trains running by those not on strike (not all the workers belong to the same union and some unions didn't vote to strike).
But did you know that most central London tube stations are actually only a 10 minute or less walk from each other. For example, Leicester Square is only a short walk from Covent Garden station. The folks have AryJoe Creative have created a new Tube map that gives you a quick glance guide to which stations you can just walk to, so you don't have to get on the Tube during the strike.
Check it out (click for the full sized version):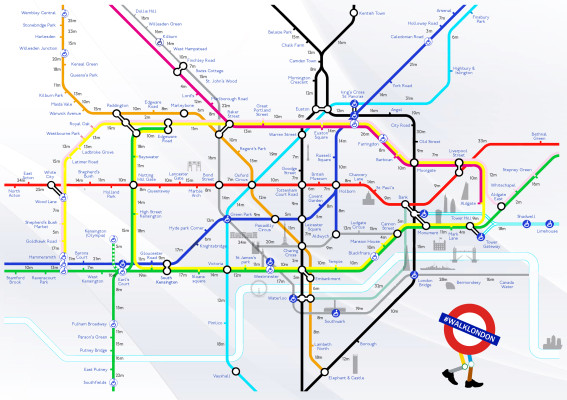 Happy walking! While we love riding the Tube – there's nothing much better than a walk through central London – so use the strike as an excuse to explore the world's greatest city on foot.