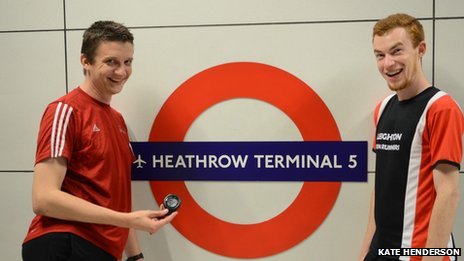 How long does it take to visit every station on the The Tube?
Well, after this weekend, it takes 16 hours, 20 minutes and 27 seconds; a new world record.
Geoff Marshall, 41, from Ealing, west London, and Anthony Smith, 28 completed the circuit this weekend, breaking the previous record by a total of eight minutes originally set by duo Steve Wilson and Andi James.
They said that the only reason they were able to break their previous record was because there were no problems on the notoriously temperamental Tube that day.
They wouldn't share the secret of their route, so they can keep their record free of any challengers. But they did say that they started from the outside and worked their way in, ending the day at Terminal Five at London's Heathrow Airport.
As lame as it sounds, one of the things on my 'London Bucket List' is to do this – I don't want to break any records, just visit every station!