This news kind of came out of no where while we were in London. London Tube enthusiasts have been watching with eagerness as Crossrail has been digging a new Underground line across London. Crossrail has been called Crossrail since the project was proposed decades ago. Now, it's going to be called the Elizabeth Line in honor of HM The Queen.
From the BBC:
Crossrail, the new railway which will run beneath London, is to be named the Elizabeth Line in honour of the Queen, Boris Johnson has announced. London's mayor revealed the line's name and purple logo as he visited Bond Street station with the monarch. Trains on the railway will travel under the centre of the city, linking parts of Berkshire and Buckinghamshire to Essex when it opens in December 2018. Mr Johnson said it was "wonderful" the line had "such a significant name". "The Elizabeth Line will provide a lasting tribute to our longest-serving monarch", the mayor said.
This is great news, I think. A wonderful tribute to The Queen and her long reign. Britain's other longest reigning Monarch has a line named after her (the Victoria Line) so it only makes sense that she would get one.
Tube observers are already jokingly referring to it as the 'Lizzie Line.'
Here's a vide of the unveiling of the name a long with the new Elizabeth Line Roundel colors (and the Queen was wearing a matching color).
https://www.youtube.com/watch?v=nT0ZdqBfB5g
A new map of the line was also unveiled by Transport for London: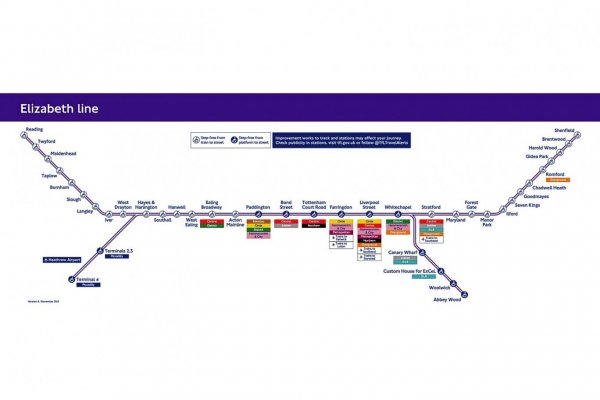 How things will look once it's put onto the already crowded Tube map remains to be seen.
Crossrail will begin running in December 2018 – we can't wait!