File this under 'very cool.' For those that don't know, there's a secret underground Tube line beneath London that used to be used by Royal Mail to transport mail around the capital. It became redundant many years ago but the infrastructure is still in place and British Postal Museum & Archive has succeeded in getting planning permission to turn it into a tourist attraction.
By the year 2020, visitors will be able to take a ride on the old mail rail and explore subterranean London like never before. Visitors will be able to ride 0.6 miles (1km) of the tunnels under central London. A new postal museum to support the new attraction will open at Mount Pleasant in 2016.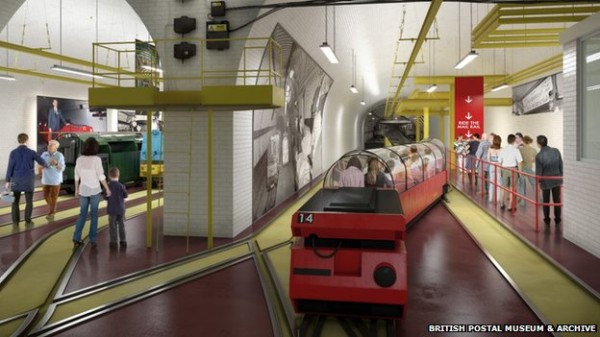 The British Postal Museum & Archive (BPMA) still needs to raise £0.5m to make the plan happen and they hope to launch a public appeal later this year.
Here's a little history on the line from the BBC:
Mail Rail was approved by an Act of Parliament a century ago, and during its heyday its driverless trains carried 12 million postal items daily on the line stretching from East End's Whitechapel to west London's Paddington.

In its prime, 220 people worked on the line, which runs beneath Oxford Street in central London – at one point within a few feet of the Bakerloo Line.

But by the 1990s, Royal Mail built a new hub in Willesden, west London, and by 2003, only three of eight Mail Rail stations still worked
Sounds really cool! Can't wait to take a ride on the old train and explore London from below!