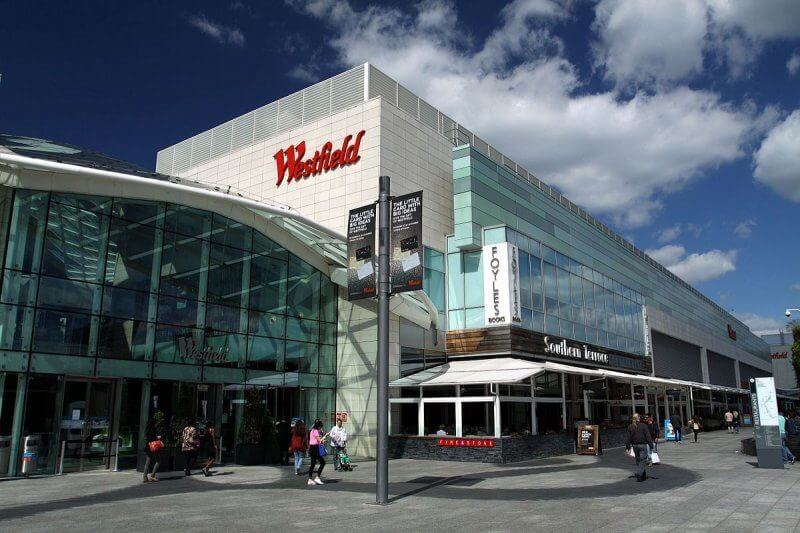 So you've traveled all the way to London—and you want to go to the mall.  Well, while London certainly has many a great market, arcade, and high street, you'll be glad to know that shopping malls aren't exclusively American.  London has plenty of its own great shopping centers that offer a British take on the mall experience.  Visitors to one of these shopping centers may find the experience similar, yet different with plenty of British retailers alongside American and international chains.  We've identified ten shopping centers in London we think you should visit and you can let us know your favorites in the comments.
Bluewater
Making number 10 because it's just outside of London, Bluewater is just outside the M25 near Dartford.  Bluewater is the fifth-largest shopping center in the UK with over 1.6 million square feet of retail space.  House of Fraser, Marks & Spencer, and John Lewis & Partners make up the anchors while other stores include Waterstone, H&M, LEGO, O2, HMV, and more.  The interior is decorated with statues of various trades, large skylights, and curved walks.
Angel Central
Angel Central is pretty decent shopping center thanks to stores such as H&M, Frame, Argos, and Typo, but it's really best known for its entertainment venues.  In addition to housing a Vue cinema, it is also home to performance venue O2 Academy Islington, unquestionably one of the best concert stages in London.  There are also several good and affordable food options such as Pret A Manger, Gourmet Burger Kitchen, and Wagamama, amongst others.
West 12
One of the earliest shopping centers in London, West 12 opened in 1967 and borders on Shepherd's Bush and experienced a significant renovation in the 1990s.  Like Angel Central, one of its anchors is the Vue cinema chain and is also features the Sherlock-themed escape room, The Game is Now, as well as several bargain shops such as Poundland, Lidl, Bargain Buys, and Argos.
Victoria Place
Just outside of Victoria Station, Victoria Place is an excellent shopping center to stop for supplies whether you're justing getting to London or leaving the city for other parts of the UK.  Most of the well-known shops are dedicated to health and beauty whether you visit Boots, Body Shop, Lush, or Holland & Barrett.  There's also the currency exchange retailer Thomas Exchange Global if you need to change your money.
Cardinal Place
Also located near Victoria Station is Cardinal Place, this shopping center is spread across three buildings and eleven floors.  While the center doesn't have its own website, there is a dedicated blog for the center that outlines such tenants as Marks & Spencer, Spacesavers, Hotel Chocolate, and Topshop to guarantee you'll have some souvenirs to take home with you.
Ealing Broadway
Ealing Broadway Center just outside the Ealing Broadway Station is a beautiful mix of indoor and outdoor shopping in London.  The center opened in 1985 and features stapes such as Marks & Spencer, Boots, O2, Tesco, Poundland, and others, while also home to unique shops like Miniso, Neon Sheep, and Flying Tiger.  Ealing Broadway is also home to the Ealing Library and local health non-profit Nuffield Health.
Hay's Galleria
Once a warehouse associated with Hay's Wharf, Hay's Galleria was revamped in the 1980s and is now a lovely mixed-used retail center with shops, restaurants, and market stalls.  The Galleria is comprised of six buildings with a large glass covering over the main thoroughfare.  It features the staple of Boots along with Hays News, Lead & Ball, Accessorize, and more, though it's real draw are the restaurants and cafes.
Brent Cross
Located in Hendon, Brent Cross Shopping Center is one of the largest in London with over 910,000 square feet of shopping floorspace.  It was founded in 1976 as the city's first "out-of-town" shopping center and today features one of the greatest mixes of British and international shops including O2, Levi's, Miss Selfridge, Waitrose, Dune, Khaadi, Topshop, and more.  It has a very conventional shopping mall look and plenty of US retailers from Vans to Apple, so you can experience some British shopping while feeling right at home.
Westfield Stratford City
Westfield is responsible for some of the biggest shopping centers in the United Kingdom with two right in London.  Its' retail space of 1.9 million square feet makes it the fourth-largest shopping center in the UK and has over 200 stores and restaurants from Accessorize to Zara.  The anchors are Marks & Spencer, John Lewis & Partners, and TK Maxx (the UK version of TJ Maxx).  Everything from basic services to high-end luxury can be found here, so it's worth checking out if you need something or just want to spend a few hours shopping.
Westfield London
Of course, Stratford City is only outdone by Westfield's other shopping center, Westfield London.  It opened in 2008, but an expansion in 2018 made it the largest shopping center in Europe at 2.6 million square feet of retail space.  It has 284 shops, restaurants, and services from Abercrombie & Fitch to Zadig & Voltaire with John Lewis & Partners, Harrods Outlet, and House of Fraser as the anchors.  If you feel that absolute need to hit the mall while you're in London, this is going to be the best place to go in the city.