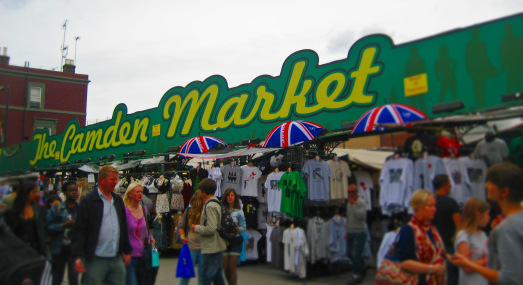 London's markets are some of the best places for shopping in the city.  You can wander them for hours finding everything from homegrown vegetables to antique furniture.  Bespoke clothes can be found next to famous brands at any one of these markets.  The names of these markets are as varied as the items they sell, typically tied directly to their locations.  But what are the origins of these place names?
Camden Lock Market
Located in Camden Town, the origins of the name begin with Charles Pratt, the First Earl of Camden, who developed the area.  The market is a short walk from the Camden Lock on Regent's Canal, once a major route for the transportation of goods in the city.
Church Street Market
You guessed it, it's located on Church Street.  Perhaps also not surprisingly, where Church Street ends, you can find the Church of St. Mary's, though Holy Trinity Church was the original reason for the name.
Camden Stables Market
Not too far from Camden Lock Market, Stables Market got its name from having started as a Victorian horse hospital, which naturally had stables there.
Chapel Market
One of the city's daily street markets, Chapel Market sits on Chapel Market Street, which was originally Chapel Street until the local council changed it in 1936 to recognise the bustling food market that had blossomed there.
Camden Passage
One of the city's best places for antiques, Camden Passage gets its name from being a pedestrian thoroughfare located in Islington.
Columbia Road
One of the best places for flowers and plants in the city, the market's name comes from Angela Burdett-Coutts, First Baroness Burdett Coutts, who had endowed the bishopric of British Columbia in 1857.  Burdett-Coutts founded Columbia Market in 1869, so it actually pre-dated the street, which wasn't renamed to Columbia Road until 1912.
Brick Lane
Once known as Whitechapel Lane, the market street's name was changed in the 15th Century to reflect the brick and tile industry that popped up there, which used local brick earth deposits to make their wares.
Spitalfields
Spitalfields Market's name comes from the hospital and priory that was once located there, St. Mary's Spittel, which was founded in 1197.  The location of this covered market is in a space that used to be the field next to the priory.
Petticoat Lane Market
This informal market lies upon a street that used to be a centre for second-hand clothes sales and later for clothes manufacturing.  However, in 1830, the name was changed from Petticoat Lane to Middlesex Street to mark a boundary between Portsoken Ward in the City of London and Whitechapel.  However, the name for the area stuck and was always associated with the informal market which didn't gain official recognition until 1936.
Bermondsey Market
This market takes its name from Bermondsey Square, which itself was formerly the site of Bermondsey Abbey, which had the unfortunate fate of being one of the many abbeys broken up by King Henry VIII.
Brixton Market
The market gets its name from the district in which it is located, which has some pretty ancient origins.  Brixton is thought to originate with a Saxon lord named Brixi.
Covent Garden Market
Billing itself as "London's Farmers Market," the name for the area originated from a 13th Century document that identified a garden belonging to a group of monks from St. Peter's in Westminster (more famously known as Westminster Abbey).  Covent was an Anglo-French term for "convent" or "abbey," denoting a religious place.
Piccadilly Market
Found in Piccadilly, the market is open six days a week next to St. James Church.  It started as part of the Piccadilly Arts Festival in 1981 but became a permanent fixture in 1984.  The area's name originates with Robert Baker, a tailor who lived in the area and was well-known for his piccadills, the broad lacy collars that were fashionable in the 17th Century.  Baker made so much from his business that he built a lavish home in the area that was referred to as Piccadilly House or Piccadilly Hall.
Portobello Road Market
Another market named for its location, Portobello Road was once Green's Way until Admiral Edward Vernon won a battle in the War of Jenkins' Ear near the Spanish-controlled town of Puerto Bello in modern-day Nicaragua.  The street was renamed to Portobello Road as a result, and Vernon Road just off Portobello still honours the Admiral himself.