From Beethoven to Arctic Monkeys, good music requires a good venue. London is home to some of the best concert halls in the world. They are classic pieces of architecture that range from the last few decades to the last few centuries. From club basements to the grandest buildings, the city has plenty of music scenes that play all types of music. If you find yourself in London and want to take in a good concert from your favorite band, symphony, or artist, have a look at these five concert halls. Let us know some of your favourites in the comments.
Barbican Centre
After the Barbican Estate was torn down following its extensive bombing in World War II, the Barbican Centre was built on top of the site and completed in 1982. A large and complex performance arts venue, the Barbican deals in everything including art, film, theatre, conferences, and, of course, music. The Barbican Concert Hall is the largest music hall in the complex, able to seat 1,943. It is home to two major orchestras: the London Symphony Orchestra and the BBC Symphony Orchestra. Additionally, the Barbican features several smaller venues such as Milton Court Concert Hall, LSO St. Luke's, and St. Giles Cripplegate. Its unique design and status as a London cultural centre have made it a Grade II listed building.
Wigmore Hall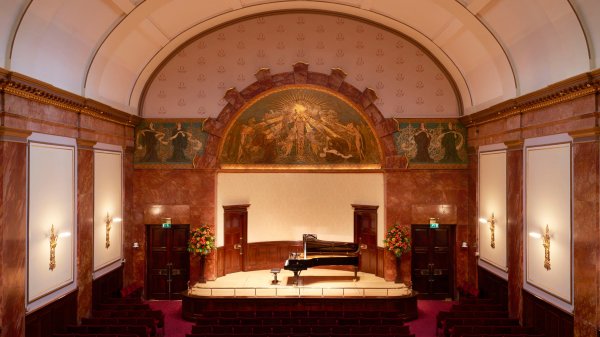 Built at the beginning of the 20th Century and originally named after its founder, C. Bechstein Pianofortefabrik, Wigmore Hall shares some architectural similarities to the Savoy Hotel due to both having been designed by Thomas Edward Collcutt. Collcutt designed the building in a Renaissance style with alabaster and marble walls as well as a mural done by Gerard Moira. Wigmore plays everything from classical music to jazz and its 552 seat venue has been praised as having some of the best acoustics in Europe. The hall was completely refurbished in 2004 and the Wigmore Hall Trust purchased its lease in 2005.
Alexandra Palace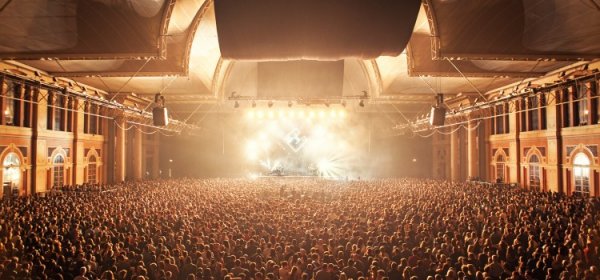 Also known as the "Ally Pally", Alexandra Palace opened in 1873 and was intended to be the "People's Palace", a multi-use venue and was rebuilt bigger and better after a fire. The building's Great Hall is the site of most of its major events, which includes not only concerts but performances and tournaments. The hall's capacity is 10,250 with standing room only and normally sits about 2,500 for other events. It has seen numerous large concerts including Jay-Z, Kings of Leon, Led Zeppelin, and everyone in-between. Additionally, Alexandra Palace features several VIP areas, bars, and space for after-parties. The palace is still growing, with current working being done on the east wing that contains a wonderful Victorian theatre that will add even more performance options.
Rivoli Ballroom

A classic and intimate 1950s ballroom, Rivoli was originally built in 1913 as a cinema but renovated into its current state between 1957 and 1959. The renovated design was a mixture of art deco, oriental, and neo-classical and seating lines both sides of the ballroom with tables on the left and booths on the right. As expected, the ballroom plays host to many dance bands playing big band, jazz, salsa, Latin, and more. Rivoli still finds time for its former use as a cinema on occasion as well as cabaret performances. It's classic interior also makes it a popular place for filming, including Strictly Come Dancing, The Muppets, a number of music videos, and 2015's Avengers: Age of Ultron.
Royal Albert Hall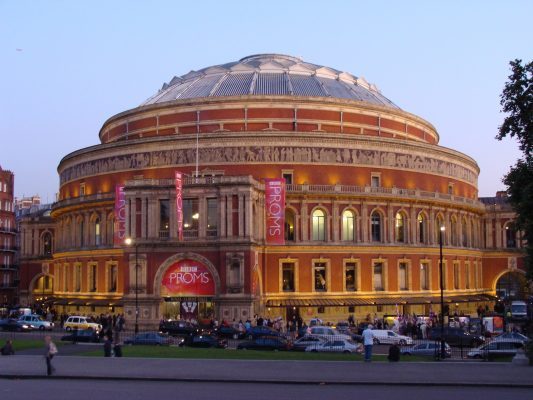 Opened by Queen Victoria in 1871 and named for her late husband, the Royal Albert Hall was constructed to be a performing arts venue in keeping with the rest of Albertopolis, the arts and sciences section of Kensington. The initial concerts revealed a glaring echo problem that was solved by hanging canvas from the ceiling and it has since seen any number of great composers and musicians performing for audiences. One of the most striking features in the hall today is the Willis Organ, which contains 9,999 pipes, while another are the 85 acoustic diffuser discs that now hang in place of the original canvas. The Royal Albert Hall is Grade II listed and one of the biggest performance venues in the country, hosting everything from opera to the annual Proms. It's not hard to see why it's referred to as "The Nation's Village Hall".