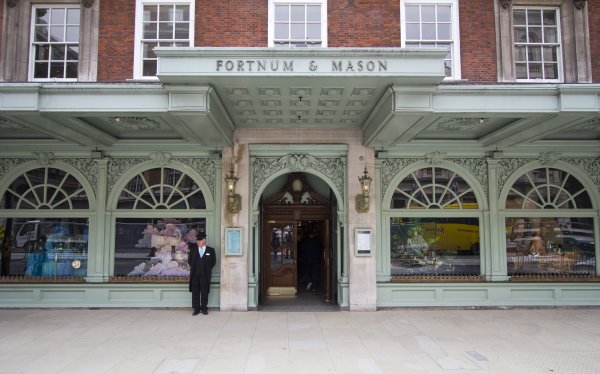 One of the oldest still-operating department stores in London, Fortnum & Mason has been in existence since 1707.  It was established at 181 Piccadilly by William Fortnum and Hugh Mason.  Now owned by Wittington Investments Ltd., it grew from a grocery store into the retail giant it is today.  Today, as a holder of a Royal Warrant with Queen Elizabeth II and Prince Charles, they provide groceries and tea to royalty, which isn't a bad position considering that's how the company started.  Since we've covered plenty of London's elite retail shops such as Liberty's, Selfridges, and Harrods, now it's time to discover ten interesting facts about Fortnum & Mason.
Getting Started
William Fortnum acquired his business acumen while working as a footman for Queen Anne.  The Hanoverians' insistence that new candles be used every night meant there was a lot of leftover wax in the morning, wax that Fortnum when then resell for a nice profit.  He later began to deal in groceries as well and convinced his landlord, Hugh Mason, to go into business with him.  They started as Mason's shop at St. James's Market in 1707.
Firsts
Fortnum & Mason claims to have invented the Scotch Egg in 1738.  On the store's webpage, they state that it was the idea of Fortnum to wrap a hard-boiled egg in sausage meat and breadcrumbs, then fry it.  They were also the first grocer to carry Heinz Beans in 1886, which is now an essential part of British cuisine.
Wait a Minute, Mr. Postman
Prior to the establishment of the Post Office in 1839, many shops could set up a business to send and receive mail.  Fortnum & Mason provided letter boxes with mail pickup occurring six times a day.  Soldiers and sailors received a discount on the service, which continued until the General Post Office was formed.
Defeating Napoleon
Fortnum & Mason helped the war effort against Napoleon on Continental Europe by providing British soldiers and sailors with dried fruits, honey, and spices.
Cuppa Tea?
Queen Elizabeth II herself opened Fortnum & Mason's Diamond Jubilee Salon in 2012.  It's a good deal more expensive than other places in the city that offer Afternoon Tea, but you can bet that the store has an excellent selection, considering it's been dealing in tea since it opened in the 18th Century.
A Very Polite Clock
After W. Garfield Weston became the board chairman, he commissioned a clock for the store in 1964.  Serving as a tribute to founders William Fortnum and Hugh Mason, the clock above the entrance has facsimiles of the two founders come out on the hour and bow to each other while 18th Century music plays.
Meals Ready to Eat
Fortnum & Mason lead the way on pre-prepared foods, showing them off at the Great Exhibition of 1851.  These dishes included "poultry and game in aspic, hard-boiled eggs in forcemeat (the famous "Scottish egg"), dry and green turtle, boar's head, truffles, mangoes… all decorated and prepared so as to require no cutting."  These evolved into the well-known hampers still available today.
Top of the World
Fortnum & Mason food has been all over the world thanks to supplying many an expedition.  They even supplied the successful 1922 endeavour to scale Mount Everest.  The store supplied 60 tins of qual fois gras and four dozen bottles of champagne.  Because if you're going to celebrate, you better have it large.
Feeling a Bit Dry?
In 2014, Fortnum & Mason partnered with London Distillery Company Ltd. to rebrand and rerelease London Dry Gin.  The gin is rectified and hand-bottled less than three miles away from the store at the distillery in Battersea.  The recipe contains six organic botanicals.
R.H.I.P.
During World War II, Fortnum & Mason offered a special Officers' Department that sold items such as insect powder, exotic cigarettes, and other luxury items exclusively for the brass.  They even sold a silver-plated "spork".