Paddington Station, the end of the line. Since 1838, it has been the terminus for the Great Western Railway and its successors. It's a historic place that served the first Underground trains in the 1860s. In modern times, it's associated with a fictional Peruvian bear that came to live with the Browns. Regardless of the time, it is a classic piece of London that has cemented itself in the city's history and culture. Have a look at ten facts about one of London's greatest landmarks.
Terminal
In keeping with its status as a terminus station, Paddington has fourteen terminal platforms. Each is designed for various services. Platforms 6 and 7 are for the Heathrow Express, 13 and 14 for two and three car turbo trains, 1 to 5 and 8 to 12 are by train station services, and 15 and 16 are for the Underground Hammersmith & City Circle lines. Southwest lines are for long-distance trains while northeast lines are for local trains.
Hanging Around
Well before the train station was located there, the Tyburn Gallows were located less than a mile away. This was the place in the 1700s were criminals were taken for their hanging. In the lexicon of the times, "Paddington Fair Day" meant a public hanging and "To dance the Paddington frisk" meant "to be hanged".
Filming
Plenty of films and television shows have stories based in Paddington Station. This includes Murder, She Said (based on Agatha Christie's 4.50 from Paddington), A Hard Day's Night, About Time, and Paddington.
Be Prepared
Lord Robert Baden-Powell, the founder of the international Scouting Movement (also known as the Boy Scouts) was born in Paddington in 1857.
A Victorian Marvel
Paddington Station was designed by Isambard Kingdom Brunel, one of the Victorian era's leading architects. It was Brunel's goal to see that passengers could travel from London to the docks in Bristol and from there, onward in one of his ships to North America. The advent of the Great Western Railways massively cut down on travel to the western coast and was truly one of the greatest feats of Victorian transportation.
Please Look After this Bear, Thank You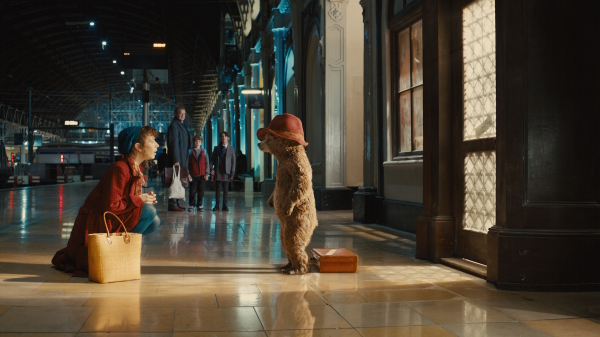 The most famous fictional character to be associated with Paddington Station, Paddington Bear was the brainchild of writer Michael Bond. Bond worked as a cameraman for several BBC programmes including Blue Peter, and purchased a plush bear from Selfridges near Paddington Station, which was a normal route home for him.
I Ain't Talkin'!
Paddington Green Station is where some of London's most dangerous criminals are brought for questioning.
Champagne?
One of the more glamorous places associated with the station is one people will visit even if they're not traveling. Searcys Champagne Bar serves 15 champagnes by the glass and over 105 by the bottle. Not just about champagne, they have a great selection of cocktails and food as well. They bill themselves as "a great place to start or end your journey". They even have special events during "Champagne Season" from March through September.
Action!
For over thirty-five years, Paddington Bear has been the mascot for Action Medical Research, a charity that is important to creator Michael Bond. Thousands of sick children have benefitted from the research the organisation has funded. As part of the Paddington Bear Trail, each of the statues is to be auctioned off after December, with the funds going to AMR.
Passengers Galore
Paddington Station is one of the busiest London rail terminals. Last year over 35 million passengers passed through the station.