Hyde Park is one of the greatest sites in London, its sprawling expanse making a beautiful green stamp on the city. It contains a great number of memorials, events, statues, architectural wonders, and Speakers Corner, where individuals may debate on important issues. The park has even more interesting aspects to it that you may not know. Have a look below at some of the facts and figures that make Hyde Park one of London's truly great landmarks.
The Numbers
Hyde Park is comprised of 625 acres which includes both the 350 acres of the park as well as 275 acres of Kensington Gardens. There are over 4,000 trees in the park.
Hunting Grounds
Originally, King Henry VIII acquired the grounds of Hyde Park in 1536 by confiscating them from the monks of Westminster Abbey after forming the Church of England. He used them primarily as a hunting ground and it remained closed to the public until King Charles I opened it in 1637.
Speak Your Mind
In the 1800s, Hyde Park was a popular place for gatherings. In 1872 after police had to break up a demonstration that got particularly violent, Speakers Corner was created to give the public a chance to express their views. Every Sunday, it is tradition for speakers to actually stand on a makeshift soapbox before beginning their speeches. Of course, the speeches aren't one-way and members of the public will often engage and challenge the speaker, turning the events into debates. Speakers can continue so long as they do not use obscenity, blasphemy, or incite the public to violence.
Let It Be
The only home shared by all four Beatles is near Hyde Park at 57 Green Street. The Fab Four shared a flat there in Autumn 1963.
Maybe Put it There Instead
John Nash designed the Marble Arch in the park in 1828 and it was originally meant to be an entrance to Buckingham Palace. It was moved to the park when Queen Victoria expanded the palace and contains a small office that was once used as a police station.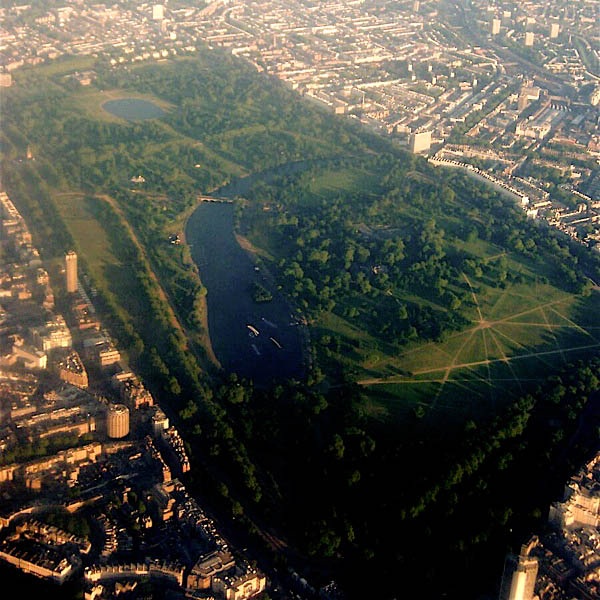 Serpentine
One of the more visited places is the Serpentine, a lake constructed by Queen Caroline in 1830 that curves through the park. It offers plenty of opportunities for swimming and boating as well as being the home to plenty of waterfowl.
No Achilles in His Tent
Achilles, or the Wellington Monument, was installed by King George III as a tribute to the Duke of Wellington and his victories in the peninsular wars and the later conflicts of the Napoleonic Wars. The body is modeled on a Roman soldier while the head's likeness is actually Wellington.
Very Rotten
Rotten Row is a broad track of land that runs for 4,541 feet on the south side of Hyde Park and connects Hyde Park Corner with the Serpentine. In the 19th Century, it was a place to be seen as many Londoners would put on their finest clothes and walk Rotten Row. The area is presently used mostly for riding horses, and nearby stables offer riding lessons as well as letting horse for hire. The Household Cavalry also keeps their horses stabled nearby and use Rotten Row for exercise.
Memorials
Besides the monument to Wellington, several monuments and memorials dot the landscape. The Diana, Princess of Wales Memorial Fountain is just south of the serpentine and is designed to be a tribute to her life and love of children. Fifty-two stainless steel pillars are dedicated to the victims of the 7 July tube bombings in 2005.
Walking in a Winter Wonderland
From November to January, Hyde Park also offers ice skating, a circus, Ferris wheel, and an ice palace as part of its Winter Wonderland celebration. There's even an ice bar for adults to enjoy some cool cocktails.