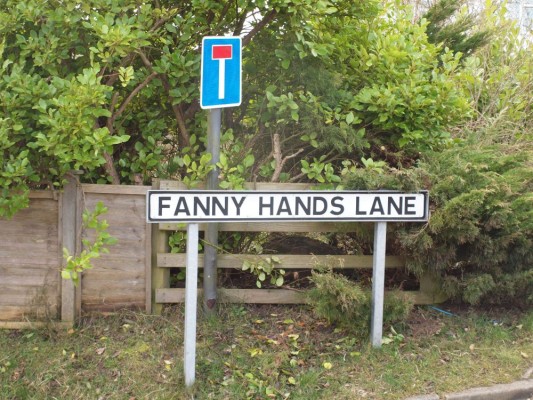 The English language is a fountain of interesting quirks. Britain is land of interesting place names – some that don't make any sense, some that are amazing and some that are just plain rude. More more rude British place names, check out our British Slang Dictionary.
So, we thought it would be fun to put together a list of all the rude place names in London. These are all real places! Be warned – this list may not be for the faint of heart!
We'll break it down by name and then specific location.
Back Passage, City of London
Mincing Lane, City of London
Mudchute, Docklands
Percy Passage, Fitzrovia London
Swallow Passage, Oxford Circus London
Trump Street, City of London
Cumming Street
Cockfosters, Suburb in North London
Dick Turpin Way, London
Cock Hill, London
Titley Close, London
Cockbush Avenue, London
Fanny Hands Lane
Cock Lane, City of London
Laycock Street, Islington
Penistone Road, Streatham
Cock Pond, Clapham Common
Bellenden Road, Peckham
White Knobs Way, Caterham
Melon Road, Peckham and Leytonstone
Clitterhouse Road, Barnet
The Ring, Hyde Park
The Butts, Brentford
Cold Blow Lane, New Cross
Ogle Street, Fitzrovia
Hooker's Road, Walthamstow
Bird-in-Hand Passage, Forest Hill
Copping Close, Croydon
Newington Butts
Gaywood Street
Peckarmans Wood in Sydenham
Bird in Bush Road in Peckham
Great Peter Street
Bonner Road in Bethnal Green
Clitheroe Road, Lambeth
Fine Bush Lane, Ruislip
Shiteburn Lane, Bank
Kings Butts, Eltham
Which one is your favorite? Did we leave one off the list? Let us know in the comments!
Find these places and more in Anglotopia's Dictionary of British English: Brit Slang from A to Zed – Available now on Amazon and other booksellers.