Folded Map – No Longer Needed
One thing that we love about London is how much it doesn't change. There are many things that we do on every trip to London that have become our traditions. It's comforting to know that we can always do them. But despite London's inherent unchangeableness, there were many new things that we noticed on our last trip and we thought it would be fun to share what we noticed.
New Routemaster Buses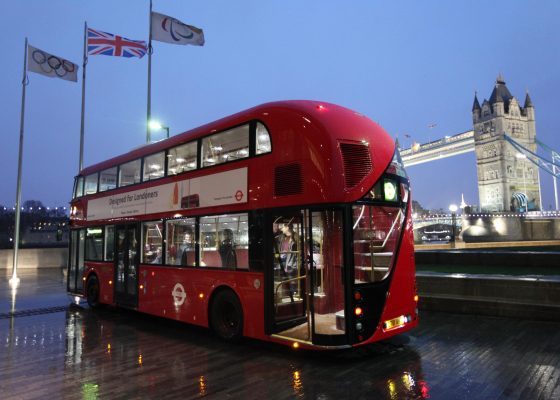 The Old Routemaster buses – an iconic symbol of London that had been runing since the 1950's – were phased out years ago (though a few still run on 'heritage routes'). The current mayor, Boris Johnson, campaigned on brining the bus back in a new incarnation and the result was what has been dubbed the 'Boris Bus' a sleek and modern take on the old double decker bus design. Well, the bus was unveiled years ago and it's now in full production and it's hard to miss them as they sail through the streets of London. I quite like them!
Free WiFi Everywhere
Back in the day, it used to be the only place to get Free WiFi in London was to go to the Apple Store and use theirs. But on this last trip I was really surprised at how many places now offer Free WiFi. It's everywhere – so it was pretty easy to use WiFi and not have to rely on expensive cellular data roaming charges. Traveling with an iPhone has never been better.
Hailo Has Changed Taxi's for the Better
Everyone knows that the iconic Black London Taxi's are awesome – the drivers are usually friendly (I stress usually) and they always know how to take you where you want to go. The sounds of a taxi's diesel engine just says London. It's hard to improve on perfection. But a new iPhone app called Hailo has. Hailo allows you to hail a taxi, wherever you are – the nearest taxi driver will come to you and then when it's time to pay, payment is handled through the app. You don't have to have cash on hand and the driver knows he'll get paid. The worst part of 'cabbing' around London is searching for an open cab and this little app (which is free to download) solves that problem. We used this app a ton of times and will do so again in the future.
Phone Apps Have Replaced my Trusty Maps and my Guidebooks
I have a cherished map of London that has gone on most of my trips to London with me (see picture above). It's laminated and folds up small enough to fit into any pocket. When I was in college I used to carry it with me everywhere and when I had free time, I study the roads becoming an amateur expert on The Knowledge (what London Cabbies call learning the streets). It was a helpful companion on every trip, I never left without it.
After we left for our most recent trip, somewhere over the Atlantic, I realized I'd forgotten my cherished map. Taking it never even crossed my mind. And I didn't miss it. Why? I have a smartphone. I have an app that has the same basic map, I have another app for the Tube and another app that tells me how to get exactly where I want to go. I also didn't bring along any guidebooks. There's apps for that too. It's much colder than my old laminated maps and thumbed through guidebooks but it's much more efficient when juggling two kids.
The Spectre of New Buildings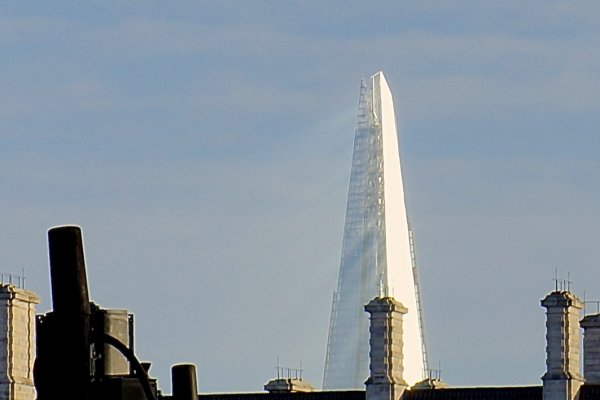 It seems like every time we come to London there's a new skyscraper. They can only be built in certain places and even then, they're subject to strict planning permission. For example, they are not allowed to affect the site lines of St Paul's Cathedral. During the Economic Crash, many large buildings in the works were put on ice but as things have improved, cranes have taken over the London Skyline again and these skyscrapers are sprouting up again. While I adore London's old architecture, I'm also a huge fan of modern architecture so I personally love some of these buildings (I stress some). My favorite is The Shard which is an unmissable glass spire visible from pretty much anywhere in London. It's beautiful and its new viewing deck – the highest in Europe – is well worth a visit.
We're Over Harrods
This is the first trip in the dozen trips we've taken to London where we have not visited Harrods. It used to be our first stop when we arrived in London. But it's really lost its lustre for us. While the store was always rather expensive, it was an accessible expensive that even a college student could enjoy. But honestly, the store has changed since it was sold to new owners since our last trip. It's now clearly focused on the luxury end of the market, where the target market is celebrities, rich Asian tourists and the rich Arabs who colonize England during its cool summers. The store is now for them – it's not for us anymore. Instead of having just plain nice things, the store is now filled almost exclusively with designer labels. The only things you can afford in the store now are their overpriced groceries or their overpriced store branded souvenirs. It's a shame really – there used to be nothing more British than Harrods but we're just over it now.
Malls in London are a Weird Thing
Until a couple years ago, London didn't have a shopping mall. Now it has two – the Westfield in Shepherd's Bush and the sister mall in Stratford (built in time for the Olympics). We generally love to shop in London – we love the unpredictability of it's shopping districts – you never know what you're going to find. So, a mall is a rather strange place. We had to visit the Westfield in Shepherd's Bush for a computer issue at the Apple Store but we decided to walk around the mall as well. It's rather surreal – all the famous British brands in one convenient place. Plenty of places to eat. Plenty of taxis waiting in the queue. But it doesn't fell like London. It doesn't feel like travel. It feels like going to the Mall. I don't think we'll go back unless we have to.
American Fast Food Has Colonized Central London More
London has no shortage of McDonald's, Burger King and KFC but a lot more American fast food establishments are colonizing central London – especially the Covent Garden area which caters to tourist tastes. For example you can now savor a delicious burger at Five Guys or get a shake at Shake Shack. Having enjoyed the Five Guys on our last trip, I'm on the fence as to whether this is a good or bad thing.
Ice is Standard Now
In the 21st century people still have the impression that it's unusual to get a cool drink in London. That's no longer the case though sometimes you need to specify you want ice. But generally you can get ice in any drink you want.
It's Not London That's Changed Much – But Us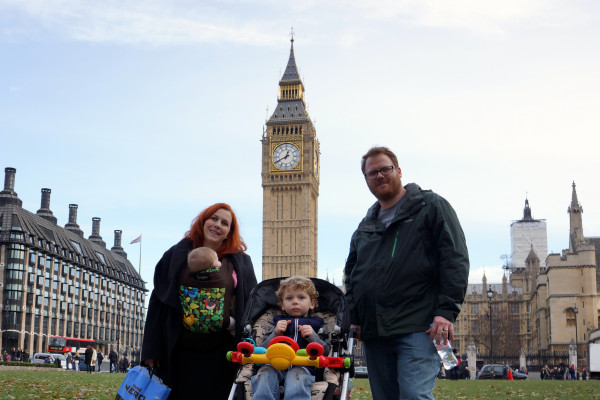 Thinking about London and our travels there – I can't help but realize that really it's not London that's changed a lot – but it's us as people. When we first came to London in 2004, we were just 19 years old and in college. Fast forward ten years, we've been married since 2006, we have two wonderful children and Britain is our living. We've written guidebooks and we've sold scores of t-shirts. It's amazing how much can change but it's also amazing to see how much London stays the same, even with all the new stuff. London will always be the place where we are the most comfortable and we will have a love affair with it until the end of our days.
What changed in London since your last visit? Please let us know in the comments!