They say nothing lasts forever. With the number of Royal Residences in London, whether they are currently occupied or not, several have long since been lost. Once the places that the Kings and Queens of England called home, they are abandoned, demolished, or lost to calamity. While some of them are completely gone, others have left behind their foundations and maybe a building or two to remind people that these once-grand homes were there. Take a trip with us back in time as we explore five lost London palaces and the reasons why they are gone.
1. Westminster Palace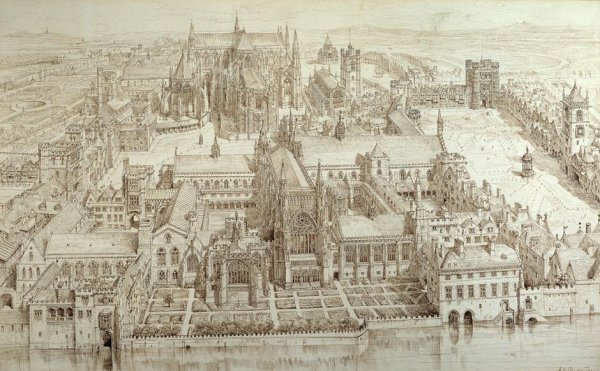 Not to be confused with the Palace of Westminster, where Parliament meets, Westminster Palace stood on site of the current parliamentary building on an eyot known as Thorney Island. The first palace was built by Canute the Great and he occupied it from 1016 to 1035. Edward the Confessor was the next palace occupant and even King William I lived in it, but none of the buildings survive. The only remaining part of Westminster Palace's successor that is currently part of the Palace of Westminster is Westminster Hall, built by William II. This building stopped being used as a residence by Henry VIII in 1534 when he acquired York Place from Cardinal Thomas Wolsey and renamed it Whitehall Palace (more on that later). Subsequent remodeling jobs (in part from a fire and the activities of one Guy Fawkes) established the current legislative chambers and did away with remaining vestiges of the former royal residence.
2. The Palace of Placentia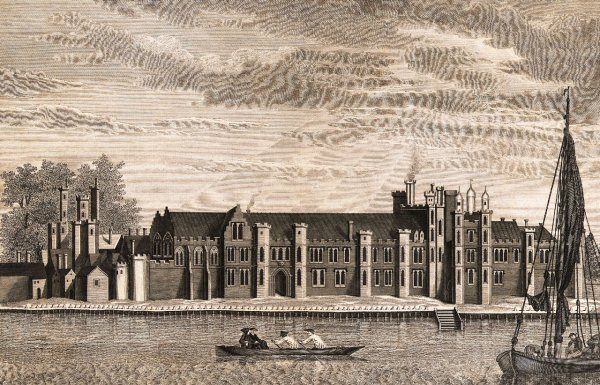 This palace in Greenwich was originally built by Humphrey, Duke of Gloucester, when he was Regent to King Henry VI in 1433. In 1447, however, he fell out of favour with Margaret of Anjou, who had him arrested for high treason. After Humphrey died in prison, Margaret took control of the palace and renamed it from Bella Court to Palace of Placentia, which means "Palace of Pleasaunce" (or a palace that is pleasing to the senses). Henry VII rebuilt the palace from 1498 to 1504 and it was the birthplace of his son, Henry VIII, and also his granddaughter, Queen Elizabeth I. She and her sister, Queen Mary I, lived there for a time, but by the reign of King James I, the palace was used less as a royal residence. During the English Civil War, it fell into disrepair. Charles II started repairs on it, but never finished, and it was eventually demolished. The site was vacant for years until Greenwich Hospital was built in 1694, which eventually became the Royal Naval College. Later construction and excavations have uncovered parts of the foundation.
3. Nonsuch Palace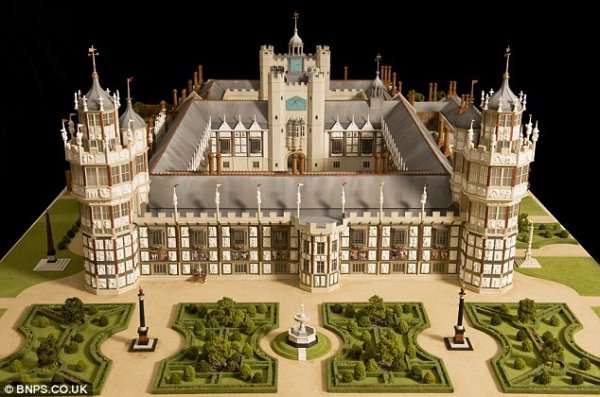 Henry VIII had his share of palaces during his reign, though Nonsuch would be the last one that he built. Construction began in 1538 in Surrey. Unlike other palaces, it was built from the ground up and not a renovation of or addition to a preexisting building. It was meant to be a monument to the Tudor dynasty and one of his greatest and grandest building projects. Its extravagance pushed the cost to £24,000 (or approximately £109 million in today's money). However, Henry did not live to see it completed when he died in 1547. Having zero intention to live in it herself, Mary sold it to Henry FitzAlan, the 19th Earl of Arandel. It was given back to the royal family in the 1590s and Charles II gave it to his mistress, Barbara, Countess of Castlemaine, in 1670. The Countess had a bit of a gambling problem, however, and in 1682, she had it torn down and sold off the materials to pay her debts.
4. Bridewell Palace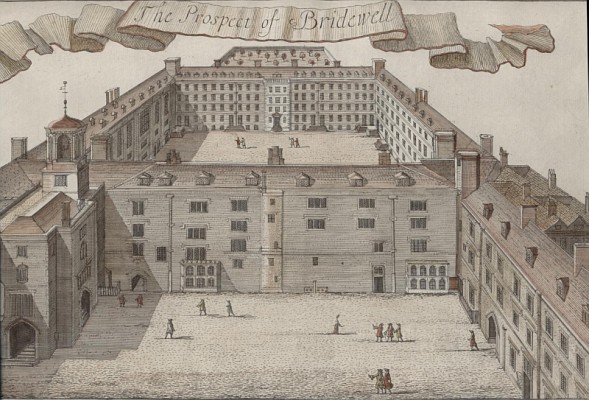 Another of Henry VIII's palaces, it was built on the former site of the medieval St. Bride's Inn and was Henry's residence from 1515-1523. Five years after he left it, a delegation from the pope used the palace to debate whether the Church would permit Henry to divorce Catherine of Aragon. However, it's not the palace's history as a residence for which it is well known, but its subsequent life. For a few years, it was home to the French ambassador, but King Edward VI gave it to the City of London Corporation as an orphanage in 1553. Only three years later, the corporation took full control and turned it into a prison. Much of it was destroyed and rebuilt following the Great Fire and it was the first prison to appoint a prison doctor. Eventually it was turned into a school and then demolished from 1863-1864.
5. Whitehall Palace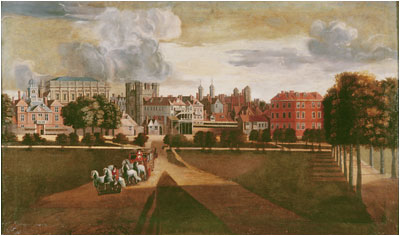 Seriously, four-of-five of these entries were former residences of Henry VIII. After deposing Cardinal Wolsey when the cardinal could not secure an annulment from Catherine of Aragon, Henry took one look at York Place and figured it'd make a nice new home for him. Henry redesigned and rebuilt Whitehall until it was one of the largest palaces in Europe. The palace's recreation center included indoor tennis courts, a jousting tiltyard, a cock fighting pit, and a bowling green. Additionally, he married Anne Boleyn and Jane Seymour in the palace. It was here that he died in 1547 as work on Bridewell was ongoing. The palace also played host to the first performance of William Shakespeare's The Tempest in 1613 for James I, who made several renovations and additions of his own, including the Banqueting House in 1622, designed by Inigo Jones. Charles I was executed in front of the palace in 1649. In 1691 and 1698, fires destroyed parts of the palace, the latter of which destroyed all but the Banqueting House, which is still standing and serves as a museum.