Oh, the shame of it all!  In the centuries since London was founded, it has been rocked by many a scandal.  Sex, money, drugs, and more have plagued the men and women of this fair city, and while some have escaped the consequences of their actions, others have fallen from very high places indeed.  Some of the scandals listed below have had repercussions far beyond London, shaking the British government to its core.  Enjoy a slice of some of the most outrageous moments to hit London and let us know some of your favourite scandals in the comments.
Cleveland St. Brothel
In the Victorian era, homosexuality wasn't simply frowned upon—it was illegal.  It began with a simple theft investigation by Police Constable Luke Hanks that led him to a telegraph boy.  Under questioning, the fifteen-year-old boy admitted to being a male prostitute operating out of a brothel at 19 Cleveland Street.  One of the brothel's owners was almost immediately arrested and his confession led to the outing of several of the brothel's prominent clients, including Lord Arthur Somerset and only fueled rumours concerning Prince Albert Victor's sexuality.  The whole affair might have remained relatively quiet if the press hadn't gotten wind of it and whipped the public into a frenzy.  One lasting effect of the scandal was its mention in Oscar Wilde's The Picture of Dorian Gray, which put a spotlight on the author, ultimately leading to his own trial for gross indecency.
Seymour Dorothy Fleming's Lovers
Sex does seem to be a popular topic for scandals, and Seymour Dorothy Fleming gave London much to talk about.  She had married Sir Richard Worsley in 1775 and by all outward appearances, the marriage was a happy one.  However, as Worsley buried himself in his work for Lord North's government, Lady Worsley sought attention she wanted elsewhere.  She reportedly took a series of twenty-seven lovers, ultimately running away with one of them, George M. Bisset.  The two were discovered to be engaging in their affair in London, and while Lord Worsley had accepted his wife's wandering eye, this humiliation was the last straw.  He sued Bisset for damages, bringing the scandal into the open, and the court case saw her past lovers brought in to testify against her.  In the end, the jury only awarded Sir Richard a single shilling.  It's also believed that while Lord Worsley was focused on his personal life, he let his work and Lord North's government, go to pieces, leading to a government that was much more sympathetic to the American Revolution.
Profumo Affair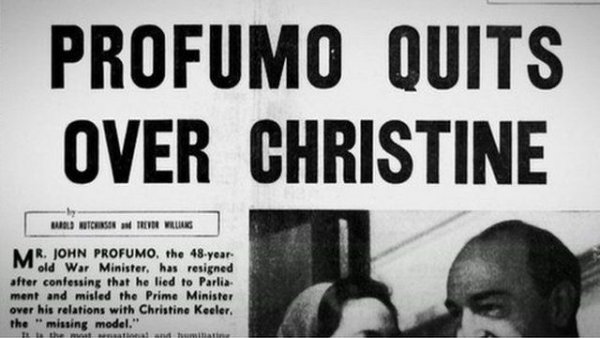 While Lord Worsley's problems may have led to the end of Lord North's government, the sexual escapades of Secretary of State for War John Profumo had a more direct hand in the toppling of Harold MacMillan's government.  Profumo was said to have used an excuse of late-night cabinet meetings to carry out his extramarital affairs, one of which was with then nineteen-year-old model Christine Keeler, a relationship that occurred in 1961.  Keeler had previously been involved with Stephen Ward, a doctor who also fancied himself a sketch artist and was used as a backchannel by the British Foreign office to Yevgeny Ivanov, a naval attache to the Soviet Union's embassay.  The involvement of Ward, Keeler, Ivanov, and Profumo began to raise eyebrows, but ended quickly and was not brought up again until one of Keeler's ex-lovers shot up her flat.  The subsequent trial brought up her former relationships, including Profumo, and the connections between the four quickly erupted into a political scandal in the summer of 1963.  Profumo resigned from the cabinet and from Parliament.  Though no actual evidence of espionage was uncovered, it didn't stop the charges being made, even though nothing came of them.  What's more, Harold MacMillan was damaged by the scandal over his mishandling of it, leading to his resignation and, a year later, the election of Harold Wilson's Labour government.
Alfred Clark
Alfred Aurelius Clark, a member of London's high society in 1874, committed a scandalous act by knocking up a young woman named Aline in Milan, who just so happened to be the daughter of Sir Henry de Hoghton.  Instead of doing the honourable thing for the time and marrying Aline, Clark refused and absconded with his daughter, moving to London and posing as her guardian.  He married another woman, but she died in 1890.  Clark then married his daughter and the two had a child together in 1892.  His daughter discovered the truth shortly thereafter and it "nearly deprived her of reason".  The whole matter became publicly when she understandably divorced her father.
Sex with a Gangster
Ronald "Ronnie" Kray was one of London's most ruthless gangsters in the early 1960s.  Robert Boothby, Baron Boothby, was a Conservative Member of Parliament for Aberdeen in the 1950s and openly bisexual.  Boothby campaigned actively for reform of the criminal code related to homosexual activities and in 1963, began an illicit affair with a cat burglar named Leslie Holt, which in turn led to an introduction to Ronnie Kray.  In the wake of the Profumo Scandal, MI5 was understandably concerned about London's underworld getting its claws in a member of the Government and had Boothby followed and Holt questioned.  The Sunday Mirror eventually published the story in 1964 and Boothby promptly sued them.  Boothby also stood up for the Krays in the House of Lords, which became increasingly impossible as their violence escalated.  By that point, the security services had concluded his sexual activities posed no threat to the government and Boothby stopped associating with the Krays.