While many London films focus on adults, it's important to remember that children have an important place in the city's stories too.  Plenty of movies geared towards a younger audience have London as a setting.  These can range from classic literature adaptations to entirely original tales, both animated and live-action.  In each, London is an important environment that reflects and motivates the characters.  Enjoy these ten London Children's films and let us know some of your favourites in the comments.
Flushed Away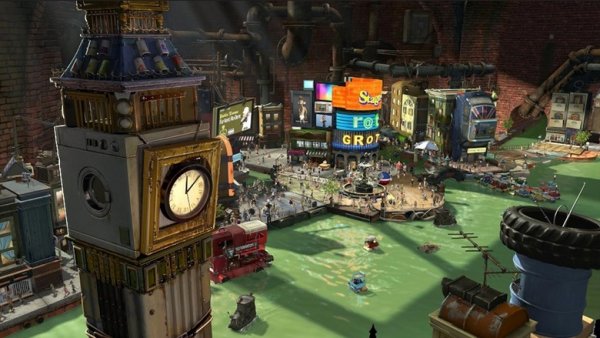 Aardman Animations has become synonymous with the likes of Wallace & Gromit and Shaun the Sheep as well as the stop-motion plasticine animation that both franchises use.  However, in 2006, the studio partnered with DreamWorks Animation to do its first 3D-animated picture.  In the film, Roddy St. James (Hugh Jackman) is a pet rat from the Royal Borough of Kensington who discovers what real life can be like when he's flushed down the toilet by a sewer rat named Sid (Shane Ritchie).  Partnering with Rita (Kate Winslet), the two must defeat the evil plans of a sewer criminal known as The Toad (Ian McKellan).  With a miniature London thriving in the sewer system, it's not a surprise that Roddy's poshness and Rita's street smarts would mirror real social differences in modern London.
Mary Poppins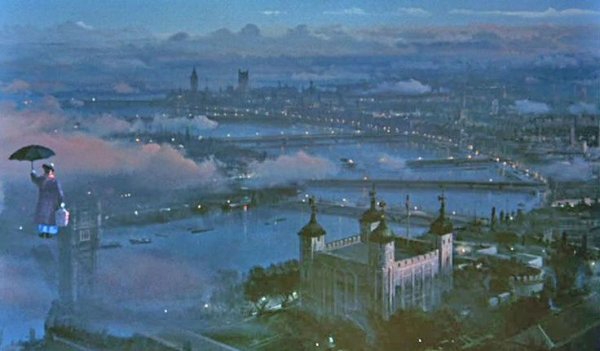 Nevermind Dick Van Dyke's horrible Cockney accent (his voice coach was Irish, which didn't help) or the differences from P.L. Travers's book, Disney's 1964 adaptation of Mary Poppins throws the audience right into the middle of Edwardian London.  Between Mrs. Banks's participation in the suffrage movement, Mr. Banks's work for the bank, Admiral Boom's references to the Boer Wars, and other aspects of the film, you get an interesting picture of the city at the turn of the century.  For what it's worth, Van Dyke's Bert and his various odd jobs from one-man band to chimney sweep display many of the occupations you could find in the city at the time.  While differing from the source material, Disney's film is still widely regarded as a classic (even Travers herself came to appreciate it as its own thing), with a "making of" film in Saving Mr. Banks and a sequel coming in 2018.
Paddington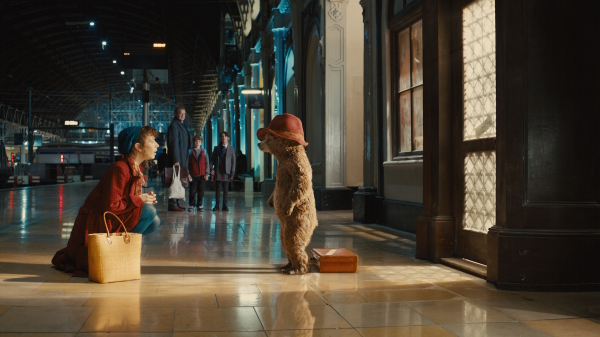 "Please look after this bear.  Thank you."  Years after Michael Bond created Paddington Bear and the cartoons adapted from his works, 2014's Paddington saw the first live-action adaptation with an animated protagonist.  Naturally, Paddington Station which inspired Bond and where much of the first story takes places is heavily featured in the film before he is taken in by the Browns.  Paddington also sees a great deal of the city while searching for the explorer who first found his family and invited them to London.  In an interesting bit of marketing, artists decorated many life-sized statues of Paddington that were placed around the city and became something of a scavenger hunt for tourists and locals alike.
The Pirates! In an Adventure with Scientists!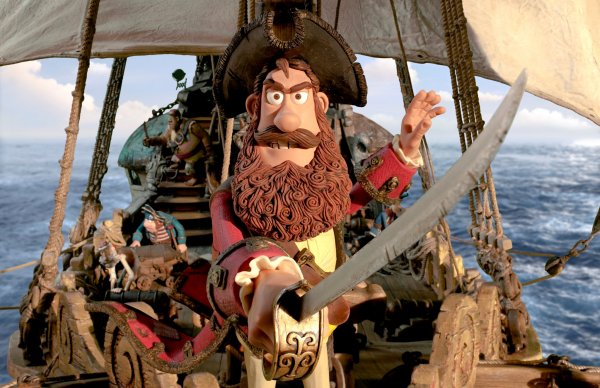 Another Aardman Animation feature, this 2012 film returns the studio back to its plasticine roots and adapts Gideon Defoe's book of the same name (it was released in America as The Pirates! Band of Misfits).  Featuring the aptly-named Pirate Captain and his crew, their attempts at piracy have been less than successful until they capture the HMS Beagle and Charles Darwin, who recognises the Captain's "parrot" Polly is actually a rare dodo bird.  He convinces the crew to sail back to Victorian London (by which time real piracy was definitely past its prime) where he wants to impress Queen Victoria, who it turns out actually wants to eat the bird.  It's definitely anachronism stew, but considering it's an animated comedy, that's easily forgiven.  Many Easter Eggs of the period appear throughout the film, including a cameo by the famous Elephant Man, Joseph Merrick.
Peter Pan/Hook/Finding Neverland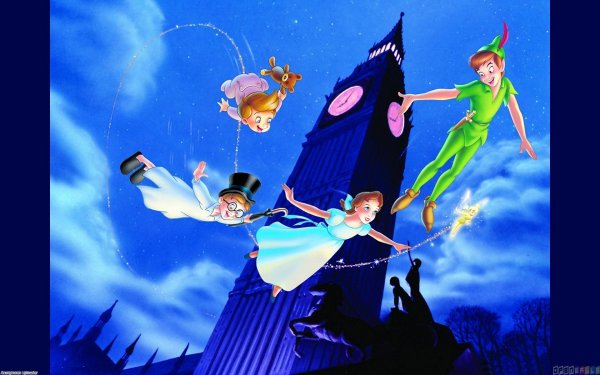 While a good bit of any adaptation of J.M. Barrie's classic children's story largely takes place in Neverland, London typically plans an important role in these films' openings and closings.  Disney's 1953 animated adaptation of the play remains one of the most memorable, while the 2003 adaptation is considered the most faithful live-action version.  In both, London is portrayed as drab and dreary, a sad city that ultimately forces children to grow up and leave behind the things that make life wonderful.  Of course, Wendy, John, and Michael choose to return to their family at the end, accepting that one day they will grow up, though not lose their childhood fantasies.  While in original adaptations, Wendy never sees Peter again, the 1991 film Hook saw Peter come back after Wendy had grown up and chooses to grow up himself, with the film beginning as Peter, his wife (Wendy's daughter), and their children coming to visit her London home before the children are kidnapped by Captain Hook for revenge.  Much as with Saving Mr. Banks, 2004's Finding Neverland focuses on the creation of the original story in Edwardian London, with Johnny Depp playing J.M. Barrie.
Harry Potter Series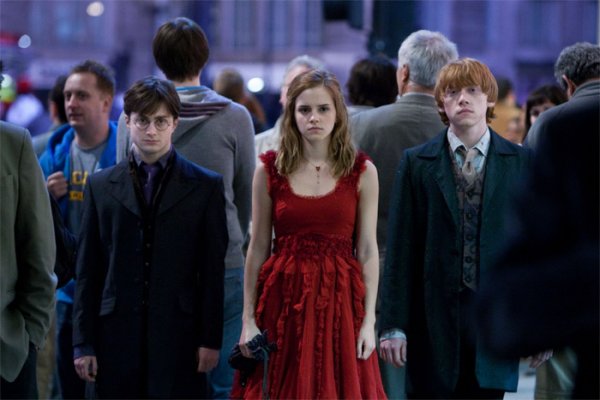 While Harry Potter's address may have been just outside of London in Surrey and Hogwarts itself isn't in London, plenty of moments from the books and their film adaptations take place in London.  The first story, Harry Potter and the Philosopher's Stone, has much of its plot setup in London, from the fictional Diagon Alley entrance in Leadenhall Market to King's Cross Station (which installed a special Platform 9 ¾ after the films' successes), both fictional and real parts of the city have been featured heavily.  Some major locations in filming include Australia House (Gringotts), the Millennium and Tower Bridges, Great Scotland Yard, and more.  Even today, there are plenty of walking tours around the real locations and the ones which played more fictional roles in the series.  What's more, you might take a trip out to the Warner Brothers Studio Tour to visit sets and feel a little bit of magic for yourself.
Young Sherlock Holmes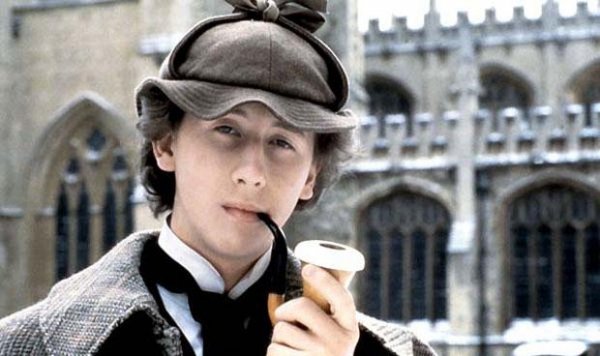 This 1985 reimagined version of England's greatest fictional detective sees Sherlock and Watson meet as teenagers rather than adults.  Taking place at a fictional version of Brompton Academy in London (the real one is in Chatham), Holmes and Watson naturally find themselves embroiled in a mystery that only Holmes's developing deductive reasoning can solve.  The story is an interesting (albeit fictional) look at Victorian London much different than other Holmes adaptations.  Much of the criminal activity in the film takes place in Shad Thames, a series of warehouses, shops, and alleyways that has been extremely popular for filming.
101 Dalmatians (animated and live-action)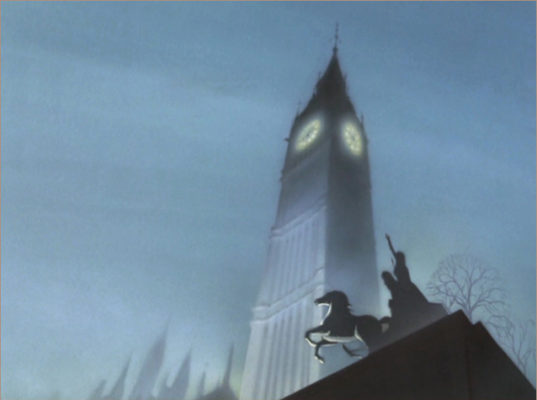 Dodie Smith's 1956 novel, A Hundred and One Dalmations, has seen a couple of major adaptations from Disney, an animated film in 1961 and a live-action film in 1996.  Both stories kick off when London-based Dalmatian Pongo drags his owner out to the park where they both meet their romantic partners, Anita and her Dalmatian Perdita.  In both adaptations, Anita has a connection to the villainous Cruellea De Vil (see what they did there?) who wants Pongo and Perdita's fifteen puppies to make a coat (along with another 84 that she's dognapped).  The owners' life in London features heavily in both films, though a good bit takes place at Cruella's country estate after she's kidnapped the puppies.
Bedknobs and Broomsticks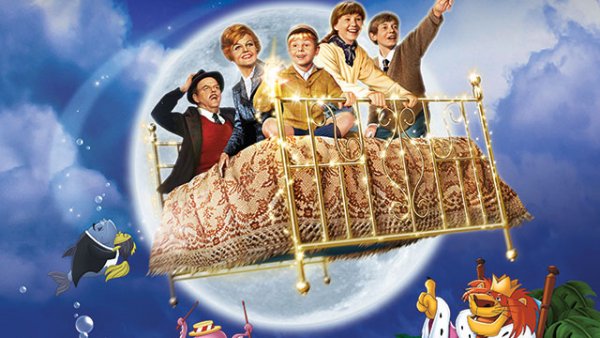 Disney certainly has a love affair with London, and 1971's Bedknobs and Broomsticks is one of two children's film adaptations that focus on the shipping of children from London to the countryside during the Blitz (the other being C.S. Lewis's The Lion, the Witch, and the Wardrobe).  Charlie, Carrie, and Paul Rawlins find themselves sent to the fictional village of Peppering Eye in Dorset, where they discover their caretaker, Miss Price, is more than she seems when it turns out that she's a real witch.  While a fair amount of the film still takes place in Dorset, you also get a Disnified look at wartime London, where people will still dance on Portobello Road.
The Great Muppet Caper/Muppets Most Wanted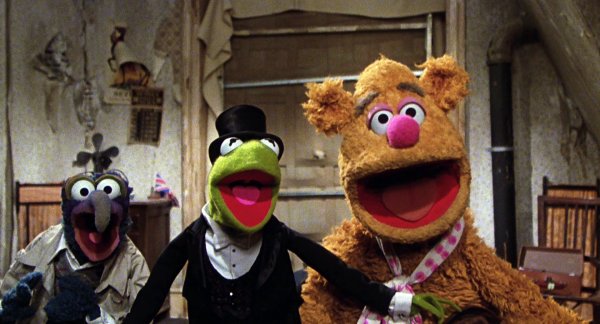 The second Muppet film and the only one directed by Jim Henson, 1981's Great Muppet Caper sees the gang travel to London where they inadvertently foil the schemes of Nicky Holiday, who uses his connection his sister, fashion designer Lady Holiday (Diana Rigg), to commit jewel heists using her models.  As is normal for a Muppet film, real-life locations and guest stars abound, with John Cleese, Joan Sanderson, Robert Morley, Peter Ustinov, and Michael Robbins all getting in an appearance.  Decades later, 2014's Muppets Most Wanted would revisit the city as the team finds itself being taken advantage of by Ricky Gervais's character Dominic Badguy (pronounced "Bad-gi"), who with evil Kermit doppelganger Dominic the Frog, seeks to steal the Crown Jewels from the Tower of London.  Several notable British actors also make their cameos in this film, including Hugh Bonneville, Mackenzie Crook, Tom Hiddleston, Miranda Richardson, James McAvoy, Saoirse Ronan, and more.