This is the first major exhibition to survey the achievements of JMW Turner (1775-1851) during his final period (1835-50) when he was 60 to 75 years old. The exhibition reassesses Turner's extraordinary body of work during this period which often received open and hostile criticism.
60 years old was considered the time marker for the onset of senility. We have to remember people didn't often live into old age during this time in our history and he outlived many of his contemporaries. Of course, now we would consider that age brings wisdom but he didn't have that allowance offered. Because of this hostility he found solace working in his studio.
During this period he would have been thinking about his, often contentious, legacy and his public reputation in the future.
When Turner produced the controversial 'square canvases' (on display in this exhibition) he was subjected to a hail of abuse in the press. Even Ruskin, a devoted fan, described Turner's work by 1846 as 'indicative of mental disease' which now seems harsh but the accusations of madness stemmed not only from his age but from the fact his mother had spent time in Bedlam (a notorious asylum). Looking back now that seems a grave injustice.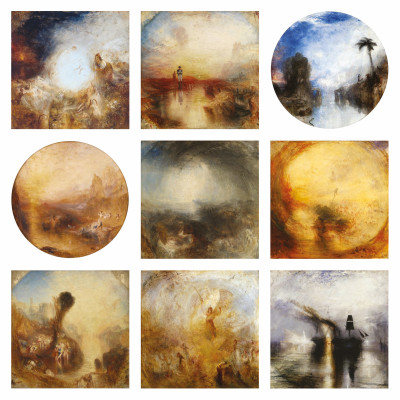 This exhibition aims to challenge assumptions as Turner was a complicated artist and technically innovative in both oils and watercolours. The works on display here show the climax of a lifetime's development and his extraordinarily free brushwork.
About Turner
Joseph Mallord William Turner (1775-1851) was born in London and spent most of his life in the capital. His artistic talent was noticed early and at age 14 he entered the Royal Academy Schools and became a member of the Royal Academy in 1802 (aged 27). While he loved London he also yearned for the mountains and the sea, so when there was a short break in the British-French war in 1802 he decided to go to France and Switzerland.
Travel continued to be important to Turner and he toured Europe at 60 years old by steam train. He travelled light and usually alone but his insatiable appetite for history, mythology and the sublime natural scenery drew him back to continental Europe.
His last trip outside of Britain was to Dieppe on the French coast and his sketchbook from this trip is on display.
In 1846, aged 71, he moved to a riverfront cottage in Chelsea with Mrs Booth whose boarding house he had regularly stayed in on his trips to Margate on the Kent coast.
He died in 1851 aged 76.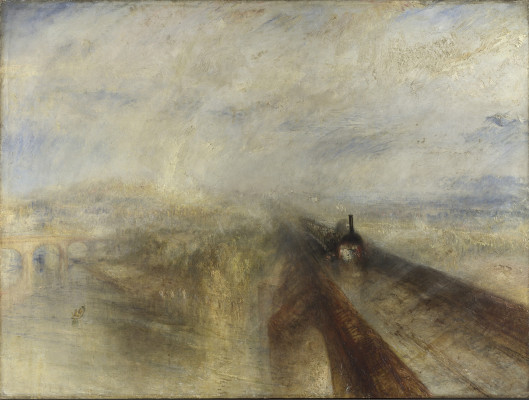 The Turner Bequest
The Bequest, including all works left behind in Turner's studio at his death in 1851, forms the vast majority of the Turner collection at Tate and means they have the world's largest collection of Turner's work comprising nearly 300 oil paintings and around 30,000 sketches and watercolours, including 300 sketchbooks. Not all of the paintings were finished as the bequest includes many works in progress from his studio.
Mark Rothko decided to leave his Seagram Murals to Tate partly due to his reverence for Turner.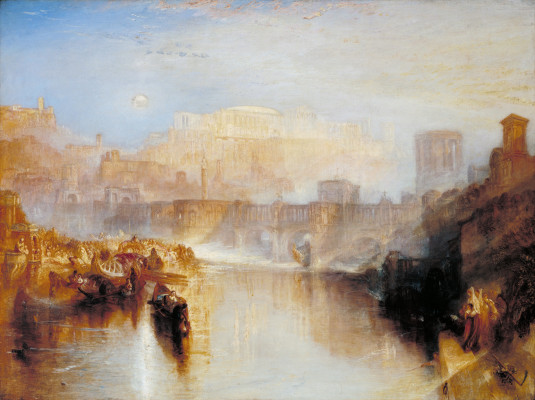 The Exhibition
The exhibition begins in 1835, when Turner was 60 years old, and closes with his last exhibits at the Royal Academy in 1850.
There are six rooms bringing together 150 works: large-scale oil paintings alongside drawings, prints and watercolours.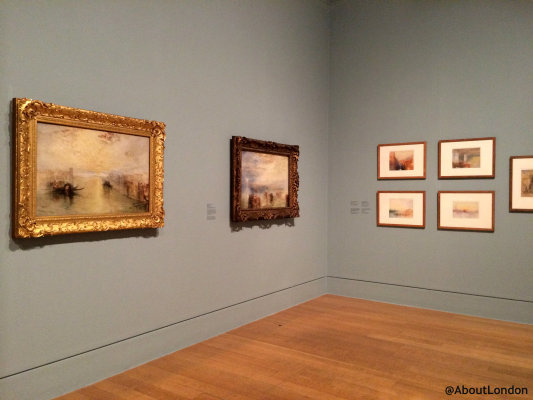 Turner was prolific and he didn't adhere to the rules of oil painting such as waiting before applying further paint on top in layers. This has meant there are now cracks to be seen on many of his works and I was surprised how obvious they are.
As well as paintings and sketches there are two of his palettes on display, still covered in his hand-mixed oils. Two pairs of spectacles with the smaller palette help you imagine him working.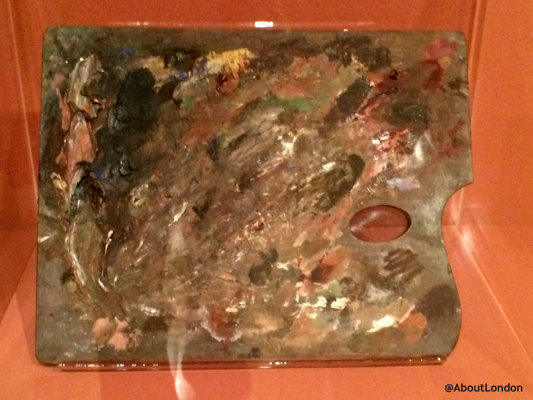 There is a handwritten letter displayed with information from his doctor about a nasty cold. And this is displayed close to his death mask which I found very sad as it just looks like a toothless old man.
Not all of the artwork on display is by Turner as JT Willmore's (1800-1863) Ancient Italy is after the Turner style. And Noah's Sacrifice by Daniel Maclise (1806-1870) is shown next to Turner's Hero of a Hundred Fights as they were exhibited together at the Royal Academy in 1847. I enjoyed reading about the 'Varnishing Days' at the Royal Academy when paintings could be varnished once in place for an exhibition but Turner was well-known for choosing to rework his paintings even further once they were on display. He actually reworked Noah's Sacrifice too.
He saw deep continuity in his work and reworked many pieces years later. The 1849 version of The Wreck Boy is displayed, reworked from 1807.
During this period he continued to attract new admirers, led by John Ruskin who famously described Turner as 'the greatest of the age.'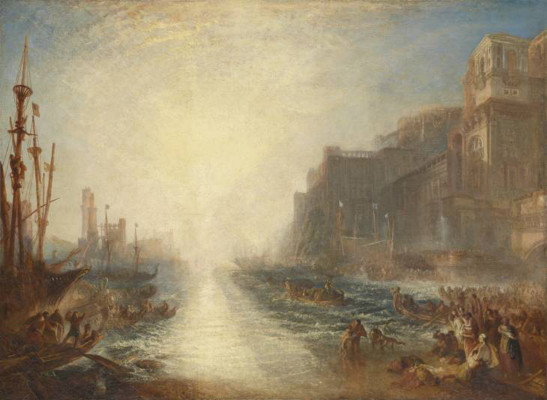 In Conclusion
The watercolours are much smaller yet I definitely preferred his oil paintings which seem to offer more expressive freedom.
I loved how one of the curators described his sketches as the "raw data" which helped him produce some of these masterpieces. It's interesting to see how a piece developed from a sketch to a sample study – to show for sales and commissions – to a final artwork. The Blue Rigi, Sunrise, seen below, is featured in this way.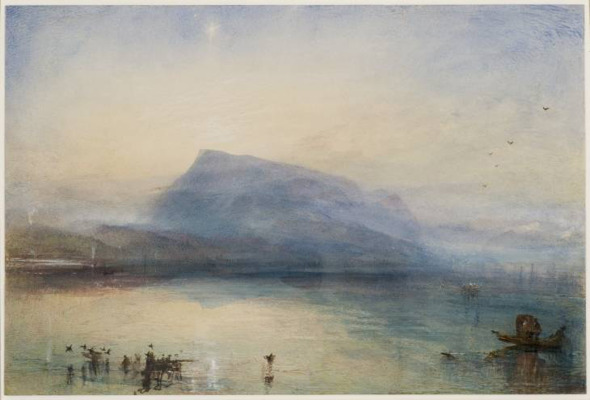 There is a clear desire to see this type of 'late' exhibition (the recent Picasso and Matisse shows in London have been very popular) so this exhibition should also do well. I felt very moved by some of the paintings and enjoyed getting up close and seeing the cracks and brushstrokes. He clearly had exceptional energy and vigour and age did not slow him down.
After seeing the exhibition, I had a look upstairs in The Turner Collection gallery at Tate Britain and found some of the paintings to be quite dark and not as moving. It is known that he consciously developed his style and technique with each subsequent painting. I definitely think the chosen pieces for this exhibition portray some of his finest work which clearly came with experience.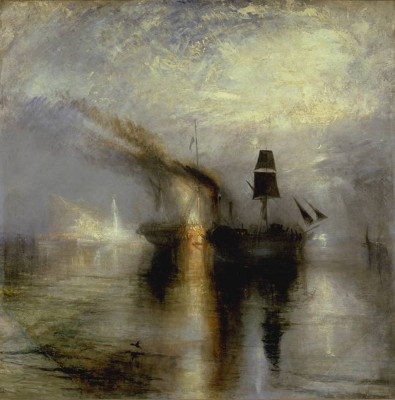 Where Next?
When the exhibition closes at Tate Britain on 25 January 2015 it is moving to the J. Paul Getty Museum Los Angeles (24 February – 24 May 2015) and then to the de Young Museum in San Francisco (20 June – 20 September 2015).
Exhibition Details
Late Turner: Painting Set Free
Dates: 10 September 2014 – 25 January 2015
Admission: £15
Venue: Tate Britain, Linbury Galleries
Official Website: www.tate.org.uk/visit/tate-britain
When visiting Tate Britain, do look out for the painted tiles in the subway at Pimlico tube station.