Editor's Note: The following is a guest post from the folks behind London Peculiar – an awesome new store that features interesting items from London's history for sale. Thanks guys!
Here at London Peculiar, we have a huge collection of items from London dating from 287 A.D. right through almost 1800 years of history to the present day. Here is our list of our top 10 favourite unusual items.
The Ordinary Of Newgate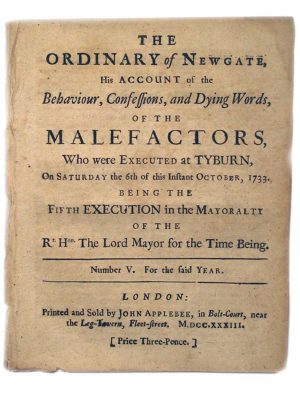 This document written by "the ordinary of Newgate," a clergyman, is a fascinating account of the behaviour, confessions and dying words of criminals executed at Tyburn Gallows on 6th October 1733. The document describes the crimes, usually theft, and describes the perpetrators of the crimes, including two women on this occasion.
This type of document was produced in order to deter any budding criminal and often the reports of the "dying moments" described as a scene of godly serenity, which was often very far from the truth.
First London minted coin – 287 A.D.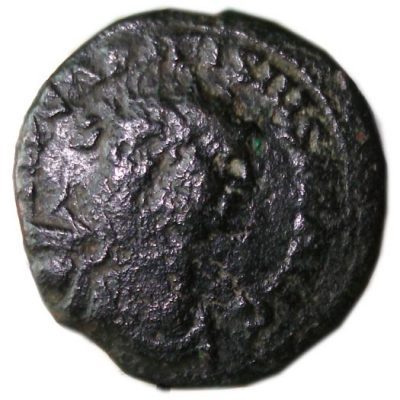 The Romans set up home here in London in 50 A.D.. This coin is from one of the first official mints in London in 287 A.D. It's a bronze coin and has survived amazingly well given its 1800 years old.
The Emporer Carausius is on one side of the coin with the London mint mark on the other. A real gem and quite rare indeed.
Gin bottle – 1890s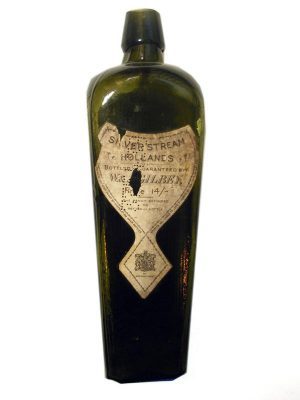 London is famous for its gin. Back in the day, London gin palaces were a place people would take their families, including the kids, for an afternoon or evening's entertainment. Gin consumption was so rife in the 1700s that Londoners were drinking more of it than they were beer.
This bottle is super. A square-shaped case gin bottle for easier packing, it's a lovely bottle and has taken some tracking down to find.
Blunderground Map of London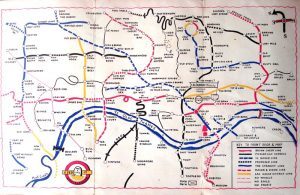 This is an odd little map drawn by someone who was in the U.S. army and lived in London in 1951.
It's based on the underground map, but the station names have been replaced with such comedy names as Lester's Square (Leicester Square), Pickled Lily (Piccadilly), Queue Gardens (Kew gardens), and Turtle in Your Girdle (not sure which station this refers to). This is the only one of these maps I've seen.
Baldwin's Nervous Pills Victorian poster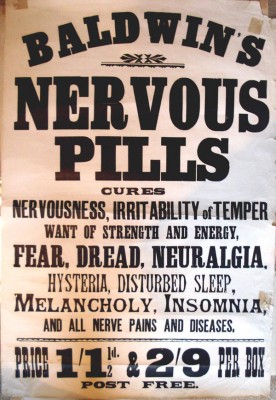 This is a wonderful poster claiming to be a cure for fear and dread along with irritability and neuralgia … if only.
This original poster dates from around 1880s. After some research, I can't find a lot out about what the pills may have contained in order to fix so many ailments, but without legislation, pretty much anything could be put in them!
London Underground map – 1908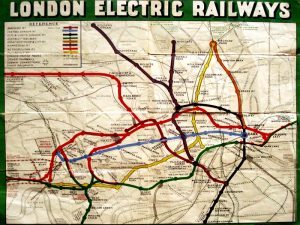 We have a large collection of wonderful underground maps from the early 1900s right through to the 1990s. The early, pre-Beck maps were very attractive. Instead of using the diagrammatic lines as H.C. Beck created in 1933, these Tube maps followed the geographical direction of the line. Some say they are easier to read, because you get a proper idea of where you are or where you are going in central London. I think this one is really lovely and very decorative, and I ponder on who used it back in 1909.
Beehive Tudor thimble
I love this, not least because it's so small, which gives you an idea of how little the Tudors might have been. Made of bronze, this fantastic little gem is over 400 years old.
God save the Queen Sex Pistols T-shirt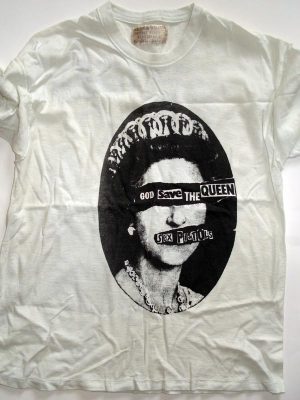 One of my favourites, this original Sex Pistols t-shirt dates from 1977, the year of the Queen's Jubilee and obviously the year the Sex Pistols released this single.
These now rare and hard-to-find t-shirts were designed by Vivienne Westwood and Malcom McLaren and sold through their shop on the Kings Road. A real London icon.
Anti Suffragette leaflet – 1909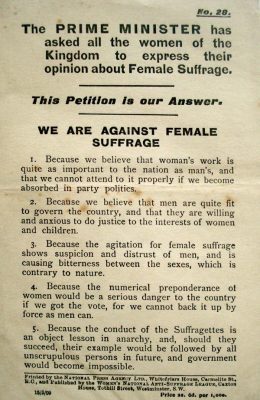 This is most unusual — a small document suggesting most women would prefer it if men ran the country and women stayed at home. When the suffragettes began campaigning for the right to vote, leaflets such as this were produced in an attempt to convince any possible supporters of their campaign that if you supported them you were unscrupulous and no better than an anarchist!
Thankfully, this type of propaganda was ignored, and in 1918 women over 30 finally got the right to vote in the U.K. It took another 10 years before all women could vote.
Map showing the fire of London and heads on sticks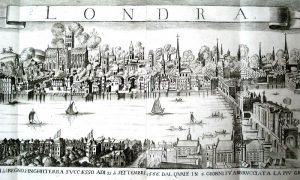 This is a wonderful map of London from 1674 showing London on fire in 1666. The detail is beautiful and includes the Globe Theatre just south of the river. What's also quite interesting is the "heads on sticks" on London Bridge. Back in the day, when someone was beheaded at the Tower, their head would be placed on a stick and put on London Bridge to remind people what may become of them should they break the law, as shown on this lovely map.
If you're interested in buying any of these products – check out London Peculiar here.