As I mentioned in my previous article about Portobello Road, going to street markets has been a recent addition to my trips to the United Kingdom. In fact, if you consider that Convent Garden doesn't count, it was only last year that I started my adventures this way.
I was travelling with a group of friends and one of them suggested going to Portobello Road. The experience was such a huge success that we decided to have another go and chose Camden Market for the next day. That is what I am writing about this time. Therefore, I invite you to come with me, as I rewind the memories I have of the day spent there.
When in London, taking the tube always seems the best option wherever you want to go and this is no exception. As soon as you get out of the station, the market is immediately to your right, with an amazing number of stalls selling clothes of every kind. Among your friends there is one that usually wants to try on things and you suddenly realise she is going to get lost behind the sweaters and dresses hanging everywhere.
In truth, this happens sooner than you could have imagined, so you have to make your way back to the starting point to find her happily engaged in conversation with one of the sellers, trying to lower the price of a specific item she is interested in.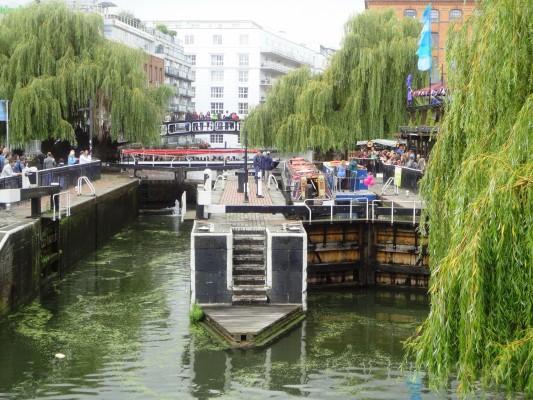 You eventually move along the market and something amazes you: the shop signs. You have already seen something of the kind in Portobello Road, but this is a lot more surprising. You have huge tennis shoes, boots, t-shirts and even a plane on the walls above the doors. Once again, you are surrounded by a lively atmosphere. People are coming in from all directions and there is colour wherever you look.
Just continue walking. You still have the feeling that you may lose a member of the group on the way, but no one seems very worried about that. The market is divided in different sections and, from a certain point onwards, you find yourself in really narrow alleys. It almost looks like you are somewhere in an exotic destination, on a different side of the world.
You wish you could go inside every shop, but this is your last day in the city, so you just have to choose the ones that are most appealing. That is a real problem, because most of them are… On the other hand, being here on the last day can be an advantage. Your budget doesn't allow you to spend any more money. As a result, this becomes the ideal place for browsing and for buying small souvenirs to take home.
You have made up your mind: you are only going to spend money on small souvenirs and you are not going to use your credit card. Don't be mistaken. This isn't an easy decision. At Camden Market you find almost everything: clothes, accessories, antiques, books, music, paintings, household goods…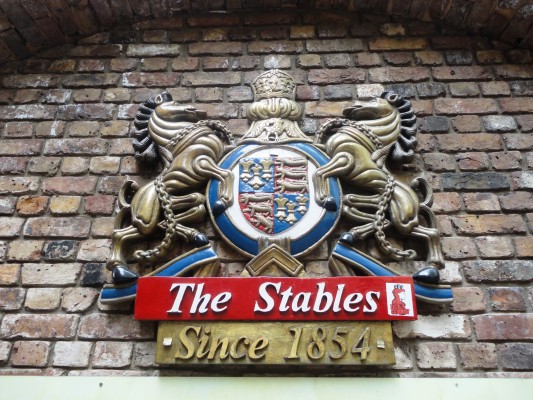 Remember that you were a bit worried that you would lose one of your friends in the labyrinth of narrow alleys? By now, you have lost them several times, so you just agree that you will meet at a specific time in a particular place. There is so much diversity that you will all find something to your liking.
As you are going through the various sections of the Market, you become aware that, in previous times, the whole area was occupied by trades of a different sort. You cannot help but notice the structure of the place going back to those times and the homage paid to the people who worked there in the form of bronze statues.
As you are writing an article like this one, you try to convey some of the sensations you get: the sounds of voices everywhere; the music you listen to coming from different places; the fragrances in the air; the colours in the rows of hats, scarves and necklaces hanging side by side… However, and because it is such a striking experience, you can't miss the food, and again the smell and the colour… In your mind, you are surrounded by green, yellow, orange, red… You just don't know what to choose…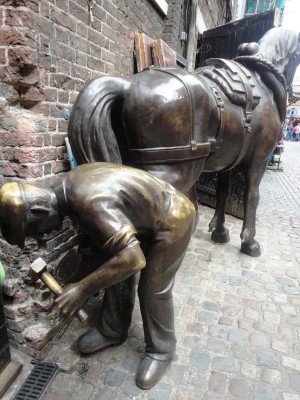 Not everything is as colourful, if you look at the clouds in the sky. In fact, they are quite grey. They have been this way all morning, but you think you will be lucky and it won't rain… You are wrong there… You feel a drop on your forehead, but you don't pay much attention to it. Then, another drop… Don't worry, you are on holidays… All of a sudden, it starts raining heavily. Either you run for cover or you will get soaked wet and you won't have as much fun… And it is by chance that you get to the Market Hall.
Once inside, all worries about the weather are gone. Even though it is a recent building, its structure takes you back in time and you are, again, struck by the light coming in through the glass on the roof and by the colours in the ceramics, the jewellery, the artwork… There are three floors and the rain isn't a problem anymore. It will only give you more time to browse.
Ok, but you eventually have to leave Camden Market… Before you do, take your time to watch the lock in the canal being operated, with one boat going up and another one coming down. You aren't the only one fascinated by the procedure, as you notice several other people glancing down at the water…
On your way back to the hotel, you think you can get the tube at the exact same station as before, but you can't. The doors are closed to people trying to leave. They can only be used by those arriving… That is true… The visitors are that many… You just have to walk a bit to the next station… No problem. You still have time and it is a chance to get to know a part of the city you have never seen. After all, you are in London, a place you never get tired of…
About the Author:
My name is Ana Galrinho. I come from Portugal. I took a degree in Modern Languages and Literatures (English and German) at Lisbon University. I have been an English teacher for nearly 24 years. I am a great admirer of the English language and all that is related to British culture. I try to encourage my students in their interest not only for the language itself, but also for what is behind it. I have had the good fortune of travelling to the United Kingdom several times and have been to various cities all over the British Isles. It is always with great pleasure that I return to the country.