Crossrail! The long sought-after solution to London's commuter congestion, London Crossrail is a railway line that is separate from the London Underground east-to-west from Shenfield to Reading. The earliest proposals date back to World War II, but it wouldn't be until 2005 that a bill passed Parliament that would form the basis for today's central London rail system. Construction began in 2009 and the entire route is predicted to be ready by 2019. For your reading pleasure, here are ten interesting facts and figures about the latest addition to Transport for London.
Uncovering History
It's not unusual for development in London to come across a body or two, such as when digging up a car park uncovered King Richard III. In March 2013, workers digging the tunnels for Crossrail uncovered 13 skeletons under a road near Charterhouse Square, Farringdon. The bodies were believed to be plague victims from the 14th Century.
New Stations
The 10 new stations being constructed include: Tottenham Court Road, Farringdon, Liverpool Street, White Chapel, Canary Wharf, Custom House, Paddington, Bond Street, Woolwich, and Abbey Wood.
A Few Numbers
Crossrail is Europe's largest construction project with 10,000 people working across 40 construction sites, including 10 new stations. 26 miles (42 km) of new tunnels are being built and it's estimated the teams have created at least 100 metres of new tunnels per week. The government is eager for the results that Crossrail will bring, including giving 1.5 million people better access to central London, over 200 million users per year, and £42 billion to Britain's economy annually.
Cost
The total projected cost of Crossrail is £14.8 billion (about $25 Billion USD).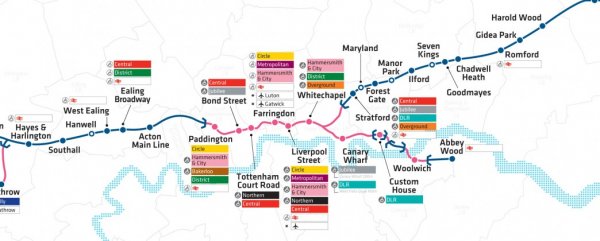 Tunneling, Tunneling
Eight tunneling machines have been used to carve out the 26 miles of tunnels for Crossrail. The last of these, named Elizabeth and Victoria, weigh 1,000 tonnes each, are 150 metres long, and have a diameter of 7 metres. For an idea of what the tunneling machines look like, they're similar to those seen in the American film Ocean's Thirteen.
Award-Winning Tunneling
Yes, there's actually an award show for tunneling, known as the New Civil Engineer International Tunneling and Underground Space Awards. At the 2015 ceremony, the Bond Street station upgrade for the Underground won the Global Tunneling Project of the Year (Under $500 million) Award. Additionally, Crossrail won awards for "Product/Equipment Innovation of the Year", "Rising Star of the Year", "Technical Innovation of the Year", "Rehabilitation Project of the Year", and "Tunnel Operator of the Year".
Underground Artist
One of Crossrail's goals is to integrate arts, culture, and creativity into its construction project. As such, artist Julie Leonard has become the project's first "Artist in Residence" and has used her talents to depict the personalities and construction on the railway line. In addition to being an artist and printmaker, Leonard is also a digital artist and uses an app her mobile phone to create digital paintings of the ongoing construction.
Wait for It…
The first Crossrail service is expected to start in 2018, so don't expect it to be ready when you visit (unless you don't plan to go until then). It will be in full operation by 2019.
Made in the UK
95% of the contracts awarded for Crossrail have been to companies that are based within the United Kingdom. Of this percentage, 58% are small-to-medium sized companies that report their business has increased by 44% after they joined Crossrail. Crossrail is also expected to create 75,000 opportunities for businesses, including 55,000 full-time jobs.
Putting the Rubble to Good Use
Approximately 4.5 million tonnes of excavated material is going to be sent to Wallasea Island to create a new 1,500-acre nature reserve for the Royal Society for the Protection of Birds.