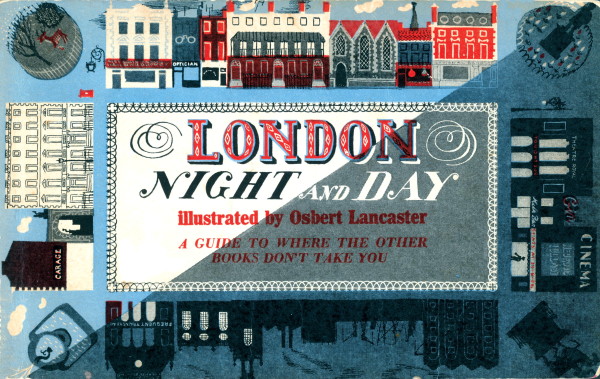 Editor's Note: The following is an excerpt, provided by the publisher, of London Night and Day: A guide to Where The Other Books Don't Take you. Illustrated by Osbert Lancaster, according to the Guardian 'one of the great English comic artists of the twentieth century', this is an unmissable treasure for lovers of London and of design. Arranged by hour of the day, it guides the reader around 1950s London, from morning walk to evening visit to a Turkish bath and late-night taxi home, including many stately homes and restaurants. Below is an excerpt from the book and it makes for an interesting view into the past.
Mrs. Gould and Mr. Douglas and I went to the Colonel's chariot to the Haymarket. As we drove along and spoke good English, I was full of rich imagination of London, ideas suggested by the Spectator and such as I could not explain to most people, but which I strongly feel and am ravished with. My blood glows and my mind is agitated with felicity.
Boswell's London Journal, 8 January 1763 (Heinemann, 21s.)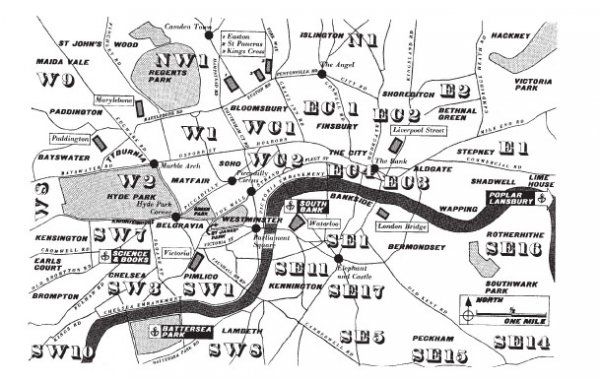 London
Unless you are a professional Bohemian, no capital city is cheap to stay in. London is not an exception, and if you are going places, you won't do it on air. Therefore in this guide we do not concentrate on what things would cost though we mention cost where we can; you will probably decide anyway that things cost plenty. We concentrate not on what London can get out of you but on what you what you can get out of London. Remembering that despite austerity and war, London is still the greatest market there is anywhere for goods of a quality and craftsmanship that the world wants and can't otherwise get.
Let us warn you right at the start, London is a misleading city. Except to the trained romantic its surface appearances are banal; and unlike Paris, whose charms are discernible when you first you drive along the main thoroughfares, its main thoroughfares are far the most hideous part of it. Its charms are hidden round the corner and only to be enjoyed by those who seek them out. One purpose of this guide is to help those who seek them out to find them. Above the surface, with its incorruptible police and oh-so-practical local authorities, who care so much about the letter-drains and fire protection-and so little about the spirit of the law, London is a machine for doing business in, for getting workers to work in.
Beneath the surface London is the world's greatest man-hive, not merely in numbers of citizens (a meaningless criterion) but in variety of action –the Athens, New York, Washington, Monte Carlo, Singapore, Hollywood, Forest Hills, Ancient Rome of about a quarter of the Earth's inhabitants. Thus if you walk down Bond Street it is a good bet that you will be, at sometime or other, within a few yards of an international crook, a ditto financier, a literary genius, a sea-captain, a King, a femme fatale, a famous athlete, a Royal couturier, a Scottish laird, an English duchess, a great painter, an empire builder, a spy, a sultan, a field-marshal or a legislator. London is the world's greatest get-together, not so much of types, classes, races, as of individual departures from the norm. And if you take the trouble to peer beyond  the fronts of the great shopping streets into the almost secret places behind–the Georgian alleys, the intimate pubs, the little markets, the masked mews, the squares filled with great trees, the salons, paneled chambers, bar parlours, that lie behind these facades, you will begin to discover the London that hypnotized Boswell and Dickens. A London that built and backed the Commonwealth; a London of significant individuals leading a vast variety of individual lives, in a vast variety of individual ways, heroic and unheroic, major and minor, savoury and unsavoury, legal and illegal –yet achieving despite that individualism a certain community, even strength, of purpose. And still, despite blitzes and convulsions, strong in its original virtue of non-conformity.
The 20th century, in trying to conveyor-belt us all, has made a big effort to standardize London.  But the essential London is only half standardized, and may beat the conveyor-belt yet. If you have eyes to see and a soul to love it, that other unstandardized half is still there for the finding. Our job in this guide is to help you, the visitor, to find it. Forgive us if we credit you with ignorance you are far from having. Obviously we have to write for those who don't know answers. Obviously, on the other hand, there is a limit in terms of grape-wine to what the printed , as opposed to the whispered, word can achieve. Within these limitations we try, in what follows, to break through the surface generalizations of the standardized guide books to that living tissue of skills, specializations, appetites, graces, eccentricities and solicitudes, that have made London the place it is, so that you in your turn, dear visitor, may learn how to break into a ducal home, a murder trial, Savile Row, a theatre-club, the House of Commons, a night-club. So that you may know at last where to get the best glass eye, riding boots, moussaka,  glimpse of the 18th century, riverside pub, jazz, coffee: even so that you know when to pawn your  watch. Our motto for the visitor to London is-look beneath the surface.  And in the pages which follow Osbert Lancaster, the doyen of London nonconformity, supports our stream of good advice with drawings that eloquently evoke London's other under-surface look.
4 pm – Cuppa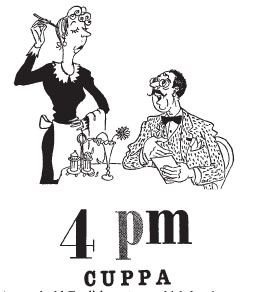 A grand old English custom, which has become an International ritual, thank goodness, which means that we can English teas abroad and the whipped-cream type Continental ones at home. Continental teas seem about the best these days, Viennese coffee with Schlagobers on top, and cheese cakes or Apfelkuchen. We have found a few of these places although the Tea Centre (British to the extent of not serving China tea) may remain your favourite. Or perhaps you don't take tea at all and would be quite happy to see the Chimpanzees try it at the Zoo (any sunny afternoon).
FOR EDUCATION WITH YOUR TEA go to the Tea Centre, 22, Regent Street, S.W.I. WHI: 8632, 10:30 to 6:30. Passing through the entrance hall stop to admire the exhibits: the wall map showing the tea-producing areas of the world, the large diorama of a tea garden in Ceylon and interesting displays of historical prints. The mural on your right is by John Farleigh. Enquire about machines, recent products of the age, which tell you the time, ring an alarm, light up, boil water, make tea (and might be adapted to strip off your bed clothes). Pass into the tea lounge, a world of concealed lighting, soft colours: note the new screen designed by Fry, Drew and Partners. Here (from 3 p.m.) you can a 2s. tea in seated comfort, or, if in a hurry, try the quick service counter. Nowhere are you permitted to forget tea is something more serious than a drink-notice the tea factory model; notice too, the particularly attractive china, an added enticement to confirmed tea-drinkers. Memento-collectors can buy twopenny post-card reproductions on their way out, from the lady out front. In the lounge, a choice of Indian Ceylonese, Indonesian or a blend; at the quick service counter, blended only.
BENDICK'S, BOND STREET, Tiny-table-teeny stool type with off-white objects in raffia, not cheap, but everything including the cakes and coffee highly edible.
PROSPECTING FOR A RESTAURANT in Soho by peeping through windows? Look in at Maison Bertaux, 28, Greek Street. Open 9.30 to 6.0. Will do equally well for coffee in the morning. For that matter, to your horror maybe, you can have coffee in the afternoon. Salon de Thé au premier, in pink, concealed lightning and gilt mirrors. Seats a very tight 28, with no room for coat hangers. Cakes at 6d. each, a cup of coffee at the same price. Shop and pay desk are on the ground floor. Owned by that excellent firm, De Bry, which has one branch in New Oxford Street, and another one at Marble Arch.
BEEN BUYING BOOKS in the Charing Cross Road? Away with you to round the corner into Old Compton Street. At No. 9 is Georges Jacquet, father and son, Swiss patissiers. Comfortable room for 12. Better known for their coffee than their tea. You can take cakes away at 2s. 6d. a box of about seven. Omelettes at 2s. 6d. or 3s at any time of day.
WALK A LITTLE BIT FURTHER up towards Oxford Street and look out for 82, Berwick Street on the left hand side. Here at the Patisserie Bruxelloise, you can have coffee or tea. Emil Vandermissen came over in the first world war and you will find him in the bakery at the back of the shop. You can see all that goes on there by looking in the mirror. The counter comes from Italy. Seated comfort for eight.
HAD A STUFFY TIME AT THE MUSEUMS, been round Hyde Park or to the Albert Hall? Before coming back to the West End walk down to the European Patisserie, Thurloe Street, South Kensington. Very inspiring coffee or chocolate, with Schlagobers at 1s., and delicious cakes at 8d. each. Austrian and Hungarian spoken.
IF YOU WANT TO BE SHOWN to your table by a count and want to hear the sound of Danish voices once again; repair to the Wyvex (pronounced Veev-ex) and named after Copenhagen's best known restaurant, at 87, Wigmore Street (WEL: 1969). Count Scheel is manager. Open from 9.30 to 5.30. We like it for tea, coffee out on the pavement (room for six).
YARNERS COFFEE LTD. Two floors to have coffee (a pot at 1s. gives you three cups) or tea (Darjeeling only), cakes and sandwiches of the expensive (Mortadella and Bismarck Herring) variety. Upstairs a number of window tables overlooking the Ship (B.B.C.) and Upper Regent Street. Decorations: pink carpet, cream ceilings and walls red cloth in places, green woodwork, violent yellow veneer to chairs and tables (glass topped). Green and orange plastic cruets, waitress in black with link pink apron and cap. All this a 1, Langham Place.
1 am – City Walk
Don't get the idea from what's gone before that townscape is just another exhibition game. Far from it. Now that the moon is up and the traffic thinning out, what about an exercise in the real thing? Easier to concentrate when one can stand in the roadway without wounding the feelings of a bus driver. But what roadway? In this full moon? The City? The City of course.
CITY DESERTED
The City settles down to peace at an unbelievably early hour, not long after six. At 1.0 a.m. barring the odd bus and newspaper van, it's a though nothing had stirred in that jungle for a hundred years. A walk through the City in the full moon is a thing no one forgets. But if you prefer, the same walk can be done in daylight (with rather less chance of staying alive till the end.)
BOW
Start at the altar steps of Bow Church from which, through West Window and the door, can be seen, unbelievably beautiful in the full moon to the dome and east end of St. Paul's. There isn't another view in London to compare with this product of the blitz. Buildings hid it before and buildings will hide it again unless, which is highly unlikely, the City decides to keep some open space where it would have a purpose, instead of keeping it for road traffic, where it hasn't. So see it while you may. Bow's own interior roofless and fire-marbled, is that rare thing, a piece of pure architecture; but you may find that door locked –the British, like the Dutch, always lock everything they can-in which case your walk will have to start from the steps of the west door. Same view. Don't overlook, as you stand there, the weird effects (purely fortuitous, result of the bitz,) of the waste land round the Cathedral suggesting cliff and sea-scape, out of which rise single church towers and strange ruins, tantalizingly beautiful in the moonlight.
GARLICKHITHE
Now, make your way across Watling Street, down Garlick Hill, where (mornings) blue-chinned skinners and furriers, speaking all the languages under the sun, except English, do business on the street –and what a street–and with a thought, as you pass the door of St. James' Garlickhithe, for Jimmy Garlick in his glass case inside, pull up on the river bank of the Queenhithe. Go down the river stairs and get your first real look at the river lights. The bridges west of you will be Blackfriars, road and rail.
WATER FRONT
Now comes a great hooting of steamers (which means the tide is high), a strange homeless sound in the deserted dark street, and then the booming chime of Cathedral clocks, the two sounds which tell one is on the water-front of the world's port. Authentic London. Turn East and you are confronted with a different sort of townscape, the great bulk of Cannon Street Station, typical product of the great Romantic utilitarian, the Victorian engineer. Enormous in size, prodigious in scale, reeking not of land's edge nor water's beginning, this half Crystal Palace thrusts its great bulk out over the river, presenting a mouth like a Zeppelin hangar to the little trains that crawl (at this hour only spasmodically) in and out over the echoing iron bridge. Thames Street dives through the black hole underneath. Here, once and for all, can be settled that thorny question of change of scale, which worries many people when they foresee gigantic. But if they are, here is the answer. The scale of Thames Street and Cannon Street Station is hopelessly incompatible, yet the combination produces just that drama of contrast which the townscaper is on the look out for. Far from murdering each other they set each other off. We are in the presence, in fact, of one of those accidents of laissez-faire which have made of London a genuine piece of picturesque landscape. Besides such visual drama as this, the boulevards of Paris, though immensely pompous, are very elementary stuff.
PEDESTRIAN NETWORK
Under this archway one gains London Bridge. It's worth getting on the bridge just to look back at Cannon Street Station (there is a pink brick corner building jutting out into the street immediately at the foot of the station, which, with the twist of the street, is worth a small fortune as a landscape motif). Beyond London Bridge you are in Billingsgate (we shall be coming back at 5.0 a.m.) and can climb to those lanes above and beyond the Monument (looking back at a good piece of Sharawaggi –St. Magnus steeple against the glass windows of a modern building-on the way). These lanes must be recorded just because they have been overlooked by the wideners and straighteners. To any but the connoisseur of urban landscapes they are probably rather dim and rather dirty little alleyways –George Lane and the Alley to St. Mary at Hill, Lovat (late Love) Lane, St. Dunstan's Alley, Idol Lane. But to those who realize that these courts and alleyways are the hangover of the mediaeval city plan, representing the sensible pedestrian scale of the place, knocked silly by undirected motor traffic, they are highly significant. You go under London Bridge and then turn up left up Pudding Lane, right into George Lande, which runs into Botolph Alley (pitch black, very romantic), which runs into the lane by St. Mary-at-Hill, which comes out down steps with a twist through a white-washed archway (which turns out to be a Wren doorway) under the great clock and West front of St. Mary. Of such sober alleyways the pedestrian network of London could be rebuilt –livened here by a piazza, there, where it has to go underground, by a crypt of cloister of the sort that takes one from Westminster School yard (see 12.0 noon) through the Dark Cloister to the Abbey.
Now that you're here, take a little more exercise and go down Seething Lane to St. Olave's, Hart Street (sacred to the memory of diarist Pepys) to Crutched Friars and so into that archway, still darker than the one under Cannon Street Station, known as French Ordinary Court. This court is certainly unique as to odour-not of the nuisances committed by little dogs, or by little boys who have not been arch-trained, does it smell, but of essential oils. Effect: that of a cinema when the attendant has gone by with the scent spray. The warm darkness, pitch black until your eyes get accustomed to it, is like the cinema too, until one feels cobbles underfoot and sees at last a dim lamp and the exit to Fenchurch Street. Fenchurch Street Station's flank, though inferior to Cannon Street, makes another fine backcloth to Crutched Friars. Under this, one can turn right into Cooper's Row. Cooper's Row is London. Or, since so much is blitzed, shall we say was London. So was, or is, that part beyond the Tower and Tower Bridge (which you can reach easily from here) where you join up with the Greenwich Walk (8.0 a.m.) Down St. Katharine's Way to Wapping High Street and the Prospect of Whitby. An even better time this (except that you can't get into a pub) for seeing the dock landscape, since blitzed wilderness and horrors of LCC flat-land give place to the terriblita of night amongst giant warehouses, only half-obscuring the midnight movement of great ships. If you want the quintessence of London, wait at the swing bridge (which is the street) by St. John's Church, Wapping, and hear and watch the big ships moving (it's high tide, remember) round you-lights, darkness, gleams of water, dock walls, early nineteenth-century architecture (architecturally, St. Katharine's Docks by Telford are the best things on the waterfront). However, all this is most proper in a "city" walk, since you are well outside London Wall. Back to the Tower, please, or (since it is locked) to Tower Pier, just west of the sentry (look out for an open iron postern and the Eagle Steamer notices), where we will leave you overlooking the moonlit Pool of London, guarded to the east by the twin Gothic towers of Tower Bridge, a magnificent dream of half a century ago. Across the river, acting as a backdrop to this scene, the modern wharves. And in between the river, stretching to left and right, the working space for watermen, rivermen, pilots, tugmen, bargemen, policemen, firemen, customs officers, river rats and dock rats and the temporary resting place for deep sea sailors from every other port in the world.
London Night & Day will be published by Old House Books in August 2014. www.shirebooks.com