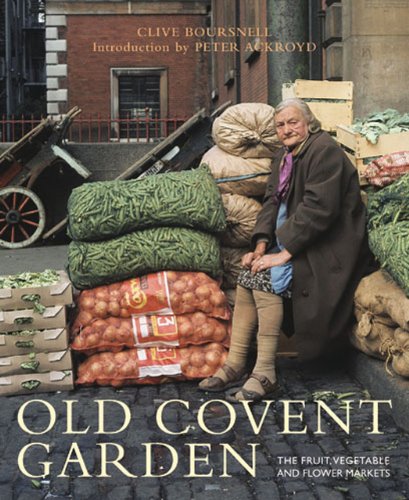 Rarely do I fall immediately in love with a book when it comes in the mail. But as soon as I opened the package containing Old Covent Garden by Clive Boursnell, I was smitten.
Covent Garden is one of our favorite areas of London and I've always been fascinated by its market history. We even wrote an article recently about Covent Garden.
This book focuses on the final days of the old fruit & veg market through the 1960's and 70's. Clive Boursnell was a young photographer making his mark on the world and sought out Covent Garden as his territory. He became a fixture of the place and photographed it in various ways, from the candid to the atmospheric (my favorite shots were on Sunday, when it was a ghost town).
The focus of this book is pictures. There are hundreds of pictures in Covent Garden during its heyday. Some are stunningly beautiful, some are stunningly sad. And all throughout, you get an intimate portrait of the one thing that kept market going – the people.
It's certainly warts and all coverage of the market, you see it as its most beautiful and at its worse. While the focus is the pictures, sprinkled throughout the book are the nameless voices of those that used to work in the market. All of them are interesting and paint a solid portrait of the place.
The pictures are well labeled, so you can compare old pictures to what exists today. While Covent Garden is a bustling market area once again – just a different kind – it looks completely different. Many old buildings have been swept away or adapted to new uses. I had no idea that the London Transport Museum, one of our favorite places in London, used to actually be the flower market – which explains its big open spaces!
There's an excellent introduction by London expert Peter Ackroyd and also a good introduction from the photographer himself, explaining how he went about taking the pictures, his process and experiences. The whole book is a worthy elegy to a long gone world that looks almost alien now in modern Britain.
It's a great package and I love this book. It would have made a great addition to my London library. Unfortunately, while I wasn't looking our dog spilled an entire cup of coffee on it after I finished reading it, completely ruining the book. This is one I'm going to have to buy to replace our review copy!
[amazon-product alink="0000FF" bordercolor="000000″ height="240″]0711233314[/amazon-product]